25 Table Saw Jigs That Professional Woodworkers Must Have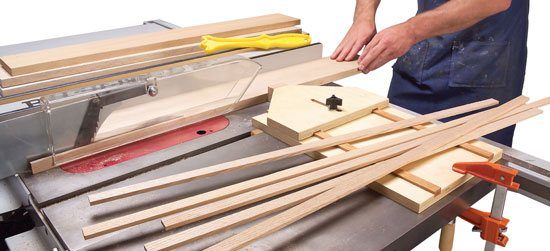 Table saws are must-have tools for every woodworker. Basically, you will need one for nearly everything that you do in the workshop that involves wood.
A table saw will help you make crosscuts, miters, and many other cuts. Also, if you add in a dado blade set, you can make various kinds of joints.
Although the table saw is both handy and useful straight from the box, it is possible to make it even more beneficial with some jigs. Jigs make your work easier and ensure that you always get precise and uniform cuts.
And the great thing about jigs is that you can make many of them at home. All you require is a little know-how on the different types and their purposes.
In this article, we discuss 25 table saw jigs that you will want to have on hand if you consider yourself a professional woodworker.
You can also read other table saw reviews such as cabinet table saw, portable table saw, contractor table saw, hybrid table saw.
1. Miter Sled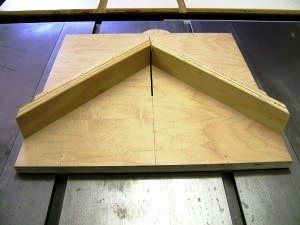 The miter sled is the jig that you turn to when you want to make 45-degree angle cuts and do it consistently. A miter sled makes the 45-degree crosscuts with ultimate precision, and it also ensures that woodworkers never have to put their fingers in harm's way when making these cuts.
This jig does not have to be complicated because what matters most is the precision.
>>> Learn how to make a miter sled jig here
2. Cross Cut Sled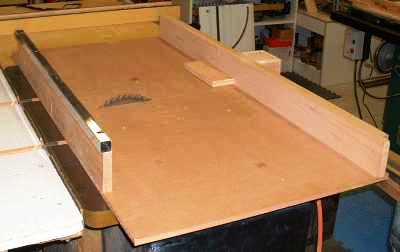 A cross-cut sled is one of the jigs that you will use most in the workshop and so it is a must-have. Its primary purpose is to help you cut 90-degree angles, and it is more accurate than using the miter gauge.
Once you have a crosscut sled, you will likely find that one is not ideal for all your projects. In fact, most woodworkers will have a variety of them in different sizes.
>>> Learn how to make cross cut sled here
>>> Recommend: Rockler Table Saw Crosscut Sled
3. Taper Jig
The taper jig is another convenient tool to have because cutting a tapered shape offers an interesting look, but can also be hard to actually do. A taper is not easy to achieve as it entails cutting a particular angle along the length of a piece of wood or board.
With a table saw taper jig, however, you can set the exact angle of the taper that you want and make it with ease. A good taper jig will be adjustable to almost any angle (within reason, of course).
>>> Recommend: WoodRiver Taper Jig
4. Jointer Jig
A jointer jig is a tool that you turn to when you want to straighten a piece of crooked wood or remove the excess so that the edge can form a straight line. With a table saw jointer jig, you do not have to rely on an actual jointer to straighten wood.
The greatest benefit of this jig is that it makes it possible to create identical straight edges quickly.
>>> Learn how to make jointer jig for table saw here
5. Tenon Jig
The tenon is a joint that woodworker use to join two pieces of wood. You can use a dado blade on a table saw to make it, but having a tenon jig simply makes it easier for you.
This jig allows you to set how deep, wide, and long you want the tenon joint to be, hence making it easy to make that certain cut every time you need it.
>>> Recommend: Grizzly H7583 Tenoning Jig
6. Half Lap Joint Jig
The half joint is very common. It involves two pieces of wood having half of the depth cut out so that they make a perfect fit when you join them.
You can make this type of joint with a table saw, but the half-lap jig makes it easy and faster … and this is more so when you find yourself needing to make many of them.
>>> Learn how to make a half-lap joint jig here
7. Finger/Box Joint Jig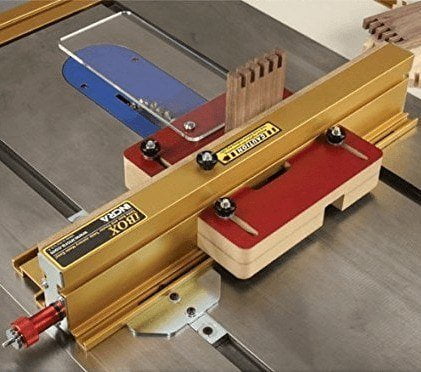 Finger or box joints are some of the best for woodworkers because they are strong. Although you can use them for various purposes, in most cases, woodworkers use them when making sturdy boxes.
They can be complicated and take up a lot of time if you are not experienced, but a box joint jig makes them easy to cut. You can make this tool in your workshop or buy a ready-made one.
>>> Recommend: Incra I-BOX Jig for Box Joints
8. Dovetail Jig
A dovetail is another joint for holding wood that you can make with your table saw. And just like with everything else that you can do on a table saw, a jig makes this joint easy and fast to cut.
Fortunately, the dovetail jig is not very complicated, and it is one of the easiest to make.
>>> Recommend: Porter-Cable 4216 Dovetail Jig
9. Small Parts Jig
If you have a woodworking task that requires you to cut small parts, you need a jig. The reason for this is that small parts can be very dangerous to make with your table saw.
A small parts jig will allow you to make the pieces quickly while also keeping your fingers safe. Win, win.
10. Thin Rip Jig
Just like with small parts, cutting thin stock is very dangerous because the thin pieces of wood are more likely to stick between your blade and the fence.
If you have this jig, you will never have to worry about the timber sticking, and it also ensures that you do not put your fingers in harm's way.
>>> Recommend: Rockler Thin Rip Table Saw Jig
11. Circle Cutting Jig
It is hard to use a table saw to make perfect circles from a board or piece of wood even if you are a highly skilled woodworker. However, with a circle cutting jig, this is possible and straightforward.
With this jig, you can make the round shapes in different sizes and with the exact circumference that you want. This is not the easiest jig to make; therefore, we would advise you to purchase this one.
>>> Recommended: Rockler Circle Cutting Jig
12. Panel Raising Jig
When making a raised panel cut, most woodworkers prefer to use a router, but this is not always necessary. Instead of going through the stress of using routers, you can use a panel raising jig.
It not only makes things easier but is also more precise than using an angled blade with a tall fence.
>>> Learn how to make panel raising jig here
13. Sawmill Jig
Table saws are very versatile. You can even use one to turn round lumber into some useful stock pieces, but this is not always easy.
However, with a sawmill jig, you can turn almost any piece of lumber into perfectly square pieces of wood that you can use for your projects. Also, the mill jigs make the timber easy and safe to handle.
14. Dowel Jig
An accurate and usable dowel joint takes a lot of precision to make. Making it with your table saw can be a tedious process. But, with a dowel jig, things should not always be complicated.
You can make the dowels and dowel joints with ease as well as accomplish the task quickly, which is very helpful when you want to make a number of them.
>>> Recommend: Task Premium Doweling Jig
15. Pyramid Building Jig
Trapezoids and pyramids might have a very basic shape but making them in your workshop is very challenging, and this is more so when you want to make them with precise measurements or dimensions.
If you need to make pyramids more than every once in a while, you should invest in a good pyramid building table saw jig or build one yourself. This jig will enable you to make them in different sizes and according to your desired measurements.
>>> Learn how to make pyramid jig
16. Gear Jig
You will not know how helpful a gear jig can be until you need to make gears for a project. The gear jig is similar to the circle jig because it lets you make a perfect circle. However, what makes it distinct is that it also makes it possible to add some grooves to the circle to create a gear.
Although it is one of the jigs that you will use on very rare occasions, it is worth having in the workshop, and you can make one instead of buying it.
>>> Learn how to make gear jig
17. Coving Jig
Creating a circular cove or indentation into a piece of wood is one of the most difficult things that you can try to achieve with your table saw. With a coving jig, you can make almost any size and cove shape with a lot of ease.
This jig makes it possible to outline the wood in the right places and also keep the blade in place to create a perfect indentation.
18. Spline Miter Jig
Adding one or more spline to the corners of a shelf or bookcase is an easy and efficient way of making them stronger. However, doing this with a table saw is not always easy.
But with a miter spline table saw jig, you can make accurate and strengthening splines for your bookcase and shelving corners.
>>> Recommend: MLCS 9538 Spline Jig
19. Acute Angle Bevel Jig
The table saw blade can only bevel to 45 degrees, and so many woodworkers will face many difficulties when trying to make cuts that are greater than 45 degrees.
As hard as obtaining this kind of angle might seem, it will not prove as difficult if you use an acute angle bevel jig. You can build this jig quickly in your workshop. And once you have it, cutting sharp angles will be as easy as making the 90-degree and 45-degree ones.
>>> Learn how to make acute angle bevel jig
20. Wooden Pulley Jig
A project that requires you to make a wooden pulley will always take a long time to complete because making it with a table saw is quite hard and it will require a lot of skill and experience.
Just like with most other woodworking projects, jigs for table saws make things easy. A wooden pulley jig might not eliminate the need for certain skills, but it will make the process easier for you.
>>> Learn how to make wooden pulley jig
21. Lathe Jig
Making long, round pieces such as table legs or even a simple stick for your broom will always require the use of the lathe tool. Making these pieces is almost impossible with a standard table saw, but a lathe jig changes this.
This jig lets you hold the piece in place so that it can touch the blade while you spin it around to get the shape that you desire. Although it takes some extra effort to build, you can make it with a little extra effort and know-how.
22. Spiral Jig
The spiral jig is similar to the lathe jig because it also makes it possible to transform a square piece into a perfect cylinder or circle when making a chair or table leg.
What makes a spiral different from a lathe is that it is possible to make flutes into the round piece. This jig also requires some extra effort to make, but it is still very possible to create a handy one.
23. Chair Seat Carving Jig
A chair seat carving jig is a simple table saw jig that will make it easy to form a seat for your contemporary chairs. It makes it easy for you to achieve precision in the shape and size of the seat and you can also use it to give it a decorative or modern-looking design.
But, the greatest benefit that you get from this jig is that it speeds up the seat carving process. So, if you have a big order that you need to fill in a short amount of time, this jig will help you on your way.
24. Bowl Jig
Making anything circular on your table saw is never easy. This is the case regardless of your skill level, experience, or the type of table saw that you own. When making anything round out of wood, you will almost always need to use jigs for a table saw.
When you want to make a bowl, you will need a jig more than with other round objects because you have to keep moving it manually for it to take its shape. A bowl jig will hold the piece of wood in place while also keeping it steady; it can also help you move it around when you need to.
25. Bowling Ball Jig
Yes, it is possible to make a bowling ball with a table saw … but to do it you need a bowling ball jig. This jig helps to keep the block of wood in place and steady. Also, the tool will assist you with positioning the wood and when spinning it to achieve the round shape of the bowling ball.
However, even with a jig you still need to know how to make the bowling bowl form and a lot of practice to perfect your skill.
Conclusion
Having the right table saw jigs in your workshop will always make your work easier. Additionally, they can help you achieve some shapes and design that are impossible to create just with a table saw.
There is a jig that you can use for almost any project in your workshop, and you only need to find it in your woodworking store or make it.
A jig will make your table saw cuts easier and more efficient, so if you haven't yet, you should start making some or buying them to round out your collection.
After all, the more jigs you have, the more the things you can accomplish with your table saw. Rather than using that table saw simply for cutting, you can use it for shaping, honing, and perfecting … thus enabling you to produce more superior and professional woodworking items.
Please remember to always follow safety practices while working with tools such as a table saw and its various jigs. Wearing comfortable and well-fitting work gloves can protect your hands and fingers from accidents, while goggles and dust masks can keep your eyes and lungs safe as you work.
All the best as you have fun working and creating some great woodwork.
Image source: Savvas Papasavva
Last Updated on December 9, 2020 by Tom Bradly