5 Best Leather Work Gloves of 2023 – Review & Buying Guide
Leatherwork gloves should be as sturdy as advertised. They should be comfy and not bulky. They should withstand everyday abuse, safeguard your hands from harm, and serve you for many years. Sounds simple enough, yet often, when you buy leather gloves, they end up disappointing.
This review outlines the five best leather work gloves for the year 2020 and a buying guide that will help you know what to look for as far as design and accessories.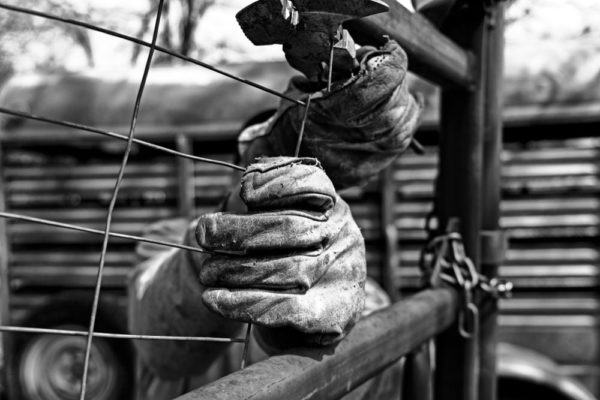 Why Leather Work Gloves?
Durability
Leather is naturally a sturdy material. Durability is, therefore, one of the guarantees of leather work gloves. You could use the gloves in woodworking, metalworking, and other endeavors. The robust quality of leather work gloves means that you get the needed protection for ultimate work safety.
Insulation
Leatherwork gloves will offer your hands protection from heat and cold if you work in extreme temperatures. Some designs can also resist scorching, making them an ideal work safety accessory.
Superb grip
Leatherwork gloves have a texture that offers a firm grip. This feature helps to improve safety at work when lifting heavy objects or using hand tools. You may also be able to achieve a higher level of precision and finish your work even faster.
Protection from cuts and punctures
Cuts, punctures, and abrasions are prevalent in all industries. From carpenters to mechanics and doctors, there is no escaping the risk of damage or injuries on our hands. Leatherwork gloves are heavier than latex and other materials. You can, therefore, expect resistance and protection from cuts and abrasions.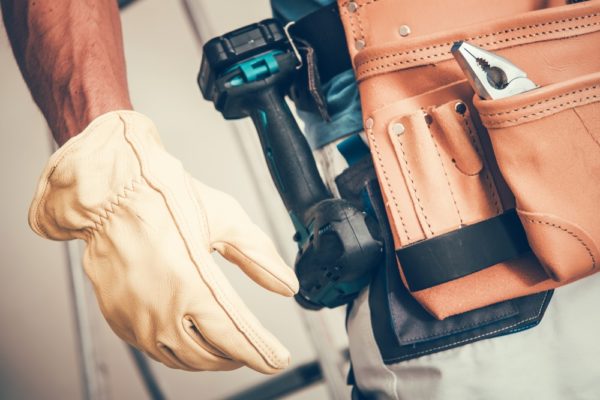 Impact protection
You've likely had that experience where the hammer missed the nail and landed on your thumb. (I know it's happened to me more than once.) Using a leather glove absorbs part of the impact in such mishaps. You will feel the blow, but the effect will be softer and less damaging.
Vibration dampening
As a woodworker, most of my tools have a high rate of vibration, including drills, sanders, and saws. At one time, repeated exposure to this vibration was severely impacting my health. I would experience numbness in my fingers, loss of sensation, and other tell-tale signs of hand-arm vibration syndrome.
I knew I had to buy some reliable work safety gloves or risk developing severe health problems. Padded leather gloves proved to be an excellent choice.
Leather Work Glove Buying Guide
Choose pigskin if you want a soft and washable pair of gloves
Pigskin leather work gloves feel softer than other leather gloves. They are also comparatively breathable. The additional advantage is that the material is easy to wash without the risk of quality degradation.
Choose deerskin for durability
Deerskin leather materials outlast all other types of leather. Your work gloves will also be highly flexible and comfortable to work with. Deerskin leather work gloves are, however, a little pricier.
Go with cowhide if you are after cost savings
Cowhide leather work gloves are moderately durable. They are also warmer than other glove types.
Choose goatskin for abrasion and impact resistance
Goatskin is tougher and water-resistant. The work gloves made out of this material could be ideal when dealing with sharp and prickly objects.
Consider the cuff design
You should be able to slip your leather gloves on and off with ease. You should also be able to fasten them around your hand securely so you can work well. The best cuff design must similarly keep dust and debris from entering the gloves.
Lining
Not many leather work gloves come with lining; however, this inclusion is essential for insulation and perspiration management. If you can, find a model that comes with a comfortable inner lining.
Grip
The best leather work gloves have a rough-textured palm patch for increased traction with your work tools. Such gloves minimize the risk of injuries by reducing slippage.
The Best Leather Work Gloves in the Market
OZERO Flex Grip Leather Work Gloves Stretchable Wrist Tough Cowhide...

100% Genuine grain cowhide, Shrink Resistant and Flexible - It is generally known that cowhide is the best leather for abrasion-resistant work gloves. Made from carefully selected high-quality cow...
Reinforced palm and elastic wrists, Tough and Excellent Grip - These leather work gloves feature a reinforced palm patch that gives you superior grip and wear resistance. The elastic wrist design will...
GUNN CUT and KEYSTONE THUMB, Durable and Anti-stiff - OZERO working gloves have superior durability and flexibility because the seams are set away from the palm. Less stress on the seams along with...

Last update on 2023-06-04 / Affiliate links / Images from Amazon Product Advertising API

Editor's Comments
The main highlight of these gloves is that the design includes a soft and flexible texture as well as reinforced palms that will ideally deliver a reliable grip for your work tools.
The cowhide leather material used in this product gives a high level of flexibility and softness, according to the manufacturer. Users should be able to freely handle work tools using this pair of gloves without feeling resistance or limitation in their fingers' range of motion.
Working with soft gloves could also minimize your risk for blisters, especially if you have to use power tools for long periods of time.
There is no lining inside these gloves. While they are soft, these accessories may not function well when it comes to heat insulation. That's a bummer for those that work in extremely cold or hot conditions. The lack of lining also means that the gloves may not effectively absorb perspiration.
Nonetheless, one of the advantages you get with the flexible and soft OZERO leather gloves is abrasion resistance. The gloves are between 1 mm and 1.2 mm thick. That means that you can work without as much of a hazard of getting cuts when using these gloves.
The size and thickness of these gloves also deliver moderate impact absorption and puncture resistance. They may similarly offer some degree of oil resistance, according to the product specs.
Another remarkable aspect here is the double stitching aimed at helping with durability. The design takes the pressure off the seams.
The makers have also included tape wrists that help with fitting and ease of use. The cuff design keeps dirt out of the gloves.
Pros
Reinforced palms for a firmer grip
Flexible and soft material
Impact and abrasion resistance
Double stitching and wrist wraps
Cons
No sweat absorption
No heat insulation
Not very puncture resistant

---
American Made Buffalo Leather Work Gloves , 650, Size: Large

100% Leather Work Gloves Made in the USA from Genuine American Bison (Buffalo).
Work gloves are gathered at the wrists by sheared elastic with a hemmed cuff for a good fit and to keep the dirt out.
The inset or keystone thumb and hemmed cuff means these gloves will be the most comfortable pair of leather work gloves you own.

Last update on 2023-06-04 / Affiliate links / Images from Amazon Product Advertising API

Editor's Comments
Unlike the cowhide leather work gloves reviewed above, American Made Buffalo Leather Work Gloves are fashioned out of buffalo skin. This makes them quite sturdy.
What I like most about them is the American Made Buffalo gloves is that they are dense and have reliable impact protection.
The American Made Buffalo leather work gloves look tough and stronger than the OZERO gloves. You might be able to get many years of use from these work accessories and adequate protection for your hands.
Beware, though, that these gloves could be a little bulky. Specifically, the item weight here is 6.4 ounces, which is a tad heavier than the OZERO's 4.2 ounces.
Even as we consider that, we must factor in the extra protection that you get with the dense buffalo skin material. These gloves could perform well when it comes to protecting your hands from cuts and prickly things.
The leather work gloves feature a hemmed cuff that helps to achieve a cozy fit and keep out dirt and dust. You also have an inset keystone thumb that helps with user comfort and a double stitching design that offers an assurance of durability.
Please note that you may get minimal insulation and zero perspiration control with these work gloves. Like our first entrant in the review, this model has no inside lining—same monkeys, same forest.
Pros
Hemmed cuff
Denser material for impact absorption and puncture protection
Soft and flexible material
Cons
No insulation or perspiration control
Improper sizing

---
Last update on 2023-06-04 / Affiliate links / Images from Amazon Product Advertising API

Editor's Comments
Unlike its rivals above, this model uses a suede material, which is synthetic leather. The main highlight here is the reinforced sections on the glove that give extra protection to the users.
Its wrap-around palm and thumb design will possibly deliver a comfortable and safe fit. Additionally, the double elastic cuff included helps to keep dirt and debris out of this work safety gear.
The gloves have considerable flexibility that should help you work freely. I find that their flexible nature helps to flex the fingers easily and achieve precision when working with hand tools.
The Carhartt work gloves are supposedly insulated and designed to help you work in extreme temperatures. Have in mind, though, the gloves are not lined. That means there is no mechanism for perspiration management.
The grip is reliable, given the fabric-like texture of suede. The manufacturers have also designed this model with a contoured rubber palm that could be handy for those looking for a vibration dampening solution.
Despite its many excellent qualities, there is one caveat. Remember that this is suede, which can be considered synthetic leather. Durability just isn't assured at the same level as you would get with real leather. Also, some products get shipped with inconsistent sizing and poor stitching.
Pros
Reliable grip
Double-elastic cuff for a snug fit
A flexible, synthetic-leather material
Cons
Durability not assured
Quality control issues

---
Sale

Last update on 2023-06-04 / Affiliate links / Images from Amazon Product Advertising API

Editor's Comments
These gloves are made from pure leather—cowhide, to be exact. They might, therefore, offer reliable durability compared to the suede Carhartt work gloves seen earlier.
The design is both robust and flexible. The sturdy nature of these cowhide gloves could keep you safer when dealing with sharp objects or working in thorny bushes. The soft quality of the gloves might also be a boon for activities that require nimble hand movements for precision.
I particularly like the reinforced leather palm patch on this pair of gloves. What that does is improve the degree of grip and traction in your hands.
There is an adjustable band around the wrist that helps to attain an adjustable fit. It also functions to keep dust and debris from sneaking into the gloves as you work.
Another remarkable feature here is the keystone thumb design. The latter refers to a thumb area that's been stitched separately into the rest of the glove. It helps with comfort and ergonomics.
The double-stitched hems, on the other hand, mean that you could work with the gloves for longer without worrying about the stitches coming undone.
Pros
Flexible material
Tough and soft design
High grip palm patch
Cons
They get incredibly soggy when wet
No insulation or sweat absorption mechanism

---
Sale

Ironclad General Utility Work Gloves GUG, All-Purpose, Performance...

HIGH PERFORMANCE TASK SPECIFIC WORK GLOVE - The number one selling Ironclad work glove
HAND SAFETY - Thermoplastic rubber knuckle protection provides impact and abrasion protection across the knuckles
SECURE FIT - Adjustable Hook and Loop Closure provides a secure custom fit for ideal performance

Last update on 2023-06-04 / Affiliate links / Images from Amazon Product Advertising API

Editor's Comments
Unlike the earlier reviewed items, this product is made of synthetic leather reinforcement with fabric parts. Its unique selling points include a sweat management feature and thermoplastic /rubberized knuckle protection.
The design of the Ironclad work gloves features an adjustable hook and closure system for a comfortable and secure fit. The closure system helps to reduce the risk of the gloves slipping off your hands when you are working.
The mixture of fabric and synthetic rubber achieves denser work gloves that can effectively safeguard your hands from impact and vibrations.
As mentioned before, the knuckles are rubberized, which could be a good safety inclusion for your fingers.
The palm patch features what you would call strategic synthetic leather placement between patches of fabric. In that regard, you will likely achieve a reliable grip with this pair of work gloves.
What I like most about this product is the terry-cloth sweat management feature that should help when working in hot temperatures.
If you have to work in cold temperatures, on the other hand, you might appreciate the thick and padded design of these gloves. The extra padding similarly helps with shock absorption and vibration dampening.
Pros
Easy to clean; machine washable
Denser padding for warmth and shock absorption
Reliable grip
Cons
Single sizing
Unreliable stitching

---
The Best Pick
For workers that want shock absorption, insulation, and vibration dampening, the Ironclad General Utility GUG-03 Work Gloves stands out as the best option.
However, choosing this product means that you must sacrifice the benefits of pure leather, which, among others, include puncture-resistance, durability, and flexibility. For that reason, you may want to choose the American Made Buffalo Leather Work Gloves 650.
The American Made Buffalo Leather Work Gloves are made from highly durable leather material as per our buying guide. These gloves are both sturdy and flexible. They are also a little thicker for optimal cut resistance and impact protection.
The tough nature of the buffalo leather used in these gloves helps with durability, while its flexibility helps with dexterity and agile finger movements.
A keystone thumb design helps with ergonomics, while a hemmed cuff helps to attain a comfortable fit and to keep out dirt and debris. These features and more make the American Made Buffalo Leather Work Gloves our most recommendable buy.