5 Best Miter Saw Stands of 2020 and Why You Need One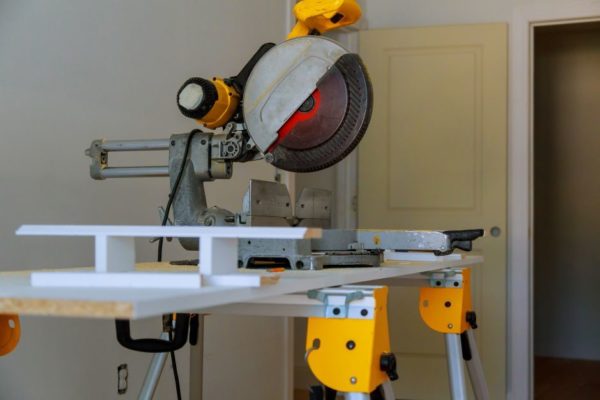 You need a miter saw stand for all your woodworking or other construction projects to come out flawless.
Unless you plan to break your back and take in all the nasty kickbacks from sawing on the ground, it would be prudent to find the right miter saw stand from the endless options in the market.
This review looks at the best miter saw stands that can help augment your work with efficiency, safety, and stability. Read on to find your best pick.
Best Value
Best Overall
Hitachi UU240F Hitachi UU240F Heavy-Duty Miter Saw Stand,
Bosch Portable Gravity-Rise Wheeled Miter Saw Stand T4B
Collapsible Rolling Miter Saw Stand 330 Lbs Load Capacity Black and...
DEWALT Miter Saw Stand With Wheels (DWX726)
Milwaukee 48-08-0550 Miter Saw Stand
Best Value
Hitachi UU240F Hitachi UU240F Heavy-Duty Miter Saw Stand,
Bosch Portable Gravity-Rise Wheeled Miter Saw Stand T4B
Collapsible Rolling Miter Saw Stand 330 Lbs Load Capacity Black and...
DEWALT Miter Saw Stand With Wheels (DWX726)
Best Overall
Milwaukee 48-08-0550 Miter Saw Stand
Last update on 2020-01-08 / Affiliate links / Images from Amazon Product Advertising API
The Benefits of a Miter Saw Stand
If you have worked with a miter saw on bulky unsupported materials before, you know how back-breaking the task can be. It is hard to get accurate cuts. Miter saw stands can solve the problem, but only if they are well designed. Otherwise, you will be going back in circles in the same quagmire.
Finding the best miter saw stand involves verifying ease of use. Find out if you can safely mount your saw on it. Also, check on the issue of stability and weight capacity. You need to be able to work with heavy loads on it without the table giving in to the pressure. You could also look at portability, adjustable working heights, and movable work piece brackets. All these are desirable must-have features on a miter saw stand.
Back when I was a young carpenter, I used to prop up supports when working with a miter saw. I would set my saw on plywood balanced between two trunks of wood. I thought I was saving money with this crude method, but in reality, it just slowed me down and played hobs with the quality of my output. With time I learned about the benefits of a miter saw stand, and I knew I had to get me one.
Flexible cuts
You can cut from an infinite number of positions using a miter saw stand. Unlike many DIY saw table contraptions, a well-designed miter saw stand comes with brackets that allow you to mount any saw on the stand. These brackets have spring-loaded clamps that let you position the saw anywhere on the stand for accurate cuts on long materials. Since the contraption holds down steady, your cutting operations will be fast and seamless.
Reduce waste
I can tell you for sure that for every inaccurate cut I made on my DIY stand, the heap of wasted lumbar piled high. See, every time you make an erroneous measurement, you have to redo the job, you have to utilize fresh lumbar – that is if you have any intention of producing quality crafts. A miter saw stand come with precision brakes stops that might enable even a novice to make accurate cuts effortlessly.
Adjustable heights
It can be rather taxing to work on a rudimentary saw table. A professional miter saw stand, on the other hand, will have adjustable heights. That implies that you can switch the table higher or lower so that you don't have to strain your back when working.
Portability and dependability
Having a miter saw stand is a like having a portable workstation that you can take it with you wherever you go. It is easy to set up when you need to work and easy to store at the end of your day. These are qualities that DIY contraptions hardly have.
Material support
You might be skilled enough to create a stand that supports your sawing with smaller materials, but what about the bulky kind? First off, a professional saw stand will be made to withstand the pressure of weighty materials. Most models feature a metallic tubular construction that is stronger than what you could ever build by yourself.
Better still, miter saw stands make it easy to work with long bits of wood. That is because they use extendible work supports that will hold down your workpieces no matter how bulky they are.
Best Miter Saw Stands
Last update on 2020-01-08 / Affiliate links / Images from Amazon Product Advertising API
This Hitachi miter saw stand can support 400 pounds of load according to the manufacturer specs. The contraption features an all-steel construction that you might find incredibly sturdy during your sawing.
The saw stand accommodates 12-inch sliding compound miter saws. You could also be able to work with bulky materials on it because of its 8 feet material support extensions.
The downside is that this stand doesn't have universal brackets for accommodating all type of saws. If your miter saw is more than 12 inches, you might have to find another stand.
However, you could cut it some slack owing to its many impressive features like height adjustment. The Hitachi UU240 allows what the makers call a tool-less height adjustment of the supports, which is an undeniable convenience.
The maximum working height with it is 4-29/32 inches—a fair number for a stand of its price.
Some miter saw stands might give you a nightmare when mounting or removing saws from them. I have been there. This Hitachi miter saw stand tries to make things easier with quick-release mounting brakes.
Another thing; Hitachi have made the material stops to be adjustable at each end of the stand. This architecture is accommodating for repetitive cutting applications.
What about its weight and portability?
Don't be surprised to find that the contraption weighs only 50 pounds. Its ability to support 400 pounds is because of the tubular steel construction which dramatically improves its mechanical advantage.
If you like to move freely with your tools, you might be in luck here. The included 8 inch treaded wheels improve portability.
Hitachi UU240F Pros & Cons
Pros
A heavy-duty design that supports big weights
Its tubular steel construction is hardy and strong
The miter saw stand comes with wheels for portability
Adjustable working height and extendable material supports
Cons
A few quality control issues–it might be delivered with damaged parts
The plastic caps on the feet are prone to breakage, leaving the miter saw stand out of balance
ADJUSTABLE: Featuring a Bosch-exclusive, patented Gravity Rise System designed for rapid set up and easy breakdown, taking the toughest jobs to the next level
CAPACITY: The Bosch T4B Gravity-Rise Miter Saw Stand has up to 18 feet of material capacity, the highest capacity among fully portable units
PORTABLE: Built with 8-Inch pneumatic wheels for ease of transport over jobsite terrain with even the heaviest miter saws attached
Last update on 2020-01-08 / Affiliate links / Images from Amazon Product Advertising API
Days when you need to work with a versatile range of saws, you might need a stand like the Bosch T4B. It uses universal mounts that you might find accommodating for different brands of miter saws.
According to the manufacturer, this miter saw stand has a material capacity of 18 feet. That is easily the widest load you might find supportable on any miter saw stand.
Just like the Hitachi UU240F, miter saw stand, you can also expect an adjustable working height in this model. Furthermore, Bosch T4B boasts a gravity rise mechanism that supposedly makes assembly and disassembly an easy process.
If you have sweated blood to transport your miter saw stands before, Bosch T4B could make things easier for you. The stand has 8-inch pneumatic wheels to facilitate stress-free mobility.
One other unique quality about it is that its legs are foldable, making it ideal for small storage spaces. Folding and unfolding, as seen earlier, is helped by the Gravity-Rise Technique.
Just like the Hitachi UU240F, the Bosch T4B Gravity-Rise uses quick-release mounts that might equally ease the process of mounting and dismounting your saw.
The Bosch T4B miter saw has many impressive features, but it might hit you harder in the pockets. Its price is almost three times what you pay for the Hitachi UU240F which has many perks going for it as well.
You might also face a few downsides with the Bosch miter saw stand. For starters, it comprises of plastic parts supplementing the metal parts. Plastic, as you know, doesn't fare well under pressure. The durability of this stand is, therefore, questionable.
Is it easy to use? To some extent, but not like the Hitachi UU240F notably because there is no quick-release mechanism in this case.
Bosch T4B Gravity-Rise Pros & Cons
Pros
Supports extensive materials of up to 18 feet
Its universal mounting system makes it compatible with all saws
It has pneumatic wheels that help with portability
Cons
Its plastic parts make it less durable
No quick release for tool mount assemblies
Last update on 2020-01-08 / Affiliate links / Images from Amazon Product Advertising API
Another on our list of the best miter saw stands is the Evolution Power Tool's EVOMS 1. It falls on the lower side of the price spectrum just like the Hitachi miter saw stand.
The good news is that the EVOMS1 miter saw has foldable legs making it just as portable as the previous models in this review. The arms slid into the stand, dramatically reducing its footprint.
This table stand could, therefore, be ideal when you are struggling with smaller storage space.
If you hate it when you have to struggle to mount or dismount your saws from a stand, you might like this model for its quick-release feature. The EVOMS 1 is several times cheaper than the Bosch T4B Gravity-Rise, but still, it comes with quick release brackets unlike the latter.
Another thing that makes it unique is its weight capacity. The stand can support loads of up to 330 pounds and 118 inches long. Although this weight capacity is slightly lower than what you get with the Hitachi stand, you must admit that it's decent for its low price point.
As if that's not enough, Evolution Power Tools have included height adjustable arms here. Together with rollers and end stops, they make an easy task out of repeat cuts where precision means everything.
EVOMS1 Compact Miter Saw Stand Pros & Cons
Pros
It comes with quick-release mounts
It is foldable and portable
It is sturdy with a weight capacity you might find acceptable
Achieving precision with repeat cuts is a breeze
Cons
Working height is not adjustable
Its design is too short for comfortable working
Last update on 2020-01-08 / Affiliate links / Images from Amazon Product Advertising API
This contraption weighs 25 pounds but can carry loads of up to 300 pounds. That's remarkable, one can say. This miter saw stand has a tubular steel construction to ensure that it lives up to that spec.
Moreover, portability is guaranteed here because the contraption is designed with 8-inch pneumatic wheels. Beware though that anything from DEWALT often means digging a little deeper into your pocket. The DWX726 Rolling miter saw stand is not any different.
Another bubble buster, in this case, is the fact that the legs are not foldable like in the Hitachi UU240F miter stand. You only get to wheel it around but not save on storage space.
Be that as it may, this miter saw stand stands out from the previous model owing to its adjustable working height. You might be able to work at three different heights by using the adjustable pneumatic feature that raises/lowers the stand.
Then again, the DEWALT DWX726 Rolling has adjustable mounting rails. This feature makes a stand compatible with many saw brands indiscriminately.
DEWALT DWX726 Rolling Pros & Cons
Pros
It has wide rubber wheels for mobility
It has a decent weight capacity
You get an adjustable working height
It is compatible with different saw brands
Cons
It's not foldable
User instructions are not clear
The material support arms are not well designed
Last update on 2020-01-08 / Affiliate links / Images from Amazon Product Advertising API
Are you looking for another miter saw stand on a budget? This Milwaukee miter saw stand is one of the most affordable ones you will find. Surprisingly, it holds up to 550 pounds of weight, which is pretty decent considering its price point.
Now, to prick that bubble, you have a 53-pound contraption here that doesn't have any mechanism for portability. There are no functional wheels in this case, and therefore, I would choose the Hitachi UU240F without even thinking—it is equally affordable.
However, what you might like about this miter saw stand is that it has big workpiece support of 9.5 inches. The saw stand is also foldable and could, therefore, help you save on storage space.
Beware though that folding it down is a real hassle. It requires two hands whereas in the DEWALT stand it's a one-hand operation.
Milwaukee 48-08-0550 Miter Saw Stand Pros & Cons
Pros
It is foldable for secure storage
It has a large weight capacity
Cons
It has no functional wheels for portability
It's hard to fold the legs
The Bottom Line
The Hitachi UU240F is not only a money saver but also has some fantastic features that make it stand tall above others. Its weight capacity is 400 pounds, and the stand features a tubular steel construction that could deliver an unmatched sturdiness.
The Hitachi UU240F miter saw stand also has extensive material supports that hold up to 8 feet wide materials. With this miter saw you also get an adjustable working height, quick release mount brakes, and wheels for portability. These features are an embodiment of a sui generis miter saw stand that could take the stress out of your budget and beef up your productivity.
Last Updated on