Best Folding Saw of 2023 – Reviews & Buying Guide
Maintaining freshness and elegance in your garden takes skill, dedication and, most importantly, the right tools. Folding saws are meant precisely for a variety of gardening tasks, alongside other versatile tools.
The best folding saw should improve your efficiency while sprucing up your garden and help you cut through overgrown bushes and overhanging branches with ease. Let's find out what qualifies as the "best folding saw of the year."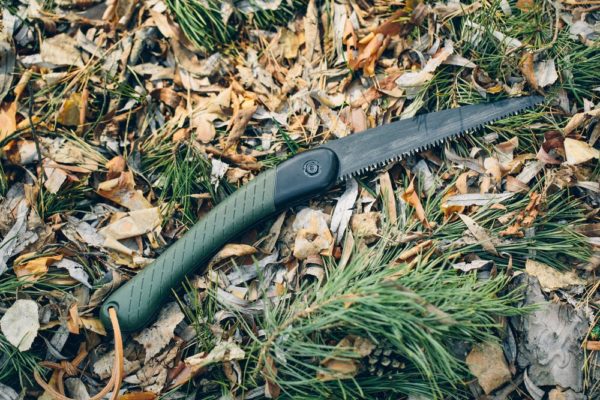 Folding Saw Buying Guide
As a DIY gardener, I have found these tools to be irreplaceable when pruning bushes and chopping off dead branches in the fall. Folding saws can also be handy tools when backpacking for trailblazing and firewood collection.
That said, no two folding saws are made the same, and there are certain things to keep in mind when you are looking for the ideal one for your purposes.
A few things to watch out for
1. False advertising
Some brands like to exaggerate certain qualities of their products. It's a disappointment when a product that promises a 7-inch blade is delivered and turns out to be a mere 6 inches.
2. Manufacturer assumptions
Some will tell you directly that their saws can cut 4-inch-thick trees; however, the situation might be drastically different on the ground when dealing with hardwood or fibrous tree types.
3. Blades that can't stay sharp
Most manufacturers use chrome plating as a technique to keep their blade materials durable and rust-free. That may work, but the coating reduces the sharpness of the blade.
4. Overly thin blades
Folding saws are made to be hand tools. Even so, the right balance is needed between portability/convenience and power.
Some manufacturers take things too far, creating saws with smaller and thinner blades. These products often turn out to be flimsy and incapable of hacking a dead twig.
What to consider when buying a folding saw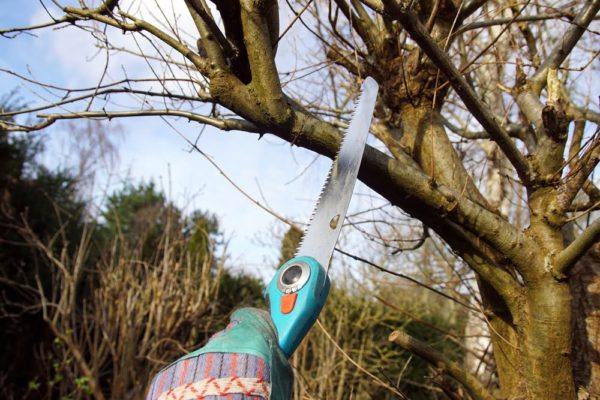 1. Your intended purpose of use
Gardeners have different requirements than campers do for their folding saws. As a camper, you might appreciate smaller saws with small blades. But for a gardener, a smaller blade could mean a major compromise on efficiency.
2. Handle length
Handles that are too small kill user efficiency. They put you at risk of fatigue and occupational injuries. The right folding saw has a handle that slightly extends out of your palm on both ends.
3. Saw weight
Most folding saws have a manageable weight, meaning that they are decently portable. However, if you want something that can fit in your bag when you have to walk for extended lengths of time, find a model that is extra light. But also watch out; these tend to be flimsier.
4. Folding efficiency
Some folding saw blades cannot stay in place when in a folded position. They might slip out and cause injury to the user. The best product should feature a locking mechanism for keeping the blade sheathed while at rest.
5. Grip and comfort
One other thing you want with your folding saw is good ergonomics, meaning decent grip and comfort. The best folding saws of the year should have a non-slip plastic or rubberized handle for better usability. Working with lose grip saws can be a real pain in the backside. I have been there.
6. Blade length and number of teeth
Longer blades may be suitable if most of your workpieces are going to be thicker, or if your gardening consists of hacking through solid branches.
You might also want to consider models with many teeth per inch. A denser teeth configuration per inch (TPI) enhances cutting efficiency and smoothness.
7. Teeth sizes
Bigger teeth may work well for you if you are dealing with hardwoods. You will be able to work faster and effortlessly.
Smaller-teethed folding saw blades are ideal for softwoods. They help to achieve a finer level of precision.
8. Material and durability
The best folding saw blade is resistant to rust and bending. There are a variety of materials to consider, but stainless steel is the gold standard. It is a sign of durability and best performance.
Important points to remember
Most folding saw blades cannot be sharpened; you will have to find a new blade if yours grows dull
Due to the above point, consider buying a blade that does not lose sharpness
The efficiency of your folding saw depends on the angle of cut
Pull-stroke blades often perform better than push-stroke types; they require less effort
Push-stroke saws are ideal when working with harder materials; pull strokes deliver precision and delicate cuts
The Best Folding Saw of the Year
Sale

Corona Tools 10-Inch RazorTOOTH Folding Saw | Pruning Saw Designed for...

3 SIDED RAZOR TEETH FOR EFFICIENT CUTTING: 10" blade is ideal for cutting 5" - 6" diameter, small to medium, branches
ERGONOMICALLY DESIGNED, COMFORTABLE, CO-MOLDED HANDLE: Provides a comfortable grip for extended use
EASY TO LATCH BLADE PREVENTS INJURY WHEN NOT IN USE: Folding blade is curved, taper-ground, and replaceable

Last update on 2023-06-02 / Affiliate links / Images from Amazon Product Advertising API

Editor's Comments
The design of this foldable saw stands out with its curved blade of ten inches, and its six teeth per inch. This design could help you do more in one swoop; the serrated teeth are three-sided for efficient cutting when dealing with thicker shoots and shrubs.
One thing I like about this model is the ergonomically designed handle. It's ambidextrous and fits right in the palm, an architectural direction that significantly reduces the risk of fatigue and repetitive motion injuries when working with it for long periods of time.
The other remarkable quality here is the easy-to-latch blade that can improve user safety when storing the saw. Beware, though, that for this purpose, the underside of the handle is not sealed. Watch out that you don't hack your thumb when you carry it.
The curved blade is taper-ground and impulse-hardened for reliable service that will hopefully last you for years. With the slanted design, you may be able to make quicker and smoother cuts. The design offers dense teeth positioning as well.
Even with all the Corona RazorTOOTH's impressive qualities, you might find that the blade bends too easily. Also, be prepared to regularly sharpen this saw, a possible consequence of the chrome-plated teeth.
Pros
Ergonomic handle made for lefties and righties
Ten-inch blade with dense teeth positioning
Impulse-hardened blade with three-sided teeth
Cons
Teeth remain exposed in storage
Blade a little flimsy and does not stay sharp for long

---
No products found.

Editor's Comments
The Silky Professional Pocketboy boasts a similar curved blade design as the Corona RazorTOOTH saw. The model comes in diverse lengths and teeth per inch (TPI) configurations that depend on the length of the blade. This gives you the freedom to choose a product that best suits your intended function.
The five-inch blade design has seven teeth per inch. This model could work well for users that want quicker and smoother cuts in their gardening endeavors. The taper-ground teeth could also significantly reduce resistance in cutting movements to save your energy and time.
When it comes to durability, the Silky Pocketboy doesn't seem to perform much differently from the first contender. They both have the impulse hardening on their blades. They are heated and hardened to stay robust for a long time.
You will also come to appreciate the chrome plating on this model, which reduces fragility and susceptibility to rust. But as with the Corona RazorTOOTH, you might need to keep a saw file on hand every time you work with this handtool.
To shoot from the hip, there is quite little to inspire about ergonomics here. You might find the handle too short for comfort. The Occupational Safety and Health Administration OSHA warns that hand tools with shorter handles can increase your risk of injuries due to contact stress. They put too much pressure on your palm and fingers.
Pros
A variety of blade lengths
Excellent TPI and streamlined blade length for smoother cuts
Rust-resistant blade
Cons
The handle might be uncomfortable to use for long
The blade does not stay sharp

---
TABOR TOOLS Folding Saw with 8 Inch Curved Blade and Rugged Grip...

OUTDOOR & SURVIVAL: Throw this lightweight saw in your backpack or toolbox. This tool will be a great help in the bush for trail maintenance or while camping or constructing a shelter, and as a bonus,...
CURVED POWER BLADE FOR PRUNING: You can easily cut branches up to 4-inches in diameter with this rust-resistant powerful handsaw! You can cut faster as a result of the curved blade which fits around...
NON-SLIP GRIP: The rugged handle feels grippy and is made of non-slip materials. The size will work with any hand size from small to extra-large. The rugged razor tooth blade remains stable during...

Last update on 2023-06-02 / Affiliate links / Images from Amazon Product Advertising API

Editor's Comments
Folding saws with longer blades might be best suited for handling bigger branches when gardening. In that case, the Corona RazorTOOTH foldable saw shines through, because the TABOR TOOLS TTS25A comes in at 8 inches, just a few inches more than the Silky Pocketboy.
The blade is curved for smoother cutting and is fitted with rugged razor teeth that could help you do the job more or less effortlessly. The cutting action works via the pull stroke, which delivers a good level of control to the user, along with fast and efficient cuts.
You have a longer and slightly curved handle here that could enhance things when it comes to ergonomics. Its non-slip grip handle is designed to comfortably fit your hand while giving you a balanced weight of the device, according to the manufacturers.
Other features worth a gardener's or camper's considerations on this model include a 3-dimensional cutting edge that possibly doubles cutting efficiency. The chrome plating on the blade keeps it rust-resistant while the teeth are impulse hardened for durability.
Please note that, like the Corona RazorTOOTH foldable, the teeth don't stay fully covered when the blade is folded. Its locking system designed to function as a sheath might not deliver the goods when it comes to user safety.
Pros
Curved blade with 3D cutting angles
Cutting action via pull stroke
Ergonomics assured
Cons
Smaller blade length might be disappointing

---
Bahco 396-LAP Laplander Folding Saw, 7-1/2 -Inch Blade, 7 TPI

General purpose folding saw with an 7-1/2 -inch blade, 7 teeth per inch, for cutting both green and dry wood, plastic, or bone.
XT Toothing, 7 TPI. Blade is specially coated for rust protection and low friction.
Two-component plastic handle for perfect grip, with leather strap.

Last update on 2023-06-02 / Affiliate links / Images from Amazon Product Advertising API

Editor's Comments
What you have here is a 7.5-inch blade with a configuration of seven teeth per inch. You should get an efficient cutting experience with this design compared to several other models on the market.
Even so, this small saw might not be up to rigorous gardening and woodworking tasks. Perhaps to make up for this, the makers have chrome coated the blade to keep off the rust and a long, curved handle for user-friendliness.
The product is branded as a folding saw for campers. If that describes your intended use, you might then appreciate the small size that makes it incredibly portable. It also provides assurance of hassle-free storage.
The Bahco Laplander features a safety lock on the handle that can help with user safety. This feature keeps the blade from slipping out of the folded position when in storage. It also keeps it steady during cutting.
Pros
Designed for backpackers
Stainless steel blade
7 TPI for cutting efficiency on the 7.5-inch blade
Rust protection and safety lock
Cons
Blade is too thin
The lock may not stay in position as advertised

---
Sale

EverSaw Folding Hand Saw Camp Saw 8" Folding Saw - Pruning Saws for...

Premium Quality - EverSaw Folding Saw is a rugged pull cut hand saw built to last with an adjustable medium-tooth 8 inch SK5 carbon steel blade. You'll always have a good grip on the ribbed rubber...
Pull Cut Design - Triple-cut razor teeth of your hand held saw are made for pull cut sawing with 9 teeth per inch (9TPI) to provide smooth fast sawing. Hardened to stay sharp your manual saw can...
Multipurpose - From everyday yard work to hiking and bushcraft in the great outdoors our folding handsaw is up to the task. You can use our compact folding saw as a camp saw folding, hand saw for...

Last update on 2023-06-02 / Affiliate links / Images from Amazon Product Advertising API

Editor's Comments
The major highlight of the EverSaw folding saw model is the 8-inch 3D-cut carbon steel blade. These features combine cutting power and durability in one. When you are not assessing blade lengths, this model could easily be your best pick.
As with the previously reviewed items, the EverSaw folding saw features impulse-hardened teeth to deliver long-term usability. You might also appreciate the slip-resistant handle design that fits the bill in ergonomics.
Additionally, there is a safety lock included in the handle that should enhance user safety. The manufacturer promises that the gear lock mechanism helps the blade stay firmly in place. When folded, they state, no teeth are exposed. You might, therefore, feel safer with the EverSaw than with the Corona RazorTOOTH, and others reviewed earlier.
Another perk is the stainless steel blade that can outperform the other chrome-plated models if weighed against each other. Stainless steel remains rust-free in all kinds of weather. You might also find that, because of this material, the blade remains sharper for longer.
One other inspiring quality here is the cutting action, which is by pull motion. This improves control and ease of use. The manufacturer states that, because of these qualities, EverSaw can cut through anything, including wood and bone.
Pros
Eight-inch stainless steel blade
Hardened triple-cutting teeth
Ergonomic handle with a locking mechanism
Cons
The teeth aren't deep enough for thicker materials
Heavier than most folding saws

---
The best pick
The EverSaw scores better than the other reviewed items on many fronts. The stainless steel blade with tri-cutting dimensions plays a pivotal role in regard to efficiency. The blade retains sharpness for longer, and the impulse-hardened teeth assure durability.
The handle features a lengthy and curved design, which provides ideal ergonomics. It is made to be slip-resistant and may facilitate prolonged use with minimal chances of fatigue or injury.
Unlike many of its contenders, EverSaw has a safety lock mechanism on the handle to improve user safety. Its gear lock system raises the bar, allowing the blade to stay firmly in place for safety and better performance.
Additionally, the blade works via a pull action that should definitely live up to your expectations in terms of efficiency.
Last Updated on May 27, 2020 by Tom Bradly