Best Rockwell Saws of 2023 and What to Consider When Buying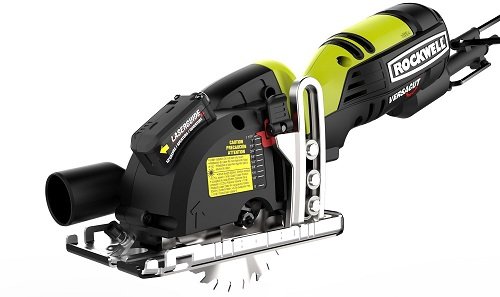 Whereas the right tool can make your life easier, making the wrong choice can bring endless headaches. On so many occasions, however, contractor tools quit on us when we need them the most.
Rockwell is a respected name in the world of power tools. The company has pushed many models of saws in the market, looking to deliver the kind of reliability that's always so elusive.
This review investigates the best Rockwell saws that you might leverage to improve the quality of your output.
Rockwell saw buying guide
I have used so many saws over the years as a carpentry contractor, and I can say that one thing that can dampen your spirit is when your tools disappoint. Many machines have crapped out in my hands, while some were just too weak for professional use. But that's not all; a cheap saw might come flying out and disfigure your face from the resultant kickback. One, therefore, needs to be very cautious when buying these power tools. From stability to speed and cutting capacity, there are so many things to consider.
The right blade thickness will boost your performance
The golden rule is always to buy saws with thicker blades if you are after more performance. A saw blade with a heavy mass can withstand the stresses and friction when cutting better than a thin blade would do. Thick saw blades will function well with a horsepower of more than 12 amps. They are suitable for high volume applications.
On the other hand, thin blade kerfs are ideal when you are after accuracy. Such blades are generally compatible with low horsepower saws. Thin blades result in an excellent finish without wasting your materials through splinter.
A firm grip is a must
One of the problems I have regularly encountered with handheld powered saws is a lack of a proper grip. Because all saws have some level of kickback, you will want to have a steady hold on your tool when that happens. In that regard, find saw whose handle fits well in your hands. Arubber coated handle can help to achieve a firmer grip. The good grip also is beneficial for precise cuts.
Blade teeth and performance go hand in hand
Before signing the check on any particular saw, check the blade teeth the first. The number of teeth (indicated as TPI- teeth per inch) directly tells of the saws speed and type of finish it will deliver. A blade with fewer teeth count has the potential to cut faster. On the other hand, one with many teeth will provide a delicate finish with minimal splintering. The latter will also serve you for long, because the expansion slots in the rim keep the blades from warping.
The saw needs to have reliable safety features
Safety is of great importance when working with saws. These tools pose a higher risk from the danger of kickbacks to cuts and dust contamination. The first thing, therefore, to look in a saw is the presence of a lock mechanism. The safety lock helps to prevent accidental starting when the machine is not in use. Other saws usually come with a breaking mechanism to instantly stop the blades after you finish cutting because blades tend to run for long from the momentum even after pressing stop.
The other safety feature of significance is the dust collection mechanism. Sawing wood, metal, and plastic, among others, generates dust that you risk inhaling. This dust can adversely affect the health of your breathing system. Silica dust is notably the most hazardous, causing 300 deaths of construction workers every year, according to the National Institute for Occupational Safety and Health (NIOSH).
A larger cutting capacity is necessary for bulky projects
Cutting capacity refers to the saw's depth of cut. Saws with a larger cutting capacity make it effortless to work with hardy materials, delivering unwavering power be it on concrete, hardwood or metal.
On the other hand, saws with a smaller cutting capacity are limited to wood and soft boards. The cutting capacity of a saw largely depends on the blade size. A bigger blade can make a deeper cut.
A high horsepower would be preferable in professional undertakings
Because of the voluminous nature of professional projects, you will need a saw with a high powered engine to help you eat through your load much faster. A high horsepower can also help with the blade's cutting capacity and speed.
A high-speed blade is beneficial for accuracy
The saw's blade speed, indicated as rotations per minute (RPM), determines the kind of efficiency you get with the tool. High speed means that you get to do your job much faster. But that's not the end of it, with a high speed blade you stand to make accurate cuts. It happens that as the saw blade moves at high-speed splintering is minimized, leading to an elegant finish.
Rockwell Saw Reviews
[MORE MANEUVERABILITY] All the functionality of a full-size circular saw but in a compact design that's easier to use, and easier to make quick cuts with
[REAR MOTOR] For a more balanced feel. With the motor in the handle, you control much of the weight of the saw with just the palm of your hand for smoother movements
[EASY DEPTH SETTING] The readily accessible adjustment lever lets you change the cut on the fly, and the bevel adjustment lever enables you to make cuts from 0-45°
Last update on 2023-09-29 / Affiliate links / Images from Amazon Product Advertising API
The RK3441K is a compact saw, weighing just 5 pounds. That can be a good thing when you need a high degree of portability with your tools. The saw boasts a carbide-tipped blade that measures 4.5 inches in diameter. I have amassed many saws over the years, but I find that the Rockwell RK 3442K delivers just the same level of performance as the bulkier 7-1/4-inch circular saws in the market.
This circular saw runs on a 5 amp motor with a speed of 3,500 rpm. You will find this motor power and speed sufficient enough to cut 2 inch thick materials with ease. The saw can cut 2x4s lumbar materials in a single pass, a factor that let you maximize your output in a short time.
RK3441K scores considerably well on user-friendliness too. Notably, the slim grip handle makes it comfortable to work with the saw, improving your control and grip. One can, therefore, be able to make fast and easy rips, cut off and plunge cuts on a wide range of materials from plywood to hardwood.
The RK 3441K has a maximum cutting capacity of 1-11/16 inches at 90 degrees. At 45 degrees the slant cuts are 1/8 inches deep. This versatility gives you power and control over the design and shape of your wooden materials.
This Rockwell saw also features a depth a gauge that lets you customize how deep the blade gets into the wood. The arbor size is 3/8 inches long. There is also an arbor lock thingamajigger that enables you to change the blades with ease.
RK3441K Pros & Cons
Pros
Pros
The blade has a tooth ratio of 24 TPI, which can deliver clean cuts
The saw has a slim handle for effortless operations
It has a dust extraction mechanism
Powerful motor and saw speed
Cons
Cons
The bolt holding the blade is fragile
The small-sized saw blade might not handle thicker blocks
Last update on 2023-09-29 / Affiliate links / Images from Amazon Product Advertising API
The Rockwell- RK 3440K circular saw is the predecessor of the RK 3441K. The contraption weighs just a tad over 3 pounds and comes across as a compact saw just like the RK 3440K.
The saw is powered by a four amps motor that generates a cutting speed of 3500 rpm. This horsepower gives you the room to work with a variety of materials from wood to ceramics and metal.
Another feature of note is its one-handed design. The slim grip handle, coupled with its lightweight nature makes it easy to use the RK 340K with a single hand while you stabilize the surface area with another. Similarly, the rear motor construction makes it comfortable to use the saw, minimizing fatigue.
A lock switch included helps with safety, preventing accidental starting. While working with the saw, you will also have free access to the depth adjustment bar that will let you customize your depth of cut. The Rockwell 340 K saw also flaunts a sturdy metal outer and inner guard that might help with the machine's durability.
One other thoughtful inclusion on the Rockwell 340K is its dust removal mechanism. That is in the form of a vacuum adapter and dust port that will, to a great extent, improve the safety of your work station.
The cutting depth of the RK 340K is just slightly over one inch. This capacity is okay for DYers but might be limiting for professionals. The blade size is 3-3/8-inches in diameter with 24 teeth, a design that will make it painless to achieve considerably fine cuts. The laser guide technology included also ensures accurate measurements and cuts.
RK3440K X2 Pros & Cons
Pros
Pros
Lightweight nature (3pounds) makes it highly portable
The ergonomic and one-handed design makes it easy to use saw
Its compact nature makes it easy to fit in tight spaces
Powerful motor and high blade speed for fast and accurate cuts
Cons
Cons
Takes the considerable human effort to work with the saw
The cutting line is not visible
Might have dangerous kickbacks
Sale
[SETS UP IN SECONDS] Take this table saw to the job site or move it around the workshop. There's even a built-in carry handle
[CUTS LIKE A FULL-SIZE] With the standard guard and riving knife system you can perform rip, cross, scroll, and miter cuts
[TOOL-LESS BLADE CHANGE] Uses any brand's standard 4" T-shank blade, but we threw 5 in the box to get you started cutting wood, ceramic tile, plastic, aluminum, and metal
Last update on 2023-09-29 / Affiliate links / Images from Amazon Product Advertising API
This tabletop saw weighs 17 pounds and therefore can easily top the list of most portable saws in its category. Using the BladeRunner X2, one can work with several materials from wood to metal, tile, aluminum, and plastic.
The BladeRunner X2 has a small footprint, with dimensions not exceeding 15-3/4″ x 17″. The miter gauge, fence, and blades are within the unit itself. Additionally, there is an inbuilt table top handle to make moving a stress-free undertaking.
The saw is compatible with many blades. If you choose the right sized saw blades, you will be able to work with a vast range of materials. The saw's cutting depth when it comes to wood is 1-1/2 inches and 3/8 inches when it comes to steel. With ceramic, the cutting capacity is 3/8 inch. These capacities don't fall too far from expectations.
What's more, there is a hold down the guard that you can use to stabilize your cuts when dealing with bulkier materials. Rockwell has designed this saw to enable easy blade changes. The saw can accommodate a 4 inch t-shank jigsaw blade.
5.5 amps is the horsepower of the BladeRunner X2. This is a powerful motor, higher than what you get with the RK 340 and 341. Aside from that, the saw features a sturdy steel fence to properly hold your stock as you plunge or rip cut through them.
BladeRunner X2 Pros & Cons
Pros
Pros
Powerful motor for faster and deeper cuts
Can work with a variety of materials
Compatible with many 4-inch blade types
Dust extraction mechanism
Sturdy fences
Cons
Cons
Might not deliver expected performance on hardy materials
Hard to make long even cuts
Last update on 2023-09-29 / Affiliate links / Images from Amazon Product Advertising API
The RK 7241S is a heavy duty machine weighing about 80 pounds. It is a 10-inch blade saw, a feature that makes for a larger cutting capacity. There is an included 30-inch foldout that magnifies the rip capacity.
The incorporated laser guide system is useful for accurate cuts. This guide system autonomously realigns whenever you change the angles of cut. Better still, because of the sturdy stand with stable legs, one can make accurate cuts without cases of wobbling. On top of that, an extended leg functions as a pull handle to aid in the portability of the saw.
The RK7241 saw can cut a 4-by-4 piece of wood in one single swoop. You can expect a cutting depth of 3-9/16 inches at 90 degrees while at 45 degrees the cutting capacity is 2-9/16 inches. With 15 amps engine, you will get more cutting power than the earlier reviewed Rockwell saws in this post. Cutting speed is about 4800 rpm, which is ideal for large projects.
An integrated laser dust removal system will make your work space safer.
RK7241S Pros & Cons
Pros
Pros
Extra powerful motor and blade speed
Adjustable laser guiding system
Dust-collecting bag
Expandable fence
Cons
Cons
Some of its plastic parts are fragile
Legs start to get unstable after continuous use
The best pick
The Rockwell RK7241S Table Saw is easily the best saw on the list. This saw can handle DIY operations and commercial projects as well. Its superior features include a big blade size (10 inches) that can attain a high cutting capacity of 3-9/16 inches at 90 degrees and 2-9/16 inches at 45 degrees.
The laser guide system included is useful for accurate cuts, while the wheeled stand makes this contraption easily portable. The saw runs on a 15 amp engine with a cutting speed of 4800 rpm. The RK 7241S also features a dust collection mechanism and therefore checks right on many tenets in our buying guide.
Last Updated on July 23, 2019 by Tom Bradly