Bosch RH328VC Rotary Hammer Review & Buyer's Guide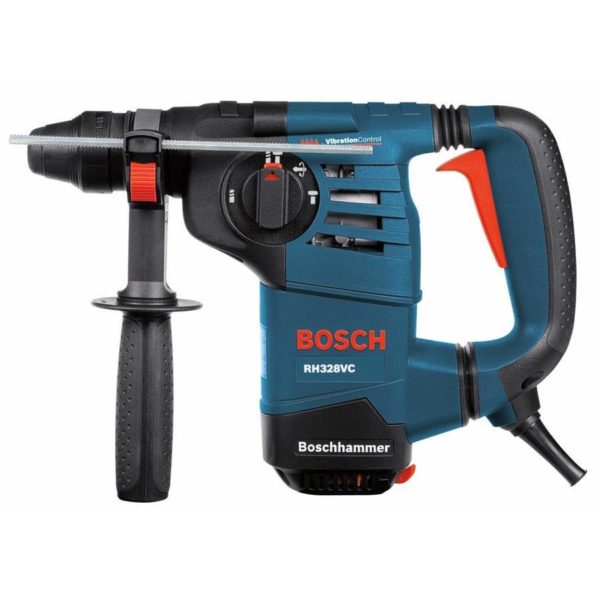 Stepping up to a material that is as unforgiving as concrete requires one to come prepared. Jobs like such call for a tool like the Bosch RH328VC, a rotary hammer that some call pricey, but others consider great value for money.
What's unquestionable is that you can't break concrete as effectively without a rotary hammer. What about a hammer drill? Isn't it powerful enough to drill holes in concrete and metal? What's the better tool to have when a chunk of concrete stands in your way, a rotary hammer or a hammer drill?
Sale
Bosch RH328VC 1-1/8-Inch SDS Rotary Hammer with HDC200 SDS-Max Hammer...
Unmatched Power to Weight Ratio - 8.0 Amps, 2.6 ft-lbs Impact Energy and 7.7 lbs - Best Performing rotary hammer in its class !
Vibration Control - Vibration reduction in the hammer mechanism and the grip area provides maximum user comfort for extended periods of work
Multi-Function Selector - 3 modes of operation: Rotary Hammer, Hammer-Only mode, and Rotation only mode.
Last update on 2023-06-02 / Affiliate links / Images from Amazon Product Advertising API
Rotary Hammer vs. Hammer Drill
When it comes down to it, the main difference between a rotary hammer and a hammer drill is the impact energy.
This is because the two types of hammer drills use different mechanical processes. A rotary hammer's pounding action originates from a crankshaft that drives a piston, which creates air pressure that moves the hammer back and forth. This gives rotary hammers much more impact energy than hammer drills.
The mechanism behind the hammer drill involves two ridged disks that slide past each other. One of the disks rises and falls causing the clutch to move back and forth. When not in operation, the disks are separated by a clutch, and when the hammering function is turned off, hammer drills function like normal drills.
Rotary hammers are better suited to tough jobs because they are built more durably than hammer drills. Furthermore, most of them are capable of functioning as a small jackhammer and a normal drill as well, making them pretty versatile.
What's Important to Consider When Buying a Rotary Hammer?
We've established that rotary hammers and hammer drills are designed for different jobs, despite having a few similar functions. Let's now take a look at what makes a rotary hammer good at what it does.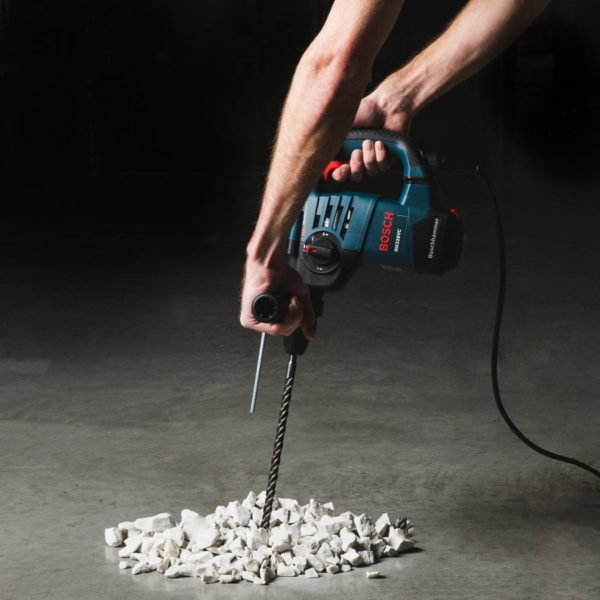 The Motor
Brushed carbon motors and brushless motors both have their advantages and disadvantages. Brushed motors are generally cheaper and just as hard working as brushless motors, but they are terrible at dispersing heat so they tend to overheat very quickly, something that makes them a lot less durable.
Brushless motors are powerful, energy efficient, and generate less heat, making them a better long-term option. Unfortunately, these don't usually come cheap. Nevertheless, they're well worth the cost because they can perform better for a lot longer than brushed carbon motors. There's also the power and speed delivery of the motor to consider. How many RPM's/BPM's do you need? Hard surfaces like concrete are generally easier to deal with if you have BPM's to spare because the extra blows improve penetration.
Lastly, there's the all-important impact energy rating. Rotary hammers have an impact energy rating that's measured in joules. The tougher the material or job, the higher you'll want this rating to be.
The Chuck
Rotary hammers use SDS (special drilling system) chucks, making them unique among power tools. SDS chucks are made almost entirely out of heavy duty plastic. Their most crucial parts, however, are their lock accessories. These help to keep even the largest drill bits and chisel bits in place.
Most entry-level rotary hammers come with the smallest standard chucks available, SDS-Plus chucks. These can be used with bits in the 3/16-inch to the 3/4-inch range. While great for home use, these aren't as efficient as SDS-Max chucks, which use chucks from 1/2 inches to 1 3/4 inches. There's also spline chucks, which are compatible with bits in the range of 3/8 inches to 1 3/8 inches. To maximize your productivity, you can get all three chucks. Furthermore, with two of these chucks (SDS-Plus and SDS-Max) you can use core bits of up to 4 inches diameter-wise.
Mode Switch
Most of the rotary hammer drills you'll find have two modes — a rotary drilling mode for material like wood, and a rotary hammer drilling mode for punching holes in concrete. Some rotary hammer drills have a third mode — a chisel mode — which allows you to break tile or tear down floors. This third mode is mostly useful for renovation jobs.
Why Versatility Matters
Rotary hammer drills can do up to three things at the job site. They can drill holes in wood, punch holes in concrete, or even turn into a miniature jackhammer.
There's no question that all these functions can come in handy at some point during the job, but are you willing to spend more for a feature you'll not use that often?
If you're constantly switching from woodwork to boring holes in concrete to renovating, a rotary hammer that can do all three will be invaluable. However, this versatility is lost on someone that only needs a powerful concrete drill, or a small jackhammer for renovations.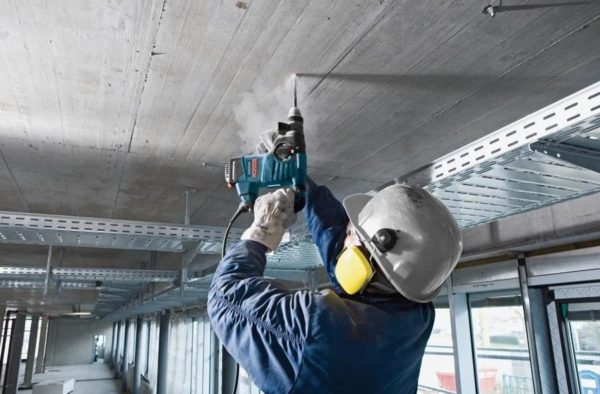 The Importance of Hole Size
Every rotary hammer has an optimal drilling range. Pushing it beyond this range increases wear
and tear and increases its chances of failing.
There's always the chance that you'll need to use your rotary hammer drill at full power. If you plan on drilling larger holes, make sure your drill is capable of such a task. Pay attention to its motor capacity as well as the drill bits it can work with to see if it will be the right fit for your needs.
Choosing the Right Bits
No single component of a rotary hammer is as important as its bits. It is the only component that can single-handedly improve the overall efficiency and durability of a rotary drill.
Take for example carbide bits. A full-head carbide bit has a lifespan that's roughly four times as long as that of a standard bit.
There's also flute-shaped bits, which increase a drill's lifespan because they remove dirt and debris faster.
The right bits will make your tool more efficient and more durable, increasing productivity.
Bosch RH328VC Rotary Hammer
A Quick Overview
Bosch is a name that needs no introduction in the construction industry. The RH328VC rotary hammer embodies their unfailing dedication to quality and performance, bringing to the table power, speed, and efficiency in a lightweight, compact bundle.
There's no question that the RH328VC is a proper rotary hammer. It comes equipped with a 1 1/8 inch SDS chuck, and offers three different working modes: rotary hammer, hammer only, and rotation only, plus a clutch to minimize torque reaction and throw in an unexpected element of flexibility.
Is the RH328VC 'the one'? Will you find value for money and great functionality despite its price tag?
Read on to find out.
The Features You'll Like
1. Auxiliary Handle
It's admirable just how far Bosch are going just to give us better control over their power tools. The RH328VC's primary grip is well-padded and comfortable to hold, but it is its auxiliary handle that steals the show.
This auxiliary handle can rotate 360 degrees, giving you the freedom to hold the unit however the job demands it. It's hard not to love having that kind of flexibility, especially when using a tool with such tremendous amounts of kickback.
2. Vibration Control
If the 360-degree auxiliary handle doesn't do the job, Bosch have added an anti-vibration failsafe that's in the form of its proprietary 2-step vibration control feature.
This feature is very effective because it allows you to drastically minimize the vibration from the impact mechanism before it reaches the handle. Added stability is the result, and improved accuracy is the reward.
3. Three Working Modes
We mentioned the importance of finding a tool that's versatile enough for the job. The RH328VC doesn't disappoint on this score.
It comes with three working modes, one for drilling through wood, one for drilling and punching through concrete, and one that delivers maximum impact energy for breaking tile or concrete floors for renovation.
With the right attachments, it can easily be turned into a formidable tool at the job site.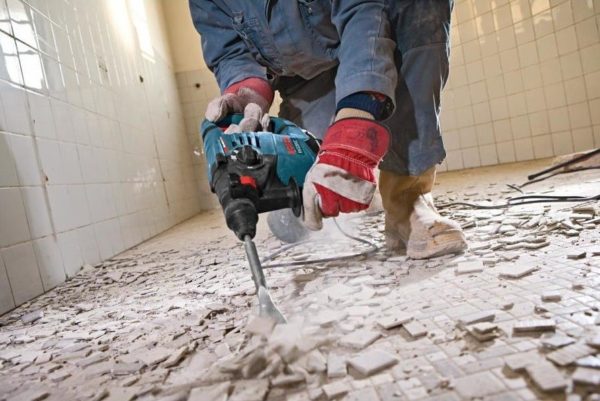 Power-to-Weight Ratio
Under the hood, the RH328VC has an 8-amp 120V motor that's capable of up to 4,000BPM. Even though it weighs only 7.7 pounds, it has an impact energy rating of 2.6 ft. per pound, which is impressive enough to make it one of the best rotary hammers at this price point.
Its perfect power-to-weight ratio is made better by its variable speed function, which allows you to switch from 0-900BPM to 0-4000BPM through the variable speed trigger. This means that it is better equipped to handle jobs of varying difficulties.
Where it excels
Power
With an 8-amp motor that can easily give you up to 4,000BPM, the RH328VC is a decent rotary hammer by most standards. Variable speed technology makes its power expenditure more flexible, allowing you to conserve energy on smaller jobs.
The RH328VC is an exceedingly well-balanced tool as far as power and weight are concerned. In the right hands (and with the right bits), it can do a lot more than most of the drills in the same price range.
Comfort and Stability
Power is nothing without stability. Bosch seem to have understood that concept very well when they made the RH328VC, which is designed to stay stable despite the amount of impact energy it packs.
Thanks to the ergonomic rubberized grip, the rotary auxiliary handle and a 2-step vibration control feature, the RH328VC won't be too tough to handle even for the inexperienced amateur.
Performance
Using the multifunction selector, you can turn the RH328VC rotary hammer drill from a hammer to a rotary drill, to a hammer drill. This makes it quite the performer at the jobsite.
Its 120V 8-amp motor can work tirelessly when hooked up to the right power source. The vibration prevention measures (360-degree auxiliary handle, torque-regulating clutch, and 2-step vibration control) drastically improve the tool's stability as well.
Accessories
Disregarding promotions and discounts, the Bosch RH328VC rotary hammer ships out as a bare tool, with the only inclusions being the auxiliary handle and its special carry case.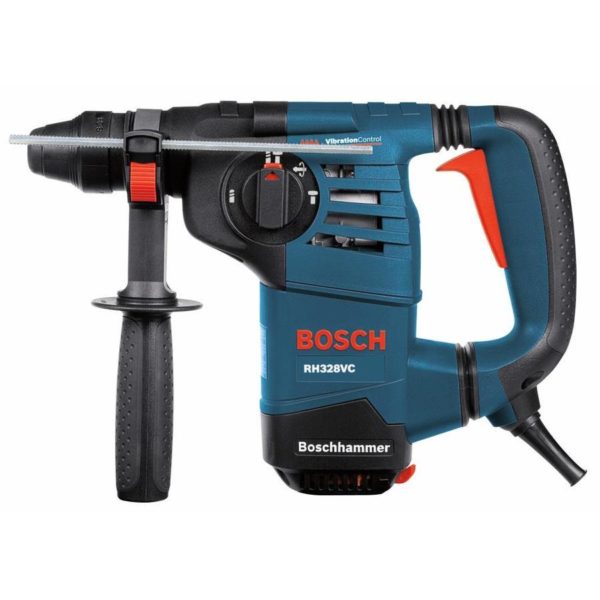 What it lacks
A Trigger Lock
A trigger lock is a crucial safety feature in any power tool, and weren't it for the extremely rigid trigger of the RH328VC, there would be a lot of reviews complaining about accidental ignition. The RH328VC does NOT have a trigger lock. Instead, its trigger can only be activated by applying a considerable amount of pressure onto it.
Is this a deal breaker? Probably not because you can still use the tool as usual, you just need to press harder on the trigger. Is this safe? Absolutely not. Trigger locks prevent a lot of accidents. It would have been nice to see the same level of caution from Bosch.
A Lower Price Tag
We're not saying that the RH328VC is an expensive hammer; all we're saying is that when push comes to shove, you can easily unearth much more affordable rotary hammers with more or less features.
Now, it is important to note that Bosch more than make up for their high price tags with excellent build quality and reliable customer service. If you're willing to skimp on these just to save a few extra bucks, then this is not the drill for you.
A Better Depth Guide
At this price point, you'd expect to get a depth guide that's at least accurate. For the most part, users report that it isn't (there are too many reviews detailing slip-ups that have led to larger-than-necessary holes being drilled — all point to the depth guide as the culprit), but there's nothing that a little calibration won't fix.
Bosch RH328VC Pros & Cons
Pros
Pros
Powerful enough for concrete
Offers three operational modes
Perfectly balanced
Comes with auxiliary grip for added control
2-step vibration drastically improves stability
Cons
Cons
Lacks the trigger lock safety feature
Depth guide is a bit misleading at first
Bottom Line
Whether it's power, precision, versatility, or ergonomics, the Bosch RH328VC seems to have it all. Rotary hammer drills are usually more expensive than standard drills, and if you keep that in mind, it is easy to see just how much value you get from this particular rotary hammer drill.
Powerful, balanced, and with the perfect power-to-weight ratio, the RH328VC is the rotary hammer you want by your side in the face of tough construction jobs. Even so, don't discount its ability to turn into the average weekend warrior's go-to drill for light to heavy demolishing tasks.
Last Updated on August 7, 2020 by Tom Bradly