Best Roof Cleaning Tools of 2023 – Review & Buying Guide
You can save money (or make more of it) if you have skills in roof cleaning. Either way, it pays. When you get the best roof cleaning tools, you will breeze through your DIY roof cleaning task without having to call in professionals. That's how you save money.
For a professional roof cleaner, the best tools will make your job easier so you can do more and make more money. Let's find out which roof cleaning tools give you the best use for your money in 2020.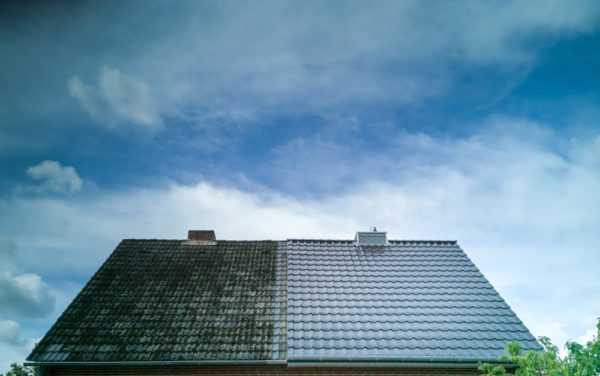 Best Roof Cleaning Tools of the Year Buying Guide
One of the lessons I have learned through the years as a roofing contractor is that when you are up on top of a house or building, safety matters more than anything.
The best equipment in your roof cleaning toolbox should guarantee safety. You will learn later on that safety is a sum of stability, ergonomics, and ease of use. Here is more on what you need to look at when you buy a roof cleaning tool.
Your roofing material
Your roofing materials matters a great deal, especially if you are going to use a roof cleaning solution. Some detergents can be too harsh on wooden or tile roofs. Then again, when you buy a roof brush, you have to consider whether the texture of its bristles will pull the finish from your roofs.
Extendibility
This applies to ladders and poles on brushes and rakes. You need to have easier access to the roof to do the cleaning. The best roofing ladder is extendable, helping you to get to the top and do your cleaning safely and with ease.
However, in other cases, all you might need is a rake with a telescopic pole to remove leaves, debris, or snow from the roof.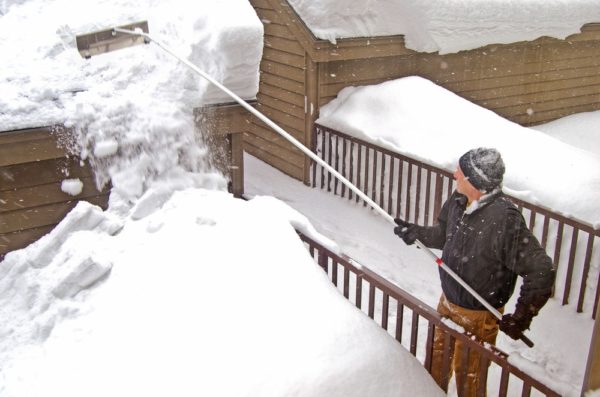 Weight
The best roof cleaning gear is lightweight and easy to handle when you are balancing up there. You need balance and stability, and so your ladder of choice needs to be sturdy. When it comes to brushes, rakes, and cleaning solutions, the best of them are the ones you can easily carry single-handedly.
Design of roof
Some shingles are flat-surfaced, but some are corrugated and louvered. These complex designs can make cleaning a big challenge, especially for beginners. The right cleaning equipment should help you to access hard-to-reach places—the crevices that attract mold, snow, and debris.
Cost
It always comes down to money; that's why you are cleaning a roof, right? The best tool for your money should be affordable without having cheap features. You need a roof cleaning device that can serve you for a long time.
When buying these tools, I often prefer equipment that can find other uses, such as garden cleaning or floor cleaning. Versatility = cost savings.
5 Best Roof Cleaning Tools of the Year
Louisville Ladder FE3232 Fiberlass Step Ladder 300-Pound Duty Rating,...

Dimensions - Extension Ladder Maximum Height (ft.): 29 | Storage Depth (in.): 6.5 | Storage Height (ft.): 32 | Product Weight: 62 lb
STURDY AND STRONG: With its 300-Pound capacity, elegant design and smooth finish, you won't find a more durable, reliable ladder
FIBERGLASS is non-conductive when clean and dry

Last update on 2023-11-11 / Affiliate links / Images from Amazon Product Advertising API

Editor's Comments
First things first: you need a ladder to access the roof. The best tool, in this case, should give you the flexibility and guaranteed safety when you are up restoring the shine to your shingles and gutters. The Louisville Ladder FE3232 might be a helpful tool for a superior cleaning experience.
One thing that's quite reassuring is its compliance with OSHA roofing ladder standards when it comes to weight and the design of the steps, rungs, and cleats. This is a 300-pound capacity extension ladder, and so if you are carrying many cleaning tools up with you, it should support you just fine.
This ladder is 24 feet long and can extend to 29 feet, one of the longest roofing ladder models on the market.
The Louisville ladder has the typical D-shaped rings, but in this case, they are serrated to make them slip-resistant; this feature will provide stability when you are up there brushing and cleaning those shingles. It means minimal chances of slipping and falling.
One other thing that stands out here is the mar-resistant rail near the end caps. This helps protect your landing surfaces (in this case, your gutters) from getting scratched. The ladder's shoes are steel-plated and have rubber threads — another feature for safety and stability.
You will likely also find it easy to extend and retract the extendable ladder as it features slide guides on the tip of its base section. There are similar slide guides on the tip section. A quick-latch lock feature on the fly section intuitively prevents over-extension.
Pros
Made of robust fiberglass for longevity
Serrated rugs help with stability and safety
Sliding rails for easier extension
A lock system to prevent overextension
Cons
Quality control issues
Might arrive with damaged parts

---
Sale

Wet & Forget Outdoor Moss, Mold, Mildew, & Algae Stain Remover...

Xtreme Reach Hose End Outdoor Cleaner attaches to garden hose; jet tip sprays up to 30ft to remove green and black stains caused by moss, mold, mildew, and algae on roofs and siding; fan tip provides...
Spray dry surface on a cool day to avoid rapid evaporation of product; do not rinse; apply when rain is not forecasted within 4-5 hours; apply when the temperature is above 55° F
Cleans over time with the wind and rain; green stains clean up within 1-2 weeks; black stains or heavy; stubborn stains can take several months; long-established stains may take 6-12 months; surfaces...

Last update on 2023-12-01 / Affiliate links / Images from Amazon Product Advertising API

Editor's Comments
Now that you have a way of accessing the roof, the next thing you need is a cleaner. There are various cleaning solutions on the market to help you deal with the stubborn stains on your roof without endless scrubbing.
Since you want to save time and make more money, start with a stain remover before you pull up the scrubbing brush.
The Wet and Forget stain remover is ideally meant for use on the roof as a sole cleaning solution. The manufacturers say that you don't have to scrub and rinse the roof when you use it, but I would take that with a pinch of salt. For the best results, scrub those tiles and rinse them afterward.
One thing to appreciate about this stain remover solution is its eco-friendly formula. As an experienced roof cleaner, I can tell you that many roof cleaning solutions will leave your shingles looking tired and weather-beaten, mostly because of their chemical formulation. This one is a lot gentler. It has no bleach.
The product specs confirm that you can use this solution on metal, tile, and concrete bricks. They say that it can remove dirt, moss, mold, and mildew from your roof. You also have a solution for versatile uses on your decks and floors.
Beware, though, that you must dilute the Wet and Forget Stain Remover with water before use. That is one of the manufacturer's directions for use to guarantee the best results.
Pros
Hastens the roof cleaning process
Can be used on a wide range of surfaces, from metal to brick and concrete
Effective in small amounts
Cons
May not ideal for wooden shingles
If applied without scrubbing or rinsing, you might have to wait two months to see results

---
Last update on 2023-12-01 / Affiliate links / Images from Amazon Product Advertising API

Editor's Comments
Now, if you need to do some quick roof cleaning after a snowstorm, you may not even have time to get a ladder. Thankfully, there are many telescopic snow rakes and brushes that can help you do the job fast and save your roof damage. One of these models is the Snow Joe 21″ Telescopic Handle Snow Rake.
I like the fact that it can extend out to 21 inches, and that means flexibility and efficiency. Its design might facilitate use as both a snow cleaning tool for the roof, and a device to get dead leaves and even moss off your tiles and shingles.
The 6-foot handle has a twist-and-lock extension mechanism that helps it to stretch to 21 feet. I have found that this extension mechanism is easily one of the most user-friendly on the market—it locks in place once extended to help you work in peace.
One other thing to highlight about this device is its lightweight design. When you have to climb up with it to clean your massive roof, you might appreciate that it weighs a mere 4.8 lbs. This means you don't need to have those bodybuilder arms to get your roofs spotless.
Pros
Effective for snow cleaning
Telescopic and easy to use
Lightweight and has a large rake for faster cleaning
Cons
Made of plastic parts; might not serve you for long
Best only for light snow cleaning jobs

---
DOCAZOO - DocaPole Roof and Yard Rake Extension Pole - Adjustable,...

Roof Rake With 30' of Reach – Easily rake leaves, sticks, and debris off your roof with the DocaPole Roof Rake Extension Pole; combined with the 6-24 foot extension pole this combo kit provides...
Expandable Rake Head – the rake head expands from a fan width of 7.5" to 20", enabling easy rake adjustment depending on the job; the narrower width is ideal for cleaning roof valleys or raking...
Easy Storage – the collapsibility of the rake head and the DocaPole Extension Pole makes for easy storage; at only 7.5" inches wide, the rake head can easily be stored on a shelf or in a corner,...

Last update on 2023-12-01 / Affiliate links / Images from Amazon Product Advertising API

Editor's Comments
How about you get a roof cleaning tool that can find use on your lawns as well? You get to "stop two mouths with one morsel" with the Docazoo DocaPole Roof Rake cleaner.
This rake has an extension pile and handle to clean leaves and debris from your roof. You can also flip it over and use it as a standard lawn rake for spring cleaning.
The manufacturers promise that the roof cleaning thingamabob is effective for removing leaves, sticks, and other debris that can damage your roofs and cause a horde of drainage issues. Please note, however, that because its length is not more than 24 inches, you might need one of those ladders earlier reviewed when working with this device.
When it's time to use it in your yard, conversion is easy; just collapse the extension pole and turn the rake over. The versatility is one thing, but you might not like the fact that the pole is sold separately. (I don't either.)
Nonetheless, with a wide rake that can stretch between 7.5 inches and 20 inches, the hassle and the costs might be worth it. You get to work much faster.
Pros
Has an expandable rake head for wide cleaning
Telescopic handle for easy roof cleaning
Works as both a roof and a lawn rake
The roof cleaner can handle common debris
Cons
Not ideal that the rake and pole are sold separately
The pole feels flimsy and prone to bending

---
Last update on 2023-12-01 / Affiliate links / Images from Amazon Product Advertising API

Editor's Comments
This 24-inch roof rake should allow you to do the job much more effectively. Over the years, I have found that too much walking on the roof during cleaning and repair jobs can easily make matters worse—it damages the roofs.
What you need is a solution that can help you do most of your cleaning from a single point, and the Garant GPRR24U Yukon 24-Inch Poly Blade Snow Roof Rake could just be the right tool for that.
This telescopic roof rake comes with an aluminum handle that has three five-foot sections. The pole is extendable to five, ten, and fifteen feet long, depending on the flexibility you need in your jobs. You will also likely appreciate the anti-slip design of the handle, which can make roof cleaning a relatively effortless task.
Even with its impressive features, it's important to note that the pole extension isn't that sturdy. If you are raking off extensive amounts of debris or snow, the pole could end up breaking halfway through the job. It feels wobbly on all of its three sections.
Having said that, I like the fact that the rake head is designed with a 24-inch blade to cut snow and remove molds and growth from the roof. Its width means that you may be able to finish roof cleaning in a matter of minutes.
Pros
Extendable aluminum handle
Anti-slip grip makes for better ergonomics
24-inch wide blade for effective raking
Cons
Extensions feel wobbly
Meant for light roof cleaning jobs

---
The best pick
Each of the above-reviewed tools performs a unique function in roof cleaning. Nonetheless, for versatility, time-saving, and ease of use, the Docazoo DocaPole Roof Rake cleaner carries the day. It's a telescopic roof raking device that any homeowner can find handy for daily roof cleaning. It works on debris, leaves, and even snow.
Unlike the many other reviewed tools, you can convert this rake into a yard cleaner. This means that you save money by getting just one tool for your roof and lawn cleaning jobs. Its telescopic handle extends 24 inches to reduce downtime when you don't have a ladder nearby.
The rake head, on the other hand, is made with an extendable head between 7.5 inches and 20 inches for versatility and speed in your roof cleaning operations.
Last Updated on May 28, 2020 by Tom Bradly