5 Best GFCI Outlets of 2023 – Review & Buying Guide
Ground Fault Circuit Interrupter (GFCI) outlets are must-have installations in a building. The outlets protect you from shock as they are configured with a function that shuts off the circuit when it detects current fluctuations.
The best GFCI circuit is easy to install and can last a long time before the receptacle wears out. It is a requirement by the National Electric Code that strategic parts of your home—including the kitchen and bathroom—should have a GFCI outlet to protect you from electrocution.
The outlets contain a small circuit breaker that trips if it detects a short circuit or surges. Our review and buying guide will help you get the best GFCI outlets in the market. The information and advice below will help you choose the right model.
TOPELE 15 Amp GFCI Outlet, 125 Volt Weather-Resistant Tamper-Resistant...
Leviton GFNT1-W Self-Test SmartlockPro Slim GFCI Non-Tamper-Resistant...
Lutron 15 Amp Tamper-Resistant GFCI Duplex Receptacle in White
TOPELE 15 Amp GFCI Outlet, 125 Volt Weather-Resistant Tamper-Resistant...
Leviton GFNT1-W Self-Test SmartlockPro Slim GFCI Non-Tamper-Resistant...
Lutron 15 Amp Tamper-Resistant GFCI Duplex Receptacle in White
Last update on 2023-09-29 / Affiliate links / Images from Amazon Product Advertising API
GFCI Outlet Buying Guide 2020
As an electrical contractor, I have come across all kinds of GFCI outlets. Most models will serve you well for a long time, but you need to watch out for the low-quality ones, which are a consistent source of headaches.
They are not correctly sized, and so are harder to install. Their indicator light is included for ornamentation—it is always on, so you have no way of knowing whether the outlet is live.
These will be the same GFCI outlets that one day simply fail to work for no good reason, forcing you to buy new ones. Most likely, they are not UL certified, which means they can be unsafe.
Here is how to ensure that you are getting the best GFCI outlet for your protection, code-compliance, and cost savings.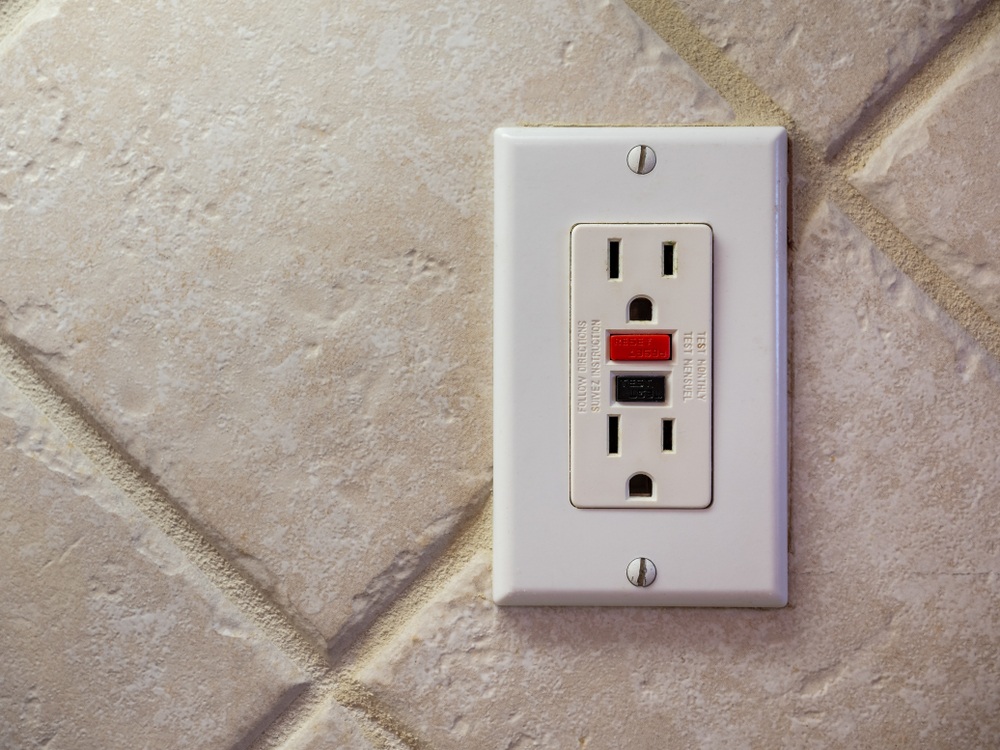 Self-testing capabilities
The initial requirement was for GFCI outlets to be tested monthly to establish the reliability of their protection. Today, GFCI certified outlets come with a self-testing feature. This solves the struggle of having to conduct monthly tests (an action that many homeowners generally forget to do anyway).
As you renovate, build your home, or upgrade your electrical systems, find a GFCI outlet that runs tests every 30 minutes. The best models audibly beep or visibly blink if the test confirms an issue with their current sensing. They then disable current flow until you fix the issue.
Reset lock protection
What if your GFCI runs a self-test, finds an issue, and then trips the reset switch? Should you be able to turn it back on manually? No, it's unsafe, and the best GFCI models in the market have a rest lockout that will prevent you from turning on the power again until you fix the problem.
The lock actuates following a wrong installation as well. This feature could be a significant asset in fire safety.
Design and color versatility
If all you are doing is upgrading your electrical systems, find GFCI outlets that blend in with your existing interior design. Leading brands make GFCI outlets in diverse color pallets for your taste and decor.
In my opinion, color is not a deal-breaker, though.
LED light indicator
It's a safety standard requirement for GCI outlets to have light indicators that show the power flow or protection status of the outlet. The light should be out when the switch is turned off and on when live.
It should be off when the switch is turned on and current protection has malfunctioned, and on when everything is working well. Check to confirm that your outlet has a light indicator that works as expected.
Easy installation
Unless your name is Bezos, Gates, or Musk, you certainly may not have the money to call in the experts every time you want to fix an issue around the house.
For that reason, I would advise buying a GFCI outlet that is made explicitly for DIY installation. It should have a profile that fits your wall outlet space tightly and a configuration for back and side wiring.
Rugged construction
Find a GFCI outlet that will serve you for many years. It should be sturdily built. The tamper-proofing, which keeps foreign objects from getting inserted in the live parts of the socket, should hold well for a long time.
UL Listed
I would choose a UL listed electrical appliance over others any day. The Underwriters Laboratory is known for its safety and quality testing. Items with the UL label almost always work reliably.
For emphasis, some insurers may not compensate if a fire is started by an outlet that is not UL –certified.
The Best GFCI Outlets of the Year
TOPELE CECOMINOD039819
TOPELE 15 Amp GFCI Outlet, 125 Volt Weather-Resistant Tamper-Resistant...
EASY INSTALLATION--Only spend as short as 10 minutes.
COMPLETE COMPONENTS INCLUDED--1 free wall plates, Meets different install requirements.Instruction, screws and stickers included.
TEMPER RESISTANT(TR) FOR SAFETY PROTECTION--It may stop the kids use any foreign body to contact any alive parts of the receptacle from the outlets. Keeps away from electrical shock.The GFCI device...
Last update on 2023-09-29 / Affiliate links / Images from Amazon Product Advertising API
Editor's Comments
You'll find this product to be an ordinary receptacle type of GFCI outlet. It's designed similarly to a normal wall outlet, which could help with easier installation and better usability.
It comes as a complete package including screws and stickers. If you are handling the installation yourself, you may find that these accessories significantly speed the job along.
The GFCI outlet is said to be tamper-resistant, and that should provide an assurance for safety with all electrical sockets in your home. It seals off all live parts of the socket, keeping the kids safe (even the ones who like to insert foreign objects in sockets).
The receptacle is reportedly meant to withstand all types of bad weather. It can protect individuals from shock and appliances from short-circuiting—which is a leading cause of electrical appliance component damage.
Please note however that the TOPELE CECOMINOD039819 is not UL certified; instead, it's ETL-listed. In the world of electrical everything, UL is the gold standard certification for safety, quality, and reliability.
Even so, this GFCI outlet is ETL-listed. ETL (electrical testing lab) certification is increasingly becoming a trusted mark of quality and safety verification in the US and abroad, so you can rest assured that the product isn't bogus.
The TOPELE CECOMINOD039819 has two buttons/switches: test and reset. Pressing the test button cuts the flow of electricity, while the reset button restores power. I like this straightforward functionality.
Pros
It is designed for easy installation
It covers all live parts of the outlet
It meets NEC and ETL standards
Cons
Non-UL certified
It has no status light

---
Leviton GFNT1-W
Sale
Leviton GFNT1-W Self-Test SmartlockPro Slim GFCI Non-Tamper-Resistant...
For an added layer of protection, the GFCI regularly conducts an automatic internal test to confirm that it can respond to a ground fault
Provides continuous ground fault protection detects and trips on actual ground fault even when self test is being conducted
Status indicator light shows power and protection status as well as indication of line/load reversal
Last update on 2023-09-29 / Affiliate links / Images from Amazon Product Advertising API
Editor's Comments
The Leviton GFNT1-W boasts a status indicator light that indicates line and load reversal and the protection status of the system. The indicator light, which is not included in the TOPELEE CECOMINOD039819, is a critical safety feature to consider in GFCI outlets.
When the light is on, the socket is live, so proceed with caution.
One other thing I like here is the slim low profile design that should help to make installation a breeze. Armed with a screwdriver, you might not need to call the electrical guy.
The Leviton GFCI is compliant with UL requirements. It is also configured with an audible self-test capability that alerts owners if there is a fault with current anomaly detection and circuit breaking.
If during the self-test, the GFCI detects a problem with its response to a ground fault, power will be cut off until you fix it. The outlet has a propriety reset lockout for that. This product, therefore, offers much better protection than the first contestant in our review.
With an included visual and audible indicator, you will know when your socket is receiving protection and when it's not. That will help you not to accidentally plug in a microwave where there is a risk of shorting and shock.
Pros
It has a smaller low profile design
LED light status indicator
Self-testing and reset lockout feature for extra protection
Cons
Non-tamper-resistant
Once installed, they occasionally fail for no good reason

---
Lutron CAR-15-GFST-WH Claro
Sale
Last update on 2023-09-29 / Affiliate links / Images from Amazon Product Advertising API
Editor's Comments
Unlike the Leviton GFNT1-W, Lutron GFCI is tamper-resistant. Your home could be much safer with such an installation. No foreign object goes in unless it's a plug pin.
This model of GFCI comes in various stylish versions if you are out for an outlet that blends with your décor. Unlike the other models in the market, you will have 27 color choices with this one. You can also get an outdoor shade that syncs with brick and concrete.
Like the Leviton model, this GFCI outlet features a self-testing control function in compliance with UL. If there is a fault with the current sensing/ circuit breaking, the reset function goes off until you fix it.
I like that it comes as a two-pack, but beware that a covering wall plate is not included. That means extra spending for you.
It's easier to be certain about the functionality of this outlet, given that it comes with an LED status indicator. When the indicator turns red, you will know it is time to get the outlet repaired or replaced.
You might also find this outlet's design to be easy and straightforward for DIY installation. It is designed to fit snuggly with the plugging space on the wall. If you have any experience in this area, you will likely not need to call for professional help.
Pros
UL compliant
Self-testing is a 30-minute loop
Diverse color options
Cons
Doesn't come with a cover plate
It may be difficult to plug things in

---
PROCURU GFCI Receptacle
No products found.
Editor's Comments
The PROCURU GFCI Receptacle is tamper resistant and UL compliant. For a buyer shopping for quality and safety, these are assurances of something worthwhile.
What I think makes this GFCI outlet stand out is that it can be configured as a standard outlet. For contractors and homeowners, that could translate to cost savings when you need a common wall outlet, and all you have are GFCI outlets.
It is designed to prevent access to the live parts of the wall outlet unless a two-pin plug is inserted. That means that you can rest easy at home knowing that your hyperactive child won't come to harm.
Like the many GFCI models in this review, the PROCURU GFCI Receptacle features an indicator light that will aid in the safety process. The light shows the power and protection status of the outlet. You can also use this as an energy-saving reminder to unplug appliances or switch off sockets.
Unlike the Lutron CAR-15-GFST-WH Claro, this GFCI outlet comes in a single white color. That could be a downer if you want something that maintains the consistency of wall colors. (Of course, you can always paint over it.)
But I like that it comes with a clear instruction manual to speed up installation. A few minutes of step-by-step wiring and screwing as you refer to the guide can save you $100, money paid to electricians for this kind of job.
Pros
You can use both 14- and 12-gauge wire in installation
UL compliant with self-testing and indicator lights
Tamper-resistant construction
Cons
The ground connection is not easy to wire
Its tamper-resistant blockers may not work as expected

---
ELECTECK 15A/125V GFCI Outlets
No products found.
Editor's Comments
The ELECTECK 15A/125V GFCI Outlets come as a five-pack. For contractors looking to save money, buying GFCI outlets in bulk packaging can be helpful.
Like the other models reviewed, you get tamper-resistant shutters here as well. That should help keep your children safe from the risk of electrocution if they insert items in the outlet. Nothing can go in unless it's an appliance plug.
Even so, this GFCI outlet is meant for indoor use. There is no promise of weather resistance.
It features a green indicator light for power and protection status indication. This inclusion fulfills NEC requirements regarding GFCI indicators.
You can use these GFCI outlets to replace a two-prong outlet in line with NEC recommendation. Take note, however, that the item is not UL listed/ certified. It is ETL certified.
It is equally important to note that the tamper-proofing/ safety gates work so well that it might be hard to plug your appliances for the first time. But they may loosen and grow easier to use over time.
Pros
Designed to impress
Comes as a five-pack for cost savings
Status/power indicator light
Cons
Not UL listed
Hard to plug in at first

---
The Best Pick
The best GFCI outlet is tamper-proof, easy to install, standards-compliant, and performs reliably well for a long time. This roundup review entails products that meet these requirements in many ways compared to the rest of the items on the market.
But one GFCI outlet that shines above the rest is the Leviton GFNT1-W.
This GFCI outlet is a UL-compliant and certified product. It features a status indicator light that shows its protection and power status. It also has a slim profile, designed for easier installation.
You get a GFCI outlet with self-testing capabilities and audible alerts if there is an issue with protection. And when an issue is detected, power is automatically cut (on that outlet), and the reset feature disabled. These gangbuster features could lead to safer homes.
Last Updated on November 28, 2020 by Tom Bradly