5 Best Laminate Floor Cutters of 2023 – Review & Buying Guide
Nothing feels classy and stylish like laminate floors. This floor type is inexpensive and is just as attractive as hardwood. If you are a laminate floor installer, then you must know just how laminate floor cutters are critical for the job.
"You can't do nothing without them," my dad used to say. Here we sample the five best laminate floor cutters of the year plus buying guide to get you started.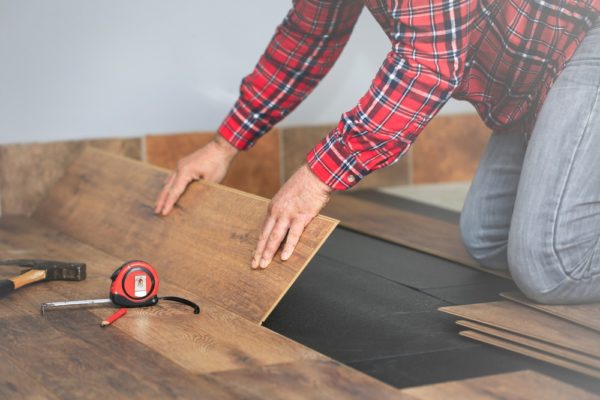 Laminate Floor Cutter Buying Guide
Like you, I was in the market for the best laminate floor cutter once. At that time, I had no clue about these machines. I am a bonafide woodcarver, so my dad assumed I was the right person to get him the right gear for his floor remodeling work at home.
Thankfully, my neighbor, Frank, is a flooring expert with Mannington Mills, so I went to him for advice.
He offered some of the best lessons I have learned about laminate floor cutters. The advice worked for me, and now my dad is one happy floorer. He calls every chance he gets to boast about the cleaner cuts, ease of use, and the dustless experience he gets with the floor cutter I sent over.
Hopefully, you will have the same testimony too if you follow Frank's advice. Here is part of our conversation:
Me: So there are both manual and electrical laminate floor cutters? Which should I choose?
Frank: Manual and electric cutters both have their unique advantages and uses. The manual floor cutter is a simple contraption with a blade and handles for cutting. You do the cutting by fixing your workpiece beneath the blade and pressing on the handle.
Manual laminate cutters are preferable for users who want a dustless working experience. They are less costly and work quietly, as well.
Me: So the electric floor cutter is like a miter saw?
Yes, pretty much. The electric floor cutter works with saw blades. The cutting action coughs up plenty of dust in an operation that can be super noisy. Even so, these are workhorses that could be the best choice for commercial floor cutters. They don't rely on your physical strength.
Me: With my saws, I always have to consider ease of use; does that apply here?
Frank: Of course, every manufacturer is out to get the most significant market share with its products. Some models, therefore, have superior features in terms of ergonomics and user-friendliness than others.
For our manual machines, the length of the handle is the first thing we look at. The wrong handle size will tire you out fast before you can accomplish anything.
When buying electric models, you might want to consider those with miter fences to help you achieve your cuts effortlessly. The best laminate floor saws, similarly, feature dust extraction systems.
And if you plan to work in areas with limited access to power, go for the cordless option. Choose the corded version if power and dependability are what you seek.
Me: How does cutting capacity come into play?
Frank: Many laminate floor cutters on the market can handle board widths of between 7 and 25 inches and thicknesses of up to 1 inch. Your choice of laminate floor cutter machine should be guided by the size and type of tiles you want to produce.
A cutter with a 9-inch blade length, for instance, can only deliver the right performance on 9-inch-width laminate flooring.
Me: What other features should I look out for?
Frank: Some cutters come with extra features for versatility and efficiency. For instance, I insist that you find a model with an angled gauge for making precise bevel cuts. Your old man will love that one. It makes it possible to trim the floor at angles for corners and edges.
Also, keep an eye out for models with replaceable blades. They are the best option for performance and cost savings.
The 5 Best Laminate Floors of the Year
Last update on 2023-09-29 / Affiliate links / Images from Amazon Product Advertising API

Editor's Comments
The Bullet Tools ES00-0009 Siding and Laminate Flooring Cutter is a 9-inch version of the laminate floor cutter that can produce beveled cuts at 45 degrees. You can, therefore, expect versatile functionality when using this machine to shape different sizes of laminate tiles.
For all laminate flooring not exceeding 9/16 inches in thickness, this machine will cut through in a single pass. You might also appreciate the build-in ruler that is convenient for measuring the right flooring sizes on the cutter. I believe that it can significantly save you time as it delivers tiles that are a perfect fit for your projects.
I also like that the laminate floor cutter comes readily assembled and ready for work. You will not have to spend time figuring out which parts go where. For a beginner who doesn't know much about these types of machines, I appreciate manufacturers that ship fully assembled versions.
Apart from cutting laminate, the manufacturers have promised extra usability with this model. They say you can use it to cut fiber cement, vinyl plank, and wood shingles as well. This versatility is a cost-saving advantage, giving you more value from one tool.
Beware, though, that this model may not work well when it comes to making right-angled cuts. But I like the fact that it is dust-free and highly portable.
Pros
Delivers effortless cuts
Versatile and speeds up your job
Offers 9-inch cutting depth and 9/16 cutting depth
Built-in ruler for precise cuts
Cons
Cuts are not always clean and accurate
The ruler is positioned on the wrong side of the cutter

---
Sale

EAB Tool Exchange-a-Blade 2100005 9-Inch Laminate Flooring Cutter

BONUS installation Kit and double-sided honing stone included! Designed to cut laminate, solid wood and engineered flooring up to 15mm (5/8"). will also cut vinyl tile and fiber cement siding such as...
Designed to cut laminate, vinyl, solid wood and engineered flooring up to 15mm (5/8"). will also cut fiber cement siding such as hardier plank
Country of origin : China

Last update on 2023-09-29 / Affiliate links / Images from Amazon Product Advertising API

Editor's Comments
Like the Bullet Tools ES00-0009, the EAB Tool Exchange-a-Blade 2100005 is designed for versatile functionality. You can use it on laminate, solid wood, and vinyl. In other words, you get to kill many birds with one stone. The cutting capacity is 5/8 inches deep and 9 inches wide. That should be a decent cutting range for standard floor tiles, in my opinion.
Like our previous contender, this is a manually operated model. Although that means a big sacrifice on speed, it offers precision, dust-free operation, and user safety. One other feature that you might like on this laminate cutter is the angle gauge that makes it possible to attain beveled cuts at 45 degrees.
When its time to trim and shape laminate floor tiles to go into corners and edges, you will appreciate this bevel cutting capability. But that's not all there is to this unit.
Unlike the Bullet Tools ES00-0009, the blade used on the EAB Tool Exchange-a-Blade 2100005 laminate floor cutter is replaceable. It is also reusable by sharpening. That means you can optimize the performance of the machine any time you sense it lagging.
One major drawback of this laminate cutter, however, is that it lacks a stabilizing plate. It could be hard to keep your workpiece balanced on it when making beveled cuts.
I must underscore the fact that they have an extended handle, which helps with ergonomics. You can benefit from a higher mechanical advantage—the doubling of your input force—which can enable you to cut through thicker floor types more effortlessly.
Pros
Possible to make beveled cuts
Blade replacement is a cinch
Can be used on a diverse range of flooring materials
Cons
Stabilization plate not included
Chips floors

---
Sale

Last update on 2023-09-29 / Affiliate links / Images from Amazon Product Advertising API

Editor's Comments
The first two products in our review are operated manually. They have specific advantages as outlined in the buying guide, but when you need something to accelerate your floor cutting with little chances of chipping, an electric cutter is imperative.
The SKIL Flooring Saw 3601-02 is one of the remarkable electric floor cutters on the market. Its design blends the feature of a table saw and a standard miter saw. That means a large cutting capacity, cleaner angled cuts, and some level of portability.
According to the product specs, you can make miter cuts at both 22.5 and 45 degrees. With the ability to create intricately shaped laminate tiles for your rooms and deck, you might also appreciate the ease of use. There is a miter and rip fence on this contraption that can help you make more accurate cuts while not cutting down on the speed.
The electric-powered saw plugs into 120-volt outlets. One distinct advantage of this type of machine is that you can do more in a fraction of the time it takes with manual cutters.
The powered saw weighs 30 pounds, making it considerably portable, albeit not as easily mobile as the earlier reviewed models. But I like the fact that it's sturdily built from die-cast aluminum and steel materials. That implies that it could serve you for long before it bites the dust.
Pros
Saves time, as an electric-powered laminate cutter
You can make a cross, miter and rip cuts for versatile tile shapes
Considerably compact and portable
Built with sturdy materials
Cons
Might not work well on wide boards
Blades get dull quickly

---
Norske Tools Newly Improved NMAP001 13 inch Laminate Flooring and...

Product Type : Tools
Cuts A Variety Of Material, Including Laminate Flooring, Fiber Cement Board (Hardieplank , Cemplank ), Engineered Wood And Vinyl Siding Up To 13" Wide And 19/32" Thick
Compact And Easy To Use; Produces Clean, Precision Cuts With No Splintering And Smooth Finish

Last update on 2023-09-29 / Affiliate links / Images from Amazon Product Advertising API

Editor's Comments
What was the maximum cutting capacity of the other reviewed laminate cutters? Nine inches wide? Well, the Norske Tools NMAP001 takes it up a notch higher.
You can shape laminate tiles as wide as 13 inches with this model. And the depth of cut is 19/32 inches, which is just about the size of the thickest laminate floor type. You can cut that in a single swoop.
You may also find that, because of the large cutting capacity, this machine can work just as effectively on engineered wood, cove base, parquet, vinyl, PVC tile, and rubber tile.
This is a mechanical or manual operated laminate floor cutter. The efficiency and cleanliness of the work output depend much on your skills and physical strength. Additionally, there is an inbuilt beveling feature that could help you achieve angled cuts from 0 to 45 degrees.
The Norske Tools NMAP001 laminate cutter is designed for achieving clean and precise cuts with minimal splintering, according to the manufacturers. The machine features steel and aluminum parts that should guarantee you a long season of service.
Pros
Sturdy construction
Capabilities for making angle cuts
Works on a diverse range of materials
Cons
You may have to put up with occasional rough cuts
The small cutting platform when making angled cuts

---
Roberts 10-64 Multi-Floor Cutter, 13-Inch

Cuts vinyl flooring, vinyl siding, VCT tiles, laminate, Engineered wood and rubber or foam tiles
Guillotine-style cutter cuts up to 13-Inch wide and 5/8-Inch thick
Extruded aluminum base with thick plastic surface for stability

Last update on 2023-09-29 / Affiliate links / Images from Amazon Product Advertising API

Editor's Comments
There exists both a 9-inch and 13-inch version of this laminate cutter. The nine-inch model delivers a cutting capacity of 9" wide and 5/8″ (16mm) thick while the 13-inch version cuts up to 13 inches at the same depth. You may, therefore, be able to use this floor cutter on many other materials, including foam tiles, vinyl, and engineered wood.
You might appreciate the included sizeable aluminum base. It is spacious and could prove invaluable in stabilizing your workpiece for the attainment of highly precise cuts.
I also like the fact that the blade is exchangeable. That means that if you are working with tougher materials, you could replace or sharpen it for optimal performance.
Despite its many features, you should probably expect occasional slight chipping with this laminate cutter. Nonetheless, you will have substantial ease of use. The Roberts 10-64 Laminate Floor Cutter uses an extended handle that reduces effort while doubling force on the workpiece. Science handily comes into play.
Pros
13-inch cutting capacity
Multifunctional applications
Long handle that saves your physical energy

---
The Best Pick
The Norske Tools NMAP001 13'' Laminate Flooring Cutter is our top choice. Its superior features include a large cutting capacity and versatile applications. It's a manual laminate floor cutter that gives you control over your project in a dust-free operation.
An inbuilt beveling feature makes it possible to achieve diverse tile shapes from 0 to 45 degrees angles. This floor cutter is made of aluminum and steel materials that help with durability and dependability of performance.
At the same time, if you are looking for speed and cleaner cuts, the electric-powered SKIL flooring saw model might also prove a good option. You can make rip cuts, miter cuts, and bevel cuts on the same machine. The machine runs on 120 V, making it possible to make hundreds of cuts in a single workday.
Last Updated on July 4, 2020 by Tom Bradly