Best Sump Pumps of 2022 – Review & Buying Guide
You helplessly watch as water rises inch by inch in your basement. Your furniture and appliances and the very foundation on which your home stands hang in the balance. At such times, you pray that your sump pump doesn't quit on you.
You might even pray that the pump miraculously gets a higher pumping power from above to keep your home safe. I have been there through Harvey, Irma, Michael, and the others. It's no joke when you depend on a sump pump to keep floodwater from getting into your home and ruining your furniture.
This review presents the five best sump pumps of the year. The products described in this review could very well be the solution you need for your home plumbing.
Sump Pump Buying Guide
Living through a storm without a reliable sump pump is not easy. Every moment involves chewing nails and painfully anticipating how high the water will reach. I have been there.
Living with a flooded basement can be life-threatening. There is electricity in there, with voltage coming from the outlets and traveling through the water. Also, the foundations of your building could weaken and trigger structural hazards.
But it doesn't require a storm to cause these issues. Your basement could flood even in the winter or summer. That's because it sits below ground level.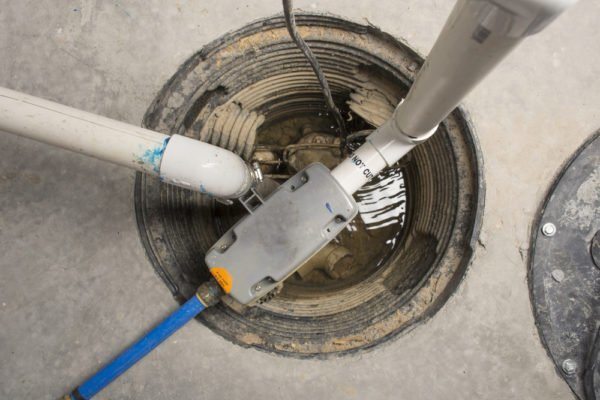 Any issue, including sewage backup, surface inflow, or foundation drainage failure, can cause water to flow back into your basement.
I have lived through these unwanted situations. I have survived basement flooding safety hazards but not escaped foundation repair costs. Looking back, I should have done several things to keep my basement from flooding, and one of them was to get a sump pump with reliable power and performance.
Key features to look for in a sump pump
I have learned that when choosing a sump pump that can save your basement from flooding, you have to look for key features. The best models have reliable features for performance, durability, usability, and easier installation.
Ease of installation:
Choose a sump pump that you can hook up with ease without having to call the pros. When making a purchase decision, consider the pump's dimensions versus the space in your sump pit.
Choose a submersible pump if you have more space:
A submersible pump sits in the sump basin, so you must have space. These models work noiselessly. They have debris filtration capabilities, and the motor runs without overheating.
Choose a pedestal sump pump if you have a smaller sump space:
These sump pumps don't require installation in a sump pit. They sit on a handle; therefore, installation is a breeze and you don't need as much space.
Features for durability:
A cast iron base and stainless steel construction are the gold standard features for resistance to rust and corrosion in sump pumps. Plastic parts don't cut it when you're after durability.
Filtration suction top:
One of the reasons a sump pump fails is because they suck in debris and get clogged. The best sump pumps have a filtration top that can keep out debris smaller than a half-inch in size.
Pumping power and flow rate:
Suction pumps run on an electric motor. The most powerful models have more engine horsepower (HP), leading to a higher flow rate measured in Gallons per Hour (GPH), which is the rate at which water is pumped from your home.
For better protection in flooding, go for a unit with at least 3,000 GPH.
Other ways to keep the basement from flooding:
Install a secondary sump pump next to your old/original sump pump for double performance
In a storm, power goes off, which impedes the functioning of your pump, so invest in battery backups
Re-grade your landscape and consider French drains
Maintain and service your sump pump properly
Install a backflow valve in your sewage
Repair and maintain your foundation
The Best Sump Pumps of the Year
WAYNE CDU790 Submersible

Sale

Last update on 2022-01-19 / Affiliate links / Images from Amazon Product Advertising API

Editor's Comments
The WAYNE CDU790 Submersible is a sump pump designed to stay in the water and has a waterproof construction to that effect. As a result, you may expect quieter operations as well as a durable motor life.
Construction and lifespan
One of the critical buyer considerations when getting a sump pump is how long your investment will last. The WAYNE CDU790 Submersible sump pump features a cast iron pump base and steel housing that can be an assurance of durability.
Technically, cast iron doesn't rust. It is the same material used in warships and similar applications. A smudge of paint here and there seals and protects the metal reliably for a long time.
This model is epoxy-coated, giving you durable protection for the metal and a sleek appearance.
Operation and user-friendliness
The WAYNE CDU790 Submersible sump pump operates by floating on water. The product specs state that it can fit in any sump pump space of 11 inches or larger. These aspects possibly mean a faster and effortless installation for the sump pump.
I must point out how the suction top features a seal that filters out dirt and debris. It keeps the pump from clogging, leading to fewer glitches in your operations.
Power and performance
The WAYNE CDU790 Submersible sump pump runs on a 1/3HP (horsepower) motor that yields 3800 GPH (gallons per hour) of suction and pumping force. This is not below standard. Unless you live where there is frequent flooding, this performance should be sufficient.
Pros
Durable construction
3,800 GPM of pumping performance
The submersible design promotes better performance
Cons
Sometimes the float fails to engage the switch
Sometimes it gets louder than a submersible sump pump should

---
Zoeller M57 Submersible

Sale

Last update on 2022-01-19 / Affiliate links / Images from Amazon Product Advertising API

Editor's Comments
Like the WAYNE CDU790, the Zoeller M57 sump pump is a submersible pump that runs on a 1/3 HP engine. It features the same robust construction that you get with the WAYNE CDU790.
At the same time, there are a few design differences here that could make or break the deal.
Construction and lifespan
The Zoeller M57 sump pump features a promising construction of epoxy-coated steel. You should be able to get many years of use from it without the risk of rust and corrosion.
In some ways, cast iron performs better than steel. With the latter, though, the epoxy finish could come off but your pump will remain resistant to rust.
Operation and user-friendliness
This sump pump works by floating on the water in your basement. Like the previous item in our review, this pump can go into sump pump pits of no less than 11 inches. It has dimensions of 11 x 11 x 8 inches. It would be useful to get accurate measurements of your sump pit before deciding on the purchase.
One drawback with the Zoeller M57 over the WAYNE CDU790 is that a suction top filter has not been included. It uses a 1½" discharge. Solids could pass through and render the suctioning and pumping functionless.
Power and performance
The Zoeller M57 Submersible sump pump runs on a 1/3HP motor that yields a flow rate of 2,680 GPH. Compared to our first pump, this performance is a tad slower, but it could still be enough for you.
Pros
Durable and rustproof construction
2680 GPM of the pumping force
Submersible design means fewer chances of overheating
Cons
Unreliability issues with the float switch
Thin rubber gasket prone to wear

---
WAYNE CDU980E Submersible

Sale

Last update on 2022-01-19 / Affiliate links / Images from Amazon Product Advertising API

Editor's Comments
The WAYNE CDU980E Submersible is like the WAYNE CDU790 Submersible on steroids. That is to say, you get more horsepower and a faster flow rate, a design that could be vital for those living in areas with massive flooding.
Construction and lifespan
Like its predecessor in the brand line and our review, the WAYNE CDU980E comes with a cast iron base and steel frame. Like we have seen before, cast iron is sturdy and resistant to corrosion, just like steel.
The epoxy coating takes corrosion and rust protection to the next level. These signs show that the WAYNE CDU980E submersible could be the pump that you hand down to your son or grandson.
Operation and user-friendliness
Like all other submersible models reviewed, the WAYNE CDU980E works by floating on water. It could thus work noiselessly and without the risk of overheating.
It can fit in sump pump pits of 11 inches or more, much like the earlier models reviewed. You might, therefore, be able to appropriate your DIY skills to the installation or upgrade.
I like that the brand has retained the filtration seal at the suction top. It is vital as an anti-clogging mechanism that boosts suction and pumping efficiency.
Power and performance
The WAYNE CDU980E Submersible sump pump runs on a 3/4HP motor, which is bigger and more powerful than the 1/3HP engine on the WAYNE CDU790. As a result, you can expect a higher flow rate, 4600 GPH to be exact.
This offers better performance in flooding.
Pros
Epoxy coated steel and cast iron for durability
A powerful, improved motor
Higher flow rate
Cons
Problematic float switch
Unreliable warranty

---
Superior Pump 92333 Pedestal

Sale

Superior Pump 92333 1/3 HP Thermoplastic Pedestal Sump Pump

1/3 HP Sump pump moves up to 3,000 gallons per hour; pump will lift water up to 20' of vertical height
Tough thermoplastic construction; 10' cord length
Durable non corrosive steel drive shaft and stainless steel impeller; metal switch arm for strength and durability

Last update on 2022-01-19 / Affiliate links / Images from Amazon Product Advertising API

Editor's Comments
The Superior Pump 92333 is a pedestal sump pump designed to operate while suspended on a handle. Because of this design, the Superior Pump can sit in smaller sump pits and keep water from getting in the motor's electrical circuitry.
Construction and lifespan
The pump itself boasts a stainless steel construction. The manufacturers have labeled it non-corrosive and durable. Its metal switch arm further helps with strength and durability.
Beware, though, that the handle and housing or shaft that the pump sits on is made of thermoplastic. We cannot vouch for its reliability and durability.
Operation and user-friendliness
The Superior Pump 92333 pedestal sump pump operates outside the sump pit. Installation is as easy as standing it next to the sump pit. It has dimensions of 7 x 31.5 x 9, which doesn't affect installation as is the case with submersible models.
Please note that this pedestal sump pump could be a little noisier than the sump pumps covered earlier. Further, the engine may be prone to overheating because it floats out of water.
Power and performance
A 1/3HP motor powers this pedestal sump pump. This engine leads to a flow rate of 3000 GPH, which is more than you get with the Zoeller M57 Submersible. You might, therefore, be able to clear flooding in the basement reliably fast using this pump.
Pros
More affordable than submersible models
Made for easy installation
3000 GPH flow rate
Cons
Prone to sucking in pebbles, clogging, and then malfunctioning
Plastic parts more prone to breakage

---
Liberty Pumps 257 Sump and Effluent Pump

Sale

Last update on 2022-01-19 / Affiliate links / Images from Amazon Product Advertising API

Editor's Comments
The Liberty Pumps 257 submersible is a sump pump with a few design pros that could satisfy your search criteria. Like the other submersible pumps, there is some assurance of noiseless performance and motor durability here.
Construction and lifespan
You get a cast-iron design that should mean high pump performance and durability. This model is a one-piece design that potentially safeguards the electrical components better than the other models.
The Liberty Pumps 257 features a rustic staining finish that makes it just as sleek as the epoxy-coated Wayne models. The finish is an additional feature for protection against rust and corrosion.
Operation and user-friendliness
The Liberty Pumps 257 Sump is a compact submersible pump designed to fit in smaller sump pits. You can successfully install this in 10-inch sump pits, according to the product specs.
The pump sits on the water and features waterproof parts for that. Like the other units in this review, this pump has a filtration system to prevent it from sucking in debris and clogging.
Power and performance
The Liberty Pumps 257 Sump pump runs on a 1/3HP motor. This engine produces a torque capacity of a 3000 GPH flow rate.
These performance aspects make the Liberty pump a practical solution for flooding solutions in common basements.
Pros
It uses a long waterproof cord
Designed for installation in smaller pits
Cast iron design
Cons
The float valve switch works unreliably
Its flow rate might turn out a little low

---
The Best Pick
The WAYNE CDU980E Submersible pump carries the day. This is the best sump pump of the year owing to its superior features for durability, performance, and ease of use.
As a submersible pump, it operates while floating on water. It's designed for installation in 11-inch spaces and could work noiselessly with low chances of the engine overheating.
Unlike its peers, this sump pump runs on a ¾ HP engine, which is the most powerful in the review. In this case, the flow rate is 4600 GPH, which means that you could be safer with it where there is a risk of flooding.
The cast iron base and stainless steel body make the WAYNE CDU980E one of the most durable sump pumps in the market. The unit is epoxy-coated for further protection against rust and corrosion. Therefore, this pump stands out as our most recommendable model based on the criteria in our buying guide.
Last Updated on September 24, 2020 by Tom Bradly