5 Best Grout Removal Tools of 2023 – Review & Buying Guide
Grout removal is part and parcel of all flooring and remodeling jobs. It is how you do away with the old, cracked, and stained grouts and replace them with a fresh look. Grout removal is also necessary in maintaining or restoring your tile. For efficiency and safety in this task, you need a grout removal tool with the best features.
This review looks at the five best grout removal tools of the year and the things you'll want to consider when you go shopping.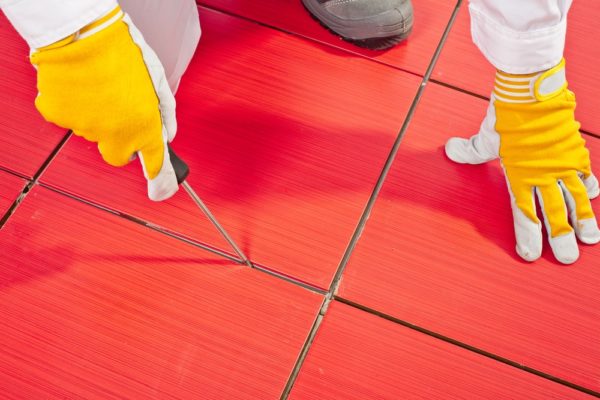 Grout Removal Buying Guide
In my years as a rehabber, I have worked with countless grout removal tools. At first, my purchase decisions followed no specific formulae, and the results were always the same. In essence, I would end up with an excellent device but disappointing accessories … or an impressive machine that worked well only to break down after a few weeks.
Because I couldn't afford downtimes and overspending in my line of work, I had to find a reliable grout removal solution. Here are critical buying criteria I can share from experience:
For large projects, use an electric grout removal device
Electric grout removers will help you finish your projects in the shortest amount of time, compared to manual tools. Also, consider the motor power of the device indicated in amps. The more the amperage of the machine, the more power and speed you will get.
Choose manual tools for detailed grout removal
You can buy a manual or hand tool as your exclusive grout removal tool, or use it to complement your powered device. Whatever the case, manual grout removal tools give you more control over the excavation action and minimize the accidental chipping of tiles. One drawback is that working with hand tools can feel exhausting and it naturally takes longer.
Look for user-friendly features
Whether it's a powered or hand tool, go for one that has a user-friendly design. That includes a rubberized grip handle for ease of use. At the same time, it should be lightweight so you can lift it with ease when you have to work on walls.
For multi-purpose power tools, the blade-change process should be fast. It helps if you don't need to use an additional tool for changing the blade.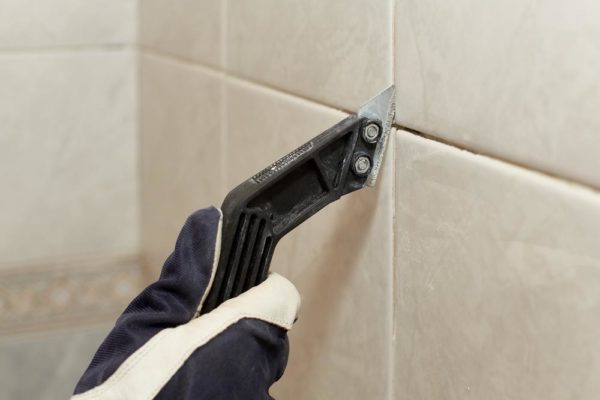 Value for money
You would want to choose a tool you can use in many scenarios apart from grout removal. Such tools save you money. Many grout removal power tools also function as saws, drills, grooving tools, sanders, etc.
Speed control
When you choose a powered grout removal tool, consider a model with variable speed control. With the low-speed setting, you will be able to work more accurately and minimize chipping and the defacing of tiles. Using the high-speed setting, you will be able to finish your commercial projects with expediency.
The 5 Best Grout Removal Tools in the Market
Last update on 2023-09-29 / Affiliate links / Images from Amazon Product Advertising API

Editor's Comments
The GG001grout removal tool can be used with a reciprocating saw. Its carbide blade is an assurance of durability; this device should serve you reliably for a long time.
The Grout Grabber GG001 is designed for use with various blade sizes. It can fit on standard saws joints from 1/16 to 1/2-inch, giving you more flexibility with your tool sizes. The grout removal tool can dig to a depth of 1/16-inch, which seems to be a good sign for performance and efficiency.
You can expect a clean and smooth grout excavation performance with this product. However, when using a reciprocating saw, you might want to set it on slow speed for the stability of the blade.
It's a significant challenge when you have to work at a slow speed setting when using the Grout Grabber GG001 grout remover. It might take you several hours to finish your job while keeping the blades in the grout line.
At medium and high speed, the blade tends to jump out of line and hit the tile. If your attention is somewhere else, mishaps like these could end up significantly damaging your tiles.
This grout removal tool weighs eight ounces. Even though this is lightweight, the weight more than doubles when you attach it to a reciprocating saw. These saws tend to be bulky; therefore, working on the walls can be a strenuous process.
One remarkable quality with this device is that it is dustless. This will hopefully provide you with a safe working experience since you won't have to inhale tons of grout dust. Nonetheless, it would help to have a shop vac for cleaning the dust left behind on the grout lines.
Pros
Sturdy and durable blade
Compatible with a reciprocating saw or Sawzall for powered grout removal
A dustless experience
Cons
Potentially destructive at high speeds
Not practical for hard, compacted grout

---
Sale

Last update on 2023-09-29 / Affiliate links / Images from Amazon Product Advertising API

Editor's Comments
The Genesis grout removal tool is a full set of grout removal blades and a high powered gear. The package also includes a sanding pad, sandpaper, scraping blade, and Allen wrench.
The Genesis GMTA15A appears to be a multi-purpose grout remover that could also function as a sander, grinder, or saw.
One thing that you might have to put up with here is the loud noises from the motor. Then again, the motor power in this device might not be enough for hard tasks.
The item weighs just 2.7 pounds, and could thus be manageable even when you need to work on the walls. I like its die-cast aluminum housing that helps with durability while keeping it lightweight. This material design similarly helps with heat dissipation, which is essential for long service life.
Additionally, you might be able to work much faster with this power tool, given its 1.5 amp motor power and oscillations speeds of up to 21000 RPM.
A 3-position side handle on the device lets you work from multiple angles. With its tool-less blade change, it might also be able to switch fast between the different blades and functionalities.
This multi-purpose grout remover may save you a significant amount of time and money that you would otherwise spend on getting a separate power tool.
Pros
Multi-purpose tool
Lightweight
Sturdy construction
Quick change system
Cons
Loud
You will have to put up with a large cloud of dust

---
No products found.

Editor's Comments
Sometimes, for reasons of precision, you have to remove grout by hand. Or perhaps the project is too small for you to invest in a power tool. In such a case, your DIY bathroom remodeling project could benefit from an efficient hand tool. This is where tools like the QEP 10020 prove useful.
Beware, though, that removing grout by hand can be majorly painstaking. With QEP 10020, the process involves digging manually, so get ready for some back-breaking task. You will also need to set aside enough time for grout removal. Otherwise, your project may stall.
The QEP 10020 grout remover features a carbide tip that can provide sufficient excavation strength for all kinds of grouts. This feature is also a potential sign of durability.
The grout removal tool is nine inches in size, which is more than the expert-recommended four for hand tools. This design and size could help safeguard users from compression and related musculoskeletal issues such as a carpal tunnel.
Another feature that may help with ease of use is the comfort grip with its dense rubber-like material. You might be able to work for long using this gizmo, with minimal chances of fatigue or strain.
Performance is average, as can be expected from a manual tool. Its scraping tips are reversible, and you get six scraping edges in one tip. Ultimately, your efficiency in the task would depend on the amount of power in your arms.
My recommendation is to use QEP100200 or similar manual tools only after the first pass with a power tool. The manual tools will help you fine-tune your results.
Pros
Ideal for detailed grout removal
Scores big points on ergonomics
Strong carbide tips
Cons
Removing grout is a tedious job
Not ideal for big projects

---
Sale

Last update on 2023-09-29 / Affiliate links / Images from Amazon Product Advertising API

Editor's Comments
Still want to save money, or supplement your power tool with hand grout remover? The M-D Building Products 49066 is another manual grout removal device that could be worth your consideration.
As you might guess, the right handtool needs to score highly on efficiency, durability, and ergonomics. The right design will save your energy and help you finish your work much faster.
The design of the Products 49066 includes a serrated saw blade built to hasten and ease your work.
Grout removal with this hand device involves physically sawing back and forth on the grout line. It takes some patience, but you should also acquire a high level of precision in this job.
It has diamond cutting blades, which will ideally deliver better performance than carbide blades. Diamond blades are sturdier with a firm resistance to wear. They are often the number one recommendation when working with concrete.
The handle features an ergonomic design with a rubberized grip. You might, therefore, be able to work with this gadget for long hours without fatigue. The product is also lightweight at 0.64 ounces and is 10.6 inches long so that you can expect a comfortable grip.
One issue to watch out for is the black metal backer attached to the diamond blade. This material leaves a black residue on brightly colored tiles.
Pros
Ergonomic handle
Serrated diamond blade
Detailed grout sawing
Cons
Might be too big for your grout lines
Leaves behind a black residue on the tiles

---
Dremel 4300-5/40 High Performance Rotary Tool Kit with LED Light- 5...

Premium rotary tool kit - Includes 4300 high performance rotary tool, 5 attachments, 40 high-quality Dremel accessories, and plastic storage case.
High performance motor – Our most powerful motor delivers maximum performance even in the most demanding applications.
Variable speed - 5,000 – 35,000 RPM with electronic feedback for consistent performance and accurate tool control

Last update on 2023-09-29 / Affiliate links / Images from Amazon Product Advertising API

Editor's Comments
This multi-purpose rotary tool comes with five different attachments, including one for grout removal. It works quietly, running on a 1.8 amp motor. Its efficiency is a wee bit higher than what you get with the Genesis GMT15A 1.5 Amp Multi-Purpose Oscillating Tool.
The rotary tool is lightweight, weighing 1.18 pounds. This should make it easier to hold when working on the walls and other awkward surfaces.
The high-powered motor yields a strong performance that could be ideal for demanding and hard compacted grout lines. You can play about with different motor speeds between 5000 and 35000 RPM.
A higher speed may help you finish your work much faster while a slow speed setting could help you achieve extra precision and accuracy in the task.
One other thoughtful inclusion here, in my opinion, is the pivot light. This feature lights your grout lines and could be instrumental for efficiency and accuracy when working in corners and hard-to-see places.
Another exciting feature is the tool ventilation system that helps with heat dissipation. The latter is a necessary ingredient for user comfort and device durability. The motor brushes are replaceable; it's a sure way to keep the engine working superbly many years after you acquire this product.
Additionally, as hinted at earlier, this multi-purpose rotary tool could also be used for shaping, grooving, hollowing, slotting, or making holes in metals and other materials. It comes with all the attachments for these applications, which means value for your money.
Pros
Versatile tool
Powerful motor
Quiet operations
Ergonomic design
Cons
A tendency to chip tiles
Overheating issues despite its ventilation features

---
The Best Pick
The Dremel 4300-5/40 Tool Kit is the best pick of this list. Despite its flaws, this multi-purpose rotary device can deliver the power and flexibility needed in large projects.
Its 1.8 amp power motor works more effectively compared to other power tools in the review. The speed and ease of use you get with the Dremel 4300-5/40 Tool Kit far outshine what you get with the manual devices in the review. Also, its varied speed controls mean that you should easily achieve precision in grout removal by setting a lower sawing speed.
The device is lightweight and features a pivot light that could be a blessing when working around corners and hard-to-reach places. There are also some ventilation features to help reduce overheating.
Even better, the Dremel 4300-5/40 is a multi-purpose tool that comes with five different attachments for varied applications, including grout removal, grooving, shaping, and others. These features make it our most recommendable grout removal tool.
Last Updated on August 7, 2020 by Tom Bradly