6 Best Router Lifts in 2020 – Router Lift Reviews
What Are The Best Router Lifts To Buy?
A router lift is a very handy and practical way to boost the ease of use and versatility of your router table. Many woodworkers would consider a router lift, not just a helpful accessory, but a must-have.
When you have a router lift, instead of your router bit being under the table, and subsequently hard to adjust, with a router lift you have the ability to adjust the height of the bit with ease and accuracy.
This gives you a greater vantage point and allows you to work with wood and complete your projects in a more efficient manner.
| Image | Product Name | Rating | Current Price |
| --- | --- | --- | --- |
| | 1. JessEm Mast-R-Lift II 02120 Router Lift | 4.7 | |
| | 2. JessEm Rout-R-Lift II Router Lift | 4.5 | |
| | 3. Bosch RA1165 Under-Table Router Base with Above-Table Hex Key | 4.2 | |
| | 4. INCRA Mast-R-Lift-II Router Lift | 4.4 | |
| | 5. Bench Dog Tools 40-150 ProLift Router Adjustment System | 4.4 | |
| | 6. Kreg PRS3000 Precision Router Table Lift | 4.2 | |
If you are still looking around for a router, you can also read a variety of other helpful product reviews including how to find the best wood router, router table, and set of router bits.
6 Best Router Lifts – Reviews
Following is our careful selection of some of the best router lifts we know of.
They will make a great addition to your router table and ensure you get the most out of your woodworking project.
#1. JessEm Mast-R-Lift II 02120 Router Lift
Editor's Rating:

(4.7 / 5)
This router lift comes with the bells and whistles you would expect from a good quality router lift. It is a well-regarded model that is solidly built and popular in the woodworking industry.
Features
Excellent cam locking mechanism: You can easily lock this router lift in place securely with the twist of a wrench. The left side of the mechanism is unlocked while the right side locks it into place.
Double seal bearing: Adjusting height with this unit is a cinch. It comfortably moves up and down thanks to its bearing mechanism. Furthermore, it is sealed from the outside, meaning that it will not be affected by debris. This will greatly extend its lifespan of providing you with smooth height adjustment.
Above table bit change: As mentioned above, you can more easily change router bits when doing so above the router table instead of underneath.
Fits an industry-standard variety of bits
Durable construction: With anodized aluminum, you'll find this to be a more-than-acceptably constructed piece.
Compatible with these routers:
Porter Cable 7518, Porter-Cable 690/890, Bosch 1617/1618, DeWalt 610/616/618, Craftsman 17543/17540/28190, Makita 1101, Hitachi M12VC/KM12VC, Milwaukee 5626, Milwaukee 5615/5616/5619, Rigid R29302
Pros
The solid and premium look of the JessEM is legendary. It adds great appeal to your workshop.
The ball bearing technology makes working with this unit pleasurable.
Cons
The construction could have been from steel … but that's probably nitpicking. Additionally, it is a bit above the price range for budget-minded buyers.
Who should buy it?
Anyone looking for a high-quality router lift that offers durability, comfort, and ease of use will appreciate this unit. It is easy to adjust the height, lock in to place, and fix on your router thanks to its dedicated insert plate.
#2. JessEm Rout-R-Lift II Router Lift
Editor's Rating:

(4.5 / 5)
This router lift is more of an entry-level router lift in the JessEm series. It is more affordable than its counterpart reviewed above but hosts an equally impressive set of features that make it worthwhile.
Features
Lightweight: At only 8.8 lbs, you can easily carry this lift to your workplace.
Small form factor: Will not take a lot of space on your router table. However, make sure that it will fit your router.
Easy to mount and handle: It is certified frustration-free for those who do not like tinkering with their lifts.
Pre-drilled holes on insert plate: These will host a slew of routers. If yours is not listed, you can always use an adapter (if provided or available).
Lock/unlock mechanism: The locking system merely consists of a one-way lock or unlock – but it's nice to be there and located at an intuitive and easy to reach the top position.
Compatible with:
Porter-Cable 690/890, Bosch 1617/1618, DeWalt 610/618/616, Craftsman 1754/17540/28190, and any other 3.5-inch Motor Diameter
Pros
This unit is offered at a budget-friendly price. The construction is sturdy and adequate for handling heavy-duty routing.
The insert plate comes with a host of pre-drilled holes to accommodate a great variety of fixed routers.
Cons
Lacks the fancy features like the ball bearing system of its bigger brother above. It is mostly a mechanical router lift.
Who should buy it?
If this is your first router lift and you're looking forward to seeing how it works and how well it will augment your woodworking project, this is a great router lift to obtain for a decent price.
#3. Bosch RA1165 Under-Table Router Base with Above-Table Hex Key
Editor's Rating:

(4.2 / 5)
One of the simplest router lift that will not put a ding in your pocket. The Bosch RA1165 is a very basic router lift that has just enough features and mechanics to get the job done. But still, it works brilliantly!
Features
Good compatibility: Compatible with almost all router tables
Large bit hole: The bit hole of 3-3/4" is enough to accommodate all fixed router bits.
Easy to mount and unmount
Simple design: Although it has a basic design, it is adequate for most routing jobs.
Adjustable: Depth adjustment can be made from above the table with leveling wrench.
Compatible with:
Bosch 1617, 1617EVS, 1617EVSPK, 1618, 1618EVS
Pros
If you are on a shoestring budget, it's hard to beast this little beast. It is very portable and compatible will all router tables.
Best of all, it's easy to mount and the depth adjustment is done from above, making this unit incredibly easy to use and control.
Cons
Some users consider this product to be far too simplistic. Additionally, it will not work well with powerful 3hp+ routers as this unit is too small and flimsy.
Who should buy it?
This router lift makes for a great emergency router lift. It's also a good secondary lift if you own another router.
It's is extremely affordable so if you have the interest, you have no reason not to try it out.
#4. INCRA Mast-R-Lift-II Router Lift
Editor's Rating:

(4.4 / 5)
Moving a little away from entry-level router lifts, the Incra Mast-R-Lift II is a professional router lift.
It offers great versatility when changing the height of your router and has superior accuracy. All of your functions can be performed from above the table, including changing the router bits.
Features
5-sealed ball-bearing system: Allows for minute height adjustment delivering great accuracy and control to the handler. It also auto-protects against dust and promises a long lifetime.
Lightweight: At only 14.2 lbs, it will not add a lot of extra weight to your router table. It is also fairly portable.
Cam lock: Intuitively locks the router table in place when turning the cam lock to the right. There is no wobble or give when it is locked in place.
Includes steel-reducing rings: Five reducing rings to gain the perfect fit for your router. This will allow the router to sit flush to the table reducing vibration and enhancing router comfort.
Thread tensioning system: Adjusting the height of the lift just got smoother with the thread tensioning system.
Compatible with:
Porter Cable 7518, 690-699 series, 890-899 series, Bosch 1617EVS,1618, DeWalt DW610 & DW618, Milwaukee 5625, 5615, 5616, & 5619, Craftsman 17543, 17540, & 28190, Ridgid R29302, Makita RF1101 & RD1101, Hitachi M12VC & KM12VC
Pros
The accuracy of this unit is phenomenal. The thread tensioning system as well as the sealed ball bearings ensure that you get the most comfortable experience while adjusting the height.
This product feels and looks premium to the user. The one-year manufacturer warranty is a no-brainer.
Cons
Can be a bit pricey for some.
Who should buy it?
If you are looking for a professional router lift that offers exceptional ease of use and comfortable height adjustment with accuracy, this unit will wow you.
#5. Bench Dog Tools 40-150 ProLift Router Adjustment System
Editor's Rating:

(4.4 / 5)
A little less popular than the router lifts reviewed so far, this particular product still offers helpful and useful features.
Indeed, the Bench Dog Tools ProLift has a lot of professional features that will prove handy in the workshop. Best of all, it remains quite affordable.
Features
Pre-load nuts made from bronze: This ensures easier height adjustments and prevents vibration back driving when the router is in use.
Self-cleaning screws: This requires little maintenance and will boost the longevity of the router lift automatically.
Machine engineered flat surface: Made from cast-iron, the surface allows your material to sit perfectly flush.
Dual ball-bearing system: Excellent height adjustment which enables comfortable and easy operating.
Adapters: These adapters can host a slew of routers from other brands (beware, those adapters are sold separately).
Compatible with:
Porter-Cable 7518/7519. Using ProLift Adapter 40-002, compatible with Porter-Cable 690 Series Porter-Cable 890 Series, Bosch 1617/1618, DeWalt 610/616/618.
Using ProLift Adapter 40-003, compatible with Makita RF1100 and RF110. You can buy the ProLift Adapter 40-003 here.
Pros
There are many things that the ProLift got right with this model … many things we like and that will make your working with a router lift easier.
The perfectly flat cast-iron surface will allow your material to stay perfectly flat boosting your routing accuracy. Additionally, the height adjustments are comfortable despite being powered by only a dual ball bearing system.
Finally, the back driving mechanism prevents the top from moving. All it needs are bronze pre-loaded screws – nifty.
Cons
The price is prohibitive for budget buyers. It looks great but still can't compete with similarly premium router lifts in terms of features.
There are limited insert plate holes and the height can only be adjusted from the bottom and not the top. As most people purchase router lifts to attach routers bits from the top of the table, this can be quite a drawback.
Who should buy it?
This router lift will make a great addition to any workshop equipped with a router. It does what it is supposed to do while the price remains fairly affordable.
If your current router fits this router lift, it is a question of preference as to whether you choose to get this unit. Even if you consider yourself a "newbie" you will likely love the intuitive and smooth interface.
#6. Kreg PRS3000 Precision Router Table Lift
Editor's Rating:

(4.2 / 5)
The Kreg PRS3000 is intended for heavy-duty routing without sacrificing accuracy and height adjustment comfort. It is delivered with a leveling screw wrench and has a minimalist form factor.
This is a great and easy-to-assemble unit that will allow you to perform hours of router work with exceptional ease.
Features
A heavy-gauge aluminum plate: This place feels solid to the touch and is both durable and well-made.
Large thumbwheel at the bottom: This enables easy height adjustment without the use of any tools. It even allows you to perform more accurate maneuvers than a conventional crank system.
The lift system is spring assisted: This makes changing the height fairly comfortable and will make it easy to do so even if you have material sitting on the insert plates.
Low vibration system: The piece is also lightweight at only 15.6 lbs.
Cam lock: The cam lock is situated at the top in an intuitive position. It also has a dial system.
Intuitive layout: Very beginner-friendly for all users.
Three-stop auto-leveling system.
Twist lock insert rings: These rings enable a tight fit of your router bit for more accuracy, control, and performance.
Compatible with:
Porter-Cable 7518. Buy Adapter pads from Kreg, can use for Milwaukee 5625, Porter-Cable 690/890, Bosch 1617/1618, Craftsman 17542/17540/28190 & DeWalt 618.
Pros
This is one of the most intuitive layouts on the market. It is easy to begin working with it, and the auto-leveling system makes height adjustment a cinch.
This is a small router table that concentrates more on the router bit (rightly so) than anything else. The thumbwheel mechanism makes height adjustments without any tools easy and hassle-free.
Finally, it is also very accurate. Great for those who do not want to waste additional time adjusting the height with tools.
Cons
Limited to a deep blue insert plate coloration. May not fit larger router bits.
Who should buy it?
Beginners will love the intuitive and easy layout of this router lift. It is small and does only what a router lift is supposed to do – adjust the height of your router bit while allowing you to concentrate on your routing.
Benefits of Using a Router Lift
There are superb benefits that accompany a router lift and makes the purchase worthwhile. Here are a few important gains:
Solid base plate: A router lift comes with a solid base plate that is usually more stable and robust than the insert plates of a router table. With a stable base, you get less vibration and more stability to perform your routing.
Ease of use: The prime reason most people buy a router lift is the ease of use. It is finicky to adjust the height of a router bit and many times it requires tinkering under the table. The router lift height can be adjusted by using a T-wrench on the base plate itself or with a thumbwheel mechanism.
Accuracy: The router lift is a smooth device that most of the time contains a ball bearing system that makes adjusting height smooth and accurate. You can adjust the height to a fraction of an inch with great ease and accuracy.
Standard mount: A router lift has standard mounts where you simply bolt your router insert plate on. Most router inserts already contain those pre-drilled holes. If not, they are very easy to drill and fit on the router lift.
What to Look for When Buying a Router Lift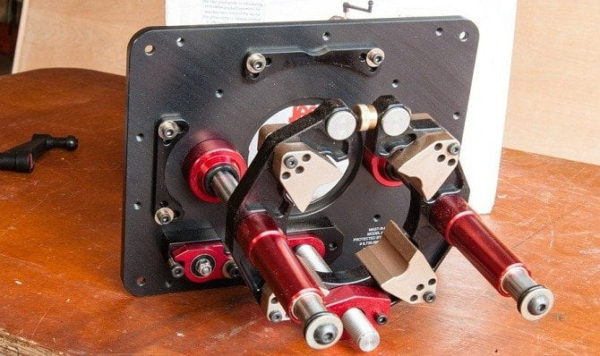 When on the market for a router lift, there are some key considerations to take into account:
#1. Construction
The construction finish, including the materials used in the construction, are important factors. You do not want one that is cheaply made or made from plastic.
The most common materials with good quality router lifts are aluminum, cast-iron (better), and steel (best).
#2. Router Compatibility
You have to ascertain that the router lift will fit your current router. Manufacturers will give recommendations for routers that are compatible with the lift.
If your router is too big or too powerful, then a smaller router lift (even if it fits) will be a bad combination. This will result in a lot of vibration and makes working with it awkward.
#3. Plunge Type
Router lifts are particularly suited for working with a fixed plunge router. This is where the motor of the router is removable and makes it easy to fix the router to the lift.
If you own a non-removable motor plunge router, make sure this model fits the router by checking the manufacturer specs sheet.
#4. Router Lift Locking Mechanism
With a locked lift, you gain versatility and accuracy. Make sure that your router lift has a locking mechanism that will not allow any play when the router is retrofitted on.
It can be as simple as a lever locking mechanism or a bolt system.
#5. Height Adjustment System
Most router lifts either use a crank handle system or thumbwheel for height adjustment. Your favorite system will determine your choice for a router lift.
#6. Ball Bearing
A ball bearing technology (or similar technology) will guarantee a smooth height adjustment and minimum maintenance. Look for models that contain a specific technology for height adjustments.
#7. Lift Adapters
If you own a couple of different routers or you are planning to buy a new one down the line, make sure that the router lift has the appropriate adapters and insert holes to accommodate those routers.
Additionally, you can buy new routers that will fit your router lift without the hassle of drilling holes in the insert plates.
In any case, checking the dimensions and insert rings on your router is a must before purchasing a router lift. This may prevent you from a lot of tinkering and unnecessary adjustments later on.
Conclusion
Here's hoping this set of router lift reviews has been helpful to you. We have covered quite some ground and seen quite a few models.
First and foremost, what we have seen is that your router lift should be able to accommodate your current router. This should be made possible by either a factory pre-drilled insert plate hole in the lift or with the use of an adapter.
Go through the models reviewed above and check the dimensions to see if it fits your router (or conversely, buy a router that fits the router lift).
Your boost in productivity when using the router lifts in this review will be well worth the effort.
As always, ensure that you wear proper protective gear while you are working. To protect your eyes, you can wear goggles or other protective eyewear. If you are working with wood and might end up with small bits of wood or wood dust, wearing a dust mask will also be an important thing to do.
Happy woodworking!
Last Updated on September 18, 2020 by Tom Bradly