5 Best Cement Mixers of 2023 – Review & Buying Guide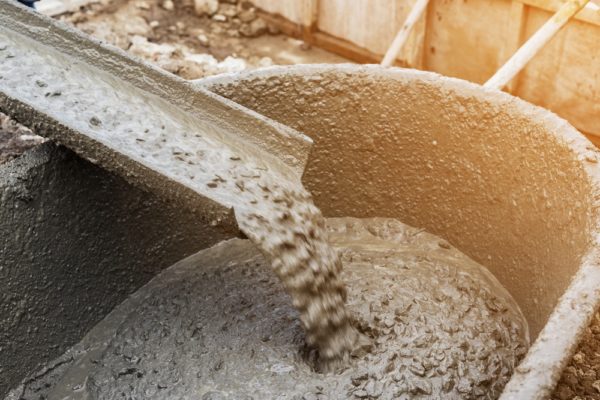 You don't need special skills for cement mixing. It's a straightforward task that simply requires the right mixing equipment. There are endless cement mixer models and brands on the market, but these tools are not created equal. Durability and mixing efficiency are the top factors to consider when buying the best cement mixers.
Wheelbarrow Mixer, 6 cu ft, 115V, 3/4HP
Goplus Electric Cement Concrete Mixer 1/2HP 2.2 Cubic Ft Barrow...
Pro-Series CME35 Electric Cement Mixer, 3.5 Cubic Feet
YARDMAX YM0146 5.0 cu. ft. Concrete Mixer 3/4 HP
SUNCOO 1/2 HP 2.5 Cu Ft Electric Concrete Cement Mixer Mortar Mixing...
Wheelbarrow Mixer, 6 cu ft, 115V, 3/4HP
Goplus Electric Cement Concrete Mixer 1/2HP 2.2 Cubic Ft Barrow...
Pro-Series CME35 Electric Cement Mixer, 3.5 Cubic Feet
YARDMAX YM0146 5.0 cu. ft. Concrete Mixer 3/4 HP
SUNCOO 1/2 HP 2.5 Cu Ft Electric Concrete Cement Mixer Mortar Mixing...
Last update on 2023-06-02 / Affiliate links / Images from Amazon Product Advertising API
How to buy the best cement mixers
Online reviews are a great place to start for those in the market for a new or a replacement cement mixer. Be wary, though of bloated online reviews. The first cement mixer model I acquired was influenced by such reviews. The machine gave up the ghost after a short period of troublesome service.
Since then, I have poured hundreds of tons of concrete into slabs and foundations. I have similarly pored over cement mixer buying guides and contractor forums, trying to find the right solutions and the ideal concrete mixer that offers efficiency, durability, and versatility.
As I found out, your search for the best cement mixer should encompass these basic parameters:
Capacity
How large are your construction projects? For professional projects, you might want to find a mixer with a large mixing volume.
Keep in mind that the mixing capacity is often smaller than the stated size of the drum. For a tank volume of 100 liters, for instance, your mixing volume would fall between 70 and 80 liters. If the mixing tank is tiny, that could lead to costly delays in your building project.
For small construction projects at home, a tank of fewer than 100 liters would likely prove sufficient. Remember, however, that overfilling the tank interferes with the uniformity of the concrete. Also, the motor power of a smaller cement mixer may not be enough for a larger construction task.
Mobility
The right mixer comes with wheels for increased versatility and mobility at your construction site. The included wheelbarrows also make the task of pouring concrete a more straightforward undertaking. Cement mixing is tough; the design of the wheels needs to have maximum shock absorption capabilities.
The design of the base with the wheels included should achieve stability; you don't want the mixer to haphazardly shift during the operation.
Additionally, the wheels need to be sturdy enough to stand up to the harsh terrain of construction floors and bumpy roads. Lightweight and fragile wheels may cause the whole contraption to topple over and spew its contents. They are a high risk for work-related injuries.
Horsepower
There are both electric cement mixers and petrol mixers. Petrol and diesel cement mixers might be the right choice if your construction site doesn't have a power supply. Electric mixers are more powerful, silent, and easier to work with compared to petrol and diesel models.
Cement mixers come with various horsepower and motor speeds. For larger professional mixers, motor power of between 1/2 to 5 horsepower (HP) would suffice. Smaller cement mixers tend to run on a between 1/3 to 1-1/2 HP motors.
Durability
Steel construction is the standard sign of strength and durability for cement mixers. Over time, the cement residue will harden inside the drum, and it often takes several hammer blows to dislodge the collection of dried cement. Your drum needs to be sturdy enough for this assault.
Sturdy steel cement mixers can also handle frequent day-to-day use much better than aluminum. You will need the strength and durability for higher performance when dealing with dense concrete and high abrasion levels in the mixing process.
Types of mixers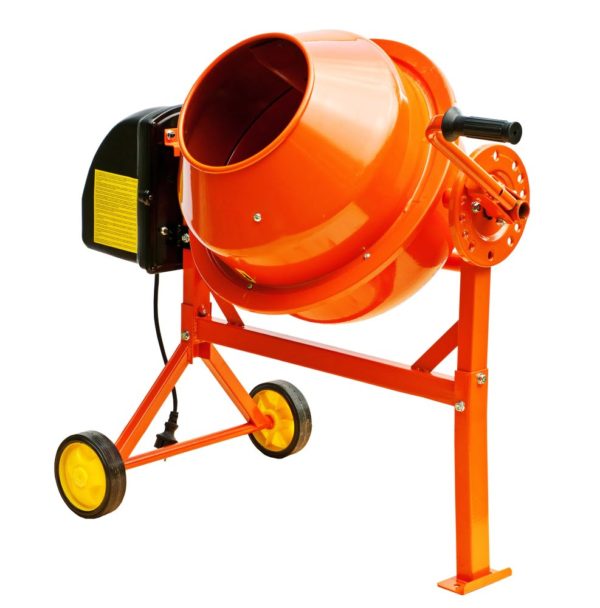 Handheld versus barrow mixers
Handheld mixers are highly portable cement mixing devices meant for small jobs. They offer the convenience of having small amounts of cement mixed where and when you need it, without the cement hardening inside the drum.
On the other hand, barrow mixers are the most common models on the market. They comprise of a drum with a hollow interior space. The drums are steel built for endurance in the face of high wear and tear. The drum turns around on a fulcrum powered by an electric or fuel motor.
Mortar mixers versus vertical shaft mixers
Mortar mixers are meant for mixing brick and block mortar. They are designed to handle stiffer mixes, including those that are sticky and with no aggregate. Mixing with heavier aggregates in mortar mixers can potentially lead to rapid wear and tear on the mixing paddles.
Vertical shaft mixers are ideal for the occasional mixing of all sand materials. You can pour the raw materials into the top and extract the mixed contents from the opening at the bottom. The pouring and extraction can often happen in tandem with the mixing operation.
Cement mixer maintenance tips
Hose the drum to rinse off cement at the end of your workday to avoid concrete build-up. Even for stainless steel, concrete build-up starts an abrasion process that will eventually wear out your machine. If there is a concrete build-up, use a pressure washer or remove it by chipping.
Ensure that the cement doesn't get to the mixer's engine. Dust build-up in the moving parts of the mixer often leads to costly repairs. Keeping the motor clean helps the device to perform at its maximum capacity every time.
Remember to grease the moving parts to get the desired efficiency with your mixer. Friction can be expected wherever there is abrasion. Greasing not only improves performance but also prolongs the lifespan of the mixer.
The Best Cement Mixers on the Market
Sale

Last update on 2023-06-02 / Affiliate links / Images from Amazon Product Advertising API

Editor's Comments
The Kushlan 600DD cement mixer features a solid steel construction together with a brushless motor. The sturdy design makes it a low maintenance cement mixer, with potentially enough power for everyday usage.
The Kushlan cement mixer uses a 1/2 HP motor with speeds up to 1725 RPM. You should find this engine powerful enough for your bulky mixing jobs. The tank capacity of 120 liters means that you can eat through the bulk of your work relatively quickly.
Its retractable handles make storage preparation an easy task. You might find it effortless to assemble, which is ideal for jobs when you have zero assistance.
The mixer adapts to various environments, assured by its rugged weatherproofed exterior. Ideally, you will be able to work with this cement mixer in extreme wet and/or cold conditions. It should also survive long winter days and nights outdoors if storage space is a challenge.
The Kushlan 600DD is a portable mixing unit; it has two rubber wheels to that effect. The significant drawback here is that the machine needs gear oil, but that doesn't come in the kit.
Pros
Robust steel construction
Brushless and powerful motor
Retractable handles for effortless storage
Great weatherproofing
Cons
Doesn't come with gear oil

---
Goplus Electric Cement Concrete Mixer 1/2HP 2.2 Cubic Ft Barrow...

【Durable Construction】Goplus all steel frame cement mixer adds stability and durability. The thickness of welding mixing blades is 0.06''.
【Safety Lock】It has switch with safety lock, which is easy to control.
【Heavy-Duty Motor】Heavy duty motor with heavy duty direct drive gearbox, 27.5 RPM improve running time and stability.

Last update on 2023-06-02 / Affiliate links / Images from Amazon Product Advertising API

Editor's Comments
Durability and stability may be in the cards here, given this mixer's all-steel construction and thick 0.06″ mixing blades. Steel puts up to stress better than aluminum and might serve you for longer and help you to slash maintenance and replacement costs.
Its motor strength should also provide the needed mixing power for tough jobs, according to the product descriptions. The motor speed, a reliable indicator for engine power, in this case, is 27.5 RPM.
Just like with the Kushlan 600DD cement mixer, mobility is a sure thing here, given the two included rubber wheels. This feature should prove highly convenient for road construction projects.
The drum capacity is 63 liters, a little lower than what you get with the Kushlan 600DD, but substantial nonetheless. The welding mixing blades are in-built, which could help to attain a uniform and efficient stirring.
The ergonomic non-slip handle will enable you to work with this machine for longer periods of time without discomfort. There is a safe lock included as well, to ensure that the mixer stays in the same place while you are working with it. The triangular design at the base with two wheels helps with additional stability.
The major drawback of this model is its hard-to-follow assembly instructions. This model is nonetheless a high-functioning machine for its price.
Pros
Powerful motor
All-steel frame
Large wheels
Cons
Difficult assembly
No weatherproofing

---
Last update on 2023-06-02 / Affiliate links / Images from Amazon Product Advertising API

Editor's Comments
The Pro-Series CME35 Electric cement mixer has an 81-liter capacity. You'll find this a little lower than what you get with the Kushlan 600DD cement mixer. The Pro-Series is meant for home use.
The cement mixer features easy controls with an ergonomic handle that should facilitate your pouring jobs. The improved control, via a wheel handle, may help to reduce accidental spills and achieve accuracy when pouring concrete to containers and wheelbarrows.
The Pro-Series CME35 runs on a 3/4-horsepower motor. The mixer could be a little more potent than the Goplus Electric. The one drawback here is the small opening, which can waste time when it comes to the pouring process.
Assembly and set-up is similarly a painstaking task. Like the Goplus model, the assembly instructions provided are scanty.
There are tires included in the mixer. The tires function well even when the units are full. The machine is a little noisy, but that shouldn't be a bother if you are after the performance.
Pros
Controlled pouring
Easy controls
Substantially powerful motor
Cons
Small opening
Difficult setup

---
YARDMAX YM0146 5.0 cu. ft. Concrete Mixer 3/4 HP

Motor drive box is factory-assembled for easy and mess-free installation
Quick 1-person assembly can be done in under thirty minutes
Steel handle uses an iron ring and safety lock for easy adjustments and locking in place safely and easily

Last update on 2023-06-02 / Affiliate links / Images from Amazon Product Advertising API

Editor's Comments
What you have here is an easy-to-assemble cement mixer that should provide the ideal assistance to your small construction projects at home. Its rugged design, weatherproof construction, and ease of assembly are some of the reasons it features on this list of top five cement mixers.
This Yardmax concrete mixer features a dump handle that could make your cleaning efforts less stressful. The low-height design makes easy the work of pouring concrete into wheelbarrows and forms. Unlike with the earlier entries in this review, you might not have to turn the whole mixer to get the material out.
The Yardmax mixer is made of solid steel so you can expect an equal level of durability to the earlier reviewed items. The biggest letdown is its small opening—you may be forced to cut your concrete bags elsewhere before transferring the material into it—a painstaking process.
Similar to the other reviewed models, the Yardmax YM0146 is a wheeled concrete mixer. Part of its design entails a safety lock and an iron ring that could be vital when it comes to flexible adjustments and safety during operations.
Pros
Multiple functions
Ease of assembly and use
Sturdy build and weatherproofed
Cons
Low motor power (0.2 HP)
Low mixing capacity (45 liters)

---
SUNCOO 1/2 HP 2.5 Cu Ft Electric Concrete Cement Mixer Mortar Mixing...

POWERFUL - 110v / 60Hz, 230W, 2800 RPM motor speed. This heavy-duty cement mixer is ideal for concrete, stucco, and mortar and perfect for inoculating seeds and mixing feeds. Small concrete mixer,...
360°MIXING - Smooth inertia stirring, mixture uniformity, high efficiency, without dead angle.
SAFETY LOCK - It has switch with safety lock and can adjust to the user's preference easily and safely

Last update on 2023-06-02 / Affiliate links / Images from Amazon Product Advertising API

Editor's Comments
This cement mixer promises operational strength with its 230 W motor with a speed of up to 280 RPM. It has a mixing volume of 30 liters, throwing it into the average home use category like the Yardmax and Goplus models reviewed earlier.
It's durable, though, given its solid steel construction. Considering that it is CE certified, you might be able to use it with a high level of versatility in both farms (for mixing feed) and construction sites. CE certification indicates compliance with health safety and environmental standards.
The manufacturer asserts that the motor can provide a 360-degree inertial stirring. On top of that, the design is mindful of stability, provisioned by a triangular wheeled base. The wheel is for portability if you need to work on large construction sites. This device is designed to be shockproof and furnished with load-bearing features.
As with the Yardmax, this cement mixer model has a safety lock. It helps to reduce the risk of injuries and improve the efficiency of your mixing operations.
Pros
Built for stability and durability
Shock proofed wheels
Multi-purpose—is safe to use on farms
Safety features
Cons
No handle for pulling and pushing
Difficult assembly

---
The best pick
The Kushlan 600DD Cement Mixer emerges as the best among its peers. The mixer is sturdily built, featuring an all-round solid steel construction and a brushless motor. Also due to its weatherproof qualities, the machine should serve you for a long time and cut down your maintenance and replacement costs.
The Kushlan mixer runs on a powerful 0.5 HP motor with a 1725 RPM, the most energetic engine in this review. Together with a larger tank capacity (120 l) compared to all the rest, you should find better performance with this mixer. It's thus ideal for professional construction projects where time is a valuable resource.
There are included wheels for portability and retractable handles for easy storage. These features and more makes the Kushlan 600DD Cement Mixer a recommended buy for all contractors.
Last Updated on February 12, 2020 by Tom Bradly