7 Types of Sanders – What Are The Differences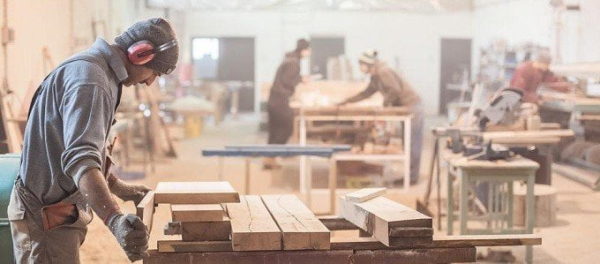 When it comes to finishing a woodworking project, sanding is always part of the task. If you enjoy sanding, you're in luck, as this is one of the most important parts of creating a well-finished woodworking product.
If you don't like sanding, well … let's just say the task is unavoidable. For this reason, you'll want to find a sander that facilitates the process and enables you to efficiently and smoothly complete the task of sanding.
>>> Click Here to Skip the Review and See Our Favorite Sander
In its simplest form, a piece of sandpaper and some elbow grease is all it takes. As long as you go with the grain of the wood and use the right grit, you'll end up with a decently sanded piece of wood.
However, power sanders do a much better job than merely running a sheet of sandpaper back and forth dozens of times. They are also way faster and, as such, more efficient if you hope to get your project done in a short timeframe.
Getting the best sander for your projects first requires understanding why they have so many different types of sanders out on the market. In short, from the belt sander to the orbital or random orbital sander, to palm, drum, and detail sanders, each is ideal for certain situations.
Each type will have both advantages and disadvantages, depending on your woodworking project and goals. These sanders will also differ in factors such as power, speed, and portability.
Regardless of the type of sander that you choose to buy, the most important thing is to ensure that it works effectively and saves you time.
This article provides information on some of the most common sander types, their benefits, and disadvantages. Our goal is to help you as a fulltime woodworker or DIY enthusiast to make an informed decision on what to buy.
7 Types of Sanders
A sander might be an essential workshop tool but it will only serve you well if you get the right one for your projects.
Finding the best type of sander for your projects will require you to know the pro and cons of some of the most common ones available on the market.
The table below gives a simple outline of the seven primary types of sanders, as well as a brief description and their usual applications, or uses.
Note that while a couple more types of sanders exist on the market, such as the drywall sander and the file sander, these are for more specific tasks and not usually necessary for the average woodworker to purchase.
This is why we will focus on the seven most common and generally useful sanders in this article.
Type
Description
Applications
Belt Sander

Uses a continuous loop of sandpaper stretched over rollers
Best for sanding rougher stock
Removes large materials quickly
Available in various sizes and speed ranges

Exterior paint removal
Sanding large flat surfaces like tabletops and doors
Sanding timber flooring edges

Belt-Disc Sander

Combines both a sanding belt and disc
Runs on a powerful motor
Typically a large and heavy sander

Preparing surfaces for varnishing
Removing hardened glue and rust
Smoothing out patches

Oscillating Spindle Sander

An affixed dual-purpose sander that protrudes from a base
The oscillating spindle moves up and down and in a circular motion
Uses an abrasive sleeve for sanding

Sanding curves
Sanding angles and other unique shapes

Random Orbital Sander

Sanding disk moves in a random orbital motion
Uses a hook and loop system for easy paper change
Compact and lightweight
One of the most affordable and highly versatile types

Fine sanding projects
Finishing chairs and tables
Trim and baseboard sanding

Palm Sander

Features a square pad
Moves in small, circular orbits
Uses small square sandpaper that comes in various sizes and grits
Uses spring-loaded clips to hold papers in place

Smoothing paint, plaster, or varnish
Great for plywood and fine veneers
Sanding in corners

Drum Sander

Large and versatile sander
Features a single drum with open or closed ends; there are also some double drum units

Smoothing assembled cabinet doors
Maintaining a square edge
Sanding both small and large boards

Detail Sander

Similar to palm sander but with a triangular-shaped base plate
Interchangeable sanding pads
Compact and lightweight, but noisy

Sanding tight corners
Awkward sanding jobs like window frames
Smoothing slots and grooves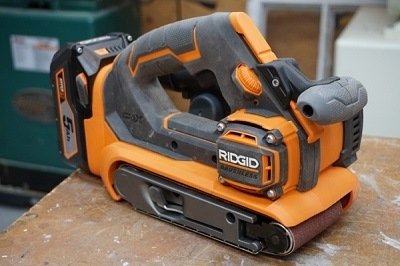 When you want to sand large, flat surfaces, the belt sander is always one of your best options. Belt sanders are some of the most common types of sanders. You'll find them a must-have for many professional woodworkers.
These sanders use a section of sandpaper that is in most cases three or four inches wide, stretched over rollers. They can tackle larger sanding jobs quickly.
The size of the belt is one of the main factors that determine what you can use the belt sander for. As the speed also matters, however, most belt sanders have a range of 900 to 1,600 feet per minute.
You can get belt sanders that weigh anywhere between two and 10 kilograms; some can be attached to a workbench to facilitate ease of use.
Although they are quite versatile, this type of sander is best for tasks like sanding tabletops and doors, removing old paint, and sanding uneven areas such as wood flooring edges.
Belt sanders will sand larger areas and uneven stock fast but they are not ideal for pieces that require a smooth finish.
Pros:
Quick material removal
Great for sanding rough stock
Best for large and flat workpieces
Cons:
Not ideal for smooth finishes
Best Belt Sander: Skil 7510-01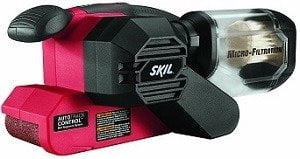 The relatively affordable Skil 7510-01 is an easy-to-use sander that almost any woodworker can handle effectively. Even if you consider yourself a beginner, you shouldn't encounter too much trouble with this belt sander.
It uses impressive technology to improve the sanding experience, including a pressure control technology that alerts you when you use too much pressure. There is also an auto-track system to ensure that the sanding belt always remains centered on the track.
Skil 7510-01 is one of the best belt sanders when it comes to dust management. It comes with an efficient micro-filtration that will capture and contain fine dust particles.
Changing the belt is also quick and easy, thanks to the single-lever belt change design.
Finally, it features an attachment for a shop vacuum.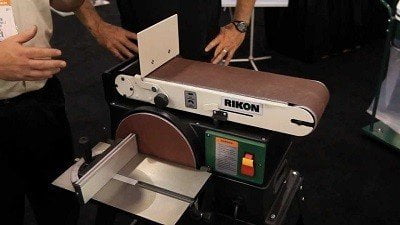 As the name suggests, the belt-disc sander is a modern sanding tool that combines the disc and belt sanders in one machine. It is a powerful sander that comes with both a belt- and disc-sanding surfaces to make it ideal for a variety of uses.
To simply state it, the best belt-disc sanders will do almost everything that the belt and disc sander can do individually.
These sanders are often large and heavy machines with a sturdy base that helps to prevent vibrations; they are a great choice when you have a dedicated spot in the workshop for them.
Some of the most common applications of these types of sander include sanding surfaces to prepare them for varnishing, removing hardened glue or rust, and smoothening patches on wooden workpieces.
However, despite their versatility, these tend to be large and heavy sanders that may require you to dedicate a permanent spot for them in the workshop.
Pros:
Highly versatile
Best for heavy-duty sanding
Powerful and super fast
Cons:
Most tend to be large and heavy
Best Belt-Disc Sander: Wen 6502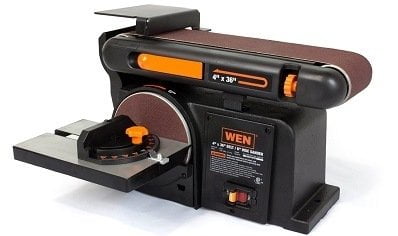 When you need both a belt and disc sander but do not have the resources to buy both as separate tools, the Wen 6502 will be an excellent buy for you.
This belt-disc sander comes with an 80-grit belt and disc, and with a 0-to-45-degrees beveling work table to make it even more versatile and easy to use.
The belt on this sander is also quite convenient to use; you can tilt it from a horizontal to a vertical position or any other angle between the two. This makes it useful for various projects.
This sander runs on a powerful 4.3-amp motor that delivers a speed of up to 3,600 RPM. It features a sturdy cast-iron base to minimize vibrations.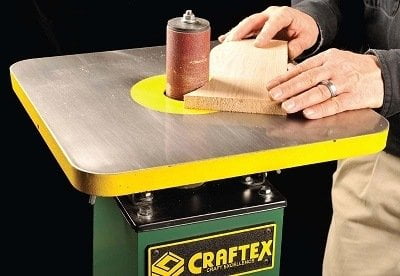 Sanding curves and other unique shapes and angles can be a daunting task with the regular sander that you have in the workshop.
The oscillating spindle sander comes in a unique shape and design useful for sanding angles and curves.
Oscillating spindle sanders are dual-purpose sanders affixed to a base. Depending on the size of the sander that you buy, they can also be portable and easy to move from one worksite to the next.
When working the spindle, the abrasive sleeve will oscillate up and down and in a circular motion. Your task is to move the plane of the wood gently against it for sanding.
These sanders are also great for use in sharpening and polishing; with the right abrasive sleeve, you can also use them to sand metal.
Pros:
Fast and accurate sanding
Great for sanding curves, unique shapes, and angles
Also useful for sharpening and polishing
Can also sand metal
Cons:
Not very useful for sanding large pieces
Best Oscillating Spindle Sander: Wen 6510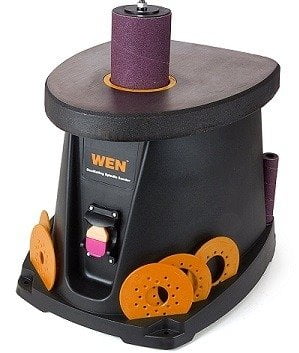 Wen 6510 is designed to ensure that woodworkers never have to sand round pieces by hand. It runs on a relatively powerful 3.5-amp motor that will deliver speeds of up to 2,000 RPM.
This sander will work even with the most oddly shaped pieces, and this is what makes it one of the best oscillating spindle sanders on the market.
It will come with six 80-grit sanding sleeve sizes, which makes it ideal for various curvatures. There is also onboard storage for the accessories.
Dust management is also easy, thanks to the collection port that allows you to hook up a dust collector.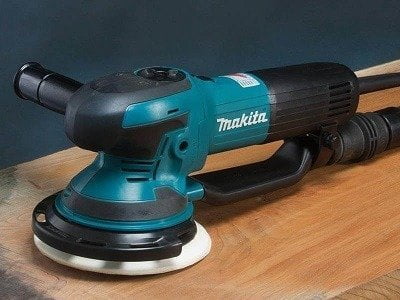 Random orbital sanders are the most popular type with both DIYers and professional woodworkers; many people like them due to their versatility.
These sanders are flexible, affordable, and relatively easier to use than most other types. They often act as a bridge between the belt and orbital sanders.
This sander gets the name "orbital" from the sanding disk action and "random" from the elliptical motion the disk will make in addition to the orbital movement.
Since these sanders are circular, they will allow you to work in awkward spots or hard-to-reach corners with ease. If you perform regular fix-it jobs or like sprucing up your own furniture, you would likely find this a helpful tool.
Changing the sandpaper and keeping it in place is easy with the random orbit sander as they use a hook and loop system. Their orbital action will allow for fast and clean sanding with no scratches or swirl marks.
Pros:
Versatile
Highly affordable
Easy to use
Fast sanding with no swirl marks
Cons:
Not for heavy material removal
Best Random Orbit Sander: Black & Decker BDERO100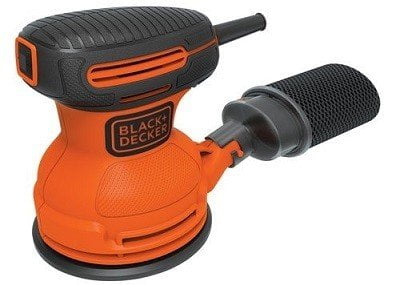 Black & Decker BDERO100 is the least expensive item on our sander reviews. Despite the highly affordable price tag, it is still one of the most versatile.
Like most other random orbit sanders, it uses a hook and loop system to make sandpaper changes quickly and easily. The switch is dust-sealed to keep dust and debris out.
This sander is also compact, ergonomic, and highly versatile. Pretty much every DIYer or professional woodworkers will find it useful to have in the workshop.
Its overall lightweight construction also makes it one of the best portable sanders on our list and also makes it easy to maneuver when sanding.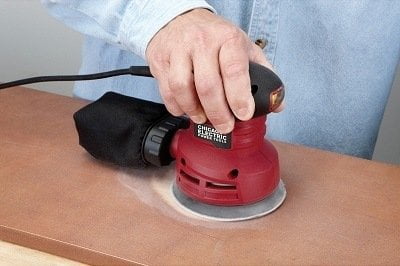 The palm or finish sander will feature a square pad that moves in small, circular orbits. It is a great finishing sander that creates ultra-smooth finishes and will also prove useful when sanding corners.
This sander is a popular choice for beginners. It holds small, square sandpaper that comes in various sizes and uses spring-loaded clips to hold the sandpapers in place.
When you compare this sander with other common types, it is relatively quiet and lightweight and it is also much easier to control.
Besides the usual sanding applications, the palm sander is also ideal for smoothing paint, plaster, or varnish. It will work great for plywood and fine veneers.
Pros:
Relatively easy to control
Significantly quieter
Lightweight
Cons:
Will not work well for rough stock removal
Best Palm Sander: Makita BO4556K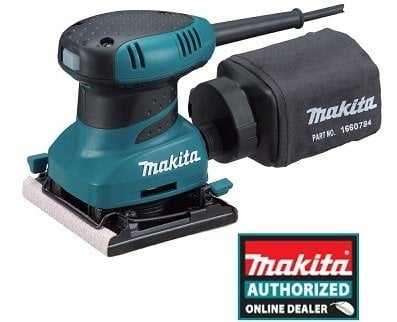 If you are on the hunt for the best sander for your finish sanding, the Makita BO4556K is an excellent choice.
This sander will produce up to 14,000 OPM to ensure fast and smooth sanding. It also works with minimal noise and vibration thanks to the ball-bearing construction.
You'll discover sanding to be a relatively comfortable — or at least a less tiring — activity with this sander as it comes with a contoured and rubberized grip. This helps increase user comfort and provides better control.
The large clamping lever is also a great addition to the design as it makes paper changing quick and easy. Finally, the on/off switch is conveniently located to allow for easy one-handed operation.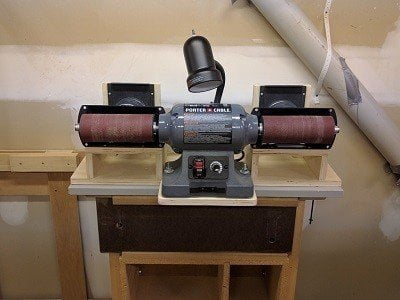 A stationary drum sander is a versatile tool that will be useful for everything from smoothing narrow strips to wide boards. It tends to work quickly and efficiently.
In addition to its ability to smooth various material sizes, the drum sander also produces consistent thickness.
Drum sanders will be very useful when you want to level or smooth already-assembled cabinet doors. These sanders are also great for maintaining square edges.
You get to choose from several variations of the drum sander. The most common types are the single drum with an open-end design, which takes up little space, and the more powerful single drum models with closed ends.
Pros:
Quick and highly efficient
Handles both small and large boards
Consistent thickness
Cons:
Heavy and hard to carry without help
Relatively expensive
Best Drum Sander: Jet 723520K JWDS-1632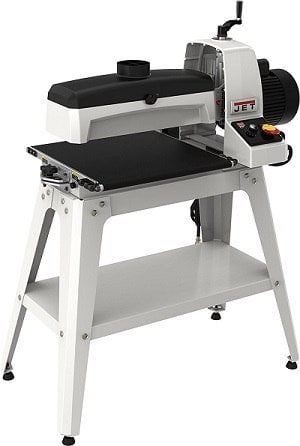 The Sandsmart control is one of the highlights of the JWDS-1632 as it will continuously monitor the load on the motor and adjust automatically to ensure optimal feed rate without resulting in overload.
Also, adjusting the parallelism on this drum sander is quick and easy; you only need to turn the dial, which has a stop that can quickly return the conveyor bed to a flat position.
With this sander, you also never have to push the workpiece through; it will automatically pull the piece through the sander to speed up the sanding process.
The infinitely variable speed is also a great addition to this drum. It comes with a dust hood designed for the optimal extraction of sanding dust.
This is a highly durable drum sander, thanks to the reinforced steel conveyor belt and the die-cast drum carriage.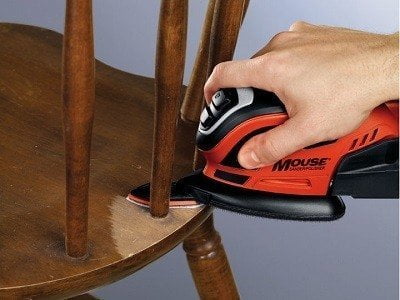 The detail sander is similar to the palm sander but with a triangular-shaped base plate that allows for easy navigation of more awkward shapes and for sanding into corners.
With the detail sander, awkward sanding jobs like window frames, slots, and grooves are much easier to complete.
Although lightweight, this is quite a noisy power tool. Still, you will find it one of the best all-purpose sanders among the various types; however, it will not be very useful for heavy stock removal.
Some models of the detail sander will take extension plates, scrapers, and cutting blades to make them more flexible. Many also come with interchangeable pads.
Pros:
Great for sanding tight spots
Compact and easy to control
Relatively affordable
Cons:
Not for heavy stock removal
Quite noisy
Best Detail Sander: Black & Decker BDEMS600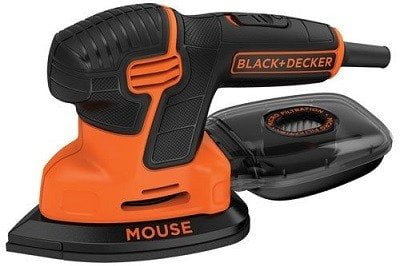 The relatively affordable price tag, compact size, and ease of use combine to make the Black & Decker BDEMS600 one of the best details sanders out there.
It comes with a finger attachment and sanding pad to ensure you have everything you need for immediate sanding. It fits into tight spaces easily.
This sander comes with a 3-position grip for control and ease of use, and its 1.2 amp will deliver up to 14,000 OPM for fast material removal.
The detail finger attachment is handy for the hard-to-reach places while the compact body with low-profile legs allows for quick and easy maneuverability.
Dust management is also taken care of in this detail sander as it comes with a high-performance dust collection and a microfiltration system.
How to Buy a Sander for Woodworking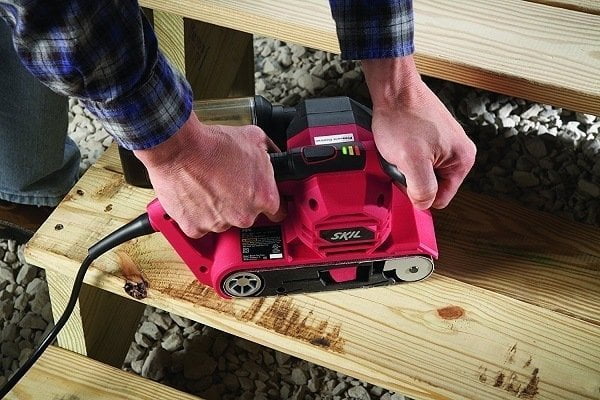 If you are a professional woodworker or even a hobbyist or DIYer that does a lot of woodworking, chances are that you will need more than one type of sander in your workshop.
Regardless of the types that you choose to buy from the 7 types of sanders above and the few other varieties on the market, it is important to make sure that you get the best quality.
In short, you need to consider the following things when shopping for a sander.
#1. Power
Power should be at the top of your mind when shopping for a good sander. This factor determines the performance and convenience of using the tool for your woodworking projects.
Sanders will range from the small units that are not very powerful to the large benchtop models that produce a lot of power.
The right one for you depends on the tasks that you want to use it for. If you can afford it, the right idea is to have both a small and portable model and also one of the large and more powerful ones.
When it comes to power, you will also need to choose the source of power. In most cases, your options are electricity, batteries, and air compressor.
Battery-powered sanders are the most portable as you can use them anywhere provided the batteries are charged. The pneumatic ones, on the other hand, which are powered by an air compressor, are the most powerful and fastest.
#2. Speed
The speed of the sander determines what you can use it for as well as how fast you finish the task. Some inexperienced woodworkers tend to assume that the best sanders are ones with the highest speeds, but this is not entirely true.
While it is always great to have a high-speed sander, what you should be looking for is one with a variable speed.
A variable speed sander will allow you to use the low-speed settings when doing delicate sanding tasks and for finishing. Meanwhile, the high speeds are ideal for sanding larger and rougher pieces.
#3. Comfortable Grip
Sanding is always a part of many woodworking projects whether you are doing home improvement projects or making furniture. Therefore, whatever sander you buy should be comfortable enough for extended use.
The best sander for woodworking is one with an ergonomic handle to provide comfortable use for extended periods and with minimal hand fatigue.
Also, it should feel well-balanced in your hands and with minimal vibrations. If you can use it comfortably, this factor helps to determine the outcome of your projects.
#4. Dust Extraction
Although almost every woodworking task will produce some wood dust, very few (if any at all) will produce as much as a sander.
Regardless of the sander type that you buy, make sure that it has an efficient dust management system.
Dust extraction and collection systems will consist of dust bags, filter canisters, and sometimes hoses attached to a vacuum. The important thing is to make sure that the dust collection system on your sander is efficient, convenient, and does not require regular emptying.
#5. Warranty
The sander is one of the tools that you will end up using a lot and so you will need some assurance that it will serve you for long enough to be worth the price you pay.
While most brands will claim to make the highest performing and most durable sanders, a warranty is in most cases your only assurance that you are getting a high-quality tool that will last for a long time.
Some of the best sanders from leading brands can come with a warranty of up to five years. This is the exception. On average, most will be backed by a 1-year warranty which is still good enough.
Conclusion
A sander is a crucial tool for finishing your woodworking projects. When you reach the sanding stage of a project, you can rest assured that you are close to completing the task at hand … always a great feeling!
Sanding helps to prepare the surface for stain or paint, so it is important to get the best ones, which means the one that is the right fit for you and your particular sanding jobs.
Finding a good sander will require you to know the different types and what each is good for. As you consider features like power, speed, and grip, you'll find that different sanders feature some of these specifications more prominently than others.
With this information in mind and by taking the time to compare the different types and brands, you can be confident of finding a sander that will be very useful for your projects.
Reference: Homedepot.com, Popularmechanics.com
Last Updated on September 17, 2020 by Tom Bradly