5 Best Paint Strippers for Wood Projects in 2023 – Reviews & Buying Guide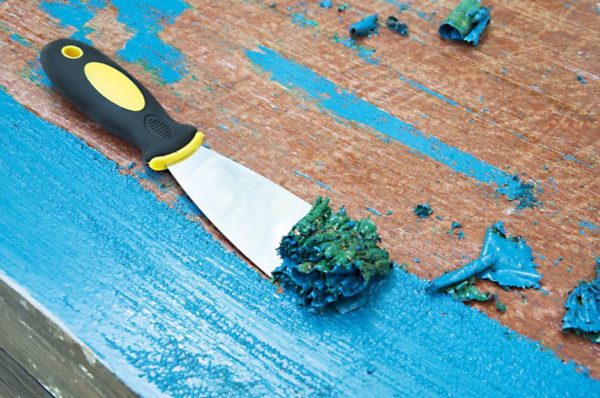 If you love woodworking, it's the smell of varnish that gets you up in the morning, and not the smell of coffee. Nothing is as satisfying as giving your wood pieces an excellent finish. But sometimes we have to strip down the paint to renew and refresh the looks of our wooden creations or installations.
It can be joyous laboring provided you have the right paint stripper for the job. This review takes a look at the 5 best paint strippers that can help you accomplish your task with ease.
Best Value
Best Overall
Citristrip® Paint & Varnish Stripping Gel, 1 Quart
PORTER-CABLE Heat Gun, 1500 Watt, Dual Temperature Settings, Corded...
Smart Strip Advanced Paint Remover - Strips Up to 15 Layers of...
Wagner Paint Eater Paint Remover by Wagner Spray Tech Corp
Best Value
Citristrip® Paint & Varnish Stripping Gel, 1 Quart
PORTER-CABLE Heat Gun, 1500 Watt, Dual Temperature Settings, Corded...
Smart Strip Advanced Paint Remover - Strips Up to 15 Layers of...
Best Overall
Wagner Paint Eater Paint Remover by Wagner Spray Tech Corp
Last update on 2023-09-29 / Affiliate links / Images from Amazon Product Advertising API
How to Choose the Right Paint Stripper for Wood
I have been stripping doors and cabinets for long. One point of emphasis in this task is that safety is as important as efficiency. Many guys have gone down with chest complications.
I personally sustained a nasty burn on my finger at one point when the stripper I was using burnt through my gloves. It, therefore, calls upon you to shop and use these products with caution.
Steer clear of solvent strippers
These are paint strippers that use Methylene Chloride as the active ingredient. Some others use Ketone, Toluene, and Acetone. These are dangerous compounds that can have catastrophic implications on your health and the environment.
The allure of solvent paint strippers is that they can often remove paint in less than 10 minutes. While that could be true, the risks are much higher. Carefully check the label of your product to ensure that you are not dealing with harmful chemicals.
Caustic strippers might blacken your hardwoods
Caustic paint strippers usually use sodium hydroxide as the active component. They act by turning paint into a soap that can easily be loosened and washed away. Caustic paint strippers can do an excellent job of removing water and oil-based paint from wood and other materials,
Caustic paint strippers are considered safer than solvent strippers. Beware though that the alkalinity of these paint removers can interfere with the natural tone of your wood.
Choose a biochemical stripper to be safe
These paint strippers consist of compounds derived from plants. The formulation could be citric acid, lactic acid, alcohol, soy oil, or terpenes. They, too, can cause skin irritation, but they are not a health/environmental hazard.
Biochemical paint strippers can help to remove water and oil-based paint from wood, metal, masonry, and other surfaces. However, for effective action, the products will need to be applied in a thick layer and then left on the surface for a few hours before scraping.
For DIY jobs, consider a heat gun
Heat gun paint removers work like blow dryers except that they generate extremely high temperatures that melt the paint off surfaces. A heat gun is much easier to use, and the paint blasting happens there and then.
The best heat gun should feature temperature controls so that you can find a safe working temperature for you and the workpiece.
If you have a sander, put it to good use
Again, for small DIY jobs, you might not need to go shopping if you already have a sander. These products are motor-driven, and fitted with a sanding disk that spins at high speed stripping away the paint. The perks are that there is no risk of chemical contamination when you use these devices.
When shopping for a paint stripping sander, choose one that has a high motor power so you can work faster. Durability and ergonomics are also some of the factors you should carefully investigate.
Notable Paint Strippers in the Market
Last update on 2023-09-29 / Affiliate links / Images from Amazon Product Advertising API
The Citri-strip paint stripper is highly viscous with a citrus scent. Its thickness and stickiness could make it adhere easily to surfaces. After slathering it on the painted wood surfaces, you are to let it sit for a few hours and then wash it off.
The chemical composition of Citri-strip includes Benzyl Alcohol and surfactant. This paint stripper can, therefore, cause burns on direct contact with the skin. You will, therefore, need to invest in chemical resistant gloves and goggles for assured safety.
I like the fact that it doesn't contain N-Methyl-2-pyrrolidone, which is a harmful component found in many paint strippers. The latter has been found to cause birth defects among other harms.
Citri-Strip paint stripper gives off a considerable amount of fumes, and therefore it is best suited for outdoor use. If used indoors, it will need to be in a room that has proper ventilation, with open windows and doors.
Despite its fumes and potential to cause skin burns, you might find that the Citi-strip paint stripper performs satisfyingly well on all types of paints. No aggressive scrubbing is necessary to remove makeup.
Citri-Strip Paint Stripper Gel – The Gel Option Pros & Cons
Pros
Adheres well on surfaces
Easy to use
Works well with minimal scrubbing
It penetrates layer upon layer of paint
Cons
It can cause skin burns
Potentially hazardous fumes
Last update on 2023-09-29 / Affiliate links / Images from Amazon Product Advertising API
The PC 1500HG is a corded paint removal heat gun that loosens paint with heat. You can work simultaneously with a putty knife, scraping the loosened paint as you blow with the machine.
Working with a heat gun such as the PC 1500HG has safety advantages over a chemical-based paint stripper like the Citi-Strip. There is no risk of chemical burns and/or contamination.
Beware though that the PC1500HG paint remover generates extreme heat—you wouldn't want your hand or any flammable material in its way.
The PC1500HG paint removal heat gun thankfully features a speed and temperature control settings. You can thus select the right working temperature for your safety, and so as not to char the wood.
With a 1500 Watt motor, the paint removal gun does work as expected. You might be able to complete your paint stripping work much faster than the case with the Citi-Strip gel. However, a slow and methodical operation with the gun is recommended for the best results.
The gun itself features an ergonomic design that minimizes fatigue when working with it. It is also a little quieter than most other paint removal guns in the market.
One drawback you might face with this device is that its temperature fluctuates without warning. That requires constant vigilance and the patience to keep resetting the right temperature levels.
Because heated paint generates fumes that might impact your respiratory health, it's advisable to work outside with this tool.
PORTER-CABLE PC1500HG Paint Heat Gun Pros & Cons
Pros
High and low-temperature settings
Its temperature can reach the highs of 900 degrees
Ergonomic design
Works quietly
Cons
Its temperatures don't remain constant
Its durability is questionable
Sale
Removes 15+ Layers of Paint/Coatings - Works on Wood, Brick, Metal, Concrete, Stone, Plaster, Fiberglass, Masonry, Porcelain, Bathtubs, Moldings, Tile, Glass, Decking, and Cinder Blocks.
Safe Water-Based Formula – 100% biodegradable. No Harmful Smells. Fume Free. No dangerous chemicals or caustics, such as Methylene Chloride or NMP. Trusted by Painting Professionals.
Works Best on Post 1980 Paints – Professional Strength - Effective inside and out. Simply apply, let set, and rinse off. No neutralization required. No fuss, no muss. Leaves no mess.
Last update on 2023-09-29 / Affiliate links / Images from Amazon Product Advertising API
This paint remover is a thick water-based liquid that could make your work easier. You can apply it with a roller or a brush.
Apart from its easy to spread consistency, this paint remover might be efficient in small amounts. According to the product specs, one application can remove several layers of paint.
The manufacturer states that it's an eco-friendly 100% biodegradable paint remover. They don't precisely say what active composition the product has, but it likely uses Benzyl alcohol to remove paint.
It's eco-friendliness makes it a potential best buy for everyone concerned about their safety and that of the environment. I also like the fact that it can work on wood and other surfaces such as concrete, stone, and even fiberglass. That kind of versatility can help you cut down costs.
The manufacturer also states that this paint remover is odor-free. That means that you could work with it indoors without risking your respiratory health.
The Dumond Chemicals, Inc. 3301 Smart Strip Advanced Paint Remover can supposedly be used in the safe removal of lead-based paint.
Lead-based paint often poses a significant health risk when removed by sanding, dry scraping or thermal blowing as with the PC1500HG Paint Heat Gun. These methods create lead dust and fumes that can be highly toxic
Dumond Chemicals, Inc. 3301 Smart Strip Advanced Paint Remover, 1 Gallon Pros & Cons
Pros
It results in a smooth and beautiful finish
East to apply
Can strip many layers of paint
It works a tad faster than Citri-Strip
Can safely remove lead-based paint
Cons
It creates a mess during use
It doesn't penetrate deeply, might only work on two layers of paint
No products found.
No products found.
Ecofast HD Paint Remover is another biochemical stripper that might be safe for the user and the environment. Its efficiency comes highly recommendable for wood and a few other materials.
Unlike Citi-Strip and Dumond Chemicals, Inc. 3301 Smart Strip, this product comes in a lighter liquid form. Consequently, you might face a few challenges when it comes to application.
The good news is that the manufacturer categorically states that the product doesn't contain methylene chloride, NMP, and other toxic chemicals. Its neutral pH likely makes it an ideal candidate for stripping paint on a variety of surfaces including wood, metal, and plastic.
Because it's less viscous, the Ecofast paint remover potentially penetrates deeper than its paste-form counterparts. Your paint stripping task could be less stressful. Bish bash bosh and you are done!
It's also readily soluble in water. You can, therefore, use it to form a custom cleaning solution for removing glue residues, label adhesives, and heel marks. This cost-saving kind of versatility gives it an edge over other products.
One pesky concern when using densely viscous paint strippers is that they might cake out fast before breaking all paint bonds. The liquid-based Ecofast might be what you need for assured efficiency.
Ecofast HD Liquid Paint Remover for Concrete by EcoProCote Pros & Cons
Pros
Uses soy and other bio-based components that are safe on the user and the environment
Its composition exempts toxic ingredients such as methylene chloride an NMK
It penetrates deeper and faster Doesn't make a mess—it is easy to wash off with water
Neutral pH makes it highly versatile
Cons
Might not be easy to apply
Not efficient in small amounts
Last update on 2023-09-29 / Affiliate links / Images from Amazon Product Advertising API
The Wagner paintEater is basically a rotating sander that chews through paint leaving your wooden creations bare. However, its functionality transcends paint removal –it can be used to sooth and prepare wood for staining or painting.
This orbital sander brings to the game an aggressive sanding disk that might help you excel where the previously reviewed items have failed. It works faster, running on a 3.2-amp motor that yields speeds of 2600 RPM. Its paint stripping action can also reach deeper.
The Wagner Paint Heater could be helpful if you are working on cracked and chipping paint. DIYers particularly gravitate towards this power tool because there is no danger of contaminating the whole house with fumes.
Even so, you will need to arm yourself with a face mask and goggles to stay free form the dust generated in the process.
For professionals, the Wagner Paint Eater is honestly not a feasible option—better choose Citri-Strip, Ecofast, or anything else that covers a bigger surface in less time.
Although it's application is limited to DIY projects, you might appreciate the way it is lightweight. You could work with it all day with no pain. Like the PC1500HG Paint Heat Gun, this paint stripper works quietly, and that for me is a big score.
Also, if you find the excess heat of paint removal guns to be a bother, the Wagner Paint Heater might calm your nerves. It keeps your hands cool most of the time. The temperature never exceeds 200 degrees.
Wagner PaintEater / Paint Stripper Pros & Cons
Pros
It's easy to use
Its super lightweight
Doesn't overheat
Reliable motor power and speed
Cons
Not ideal for massive projects
Might leave behind abrasive surfaces
The Best Pick
The Dumond Chemicals, Inc. 3301 Smart Strip Advanced Paint Remover, 1 Gallon is the pick of the bunch. This biochemical paint stripper works faster on bigger surfaces and therefore outperforms machines like the PC1500HG Paint Heat Gun and the Wagner Paint Heater.
Unlike the Citri-Strip and the Ecofast paint strippers, the Dumond 3301 Smart Strip Advanced Paint Remover can be used safely on lead-based paint. Its biodegradable composition makes it a safer option for the user and the environment.
The paint remover also penetrates deeper and could, therefore, be efficient in small amounts. The product can be used on other materials apart from wood, including concrete, stone, and fiberglass. Additionally, the Dumond paint stripper is odor-free and could be used indoors.
In a nutshell, it's the safety, versatility, and efficiency of the Dumond Chemicals, Inc. 3301 Smart Strip Advanced Paint Remover that makes it a feasible product for DIYers and professionals.
Last Updated on August 7, 2020 by Tom Bradly