6 Best Deck Stains in 2020 – Oil-Based & Water-Based Deck Stain
Building a deck takes a lot of resources, effort, and time. In many cases, the finishing phase of the deck seems to take a proportionally large chunk of the time.
The importance of a good deck sealer can't be overstated, especially when the deck will be facing the full sun for hours of a given day. From Colorado to Canada, from New York to California, the best deck stains will prolong the life of any deck.
There are a lot of top-rated deck stains out there, but how do you pick? Which deck stain lasts the longest and how do you decide among the various options available?
This article will help guide you as you pick the best wood stain to finish your deck.
>>> Click Here to Skip the Review and See Our Favorite Deck Stain
Although painting the deck is also an option, many people prefer using wood stains for their deck. Staining tends to appear more natural and brings out the wood grain in an aesthetically pleasing way.
However, to get the best from your wood stain and to be happy with your decision over the long term, you need to understand the different options available to enable you to choose the best deck stain for your home.
In this piece, we highlight some of the vital factors that you need to know about deck stain. We will also review six of the best deck stains on the market.
| Image | Product Name | Deck Stain Types | Rating | Current Price |
| --- | --- | --- | --- | --- |
| | 1. Defy Extreme Best Semi-Transparent Exterior Wood Stain – Winner Best Water-Based Deck Stain | Semi Transparent | 4.4 | |
| | 2. Ready Seal Natural Cedar Exterior Wood Stain and Sealer – Winner Best Oil-Based Deck Stain | Semi Transparent | 4.6 | |
| | 3. Thompson's Water Seal Transparent Stain | Clear | 4.3 | |
| | 4. Valspar Semi-Solid Deck Stain | Semi Solid | 4.5 | |
| | 5. KILZ Exterior Waterproofing Wood Stain | Semi Transparent | 4.0 | |
| | 6. Minwax Deck Stain | Clear | 4.3 | |
What is the Best Deck Stain?
The Best Deck Stains To Buy Today REVISITED - Oil Based & Water Based Deck Stain
The good news is, because of the different types of decks stains out there, you have plenty of options to pick from for your deck. The bad news is that it takes some effort and research to determine just what the best choice might be.
The most important thing is to understand what will fit your particular needs and preferences. For people who are sprucing up an existing deck, this should be easy: they only need to use what is already on the deck.
But, if it is a new deck, things are not always that straightforward. You want the longest-lasting deck stain you can find. The thing is, for different situations, that will mean a different stainer.
The best deck stain for you depends on the type of wood that you want to stain. If your deck uses rare wood types like cherry, aged pine, mahogany, and maple, you might not even need to use any stain. Those kinds of wood look great when left as their natural color.
But, besides the wood type, your personal preferences should also guide you in determining the best wood stain for your deck. (Tip: to get an idea of how the stain looks on your deck, you can try it on an inconspicuous part of the deck.)
The kind of finish that you want also determines the best deck stain; some provide a clear finish while others are opaque, allowing little grain to show.
Another important factor to keep in mind as you decide the best deck stain is whether you prefer to use oil-based or water-based stain types. While both have unique benefits, they also have some shortcomings and drawbacks.
Weighing between the pros and cons for your particular situation should help you decide which of the two is best for you.
(More on the differences between the various types of wood stain below, after our list of reviewed deck stains.)
6 Best Deck Stains – Reviews
#1. Defy Extreme Best Semi-Transparent Exterior Wood Stain
Editor's Rating:

(4.4 / 5)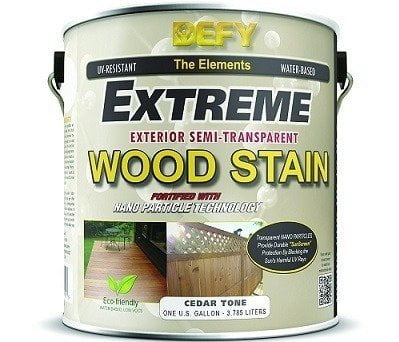 Semi-transparent wood stains like this water-based one from Defy make it possible to add some color to your deck while still allowing the wood grain to show.
This environmentally-friendly stain also produces a natural-looking matte finish that will make your deck stand out in the backyard if that's the look you're going for.
Additionally, you can get it in seven different colors, making it easier to find something that matches your home's exterior.
Winner: Best Water-Based Deck Stain
Although it is one of the priciest deck stains on our list, the quality of the finish makes it worth it. It uses high-quality resins to make it more resistant to common wood stain problems such as fading and darkening.
With the enhanced mildew and mold resistance of the stain and ease of maintenance, this will be a great wood stain to have on your deck.
Pros:
Beautiful natural matte finish
Easy to maintain
Available in seven color options
Made with high-quality resins
Enhanced mildew resistance
Cons:
A relatively small area of coverage
#2. Ready Seal Natural Cedar Exterior Wood Stain and Sealer
Editor's Rating:

(4.6 / 5)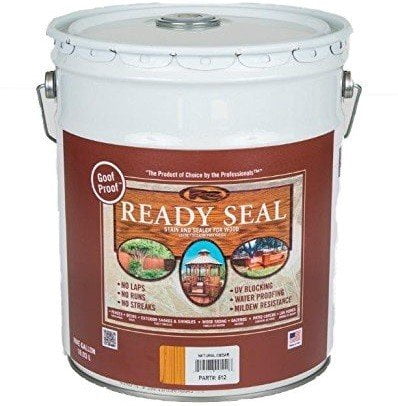 The oil-based Ready Seal also comes in seven different colors, making it more than probable that you will get something to suit your preferences. As a semitransparent stain, it will be great when you want to keep the wood grain visible.
Applying this deck stain is relatively easier than many other oil-based ones. You can use a roller, brush, or sprayer.
Winner: Best Oil-Based Deck Stain
One of the best features about this one is that you can use it in a wide temperature range. In other words, it will be suitable for use in various locations: from the snow of Canada to the sun of Florida and everything in between. This makes it one of the most versatile and best oil-based deck stains available.
This stain will provide coverage of 175 square feet for every gallon; however, if you have a deck with old lumber, you will need more stain to cover the same area.
Also, this deck stain will not require a primer and it will penetrate deep to protect the deck wood.
Pros:
No primer required
Easy to apply
Ideal for use in any temperature range
Seven stain color options
A relatively affordable deck stain
Cons:
You require more than one coat for old decks
#3. Thompson's Water Seal Transparent Stain
Editor's Rating:

(4.3 / 5)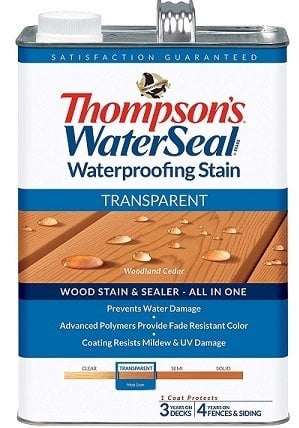 Thompson's Waterseal is the least expensive item on our deck stain reviews. Despite the affordable price tag, it can still provide coverage of up to 400 square feet per gallon (depending on the surface you are staining).
It is highly useful in preventing water damage and uses advanced polymer for fade resistance. You will also find it quite effective in resisting UV damage and mildew.
The transparent stain makes it possible to keep the natural wood grain visible, and homeowners can choose from five color options.
You can apply this stain on both freshly cleaned and damp or dry wood. It is also ideal for multiple applications as you can also use it for other outdoor wood staining purposes.
Pros:
Highly affordable
Fade-resistant color
Mildew and UV damage resistant
Up to 400 square-foot coverage
Cons:
Not very long-lasting stain
#4. Valspar Semi-Solid Deck Stain
Editor's Rating:

(4.5 / 5)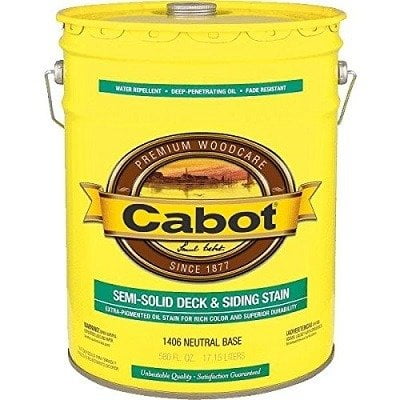 If you prefer the good old redwood finish on your deck, here is a great option for you. This semi-solid oil-based deck stain will not crack, peel, or blister.
It is a deep penetrating stain that will protect and preserve your deck lumber for longer than most other brands. The finish it provides is also water-repellent.
This ultra-pigmented oil-based stain provides a rich color that will endure longer than most other semi-solid stains. The color that you get on its application is fade resistant.
This deck stain also provides significant UV protection and it is resistant to both mold and mildew.
Pros:
Water-repellent finish
Does not crack, peel, or blister
Mildew resistant
Deep penetrating oil-based stain
Fade-resistant finish
Cons:
Relatively expensive
Only available in one color
#5. KILZ Exterior Waterproofing Wood Stain
Editor's Rating:

(4 / 5)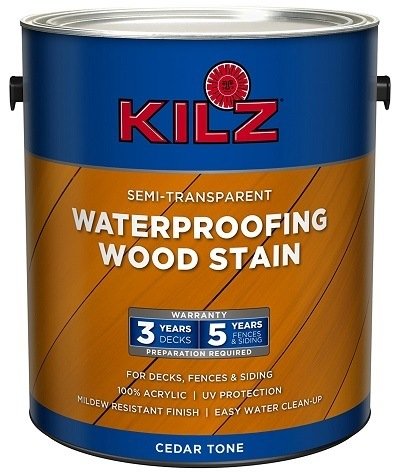 The relatively inexpensive KILZ semi-transparent deck stain offers long-lasting protection for your deck, but you can also use it for other outdoor staining applications. This means, in addition to staining your deck, you can also use it to spruce up your outdoor set of wooden table and chairs.
In addition to its long-lasting protection, this deck stain also waterproofs the deck wood. Mildew resistant, the stain proves useful in maintaining the beauty and integrity of the wood under extreme outdoor weather conditions.
The 100% acrylic formulation will protect your expensive deck wood from snow, sun, and rain damage. The manufacturer backs it with a 3-year warranty to prove that this deck staining job will last for a good, long while.
With a gallon of this transparent deck stain, you can cover up to 250 square feet with the first coat, and an impressive 500 square feet for the second.
Pros:
Relatively inexpensive
Long-lasting protection
100% acrylic formulation
Mildew-resistant finish
Easy clean-up
Cons:
#6. Minwax Deck Stain
Editor's Rating:

(4.3 / 5)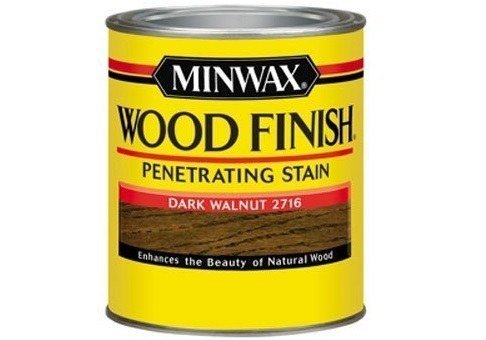 Here is a typical deck stain that will work for almost any kind of wood, and it will offer a long-lasting coat that is also scuff resistant.
The resulting deck stain coat will also be resistant to harmful UV and mildew, keeping your deck's wood in good shape for a long time.
Under normal conditions, it should dry in less than two hours, which is a relatively short time compared to others. But the best part about it is that it keeps the natural wood grain visible to give the deck an appealing look.
Miniwax deck stain provides a larger coverage than many other wood stains for both smooth and rough lumber. You can apply it with a brush, exterior paint pad, roller, or even a sprayer.
You can get this deck stain in four different colors and, when mixed, you have up to 42 colors to choose from.
Pros:
Long-lasting and scuff resistant
UV and mildew resistant coating
Keeps wood grain visible
Quick-drying stain
Large coverage for both smooth and rough lumber
Cons:
Types of Deck Stains
There is more to picking a deck stain than just going for a color that you like. As mentioned in the beginning of this article, they come in various types and you will find it helpful to know the difference. Although there are different ways of classifying deck stains, the following are the most common types.
#1. Clear Deck Stains
Clear deck stains are by far the most popular type since most people prefer to use something that shows the natural grain of the wood. You'll likely agree that there is something beautiful about woodwork, decks included, that maintain their original grain and color.
Most clear deck stains (or deck water sealers as they are also known) do not contain any oil or pigments but some will have a little of either or both. At the same time, almost all types will have water repellent and wood preservative compound to protect the lumber.
These stains are easier to apply than most other types. Their main shortcoming is that they gray and oxidize after several months. As such, an annual reapplication is likely necessary if you want your deck to keep looking new.
#2. Semi-Transparent Deck Stains
Semi-transparent deck stains are the kind that will put some color tinting to the deck while still letting the grain remain visible … to some extent.
These stains will soak into the wood. This means they tend to last longer than most clear stain types; they also offer more protection to the wood.
They are a good choice for expensive woods like cedar and redwood. Although the semi-transparent stains still do not last infinitely, they provide excellent wood penetration. With some types, you can go for at least two years without having to reapply.
Due to the ingredients in these stains, they are less likely to peel off the deck, meaning that your deck will still look fantastic even as the stain ages.
You can get these stains in both water and oil-based versions. However, when it comes to semi-transparent stains, the oil-based ones seem to perform better than the water-based stains.
#3. Solid Deck Stain
Solid deck stains are also refered to as opaque stains; they are the longest-lasting of the three main types. If you go for a high-quality brand, you can go for at least three years without having to redo your deck.
These deck stains are a great choice when you want to make a bold statement and don't really care about showing the grain of the wood.
Solid deck stains will not penetrate the wood and will instead sit at the top and cover it like paint. They are very useful when you want to cover inconsistencies, flaws, or discoloration on the deck.
Due to the color options available, this variety also adds some warmth and a greater statement to the outdoor space.
There are plenty of solid deck stain colors out there and so it should be easy to get something that suits your tastes and matches your home.
But, like the other two types, these stains also have some drawbacks. Besides hiding the wood grain, they are prone to peeling, cracking, and chipping. Also, solid deck stains can build up an ugly film if not regularly cleaned.
#4. Semi-Solid Deck Stains
Just like the semi-transparent deck stains, semi-solid stains will only show a small amount of the wood grain. This is because they contain a high amount of pigment.
Semi-solid deck stains can be both water and oil-based, but only a few companies manufacture them. Their greatest advantage is that they provide great UV protection for your deck.
The oil-based types perform better than the water-based as they will penetrate the wood and thus last longer.
Oil-Based Stain vs. Water Based Deck Stain

Now that you know the main types of deck stains out there, the other equally important thing is to understand the differences between the oil and water-based stains. Knowing their pros and cons will assist you in making an informed decision.
#1. Oil-Based Stains
Oil-based deck stains are the older of the two types as they have been around for at least three decades. They are the penetrating type of deck stain and most will contain both synthetic and natural oils such as paraffin oil, tung oil, and linseed oil.
Read More: Tung Oil vs. Linseed Oil: Which Should You Use?
They give the wood on your deck excellent protection, and since they penetrate into the wood, they are also easier and quicker to apply than water-based stain.
The best oil-based deck stains are also easier to maintain than the water-based types because as they start to age they will just fade away. Applying another coat is all you need to do to maintain them.
However, the oil-based deck stains are not very eco-friendly; they also come with a strong odor that takes longer to dissipate. These deck stains also require more time to dry and cure because of the oil components.
Pros:
Excellent wood penetration
More natural-looking stain
Easy to apply
Cons:
Stronger odors and longer drying and curing time
Not eco-friendly
#2. Water-Based Deck Stains
Water-based deck stains have become a norm in the past few years. Thankfully, more and more homeowners are growing aware of the need to use environment-friendly products to maintain their properties.
Additionally, changes in laws in many areas that prohibit VOC's (volatile organic compounds) have been a contributing factor to the increase in popularity of water-based deck stains.
These deck stains tend to adhere better to surfaces that have undergone some sort of staining or painting. Most tend to retain their color better than their counterpart oil-based deck stains.
Water-based deck stains are also more breathable, which means they will not retain moisture. This makes them more resistant to mildew and mold than the oil-based ones.
Other positive elements that set the water-based stains apart from the oil-based ones include the fact that they are quick-drying, have fewer odors, are non-flammable, and are also easy to clean with soap and water.
However, the quick-drying can also be a shortcoming as it makes them harder to apply; this is doubly so if you have a really large deck you need to stain. Also, they will not penetrate the wood as deep as the oil-based ones.
Water-based decks stains are best suited for lumber that resists decay naturally, such as cypress and cedar.
Pros:
More mildew and mold resistant
Environmentally friendly
Quick-drying
Easy clean up with soap and water
Cons:
Does not penetrate wood deeply
Slightly harder to apply
Paint or Stain
Whether you are finishing up a new deck or want to breathe some new life into your old one, you will need to choose whether to paint or stain it.
While in most cases it will depend on your personal preferences, it is important to understand what you stand to gain from both painting and staining.
Deck Painting
Painting is the obvious option for some homeowners as it looks easy. To add to the attractiveness of this option, the paint will last longer than staining. It requires minimal maintenance, and all paints offer UV protection.
Even if you decide to use the best quality and expensive deck paint, it will likely be cheaper in the long run as it lasts for longer than stain.
However, paint covers the wood grain. It will not be a good choice if you want to enjoy the natural beauty of the wood. Finally, it is also more likely to trap moisture in the wood.
Deck Staining
A quality deck stain, on the other hand, will penetrate the wood and seal it. When using the oil-based versions, it does this while also allowing moisture to escape.
The stain will rarely peel, chip, or crack even as your deck wood swells and shrinks due to changes in temperature. If you use the solid-color stains, you will also get a decent amount of UV protection.
But, the greatest advantage of staining your deck is that it keeps the wood's natural grain or beauty visible which creates an aesthetically appealing deck.
Should You Paint or Stain?
The decision depends on the look that you want to achieve. If you do not mind reapplying stain every couple of years, it is a good option.
If you do not have the time or you hate the idea of working on your deck every few years, then you should paint it.
Also, paint it if you want more UV protection and color options.
How to Buy the Best Deck Stains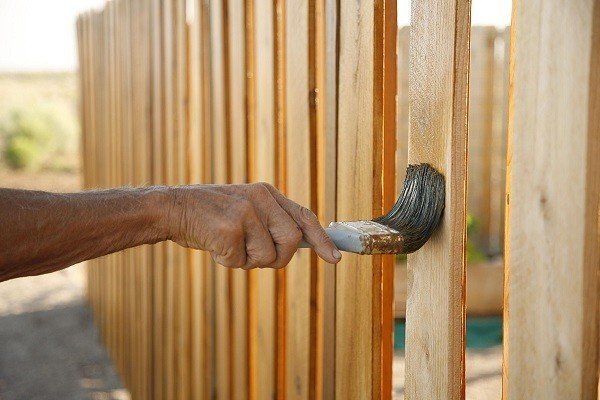 Your choice of a deck stain will affect more than just the appearance of the deck as it also determines the durability of the lumber.
The good news is that there are more than enough deck stain options on the market. All you need to do is to understand how to pick the best deck stain for you.
This should not be hard; you only need to consider the points below.
#1. Deck Stain Type
One of the first decisions that you need to make when buying a deck stain is the type to choose. Here you will not only need to pick between water-based and oil-based but also from the four common types: clear (transparent), semi-transparent, solid, and semi-solid.
The type you choose depends not only on your tastes and preferences but also on the wood type that you have on your deck. For example, water-based types are best for cypress, redwood, and other wood types with natural decay resistance.
#2. Coverage Area
Deck stain is in most cases cheaper than paint but you still need to consider the coverage area when buying your stain. Remember that you will liekly need to reapply the stain every couple of years.
The coverage area will vary from one brand to the other because of the difference in formulation, but the larger the area you can stain with one gallon, the better.
However, you should never compromise on the quality of the stain just to get something that covers a wide area in one gallon. A stain that covers at least 100 square feet with the first coat is good enough.
#3. Color
Just like paint, you can get deck stain in various colors. Pick something that complements or enhances the appearance of your home.
The best way to choose a stain color for your deck is by going for something that matches an unchanging color in your yard such as your home's exterior. Doing this ensures that your stain choice will remain relevant for a long time and you will not need to change it.
Also, you can match the stain color to the wood that you use on the deck if you want a more natural look. Common deck woods such as pressed pine have an appealing green shade; a clear stain would probably be the best choice to maintain the look.
Remember to test out the color on a small section of the deck to determine how it will look. You can simply strip it off if you do not like the appearance.
#4. Price
Whether you prefer to use water-based or oil-based deck stain, the best brands will not be cheap. However, you can still ensure that you get the best value for your money.
If the price of the deck stain is high, it should also be top-notch quality and provide a large area of coverage.
Avoid going for unusually cheap brands. In most cases they will also be low quality. Good deck stains will retail anywhere from just under $20 to close to $100 per gallon.
How to Prepare Deck Stain
Preparing a deck stain should not be very hard. Try those steps below for a smooth operation:
Step#1: As with anything, the deck needs to be clean before you start staining. Sweep the floor and remove any hard debris such as leaves or pine needles.
Step#2: Use a mild detergent to sweep and brush the deck. Ideally, the detergent will contain an anti-grease compound that will break away oily and fatty substances on the deck.
Allow the detergent to sit for around 10-15 minutes, then thoroughly wash it with water pressure or a garden hose. It should be very clean at this point and you should get a better idea of how many coats of deck stain you will need.
Step#3: Once the deck is dry, scrub it to remove any imperfections. You can use a sander to polish bumps or remove residual paint on the deck.
Once you are done, sweep the floor one more time to clean it. You can use a synthetic bristle brush for the best effect. Make sure your brush is long enough to prevent back pain as you work.
Step#4: Once again, use a power washer equipped with a 45-degree tip and set to 1,200-1,400 PSI.
Make sure not to let the tip get too close to the deck. Ideally, keep the tip at least eight inches away from the deck to prevent damage from occuring.
Step#5: Once this is done, you will see residual imperfections with more clarity. Lightly sand one more time if you have to. Now you are almost ready to start staining your deck.
Remember to sand in the direction of the wood vein and never against it, as this will most likely damage the wood. You should only need a few minutes if you use a power tool like an orbital sander with 80-grit sandpaper.
Deck Staining Tips
Using a discardable brush, apply a stain sealer to the cracks and side of the wood. With a clean rag, wipe off the excess sealant and stain or it will look uneven.
When staining a deck, one thing you will notice is that you need tons of rags to wipe. Make sure that you have a good supply of clean rags for this purpose.
It is important to look at the wood grain direction and stain along with it and never cross-ways. Going across the wood vein will result in a poor and unprofessional finish.
Wet rags that have been used to wipe oil-based wood stains are extremely flammable and should never be thrown away when wet. Make sure they dry completely before you throw them away.
Wood stain is toxic. You need to use rubber gloves at all times when applying it.
If you have a large deck, you will need to spend a considerable amount of time on the staining process. You can always invite a friend over to help you and get the job done in less time.
Another lifesaving tip is, instead of kneeling down, use a pole sweeper to stain. Your back will thank you for it.
How To Stain a Deck. Tips & Hacks Staining A Wood Deck.
Conclusion
Staining is one of the best ways to finish your wooden deck. It gives the deck a very appealing look that will enhance the overall appearance of your backyard.
>>> Click Here to Skip the Review and See Our Favorite Deck Stain
Deck stains will come in various types and in different categories. This gives you plenty of options to pick from when shopping.
Understanding the different types and the pros and shortcomings of each, as highlighted in this piece, should make your decision easy.
Remember to try out a stain on a small section before applying it on the entire deck; you cannot be certain that you will like the appearance until you see it on the wood.
Hopefully, our reviews above have given you an idea of some of the best deck stains available; these are brands that you can trust as you find something that suits your deck and budget.
Last Updated on September 15, 2020 by Tom Bradly