5 Best Bench Sanders of 2023 – Review & Buying Guide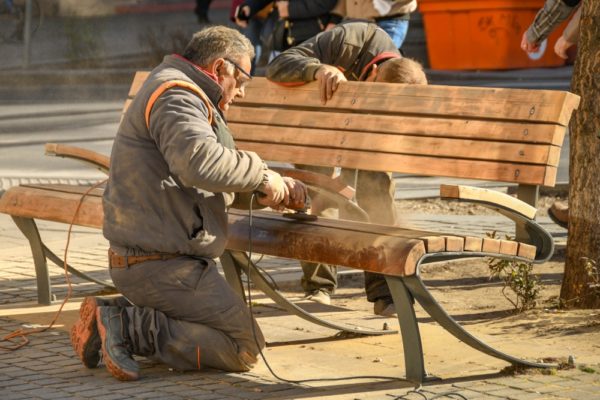 Confused about buying bench sanders? Here is some help. In this review, you will discover the five best bench sanders for professional and DIY use, and a guide on the 6 critical factors to consider in a bench sander.
Kalamazoo 1SM 1" Belt Sander, 32 lbs, 1725 RPM, 1/3 HP Motor, 1" x 42"...
JET J-4002, 1" x 42" Belt and 8" Disc Sander, 1/3HP, 1Ph 115V (577003)
WEN 6502T 4.3-Amp 4 x 36 in. Belt and 6 in. Disc Sander with Cast Iron...
Porter-Cable PCB420SA Belt with 8" Disc Bench Sander, 4" x 36"
Kalamazoo 1SM 1" Belt Sander, 32 lbs, 1725 RPM, 1/3 HP Motor, 1" x 42"...
JET J-4002, 1" x 42" Belt and 8" Disc Sander, 1/3HP, 1Ph 115V (577003)
WEN 6502T 4.3-Amp 4 x 36 in. Belt and 6 in. Disc Sander with Cast Iron...
Porter-Cable PCB420SA Belt with 8" Disc Bench Sander, 4" x 36"
Last update on 2023-06-02 / Affiliate links / Images from Amazon Product Advertising API
Let's start our investigation to help you get the best value for your money.
Bench sander buying guide
As a retired cabinet maker, I have worked with many finishing machines, but none of them delivers power and convenience like benchtop sanders.
Power and efficiency are the most significant considerations whenever you go shopping for a wood sander; the machine should help to increase productivity and the quality of your output.
Why you need a benchtop sander:
Faster performance
These devices can accomplish your work faster than portable sanders. You get to remove larger amounts of material in the shortest time. The task takes less effort so that you can meet your project deadlines with no hassle.
Uniform performance
Removing residue and unwanted materials from a wooden surface is often a painstaking task. A bench sander makes it easy to remove unwanted surfaces on both flat and curved surfaces while retaining the finish on the surface.
Flexibility
You can choose between handheld or stationary sanders, depending on your type of workpiece. You can similarly play around with different grits of sanding paper to achieve the finished texture that appeals to the most to you.
Wide scope application
The use of a bench sander is not limited to woodworking. These tools find application in flooring and even metal works when the task involves smoothing corners and removing bars. You can similarly use these sanders to strip paint from surfaces or redo old furniture.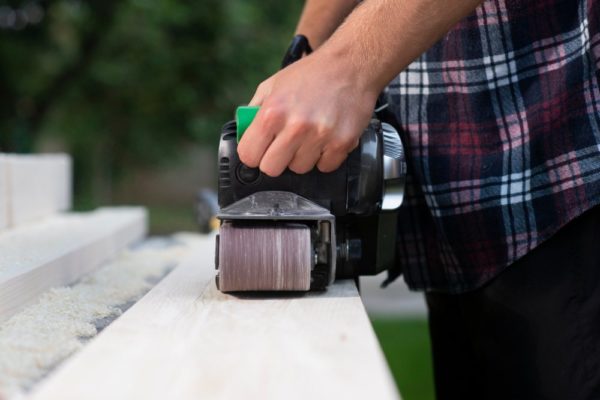 Bench Sander Buying Guide
The nature of your job
Is it for DIY or large-scale, professional purposes? Are your workpieces flat or curved? These are some of the questions to ask when buying benchtop sanders.
Go for a power tool with or more than ½ HP for large-scale sanding projects. Choose an orbital sander for curvy surfaces or a power tool with a large beveling capacity for tilted sanding.
Belt tracking
Go for a benchtop sander where it is easy to center the belt. Belt tracking improves sanding efficiency as you get to work freely without the belt rubbing against the internal components.
Quick change belt
Over time, sanding belts lose their grit. A sander tool where you can easily change the belt without disassembling the whole machine would be highly convenient.
You may also want to occasionally switch to a different belt to match the nature of your job.
Ease of set up
It's a no brainer that you would want to go for a pre-assembled model so you can start working immediately without having to spend time and effort on the assembly job. It is also easy to notice a manufacturing defect in a pre-assembled bench sander. In such a case, you can have it shipped back to the manufacturer and get a replacement before too much time elapses.
Dust port
Wood dust is a health hazard; you should always wear a breathing mask when you work with a bench sander. Devices that feature a dust port and dust collection bag reduce the health risk. You also get to keep your work site clean, which may subsequently help to enhance accuracy and efficiency in your operations.
Versatility
Belt and disc sanders (two-in-one) are more versatile than other benchtop sander types. These power tools perform well when it comes to sanding both square and angled items. They come with a tilting table and a miter gauge for precision and ease in sanding miters, bevels, and other angles.
The Best Bench Sanders on the Market
Last update on 2023-06-02 / Affiliate links / Images from Amazon Product Advertising API

Editor's Comments
Kalamazoo's biggest highlight is its simplicity in design and use. It also runs quietly compared to similar tools on the market.
Design
The manufacturer describes it as a "bare tool" that gets the work done. One of its remarkable features is tool-less belt changing. You should be able to adjust the machine for various applications more quickly.
The belt features easy tracking adjustment. Users can simply loosen the screw on the column, move the belt to the proper position, then fasten the screw. The belt then automatically centers itself on the drive pulley. Achieving correct alignment helps to improve the sander's efficiency.
Performance
The machine works quietly and delivers a satisfying performance on belt grinding, in my opinion. However, things can grow complicated when you have to sand flat bevels with the unit. From the table design, you quickly hit the motor when smoothing anything larger than a knife.
Pros
Quiet operations
Easy belt changing
Effortless tracking adjustment
Cons
Part rest not sturdy enough
Part rest too low

---
JET J-4002, 1" x 42" Belt and 8" Disc Sander, 1/3HP, 1Ph 115V (577003)

VERSATILE: Hinged idler wheel cover and removable platen allows for sanding of outside curves or odd-shaped work pieces on the belt.
STURDY: Main body consists of cast iron construction, while the base is constructed from heavy-duty steel.
MITER GAUGE: Turns and locks for common angles, 45° both left and right.

Last update on 2023-06-02 / Affiliate links / Images from Amazon Product Advertising API

Editor's Comments
The JET J-4002 is both a belt and disc sander that runs on a 1.3 HP motor. The sander could be ideal for those seeking power and efficiency when working with harsh surfaces.
Design
Unlike the previously reviewed item, the platen on this model is removable. This means that you should be able to more easily work with awkwardly shaped workpieces. An included miter gauge could enable you to effectively sand workpieces at 45 degrees on both sides.
Apart from the sanding disc, the sander also uses an abrasive belt to deliver versatility similar to a jigsaw or handsaw while smoothing surfaces at the same time.
The sander operates on a 24-inch belt. The disc is 8 inches in size and is made of aluminum, so it should serve you for a decently long period of time. There are plastic guards over the disc, which could help with safety. There is also a dust collector port included that is hopefully compatible with your shop vac or small dust hose.
Performance
The 1/3 HP engine delivers the power needed for any professional wood finishing activities. The flexibility to choose between a belt sander and disc sander makes things even better.
A power take-off feature exists on this benchtop sander. It can be used for mounting a flex shaft for carving and drum sanding, according to the manufacturers.
One drawback is that the handle tends to break and smash your fingers, so watch out. Note also that the 5/8 miter gauge slot (instead of the standard ¾ inch slot) makes it incompatible with many aftermarket parts.
Pros
Powerful motor
Multipurpose functionality
Beveling miter gauge
Removable platen
Cons
Challenging to set up
Troublesome handles

---
Last update on 2023-06-02 / Affiliate links / Images from Amazon Product Advertising API

Editor's Comments
Like the JET J-4002 Bench Belt Disc Sander, this is a dual-functionality sanding machine featuring both a 32-inch sanding belt and a 6-inch sanding disc. The model could be the right choice for those seeking convenience and versatility.
Design
Unlike the other reviewed items, here you have a compact design and a lighter sanding unit. The frame is iron made, offering great sturdiness, but you'll need to be wary of rust.
The advantage with the cast-iron base is that it makes it possible to work without wobbling and walking, which are common in compact bench sanders.
The included belt is adjustable. You may be able to quickly change it from a vertical to a horizontal position and vice versa when working with materials of different shapes.
Another convenient feature here, in my opinion, is the table with the miter gauge. The table provides support for beveled sanding, while the miter gauge locks positions when working on pieces at between 0 to 45 degrees.
A 2.5-inch dust collection port is part of the design. You can attach your dust collector here to keep your worksite clean and reduce the risk of inhaling sawdust.
Performance
The WEN 6502 runs on a ½ HP motor. You may, therefore, be able to get a more powerful performance with this model than with the other sanders reviewed earlier. The motor speed is ideal for working with large loads on this machine, which should be good news for professional wood finishers.
Versatility is on the menu as well. Given the combo belt and disc design of this benchtop sander, it can be useful in a variety of settings.
One other inspiring quality here is an easy belt and disc change. Once the grit wears on your original belt and sandpaper, you can replace them easily.
Pros
Easy replacement of belt and sandpapers
Powerful motor
Versatile performance
Cons
Its small belt guard is a safety concern
Performance not consistent; the tool breaks down occasionally

---
No products found.

Editor's Comments
Here you have a multifunctional benchtop sander that runs on a 1/3 HP engine. This product could be the most ideal for smoothing intricate wood articles.
Design
This tool is both a belt and disc sander. The belt measures 1×30 inches, and the disc is 5 inches. You may be able to accomplish more with its belt and disc sander design, including dry sharpening, contour sanding, and smoothing of intricate parts.
Both the belt sander and disc sander are flexible enough to tilt at a 45-degree bevel. This feature may help to make your work easier when dealing with unusually shaped items.
The Grizzly H6070 bench sander uses two dust ports that should help keep your worksite clean for sanding efficiency and precision, as well as safeguard your respiratory health.
Performance
This bench sander is powered by a 1/3 HP motor with a speed of 3450 RPM. This level of power could come in handy for bigger workloads in professional settings.
The removable belt platen on this model could help to facilitate an effortless contour sanding. Additionally, a manual belt tracking feature facilitates proper belt alignment for efficiency.
Beware, though, as the motor bogs down when pushed too hard. Another possible inconvenience here is the flimsy plastic material that the clamp lever is made of—it might break if not handled cautiously.
Pros
Powerful motor
Removable platen and roller guard
Both belt and disc sander in one
45 degrees bevel
Cons
Engine breaks down when overloaded
Cheaply made clamp lever

---
Porter-Cable PCB420SA Belt with 8" Disc Bench Sander, 4" x 36"

Powerful ball bearing 3/4 HP induction motor provides power for small and large sanding operations on various materials
Separate aluminum tables for sanding disc and belt with miter gauge
Cast Iron base reduces vibration and helps keep the sander stable during use

Last update on 2023-06-02 / Affiliate links / Images from Amazon Product Advertising API

Editor's Comments
The PC cable benchtop sander uses a ¾ HP motor that could deliver slightly more power than the previously reviewed items. It is both a belt and disc sander with a belt size of 4 x 36 inches and a disc size of 8 inches, ideal for large sanding operations.
Design
Like the WEN 6502 benchtop sander, the design on this model includes a cast-iron base that helps with stability. You may be able to sand accurately and more quickly without having to worry about wobbling and vibration.
There are also separate aluminum tables for the sanding disc and belt, which could improve ease of use with the device. A miter gauge helps to lock bevel positions for accurate tilted sanding.
The previously reviewed model offered more with its two dust ports; in this case, you get just one. The dust collection system, however, comes readily fitted with a dust bag to keep your worksite neat.
Performance
The PCB420SA runs on a 3/4 HP induction ball bearing motor that yields more power than the rest of the sanders in the review. The engine delivers 3,450 RPMs for the belt and 2,160 FPM on the disc, which could help you accomplish your job much faster.
This bench sander uses 4″ x 36″ sanding belts and 8″ sanding discs. A belt tracking adjustment knob helps with easy belt alignment while you also get a quick-release feature for painless belt replacement.
The sanding belt can tilt up to 90 degrees vertical, which I think helps with versatility and ease of use.
Pros
Powerful motor
Dust collection system comes with a dust bag
Sturdy cast-iron base to kill vibration
Cons
The belt doesn't run smoothly
The sanding disc is unsteady

---
The Best Pick
Despite its few issues, the PCB420SA benchtop sander outperforms all the other models in the review in terms of power and ease of use.
The sander uses a ¾ HP engine that could be convenient in professional settings or large-scale DIY sanding jobs. It similarly uses a large belt (4x 36″) and disc (8″) for larger sanding jobs.
The cast-iron base is a utility for stability and precision sanding, but can also offer durability. Users should be able to attain accuracy in tilted sanding in light of the adjustable miter gauge included.
Additionally, the dust port feature makes it easy to keep the worksite clean for efficiency and personal safety. These features and more make the Porter Cable B420SA benchtop sander our most recommendable buy.
Last Updated on August 7, 2020 by Tom Bradly