The Best Belt Sanders of 2021: 7 Top Picks
What Are The Best Belt Sanders to Buy Now?
Most woodworking projects require some sanding finishes. This is the case regardless of whether you are making cabinets, doing some home improvement projects, or building an outside deck.
If you enjoy sanding, this is good news, as you have the opportunity to practice this skill on a regular basis. However, if sanding isn't your favorite activity, it's not exactly something you can avoid if you do woodworking projects regularly.
Whether or not you find sanding an enjoyable activity, you can find tools to help facilitate your sanding jobs and make them that much easier.
>>> Click Here to Skip the Review and See Our Favorite Belt Sander
As you grow more familiar with a variety of woodworking tools, you'll discover there are many sanding tools that will prove handy for your finishing projects.
But, the belt sander is perhaps the most common and also one of the most versatile ones in your arsenal of woodworking tools.
Belt sanders come in various sizes, shapes, and types. Their most distinctive feature – and also what sets them apart from other sanders – is its continuously moving sanding surface, which is mounted on a belt.
If you want to ensure a flat surface and a smooth finish on your woodworking projects, the powerful motor of belt sanders would create a smooth-to-the-touch feel after you're done working on it.
Belt sanders, as powerful sanding tools, will help you shape and give an even finish to all kinds of woodworking projects. Additionally, they can be both aggressive and gentle, depending on your usage of them. The powerful motor that goes into moving the belt will help shape your rough surfaces effectively. This will help to ensure that you get the finish you desire.
| Image | Product Name | Motor Power | Belt Size | Rating | Current Price |
| --- | --- | --- | --- | --- | --- |
| | 1. Makita 9903 Belt Sander (Best 3 x 21-Inch Belt Sander) | 8.8 Amps | 3 x 21 in | 4.6 | |
| | 2. Makita 9403 Hand-Held Belt Sander (Best 4 x 24-Inch Belt Sander) | 11 Amps | 4 x 24 in | 4.4 | |
| | 3. Black & Decker DS321 Dragster Belt Sander | 7 Amps | 3 x 21 in | 4.0 | |
| | 4. Hitachi SB8V2 Variable Speed Belt Sander | 9 Amps | 3 x 21 in | 4.2 | |
| | 5. Genesis GBS321A Belt Sander (Best Belt Sander for the Money) | 8 Amps | 3 x 21 in | 4.0 | |
| | 6. Porter-Cable 362V Variable Speed Belt Sander | 12 Amps | 4 x 24 in | 4.5 | |
| | 7. Wen 6321 Belt Sander | 7 Amps | 3 x 21 in | 4.2 | |
What Is A Belt Sander Used For?
Belt sanders can remove, shape, and round edges to give your woods a smooth finish, no matter how misshaped they are. These sanders are great when you want to sand large, flat surfaces quickly.
Although their main application is sanding wood, you can also use the belt sander for other grinding tasks such as sharpening metal tools.
As handy as they might be, you should not just settle for the first belt sander that you find because they come in different types (stationary and handheld). They also come with different features, which prove beneficial for a variety of projects and purposes.
The specific features of the belt sander, which determine its capabilities, should guide you when picking the right one for your tasks.
In this piece, we review some of the best belt sanders on the market. We will also highlight some of the factors or features (such as power, belt size, weight, and speed) you'll want to consider when buying one.
You can also read other sander reviews we've written in the past, such as reviews and buying guides for the Hitachi SB8V2, Makita 9403, random orbit sander, drum sander, belt-disc sander, spindle sander, palm sander, detail sander, and sanding belt.
7 Best Belt Sander Reviews
#1. Makita 9903 Variable Speed Belt Sander (

Best Overall

)
Editor's Rating:

(4.6 / 5)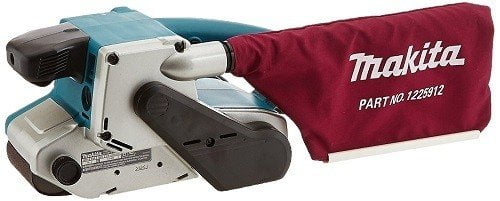 The Makita 9903 is a variable speed belt sander that runs on an 8.8-amp motor. It is a versatile and efficient model that will be ideal for most woodworking projects.
It uses an electronic speed control that makes it possible to maintain a constant speed under its load, and it also has a relatively wide speed range.
This belt sander has a low profile design that gives it a better balance. Additionally, its extended base design makes it possible to sand flush to the wall.
There is also a large front grip for comfortable operation as you use the tool. The resultant ease of use is part of what makes this the best overall belt sander on our list.
Our rating is also due to the sander's auto-tracking belt system, which will track the belt without adjustment and thereby increase the accuracy of the sander.
Makita 9903 will likely be the best choice in belt sander for woodworkers, carpenters, deck builders, and general contractors.
Pros:
Variable speed control dials with a wide speed range
Front grip design
Auto-tracking belt system
Low profile design
Cons:
Relatively short warranty for such an expensive sander
#2. Makita 9403 Belt Sander
Editor's Rating:

(4.4 / 5)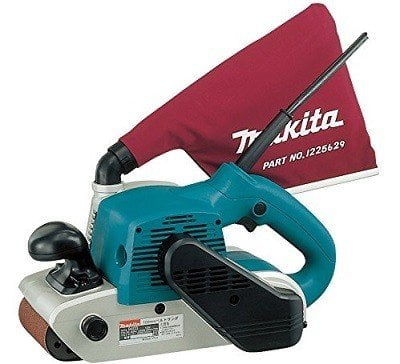 The large 4 x 24-inch belt on the Makita 9403 makes it a great choice for sanding large workpieces. And although it is a single-speed sander, the 1,640 ft/min speed is fast enough to ensure quick material removal.
The Makita 9403 is one of the quietest units on our belt sander reviews. With a noise rating of 84 dB, it is as quiet as a belt sander can get.
Also, it is one of those power tools that you can be sure will last in your workshop for many years, thanks to the labyrinth construction that seals and protects the motor and bearings.
Your sanding will also remain relatively comfortable when using this belt sander due to the large front handle. Finally, its 360-degree swiveling dust bag makes sanding operations even more convenient.
Although the Makita 9403 looks quite similar to the Makita 9903, the variable speed of the latter is what sets them apart. Also, the 9403 delivers more speed than the maximum that you get with the Makita 9903.
Pros:
Quietest belt sander in its class
Wide and long belt size
Large front grip
Labyrinth construction
360-degree swiveling dust bag
Cons:
Single-speed belt sander
Relatively expensive
#3. Black & Decker DS321 Dragster Belt Sander
Editor's Rating:

(4 / 5)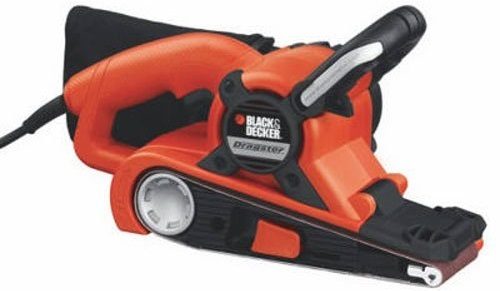 Sometimes you will want to go with a basic and affordable belt sander in your workshop, so you have something to use on simple, everyday sanding projects. The Black & Decker DS321 is a perfect choice for this.
This compact and lightweight belt sander weighs in at just 8.2 pounds; it runs on a 7.0-amp motor that delivers a speed of 800 ft/min.
It is a relatively affordable belt sander that features an innovative front roller design to make it easy to reach even the tightest corners. This handy sander also has a retractable 3-position handle that gives woodworkers optimal control.
Finally, its efficient dust collector will help you keep the work area clean to improve visibility and keep your space free of too much dust and debris.
Pros:
Relatively affordable
Quick and easy paper change
Efficient dust collector
Retractable 3-position handle
Compact and lightweight
Cons:
Single-speed sander

no option to change the speed for different kinds of projects

Motor not very powerful

which can cause sanding to take a lot of time and effort compared to more powerful options
#4. Hitachi SB8V2 Variable Speed Belt Sander
Editor's Rating:

(4.2 / 5)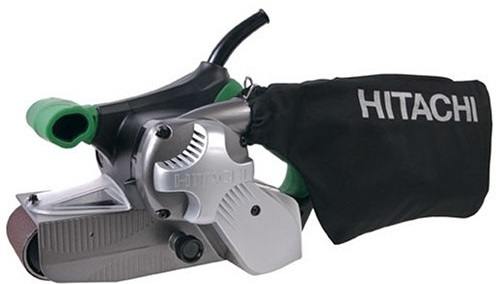 Comfort is always a crucial factor to consider when choosing a belt sander. The Hitachi SB8V2 is one of the most comfortable models on these belt sander reviews thanks to the soft elastomer grip handle.
In addition to the comfortable grip surface on both the main and auxiliary handles, this variable speed belt sander also comes with a long lasting V-belt that is wear-resistant and provides a long service life.
This fantastic sander runs on a 9.0-amp motor that delivers speeds of between 820 and 1,475 ft/min. It weighs around 9.5 lbs, which shouldn't be too rough on you, even if you don't bench press 250 pounds.
The tracking window is also a great addition to the sander as it will improve the visibility of both the sanding belt and the surface you are sanding.
With this belt sander, the dust collection bag is mounted on the left side to improve the corner sanding applications as well as to reduce airborne wood dust particles.
Pros:
Variable speed dial
A soft elastomer grip surface
Long-lasting V-belt
Tracking window
Long 5-year warranty
Cons:
You cannot clamp it upside down to sand small pieces
#5. Genesis GBS321A Variable Speed Belt Sander
Editor's Rating:

(4 / 5)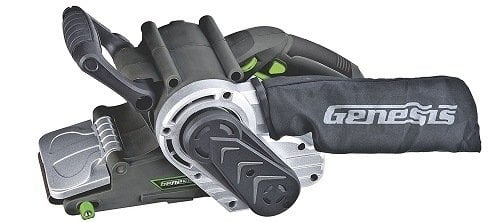 Genesis GBS321A is another affordable 3 x 21-inch belt sander that runs on an 8-amp motor and at speeds of between 390 and 1180 ft/min. You will likely find this to be the best belt sander when handling delicate sanding projects or materials that require low speeds.
It has a low-profile design that makes it highly versatile, as it will get into tight places with ease. Also, the single-lever belt change makes it convenient to change the sanding belt quickly and with little effort.
Controlling this belt sander should also be comfortable thanks to the adjustable front handle.
The auto-tracking belt system on this sander allows you to track the belt without adjustments. Finally, it contains a dust bag that will help to minimize the dust in the work area.
Pros:
Variable speed with a wide speed range
Quick-change belt design
Adjustable front handle
Auto-tracking belt system
Low profile design
Cons:
Cloth dust bag not very good quality
#6. Porter-Cable 362V Variable Speed Belt Sander
Editor's Rating:

(4.5 / 5)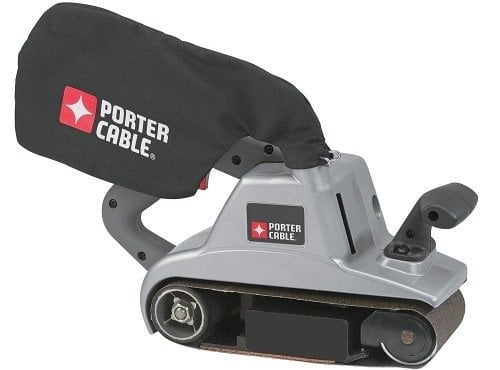 The Porter-Cable 362V is the best powerful belt sander on our list. It is a variable speed model that runs on a 12-amp motor, which is the most powerful sander on this review. It delivers speeds of between 1,000 and 1,500 ft/min.
Although this is also the priciest item on our list, you'll likely agree that it is worth the price. It comes with a large 4 x 24-inch belt that makes it possible to sand large pieces of wood within a short time.
The quick-release belt change lever is another great addition to this belt sander as it minimizes downtimes; belt changes are quick and effortless with the lever.
The ergonomic handles provide all-day comfort and make this an excellent belt sander for lengthy projects. Additionally, the 360-degree swiveling dust bag will stay out of your way when sanding while still capturing most of the dust.
However, at a total weight of 15.5 pounds, this is the heaviest belt sander on our list.
Pros:
Powerful 12-amp motor
Variable speed dial
Quick-release belt change
Large belt size
Ergonomically correct handles
Cons:
Relatively expensive
Heavy belt sander
#7. Wen 6321 Belt Sander
Editor's Rating:

(4.2 / 5)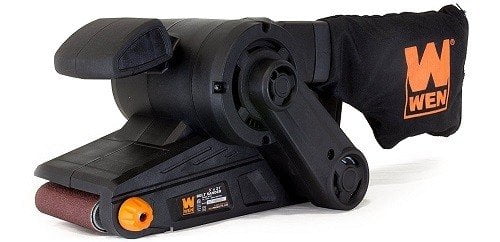 Our cheapest belt sander is the Wen 6321 but there is still more to it than the affordable price tag. This lightweight and compact belt sander weighs just six pounds, which makes it the lightest on our list.
The 7-amp motor on this sander might not be very powerful but it still spins the belt at a speed of 820 ft/min to make the sander ideal for regular sanding projects.
Also, the front roller on this belt sander will extend past the top edge to make it possible to access and sand tight corners when working on a variety of projects.
The tool-free belt change minimizes downtimes, giving you the ability to complete your task that much quicker.
There is also a lock-in safety feature on this belt sander, which makes continuous sanding possible without the need for a constant grip on the trigger.
There is also a spacious dust collection bag to help keep both the workpiece and the workshop clean.
Pros:
Highly affordable
Lightweight and compact design
Tool-free belt change
Lock-in safety feature
Cons:
Motor not powerful enough
Single-speed device
Types of Belt Sanders
While the belt sander reviews above will give you some idea of the models to go for, there are still some important things about these sanders that you have to know. And key among them is the types.
There are two primary types of belt sanders, which are the handheld and stationary belt sanders. Each has pros and cons and will naturally be more suitable for different situations.
#1. Stationary Belt Sander
As their name suggests, the stationary belt sanders are designed to remain in one place. In other words, the woodworkers have to bring the workpiece to the machine for sanding.
With these sanders, the sanding belt will rest on the top surface of the machine. These sanders will, in most cases, be larger and heavier than the handheld ones.
Some stationary sanders can also be mounted on a workbench. These are the type that woodworkers refer to as bench sanders.
You can use these sanders to sand both wood and metal workpieces. However, their size and stationary nature make them best for large, commercial sanding projects.
#2. Handheld Belt Sander
Handheld belt sanders are the most common type of the two, and they are what you will use for most of your sanding projects.
These sanders come in various sizes and shapes. They are smaller and lighter than the stationary belt sanders. Unlike the stationary sander, the sanding belt on the handheld sander is on the bottom section of the machine.
The location of the sanding belt on these sanders makes them ideal for sanding stationary workpieces like floors.
You'll find that the size of the belt will vary from one model to the other, and some will also have variable motor speeds. The variable speed settings help to make these tools versatile.
This is because high-speed settings tend to sand surfaces more aggressively than the low-speed ones. As a result, with the variable speed belt sander, you will get more control over your projects.
Another point to note is that some handheld sanders can also be operated upside down, so you can use them in a manner similar to the stationary sanders. However, you should not attempt to use a regular handheld sander upside down due to safety concerns.
How to Buy the Best Belt Sanders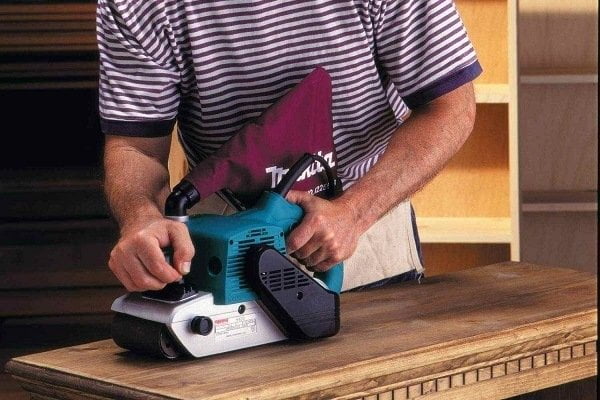 A belt sander is handy for most types of sanding. But, this is only true if you pick the right model from the many options out there.
While the type is always the first factor to consider when picking one, there are still many other important things to keep in mind.
They include the following:
#1. Power
Sanding might not require a lot of power (at least not as much as other things like sawing) but you still need to make sure that the belt sander that you choose has a motor that is powerful enough.
Belt sanders will come with motors with amperage of as low as 6 amps and others will have as much as 10 amps or more.
Those with more powerful motors tend to be more efficient and also perform better than those with low amperage. However, they will also cost more in most instances. It's also a good option to get a sander that has adjustable power for different kinds of sanding projects.
#2. Size
There are different belt sander sizes in the market, so you need to determine what you want. Also, it is important to note that the sizes are according to the size of the sanding belt that they use.
Most belt sanders will fall into one of two sizes: 3 x 21 inches and 4 x 24 inches. The 3 x 21 belt sander seems to be the most popular as their small and compact size makes them easy to handle and ideal for regular woodworking projects.
The 4 x 24-inch belt sanders are great when working on large panels and also when you will find it useful to own a heavy industrial sanding machine.
Choose the smaller (3 x 21-inch) models when you intend to use the machine under various circumstances or when you want something for use at different worksites.
#3. Weight
Weight is always an important factor to consider when buying any handheld power tool. For the belt sanders, it is also an important factor as it determines the ease of use and convenience.
If most of your tasks require you to use the sander at a horizontal position when working on badly misaligned boards, a heavier belt sander will be the better option.
For vertical or overhead sanding when doing some home improvement projects, the lighter the belt sander, the better, as it is easier to handle. For vertical surfaces, a portable belt sander is a better option because you'll have to physically carry its weight. This isn't an issue with horizontal surfaces.
Another feature you can get when working with vertical surfaces or tight spaces is to get an adjustable handle. This innovative design will let you sand difficult surfaces without causing too much fatigue.
You can get a belt sander that is as light as five pounds while some will be more than 15 pounds. In short, what you pick will depend on how you intend to use the sander.
#4. Speed
When it comes to the speed you will have to pick between single and variable speed sanders. Single-speed belt sanders are the oldest type; the fact that you cannot change the speed limits their use.
Variable-speed models, on the other hand, make it possible to adjust the speed depending on the project. For most models, the speed ranges between 500 and 1,500 feet per minute. The faster the speed of the motor, the more material it'll sand off.
While it might seem obvious to use a high speed sander for more effective and smoother sanding, sometimes you have to ensure that only a small amount of material is removed from the surface to keep dimensions accurate. In such cases, using the motor at a lower speed is the best thing to do.
Some belt sander models only have two speed settings (high and low) while others have a dial that lets you choose any speed in between. The variable speed sanders are great for use with a variety of materials.
#5. Dust Collection
A belt sander produces lots of dust, which can leave you with a lot of cleaning to do afterward. It is vital to make sure that you pick a belt sander with an efficient dust collection system.
An onboard dust canister or bag is always a great addition, but make sure that it is large enough so that you do not have to keep emptying it while you're in the middle of a sanding job.
Some models also have a dust port or allow you to remove the dust bag/canister and connect your shop vac. These models are the best when it comes to dust collection, even more so if you plan to use your belt sander often.
The benefit of using a belt sander with an attached dust bag is that you can keep your workspace cleaner. Sanding causes a lot of wooden dust to get into the air, and this not only causes your workshop to get dusty, but could also be harmful to your health long term.
The vacuum feature along with these dust bags ensures that all the dust is collected efficiently to be disposed off. Keep in mind that if you don't use a sander with a dust bag feature, it's recommended to wear a dust mask so that the sanded particles don't enter your lungs.
Conclusion
Sanding is always a part of most woodworking projects, and this is regardless of whether you are making furniture or doing simple improvements or large-scale home renovations.
The belt sander is one of the most reliable sanders as it is not only versatile but also easier to use than many other types. However, to get the best service from this piece of equipment, you have to pick the best from the many options on the market.
Picking the best belt sander model requires you to consider things such as the belt size, motor power, weight, and speed. You also have the option to go with orbital sanders that provide a smoother finish because of the type of movement involved.
By considering these points and with our reviews above to help you with your selection, you should have an easy time finding a great belt sander to add to your toolkit.
In this review, we've outlined the 7 best belt sanders for 2021 that you can buy today. We hope that the information provided in this buying guide has helped you make an informed decision about which belt sander would be the best fit for your needs.
Please leave a comment if there are any other belt sanders that you use and would recommend. We also have a large number of reviews, buying guides, and informational articles on our website. If you're into woodworking and are interested in similar topics, feel free to check them out, as well!
Remember to always follow safety guidelines to protect yourself and others.
Have fun and happy woodworking!
Last Updated on August 30, 2021 by Tom Bradly