5 Best DA Sanders of 2023 – Dual Action Sanders Review & Buying Guide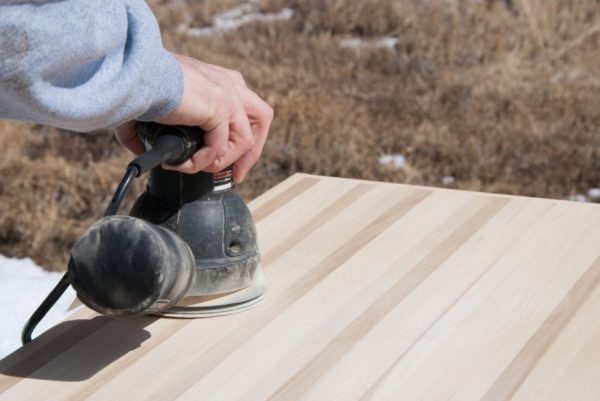 Sanders are the smoothing allies in every workshop, construction sites and garages. Dual-Action Sanders (DA sanders) are known to deliver a better and faster sanding experience. They are also low maintenance and hardy. This post investigates the five best DA sanders in the market, starting with a few guiding principles to consider when buying sander.
My sanding escapades often involve large flat surfaces. Previously, I used a sander whose speed and strength was always in deficit.  It was a painstaking process to complete one project and to get a flawless finish. I knew I had to get a sander that delivers much smoother surfaces and faster. But balancing quality and price was the biggest challenge, and then I was introduced to DA sanders.
Best Value
Best Overall
BLACK+DECKER Orbital Sander, 5 Inch, 2.0 Amp, 12000 OPM, Corded, 1...
Professional Air Random Orbital Palm Sander, Dual Action Pneumatic...
PORTER-CABLE Sander with Polishing Pad, 4.5-Amp, 6-Inch Polisher,...
Ingersoll Rand 311A 6" Orbital Air Dual-Action Quiet Sander, Heavy...
TCP Global Professional Heavy Duty 6" Dual-Action Random Orbit Air...
Best Value
BLACK+DECKER Orbital Sander, 5 Inch, 2.0 Amp, 12000 OPM, Corded, 1...
Professional Air Random Orbital Palm Sander, Dual Action Pneumatic...
PORTER-CABLE Sander with Polishing Pad, 4.5-Amp, 6-Inch Polisher,...
Ingersoll Rand 311A 6" Orbital Air Dual-Action Quiet Sander, Heavy...
Best Overall
TCP Global Professional Heavy Duty 6" Dual-Action Random Orbit Air...
Last update on 2023-06-06 / Affiliate links / Images from Amazon Product Advertising API
Buying Guide for DA Sanders: Things to consider
Type
When buying a DAA sander, the first choice to make is whether to get an electric or pneumatic (air powered) sander. For DIY projects at home, and electric sander is the recommended tool. They cost slightly lower than pneumatic sanders.  Auto shops and other heavy uses need a pneumatic sander. Pneumatic sanders need a constant supply of air pressure to work.
Orbit Diameter
DA sanders come with varying sizes of pads. DA sanders with larger pads create larger orbits when sanding.  When you are dealing with large projects like in my case, you will need a sander with larger pads. However, there is a caveat; getting precise results is hard especially on curves and corners.
Vibration Dampeners
A sander with a vibration dampener can help you get smoother surfaces without draining your strength. The vibrational dampeners reduce the machine's vibration. You will be able to work on larger projects for long without feeling uncomfortable, or risking your safety for that matter.
Power
When shopping for the best DA sander, another factor to consider is power.  Different DA sanders have varying levels of speed. Your choice here would depend on the roughness of your sanding projects. Bigger and rougher projects need more sanding power.
Ease-of-Use
There are many comfort features you can look for in a DA sander if your budget allows. These include user-friendly designs, noise cancellation, and uniquely positioned handles among others.
Durability
A future-oriented handyman would look for features that would make the sander last for a long time. On my part, building cabinets puts food on the table, and in that case, I want a sander that will still be there tomorrow even when I put it through a lot of work today. Steel always outdoes plastic when it comes to durability.
Dust Extraction
For a better sanding experience, you need a sander with a dust extraction system.  As you well know, sanding often emits too much dust, and it can be hazardous. A DA sander with a dust bag is ideal.
Size and Shape of the Material
Your purchase decision will also depend on the type of surface that you will be sanding.  For instance, a sander meant for large flat surfaces might not perform well on curved surfaces.
Smoothing Quality Needed
Some DA sanders deliver smoother surfaces than others. In some instance though, rougher finishes are part of the bigger design objective.
Warranty
Buying a DA sander from a reputable brand will help you benefit from at least a year-long warranty. Nonetheless, some warranties only apply you buy the product straight from the manufacturer or retail agents, so be on the lookout for that as well.
In my years of experience in woodworking, I have tried and tested different types of sanders. The search for better continues because new tools are hitting the market every day, and I want to stay up to date with efficiency.  Understandably, sifting through the endless list of options in the market can be difficult, but here is a roundup of the best 5 DA sanders to give you a head start.
5 Best DA Sanders in the Market
Sale
LOW VIBRATION--- Reduce operator's fatigue and make peoject super flat and smooth.
METAL AIRLET VALVE--- Adjustable Built-in stainless steel regulator valve won't be broken and control airflow speed easily.
BIGGER GRIP--- Widened Rubber cushion grip is more suitable for Amercians and Europeans' palm of hands.
Last update on 2023-06-06 / Affiliate links / Images from Amazon Product Advertising API
Gedu Air Powered DA sander is pneumatic sander for professionals. It comes at a lower price than many other models in the market.  The built is plastic to keep its weight super light. This lightweight nature is convenient especially for those larger projects that take long.  Gedu 5 Inch Air Sander also comes with a light air-motor, a feature that makes the machine deliver sufficient results on vertical and overhead surfaces.
I particularly liked the comfort levels on this DA sander. It has a cushioned grip that provides strong support to your hand and wrist when working.  The vibration levels are comparatively lower.
Gedu 5 Inch Air Sander is made with a heavy ball and roller bearing for increased stability and durability. Noise levels are also low. That's because the machine used a built-in noise dampener at the rear exhaust that minimizes noise. I used the machine for a whole day without qualms.
When it comes to performance, Gedu Air Sander delivers a speed of 12,000 rpm. This speed is much faster than many others in the market. On top of that, users get to adjust the speed depending on the nature of their work, using a speed control feature.
The pad size is 5 inches with an orbit diameter of 4mm. Gedu Air DA sander can, therefore, be used in a variety of projects be it furniture and wood sanding or auto body works. The working pressure is 90PSI with air consumption of 8CFM.
DA Sanders Pros & Cons
Pros
Pros
Lightweight and strong
Composite design
Low vibration feature
Noise reduction
The built-in speed adjustment feature
Cons
Cons
No vibrations dampener
Accuracy level is average
Last update on 2023-06-06 / Affiliate links / Images from Amazon Product Advertising API
This sander-cum-polisher from Porter Cable comes with a three-year warranty. It is ideal for heavy work. Unlike the 5 inch pad in Gedu Air Sander, the Porter Cable 7346 SP comes with a 6-inch pad and sanding disc.  That is the kind of brutality you might want for intimidatingly large and rough surfaces.
Porter cable 7346SP is an electrical sander that runs on a 4.5-amp motor. Just as users can adjust speeds in the Gedu Air Sander, you also get an electronically adjustable rate with the Porter Cable 7346 SP. The speed range is 25000 to 6800 RPM.
The sander is made with heavy ball and roller bearing for stability and durability even under heavy industrial workloads.  Then also, there is an interchangeable handle; if you get tired using your right hand, you can switch the grip to the left side or vice versa as you wish.
The Porter cable 7346SP features vibration dampeners to help you work comfortably for longer. You can use it with a variety of spindle-threaded accessories. You can sand any material just by adjusting the speed setting. Compared to the Gedu Air Sander, Porter Cable   7346 is a bit pricier.
PORTER-CABLE Pros & Cons
Pros
Pros
Powerful and large pad
Vibrational dampeners
Adjustable handle
Adjustable speeds
Cons
Cons
It is costlier than most
Limited speed range
Last update on 2023-06-06 / Affiliate links / Images from Amazon Product Advertising API
For a third the price of the Portable Cable 7346 SP, you get another high performing DA Sander – the Black and Decker BDERO100.  It is also much lighter than the above two sanders and perhaps more convenient for a DIYer than a professional.
Compared to the Portable Cable's variable speed range of between 2,500 to 6,800 RPM, the Black and Decker BDERO100 gives users a single speed setting of 12000 RPM. These orbits are powerful and fast, running on a 4.5-amp motor.
This sander has a two-year limited warranty. Its durability and features are what can be expected from a reputable company that has been making sanders since 1910.
With the 5 inch pad, you will able to work fast and efficiently, eating through your heavy workload.  The beauty of random orbit sanders is that they have a faster removal compared to others. BDERO100 is an easy to use finishing tool.
The design is compact, offering woodworkers the needed maneuverability. There is also a hook and loop system for quick paper changes. One other feature that beats both the Gedu Air Sander and the Portable Cable 7346 SP is the added dust bag. The feature enhances comfort levels when using the sander, keeping all things clean.
BLACK-DECKER Pros & Cons
Pros
Pros
Dust collection bag
High speed
Lightweight and compact build
Sizeable pad for faster sanding
High accuracy
Quality finishes
Long time warranty
Cons
Cons
Small for big scale projects
No vibration dampener
No silencer for noise reduction
Sale
POWER plus PRECISION: Compact, portable, and long-lasting, the 311A Dual-Action Sander creates swirl-free finishes, making it best for feather edging, metal preparation, and finish work on body filler
QUIET, BALANCED OPERATION: Built-in silencer muffles noise, while balanced ball-bearing construction provides improved handling, control, and durability
LOW VIBRATION: Pneumatic orbit sander is low vibration and lightweight at only 4 lbs, so you can work faster and easier, and get more done without sacrificing comfort or quality
Last update on 2023-06-06 / Affiliate links / Images from Amazon Product Advertising API
Ingersoll Rand is another power tool company that makes user-friendly sanders. The Ingersoll Rand 311 A DA sander doesn't fall far from this reputation. You will come across this brand in large work sites, garages or workshops.
Its comfort level is desirable, owing to a lever throttle that relives the pressure from your palm. I found this fatigue-proof feature convenient for days when all I do is sand.
If you have been put off by noisy sanders in the past, the problem is nonexistent with the Ingersoll Rand 311 A. This DA sander comes with a silencer system to muffle all the sounds reduced by the mortar and the sanding action. The silencing feature is what might make you choose it over the Black and Decker BDERO100. But that's not all.
With the Ingersoll Rand 311A DA sander, you get a 6-inch diameter pad. This pad is larger compared to Gedu Air Sander and the BDERO100. It enables for faster completion of projects with larger sizes.
The build of the Ingersoll Rand 311 A is compact, with a ball bearing construction for balance and durability.  The sander also features a vibration dampener that will not only ease your fatigue but also improve the accuracy of the process.
You can control the sanding speed, as per your project needs using the built-in regulator. This feature can help to improve the accuracy and performance of the sander.
The 311A is a durable sander. It is compact and portable. It works well in finishing works and feather edging. It comes with a one year warranty.
Ingersoll Pros & Cons
Pros
Pros
Adjustable speed from a built-in regulator
Comes with a warranty
Lower price range
Silencer system for dampening sounds
Cons
Cons
Plastic parts
No dust collection bag
Accuracy levels are lower
Professional High-Performance Dual-Action Random Orbit Pneumatic Air Palm Sander That Includes Two Different Styles of 6" Backing Plate Pads, One For Psa (Pre-Stuck Adhesive) Sanding Discs and One For...
A lightweight less than 2-pound sander with a comfortable easy to secure rubber hand grip so that the sander can operate longer and with less fatigue. The well-balanced sander operates smoothly and...
An Ergonomically Designed and Precision-Engineered Sander That Has Heavy-Duty Ball Bearing Construction For Vibration-Free Performance. It'S Made with Heat-Treated Steel Components To Resist Wear and...
Last update on 2023-06-06 / Affiliate links / Images from Amazon Product Advertising API
Winding up the list is the TCP Global Brand Air powered DA sander.  The company promises a sander that delivers a 'superb' finish. Not in any way influenced by the sales pitch, I found so many favorite features about this sander.
First, it is the ergonomic design of the sander that exudes a professional vibe, at least I thought. You will be able to hold it comfortably and work for longer without fatiguing your hand.
The other notable fact is its 6-inch pad that will enable you to sand bigger surfaces much faster. The sander is powered by air compression, operating at a 90 psi.
There is also a low vibration feature that dampens vibrations on flat surfaces. This feature facilitates smoother and flawless finishes.
TCP Global Brand Air powered DA sander also features a built-in regulator. Its speed is 10,000 RPM, but you can adjust it from a wide range of speed settings for a more flawless finish. The sander works best when refinishing furniture and light body works.
It's made with a heavy ball bearing for steady and vibration free standing. This feature enhances the accuracy of the process. The sander comprises of heat-treated steel parts for extended durability.
TCP Pros & Cons
Pros
Pros
Wider pad than most
Ball bearing construction for vibration free performance
Ergonomic design improves comfort and efficiency
Low vibration feature for a swirl free finish.
Built-in regulator for speed control
Steel components for increased durability
Cons
Cons
Uses a manual adjustment knob
Uses proprietary sandpaper – costly and hard to find
The Best Dual Action Sander Today
The Global Brand 6″ Air powered Dual Action Sander
is the clear winner in this sanders showdown.
Its 6-inch orbit diameter is wider than the Gedu 5 inch Air Sander and the Black & Decker BDERO100 5 inch Sander. It also comes with a low vibration feature for flawless sanding, speed control features for accuracy and steel body parts for durability.
This pneumatic sander can handle massive construction projects. It checks most of the things right in the buying guide. The Black & Decker BDERO100 Random Orbit DA Sander comes in a close second with unique features including a dust collection bag, but it only offers a single speed setting.
Last Updated on March 7, 2020 by Tom Bradly