5 Best Ryobi Tools of 2023 – Review & Buying Guide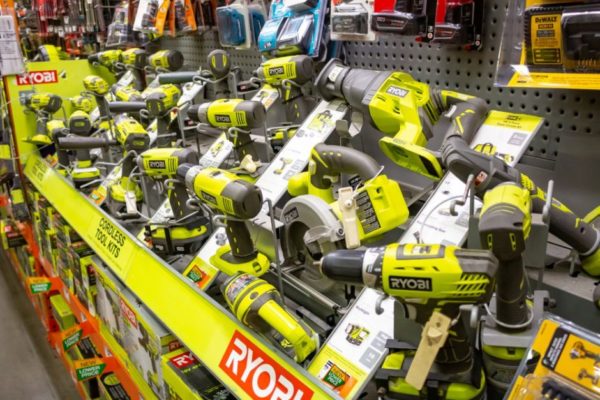 When it's time to shop for power tools, both DIYers and professionals will start with price comparison. They then move on to efficiency and performance and other tenets. One of the big names that come up regularly during this research is Ryobi.
Why is that? This review provides the answers, and details some of the 5 best Ryobi tools for your next buy.
Best Value
Best Overall
Ryobi 18-Volt ONE+ Brushless Drywall Screw Gun (Tool Only)
Ryobi P411 One+ 18 Volt 5 Inch Cordless Battery Operated Random Orbit...
RYOBI TSS120L 12" 15 Amp Sliding Miter Saw with Laser
Ryobi RY141900 2,000-PSI 1.2 GPM Electric Pressure Washer
Best Value
Ryobi 18-Volt ONE+ Brushless Drywall Screw Gun (Tool Only)
Ryobi P411 One+ 18 Volt 5 Inch Cordless Battery Operated Random Orbit...
RYOBI TSS120L 12" 15 Amp Sliding Miter Saw with Laser
Best Overall
Ryobi RY141900 2,000-PSI 1.2 GPM Electric Pressure Washer
Last update on 2023-12-01 / Affiliate links / Images from Amazon Product Advertising API
How to Buy the Right Tools
I am a woodworker, and I have been using Ryobi tools for a long time. Most of my work tools, both cordless and corded fall under this brand. It is the affordability and availability parts that drew me to Ryobi.
But by then, the cost baggage of acquiring and maintaining expensive tools had nearly drowned my business.
I might have had to deal with minor problems with Ryobi tools, for instance, broken chucks, overheating, and so forth, but their performance score is generally above average. Here is why this brand might be ideal for your small business:
Affordability
This is the number one reason as stated earlier why everyone wants a Ryobi this and that. Whether it's a compound circular saw, a screw gun, or drill, they are often several times less expensive than other brands in the market.
Warranty
Ryobi offers about 3 years of limited warranty for its products. This isn't any different from what you get when you buy DEWALT or Milwaukee and others. After some time, you realize that expensive tools don't necessarily have a better warranty.
Brushless motors
Just like other tool brands in the market, Ryobi has started producing equipment with brushless motors. The latter offers increased efficiency, performance and power that could not be possible with brushed motors. Such devices also have assured longevity.
Things to Consider when Buying a Ryobi Tool
Cordless tools are preferable, for flexible operations
Corded Ryobi tools can be electric or gas-powered. Yes, they might deliver a higher performance over battery-powered devices, but their use is limited. Corded tools might not be portable, and they also limit you when working in hard to reach places.
You will also be required to always work near a wall outlet.
Exciting versus functional features? Choose the latter
Ryobi tools, just like any other brands, might come with features that might be nice to have but are not necessarily essential. For instance, ergonomic handles, LED light and others in a saw all serve a secondary purpose.
Consider the saw's cutting capacity, motor speed, blade size and beveling abilities—these are the most important features.
Prioritize safety
Safety should be among your first concerns when buying power tools. It's important to buy machines that have safety features including brakes for miter saws, power surge protection for corded tools and blade guards among others.
Other factors of critical importance include:
The

type of batteries

used with the device

The cost of maintenance and accessories

The intended projects for the tools
Best Ryobi Tools in the Market
Last update on 2023-12-01 / Affiliate links / Images from Amazon Product Advertising API
The Ryobi 18-Volt, Brushless Drywall Screw Gun boasts a detachable and adjustable nose cone that could help you achieve superior accuracy over drills. One can control the screw depth as they see fit, depending on the materials in question.
The depth setting ability of the Ryobi 18 Volt screw gun allows one to choose a depth that doesn't tear the drywall paper.
The brushless motor in the Ryobi screw gun could give you more battery runtime. Brushless motors are also known for longevity and more torque.
You can also control the screwing speed via an adjustable speed trigger. That kind of versatility could deliver the highest proficiency in a wide range of materials.
If you dislike power tools that require you to use earmuffs, this one here is a quieter option you can consider. The QuietDrive technology minimizes vibration and sounds and might also play a significant role in battery life preservation.
With this feature, the screw gun only starts driving when you push the drill bit to the screw. It stops when you stop pushing.
The maximum speed setting is 4,700 RPM. This motor speed, together with a Ryobi P108 battery (4.0 Ah) might enable you to work with up to 3000 screws in one charge.
Beware though the heavy Ryobi battery adds to the weight of this tool. Be ready to work out those arm muscles!
Ryobi 18-Volt ONE+ Brushless Drywall Screw Gun Pros & Cons
Pros
Pros
Easy to use on drywalls
Detachable nose cone makes it easier to control the screwing depth
The brushless motor is energy efficient
The high motor speed that is also adjustable
QuiteDrive feature helps save battery life and minimize noise
Cons
Cons
No collated magazine
Durability is not assured under continuous heavy use
LED LIGHTING: You can see your lines as you cut them with the convenient LED lighting panel on the front of the tool
RUBBER MOLDING: Maintain a comfortable grip on the saw, even in slippery conditions, with the help of the comfort grip molding over the handle
56 DEGREE BEVEL CAPACITY: If you ever need to cut at an angle, you'll be able to with the adjustable foot at the base of the saw
Last update on 2023-12-01 / Affiliate links / Images from Amazon Product Advertising API
This circular saw allegedly has a longer motor life, more power and run times than the previous models in the series. If you have to pinch on pennies and still get a saw that packs impressive features, the Ryobi 508 circular saw is your potential best bet.
This circular blade is lightweight and compact, making it easier to work with all day. There is a front pommel that allows for two-handed operations when you need stability and control.
Another user-friendly feature is the ergonomic GripZone handle which provides increased comfort during usage.
This power tool comes with a 7-1/4 inch ultra-thin kerf blade. The 24 teeth blade is designed for improved accuracy and can, therefore, be applied on finishing projects where superior finesse is needed.
The saw blade is carbide-tipped for strength and durability through all the abuse you put it through.
A professional woodworker would also appreciate that the left side blade on this small saw allows for greater visibility during cutting. You could, therefore, expect to get accurate cuts whenever you engage this tool.
The cutting capacity of the Ryobi P 508 is 2-7/16. The circular saw also enables bevel cuts between 0-56°. The ability to create angled cuts could help you push the limits with your creative designs.
According to the makers, you can expect superb performance when you use Lithium+ HP batteries on the P508 saw. The brushless motor yields a no-load speed of 3800 RPM.
Ryobi P508 One+ Lithium-Ion 18V 5 1/2 Inch 3,800 RPM Cordless Circular Saw Pros & Cons
Pros
Pros
Its high speed of 3800 RPM could help achieve accurate cuts
It features an ergonomically designed handle with GripZone grip
It is lightweight (around 6.6 pounds) and compact
There is an LED light that illuminates the cut line
Cons
Cons
No laser beam for achieving accurate cuts
Doesn't come with battery and charger, you will be needed to buy them separately
Sale
CORDLESS: compatible with the Ryobi One+ battery system. Work anywhere without cords and extensions getting in the way of your work
INCLUDED SANDING PADS attached using a hook and loop connecting system for optimal user convenience
RUBBER OVERGRIP with notches makes it easy to handle despite intense vibrations from the powerful motor
Last update on 2023-12-01 / Affiliate links / Images from Amazon Product Advertising API
The Ryobi P411 sander, like all other Ryobi tools under the one Plus line, is powered by a single battery. With one 18 volt battery, you could finish a lengthy sanding project. According to the manufacturers, you can get up to 40 minutes of sanding time on a single charge.
The Ryobi P411 sander comes with an ergonomic grip handle that might enable you to work with it for longer with minimal fatigue. On top of that, there is a hop and loop system that you might find to be highly convenient.
The most pleasant quality with this tool for me is the 10,000 orbits per minute that it delivers. It is safe to say, therefore, that with this sander, one can get a flawless finish on all workpieces in just a short time.
That speed doesn't only help to achieve a higher degree of perfection in your sanding endeavors but also increases productivity. You will be able to polish many pieces of wood than you could with speed lower than that.
To keep your workspaces neat, there are integrated dust collection bags. At the end of your day, you will likely have no extra cleaning tasks. It might also get to reduce your risk of respiratory health problems.
This Ryobi sander also scores big points on portability. Weighing 3 pounds, you might be able to move around without it excessively taxing your strength.
What makes this portability even more meaningful is the fact that this is a battery-powered sander. You can work with it seamlessly in the outdoors, far from a wall outlet.
Ryobi P411 One Plus 18-Volt 5 inch Cordless Random Orbit Sander Pros & Cons
Pros
Pros
10,000 orbits per minute for faster and more beautiful finishes
Comes with an 18-volt battery and charger
Features a dust collection bag
A lock system for idling during extended
Multiple and ergonomic grip areas
Cons
Cons
You might have to deal with frequent overheating
Speed is not variable
Last update on 2023-12-01 / Affiliate links / Images from Amazon Product Advertising API
This compound sliding miter saw runs on a 15 amp motor and boasts a 12-inch blade. The saw can deliver up to a 13-1/2″ cross-cut capacity. For increased accuracy, you also get 9 positive stops.
The 12-inch blade is carbide-tipped for enhanced strength and durability. Then again, as you well know, safety is of great concern when working with miter saws. In this case, there is an integrated electric brake that stops the blade fast, thus minimizing the risk of injuries.
An integrated EXACTLINE™ laser guide might help you achieve accurate cuts. The 15 amp motor, on the other hand, might be sufficiently powerful to cut through hardy and thick materials. The motor speed is 4000 RPM.
To help with stability and balance when working with bulky materials, there are two table extensions that you can take advantage of. It might be possible to cut a 2 x 14 or 4x 6 at 90 degrees with this saw. At 45 degrees, you will probably manage a 2×10 work piece.
The sliding head provides up to a 13-1/4″ cross-cut capacity. You could also get excellent angular cuts between 15 degrees and 45 degrees using this tool.
An included dust port helps to keep your workspace clean on both straight and angled cuts. However keep in mind that this bag isn't meant to collect more, owing to its size.
RYOBI TSS120L 12
Pros
Pros
It's a compact miter saw
After accurate calibration, it performs okay
The motor packs plenty of power
It comes with a safety blade brake
Dust collection port included
Cons
Cons
It takes longer to calibrate before you can use it
The blade isn't built for fine cuts
The sliding action is not as responsive as one would expect
Last update on 2023-12-01 / Affiliate links / Images from Amazon Product Advertising API
This pressure washer is electric powered and packs 2000 PSI (pounds per square inch) and 1.2 GPM (gallons per minute. These figures are some of the highest that you would find.
The high pressure is ideal for stripping the most stubborn dirt and grime from all surfaces, while the high flow rate might enable you to do the cleaning much faster.
The Ryobi RY141900 Pressure Washer has a robust looking design, riding on a pair of rugged wheels. Surprisingly, this tool doesn't weigh an ounce over 32 pounds. You can, therefore, expect unrestricted maneuverability when working with this power washer.
The power washer runs on a 13 Amp engine that could perform well on a diverse range of exterior surfaces. The engine housing is caged in a sturdy metal frame, a factor that allows it to stay upright during usage.
The power washer's compact dimensions mean that it can be packed easily in all sorts of tight spaces. Storage will likely not be one of your headaches.
Another notable quality of Ryobi RY141900 Pressure Washer is the ergonomically designed handle. It is foam-coated to give you the needed comfort under prolonged usage.
The metal spray features a quick connect coupler that facilitates easy nozzle change. There are three different nozzles to play around with, including a 15-degree nozzle, soap and turbo nozzle.
You might be able to get the right washing pressure for your various applications at home.
Ryobi RY141900 Pressure Washer Pros & Cons
Pros
Pros
The high pressure can remove stubborn stains and dirt from various surfaces
It feels solid and sturdy, and might, therefore, serve you for many years
It has a high flow rate that might deliver sparkling results much faster
Quick nozzle change helps to customize the pressure for different washing applications
Cons
Cons
Its force might chop off your finger if you let it get into the stream
The soap gizmo doesn't stay in place
The Best Pick
Ryobi tools are outstanding among many in the market. They are ideal for professionals looking to beat down the prices. Ryobi has a brushless catalogue for all power tools. Most of these tools sell at less than half of the prices offered by other big brands in the market.
Apart from affordability, most Ryobi tools combine high efficiency with versatility. You might be able to work with various materials and applications using Ryobi tools and get the right results every time.
Another top quality of Ryobi tools is energy efficiency. Both the corded and cordless tools run on energy-efficient motors. The Ryobi batteries also last considerably longer than other brands in the market, and might, therefore, help you avoid costly downtimes.
Ryobi tools come with occasional caveats such as short durability and inability to handle large projects. But for a DIYer or professional with realistic expectations, these drawbacks might not be necessarily deal-breakers.
Last Updated on February 6, 2020 by Tom Bradly