Sanding Belt Ultimate Guide – How to Buy For Yourself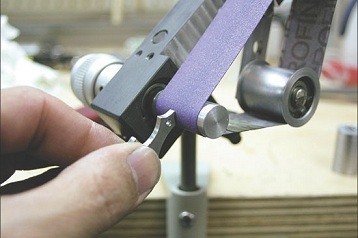 Since its inception a few decades ago, the belt sander has revolutionized the way woodworkers work with wood. This highly versatile tool can quickly and effectively sand a lot of wood surface without the user breaking a sweat. A pivotal component of the belt sander, that is sadly often ignored is the sanding belt. It's the actual mechanical part that comes in contact with the wood surface and scrapes it away.
But how exactly do you choose a good sanding belt, one that is appropriate for your work and what type of belt sander to choose among the plethora of models and types out there? This comprehensive guide will help you answer those tough questions and help you find the best belt sanders.
You may also like to read other sander reviews such as drum sander, random orbit sander, belt sander, belt-disc sander, spindle sander, palm sander, detail sander.
4 Types of Sanding Belt
There are 4 main types of sanding belts. Each one suitable for a specific job, with their own forte and weaknesses.
1. Aluminum Oxide Sanding Belts: Aluminum oxide has a distinctively reddish brown color. This type of belt is known for its affordability, durability and efficiency in scraping away wood. Aluminum oxide belts are the most affordable and popular sanding belt for belt sander out there.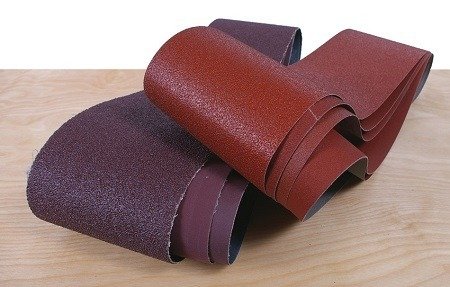 They are great for general purpose sanding and can be used wet while sanding metal. They are available in grit sizes (see below) 24 through 400 and sold in almost every hardware store online or offline.
2. Zirconia Alumina Sanding Belt: This belt type has a distinctively blue color. It is 5 times tougher than Aluminum Oxide, and the grits of Zirconia alumina belts offer one major advantage – they are self-sharpening. The major caveat is that they require more force to sand, and are mostly recommended when sanding hard surfaces like metal and hardwood that require heavy grinding.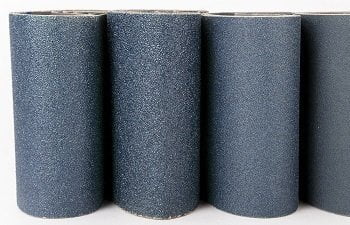 They are available in grit sizes 24 through 120, therefore, are not meant for polishing jobs but rather preparatory wood or metal grinding/sanding.
3. Silicon Carbide Sanding Belt: A special type of sanding belt that is black in color and is exclusively used for grinding smooth surfaces like fiberglass, glass, ceramics, and marbles. They are also used in car paint removal and their higher grit sizes are ideal for silky smooth polishing jobs. Silicon carbide belt is often used in wet conditions but also fare well under dry conditions. Their grit size ranges from 24 through 400.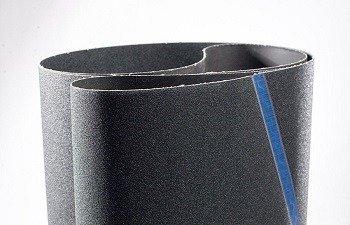 4. Garnet Sanding Belt: A very brittle sanding belt that is made from natural mineral (garnet). This belt type produces the silkiest smoothing finish of all belt types and, therefore, ideal for polishing and finishing jobs. Unlike Aluminum Oxide, garnet sanding belts do not leave abrasion marks on the surface and while its soft and brittle nature plays against it, their finishing result is so spectacular that it is the defacto choice for finishing jobs.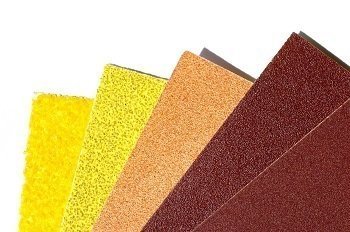 Sanding Belt Grit
The sanding belt grit, as its name suggests, is the size of the grit in the sandpaper. A low value of 40, for example, signifies a coarse and rough belt surface. A high value of 600 in a belt signifies a smooth surface. Finishing jobs require a high grit size of at least 120 and upwards while preparatory work like paint or veneer removal a low grit size value.
As a general guide, if you require heavy sanding, choose a grit size of 40–60. To remove wood imperfections, choose an 80-120 sandpaper and for anything that require a finished surface choose a 360-600 grit sandpaper.
Choosing a Sanding Belt is not Easy Job
As we have seen, there are different types of sanding belts. Each devised for either general purpose or a specific type of sanding – like the Silicon carbide belt. If you are working mostly with wood, then the general purpose aluminum oxide sanding belt of an appropriate grit will do just fine. They are also dirt cheap. For finishing jobs, the Garnet belt offers a much superior end result.
The grit size also plays a key role in your wood end result. Choose one that is appropriate for the job.
Last but not least, the width of the sanding belt also needs to be taken into account. If you are mostly working with small objects that require minute detail, as wood artists do, then a 1" sanding belt makes more sense that a 4" one.
What's the Sanding Tips?
Independent of the type of sanding belt you choose, there is common good practices that make sanding a cinch.
Clamp: Ensure that the project you are working on has no give and is solidly clamped. You don't want to sand a surface that moves as it will result in a non-linear sanding process on which you have no control over the end result.
Speed: Vary the speed of the belt according to the job. A low speed gives you high maneuverability and control while a high speed covers a lot of surface area with little effort. Along with careful consideration to the grit size used, the speed of the belt if a determining factor in the end result. Try it first on a test plank and see what speed and grit size is the most appropriate for the job.
Flat surface: As much as possible, always sand a surface that is flat.
Pencil marks: Pencil guidelines marked on the wood surface give you visual cues on your sanding process. It will also show you where there is the need for additional sanding in case you missed a spot or the surface is uneven.
Avoid sanding from side to side: This will make the belt to skid and can cause damage to both the belt and belt sander. Always sand in a forward to backward position, in one fell swoop starting from one edge to the next.
How to Maintain & Clean Sanding Belt?
Since they are mechanical devices, it is important to maintain them. Most belt sanders come with a manual on how to dismount and clean the innards. Depending on how often you use your belt sander, perform a general maintenance often, usually every month for heavy users. Regular maintenance will drastically prolong the life of your power tool.
The sanding belt must also be cleaned with an abrasive sanding stick, preferentially after every use. This ensures that the belt remains in tip-top shape delivering optimal sanding performance.
How to Choose Sanding Belt Brand?
There are literally hundreds of models of sanding belts to choose from. But exactly how do you pick the best ones from all the clutter? We have hand-picked 3 of what we think are the cream of the crop brands when it comes to sanding belts. Those are brands that make power tools and accessories we use regularly in our workshops with no problem to note.
Makita sanding belt: This is a renowned maker of power tools and equipment for both home users and professionals. This company manufactures one of the best belt sander on the market. They also make very high-grade sanding belts at a price we do no reproach. Their arsenal of sanding belts range from 0.375 to 4 inches wide and will gladly accommodate 99% of commercially available belt sanders. They also offer a diverse range of grit sizes ranging from 40 to 240, which makes Makita sanding belts great solutions for most DIY, woodworking, and metal sanding solutions. Their belt solutions are also affordable when bought online.
Powertec sanding belt: We love the Aluminum Oxide belts that Powertec makes. They are quality, durable and as you would expect – cheap. They also have a wide selection of other belt types that come under different grit sizes ranging from 60 through 400. At this high grit size, they are excellent for finishing and polishing works.
Sungold sanding belt: This brand is a specialist in making durable and quality belts for various power tools. They particularly make excellent sanding belts that we find are affordable and easily available online. They sell a variety of grits, from 24 through 600. They offer more variance in grit sizes that most companies out there. But while some will welcome this diversity, it might be overkill for others. They mostly make aluminum oxide belts but do have other types of finishing belts like silicon carbide and Garnet as well.
Sanding Belt Price
The price is most definitely the most important factor in choosing a sanding belt. There are models that cost $100 a pop. We will not be talking about those nor recommending them. They are equally good and equivalent sanding belts for a fraction of this cost.
After all, let's not forget, sanding belts are by their nature disposable so you will most certainly need to buy new replacement ones.
Manufacturers have taken this fact into account and make sanding belts that are not only durable but also ultra-affordable. The average price of a sanding belt is around $20. With some additional price hunting, you can easily get replacement belts for as cheap as $7 a pop, including shipping if ordered online.
5 Types of Sanding Belt I Recommend
If you are hard pressed for time and need some good quality and cheap sanding belt models, then we have you covered. Here are 5 awesome sanding belts anyone can afford.
The Final Words
The sanding belt is what constitutes a belt sander and what makes it such a powerful and versatile device. By simply changing belts, it feels like a whole new power tool in your hand again. Play around with different sanding belts of different grit sizes and chances are you might fall in love again with your belt sander.
Last Updated on August 7, 2020 by Tom Bradly