19 Best Pallet Bar Transformations of 2023
Wood pallets are an excellent way of creating a bar area at home without stretching your budget with expensive purchases. Wood pallets are easy to find and easy to work with. Pallet bars will add texture and warmth to your home, thanks to their rustic hardwood essences.
Pallet bars are not only easy an inexpensive to construct at home, but they are also sturdy and durable. A few hours of research into how to build a pallet bar will earn you many years of use with these beautiful bar set ups. The installation will breathe new life to your indoor and outdoor designs. You can amplify the elegance of your home's design thanks to their beautiful and natural feel.
The wood pallet bar installations will come in handy during your indoor or backyard entertaining events. The bars can comfortably seat a couple of guests and make up an excellent space for serving drinks. Your guests will fall in love with your home.
There are different approaches you can take when designing or face-lifting your pallet bar. You can build a bar cart, a hanging wine rack, a concrete top pallet bar or fold up pallet bar. You could also go for the pallet bar with a fridge, a sink or a fish tank. Below are all the ideas you can consider.
1. LED lit pallet bar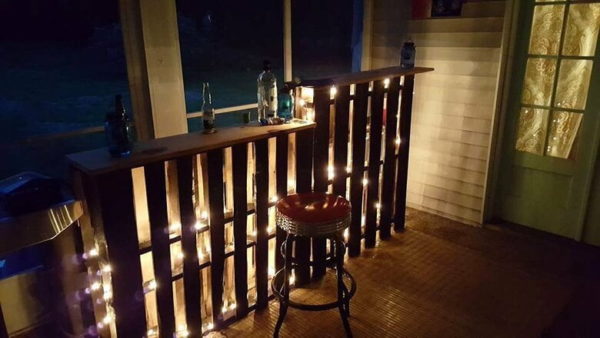 You can transform your living or entertaining outdoor set with a pool of LED lights. The LED lit pallet bar is made with 12 pallets and LED torches for a decorative flair. The lights do a great job at night as they highlight the entire bar and provide enough light when serving drinks. That is how to make a pallet bar stand out in your home.
Pros
Stimulating bar design
Enough light when entertaining at night
Resort-style comfort
Cons
It is a bit costly to set up
2. Airy pallet bar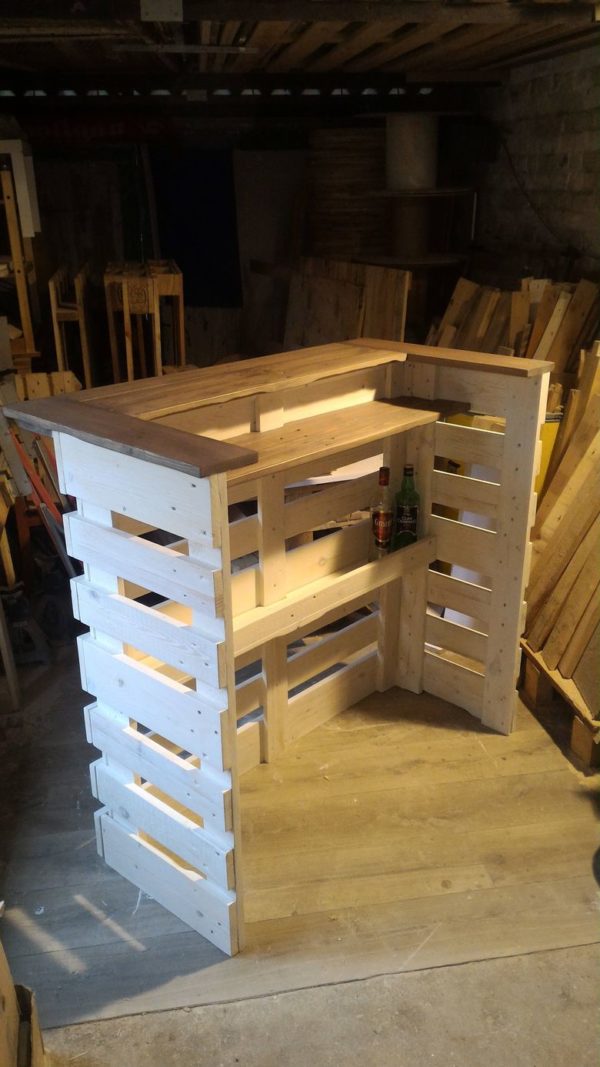 Sometimes all your pallet bars need is a different look to add charm to your already existing indoor/outdoor design. What about an open and airy pallet bar design? Instead of using closely fit traditional pallets, you can purchase one-inch thick pallet boards for a slatted design.
Pros
Spacious bar space
A beautiful natural look
Easy to assemble or disassemble
Cons
Not ideal for storage
Limited bar top space
3. Concrete top pallet bar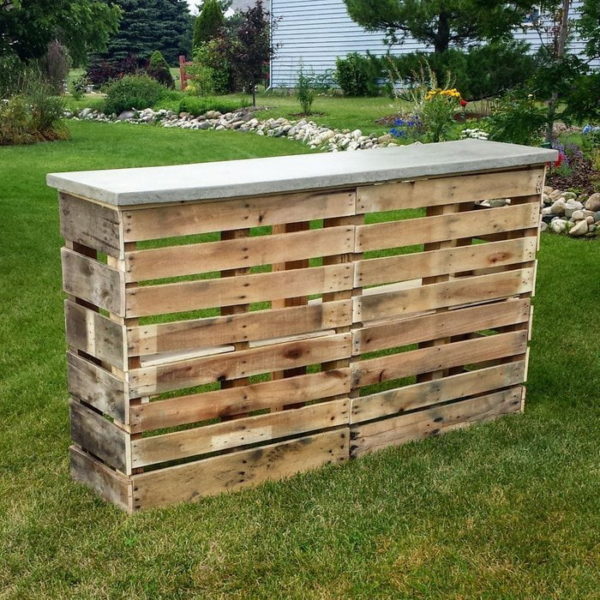 If you need something that fits right into the existing design of your kitchen, going for a pallet bar with a real top is a no brainer. This pallet bar idea is a cut above the rest when it comes to durability. Once you finish setting up your pallets, you will need to reinforce the top with plywood and melamine boards before pouring concrete. Use a wire reinforcement to keep the concrete in place. After a few days, and the whole surface, add a cement finish.
Pros
Durable and sturdy
Convenient bar top space
Weather resistant
Cons
Tedious DIY project
Heavy to move
4. Color clashing pallet bars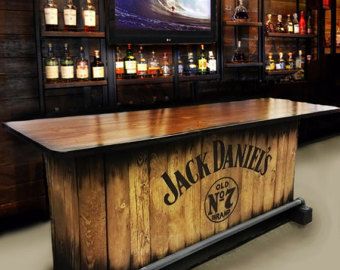 You can treat the wood pallets with different finishes within the pallet bar. For instance, the bottom half of the pallets can remain in their old rustic form while the countertop is fitted with a ceramic finish for a jaw-dropping look.
Pros
An appealing design
Inexpensive finishes
Cons
A little more painting /staining work
5. Pallet Bar Cart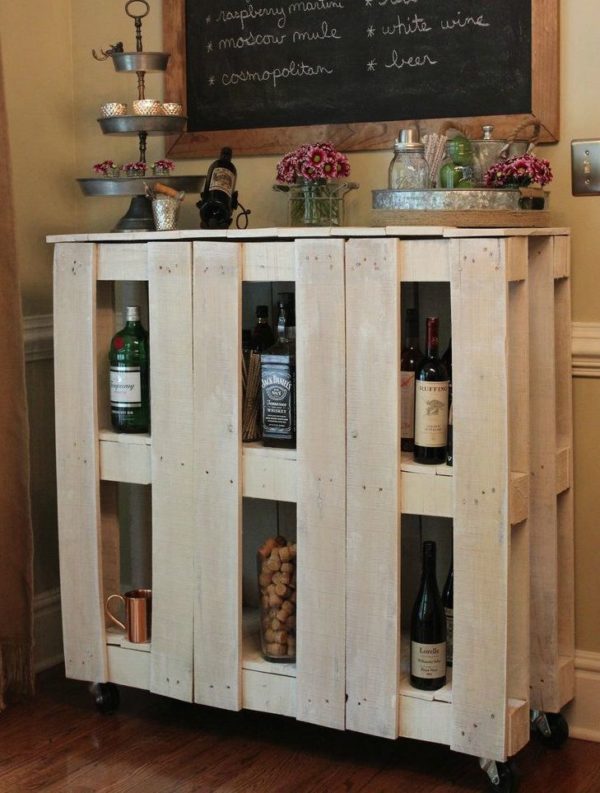 You can take storage convenience to the next level with this pallet bar cart set up. The pallet bar has storage shelves for drinks and wheels at the bottom for easy moving when serving guests. This pallet doesn't interfere with your existing home design since it can be stored away.
Pros
Extra storage space
Enhanced mobility
Cons
6. Outdoor wine rack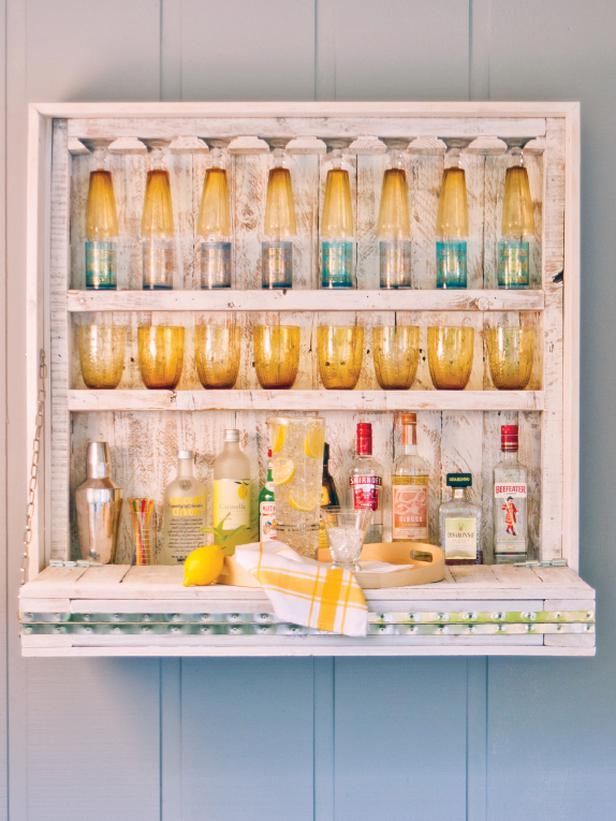 This a wall mounted outdoor bar for storing beer bottles, glasses, and wine accessories among other things you need to entertain guests. The bar conveniently hangs on the wall, and the lid opens and folds in half.
You will need about ten wooden pallets for this project. Disassemble the pallets (research how to make pallet pry bar) and cut the piece of the bar. Build the base of the bar front on the ground and add the bar front slats. Construct the stemware racks, the shelves, and the back. Assemble the bar and use screws and washers to hang the bar on your outdoor walls.
Pros
It is strong and resilient
Weatherproof
Convenient location
Cons
A complex project that needs more than one person
7. The small and simple pallet bar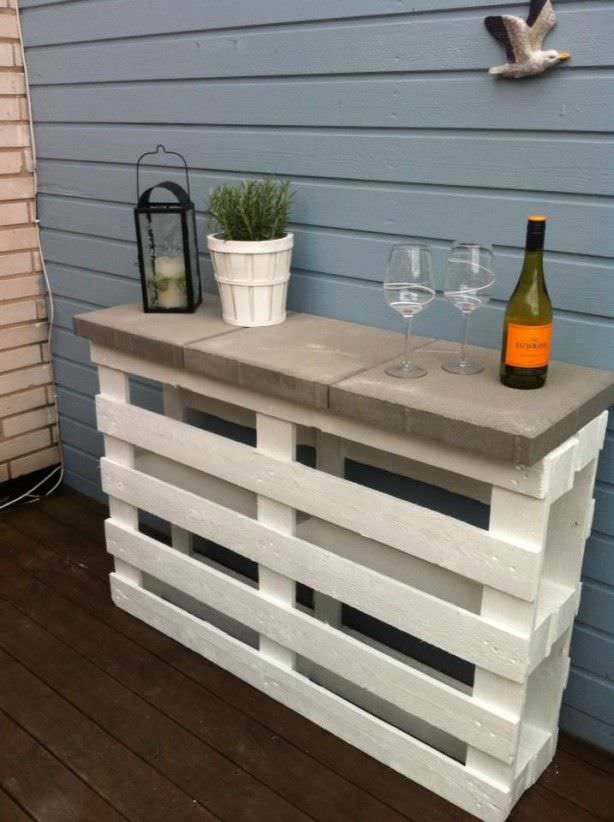 You can fit two pallets together using a few nails and concrete tiles for the top. This is a quick craft that will enable you to serve your drinks in style. You only need two pallets for the project, yet the bar will still be sturdy with some considerable storage space for bottles.
Pros
Quick and easy to construct
Affordable to build
Takes up less space
Improved portability
Cons
It is a small bar with limited storage space
8. Tiled counter pallet bar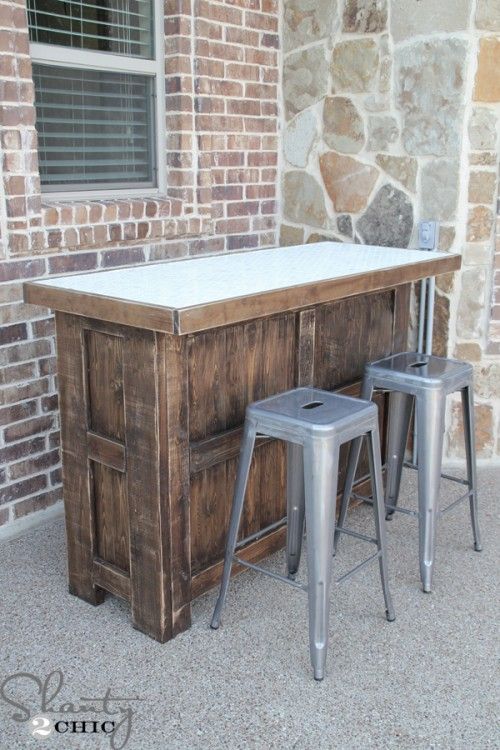 Like in the case with concrete counter pallet bar tops, you can opt for tiles this time around. Tiles are light and easy to install. It will help you to bring out a strikingly elegant look in an otherwise shabby element.
Once you have made your pallet bar, spray, install plywood on the top and pray with a light layer of polyurethane. Wait for the polyurethane to dry before installing the tiles. After it dries, install the ceramic tiles using a tile adhesive and grout. You can also paint the lower part of the pallet with a matching color for a glam look.
Check out the step-by-step instructions
Pros
Aesthetically appealing
Durable countertop
Cons
9. Fish tank pallet bar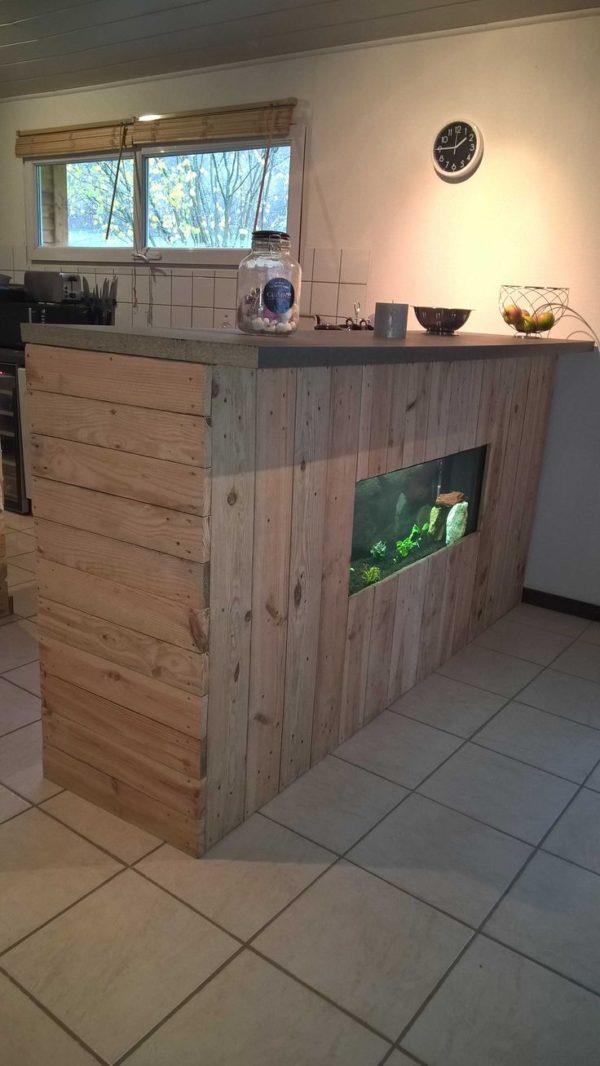 Your pallet bar can also function as a fish tank holder, a stunning feature that will entirely transform your setting. Instead of plastic support bars, your fish tank gets safely secured within a sturdy structure that also serves at the bar. All you need to do when making your pallet bar is to include a big shelf space in the middle for fitting fish tank. You can finish by painting or staining with color that contrasts with the aquarium.
See the build instructions
Pros
It creates a riveting, entertaining space
No additional materials needed for the project
Saves space in your home ( by consolidating the aquarium and bar in one place)
Cons
The aquarium limits storage space for drinks
Could be too large
Difficult for beginners
10. Collapsible Pallet Bar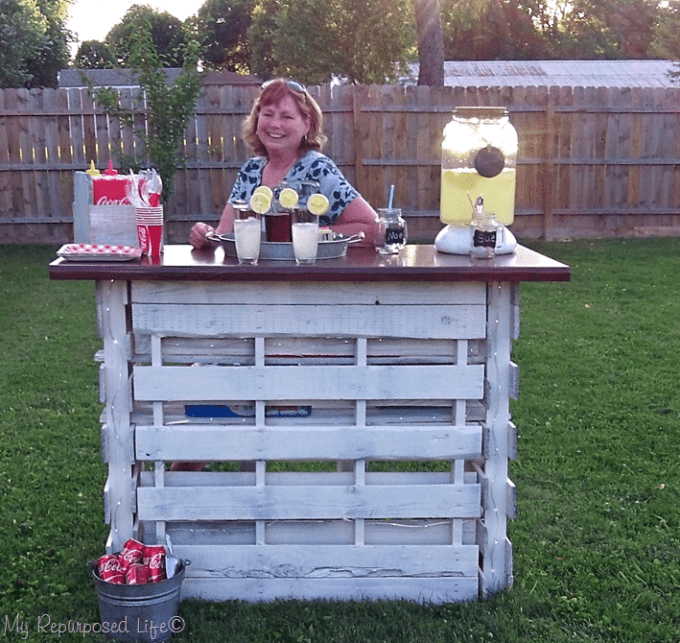 The foldable bar allows you to entertain both indoors and outdoors. To make this DIY fold up pallet bar, you need two pallets. Cut one of the pallets in half using a circular saw. You will then fit three hinges on either side of the full pallet, folding the flaps backward as you attach them. Fold the straps inwards and connect the two half pallets on either side of the main one.
See the build instructions
Pros
Easily portable -you can use the bar indoors or outdoors.
When not in use they take up less room in storage
Allows for additional storage space- it is easy to add shelves or place crates between the folding half pallets
Cons
You will see an extra pallet board for the top
The bar top may not stay in place when placed on the fold up DIY pallet bar
11. L shaped pallet bar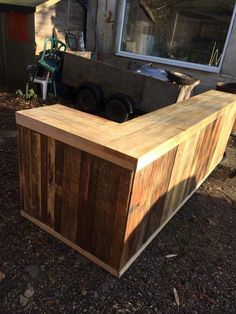 The L-shape pallet bar is easy to build and takes minimal effort. The bar is super resilient compared others. It is easy to add in custom build shelves and racks. You can build the bar using two pallets set up in the "L" shape. Cut one pallet vertically to fit your space. Next, attach the two pallets using 3″ wood screws.
See the build instructions
Pros
Looks professional
Specialized
Compact
Cons
Could take up more space
Difficult installation
12. Iron footrest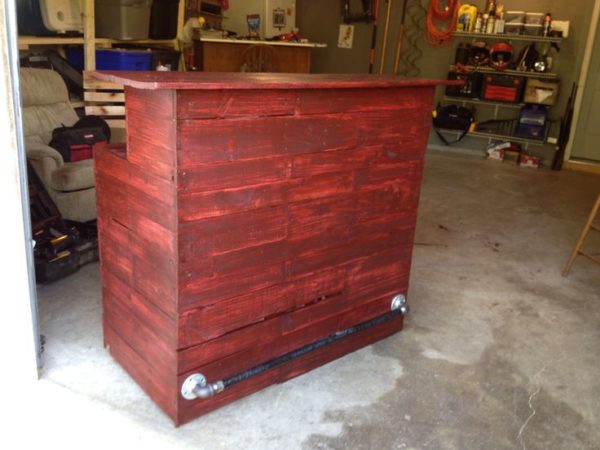 This innovative and straightforward craft can enhance the feel of the entertaining area. For a long time, iron pipes have been used to create a footrest railing at the base of the pallet bar so someone can prop their feet when enjoying a drink.
Pros
Long-lasting materials
Easy installation
Lightweight
Cons
Style-specific
Additional skills required
13. Chevron-designed Pallet Bar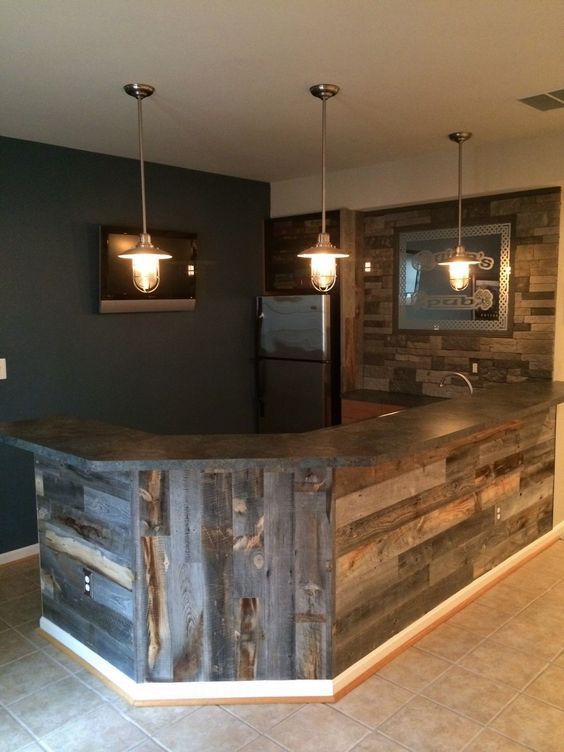 This design might be a little more complicated for beginners, but the outcome is fantastic. The result is an exquisite chevron print design with multi-colors that bring out the best feel of the bar stand. With a little more work, you can achieve this custom chevron design on your pallet bar in a short time.
See more like this
Pros
Looks professional and luxurious
Comes with a propane tank holder
Cons
14. American flag pallet bar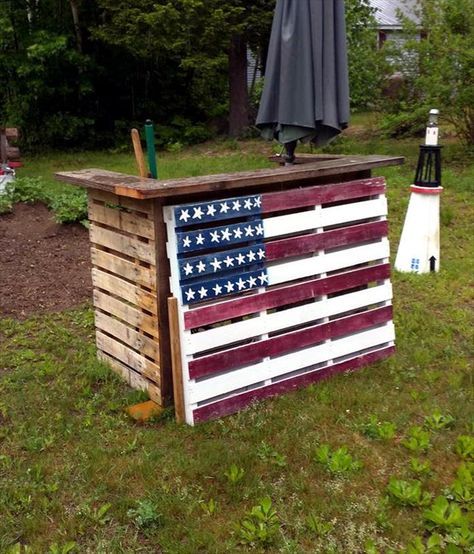 Make a toss to your country! However, unless you buy readily flag-painted pallets, it would be a tedious task to do it yourself. Before drawing the flag, you will first need to sand the surface to make it receptive to paint. After painting the flag on the wood, apply a varnish coat to serve as a protective layer for the American flag painting on the pallet.
See the build instructions
Pros
Cons
15. Bottle top pallet bar counter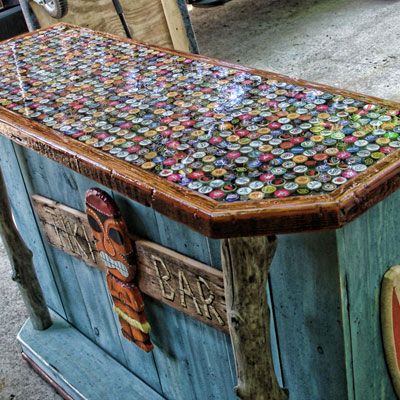 Why not embrace this innovative way of re-purposing beer caps for your pallet bar counter? Bottle caps can function as beautiful art pieces for your pallet bar. You have to collect enough multicolored beer bottle caps of the same height. Lay them on the pallet bar top, grout and brush them to a sparkling glitter and seal with a clear coat.
Pros
Easy assembly
Luxurious finish
Cons
Time-consuming
Difficult for beginners
16. Copper-penny pallet bar top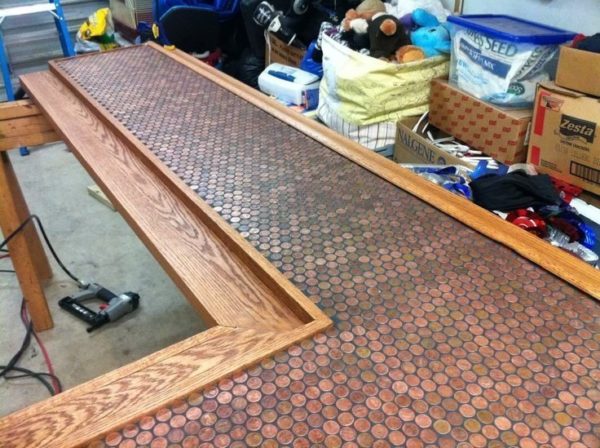 You can beautify your pallet bar with the copper coins you have been saving since you were little. What a glittering money bar that will be! Glue the copper coins in place and fill black grout between them. Seal it off with a clear coat, and there you will have a comfortable bar that doesn't cost a pretty penny!
See more like this
Pros
Affordable and luxurious
Sparkling and beautiful
Cons
It requires additional materials like coats, grout, and sealants
Time-consuming
17. Stenciled timber pallet bar top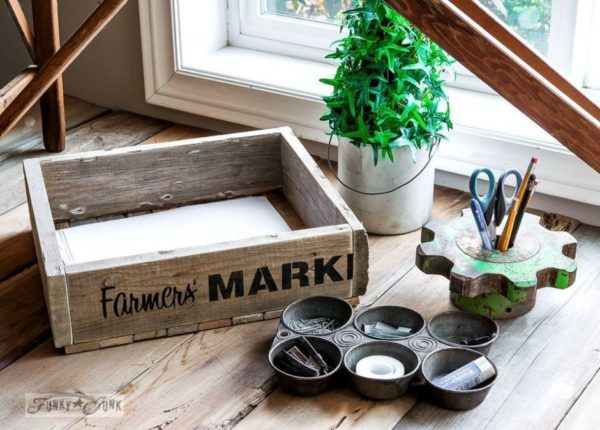 The natural wood pallet bar top is beautiful and textured, but tiles present unique, bold patterns that most of us want on our bar tops. If you don't want to compromise the natural rustic look of your bar, you can go with stenciled timber. You only have to find a skilled painter to help you bring out the wowing patterns.
Pros
It is an attractive design
Looks professional
Cons
Time-consuming project
Difficult for beginners
18. Pallet Bar cooler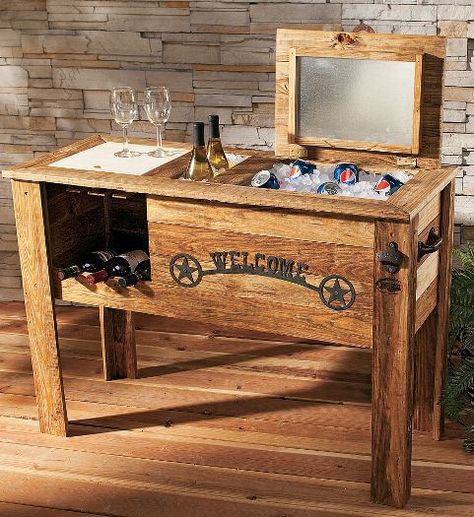 This cooler is a multipurpose installation that you can use as a bar and as an ice cask in outdoor settings. The pallet bar cooler features wheels, so portability is greatly enhanced. Wood is a poor conductor of heat; that is why this cooler works perfectly to keep your drinks chilled.
See more like this
Pros
It is multipurpose- serves as a freezer, a bar, and a cart
Lightweight and portable
Cons
19. Epoxy Pallet Wood Bar top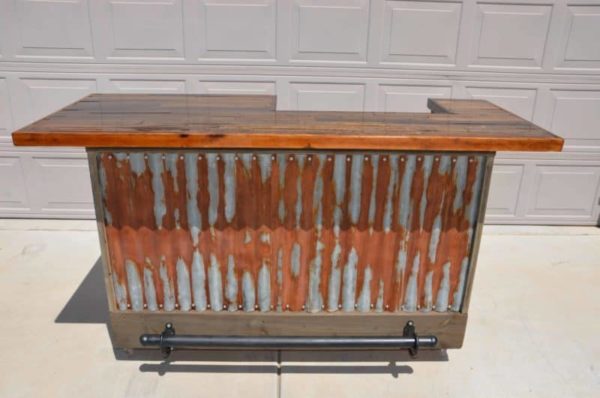 First, build the first bar and create also the shelving with plywood. Cut down the deck boards and create smaller pieces in order to offer support to those shelves. Finish out both sides with other deck boards. For the bar to use various deck boards, mix both darker as well as lighter woods. Once you are complete with the installation of the deck boards, apply epoxy coating, keenly following all the instructions for preparation and mixing.
Pros
Attractive finish
Long lasting materials
Cons
Costly materials
Time-consuming project
Many pallet bar ideas could transform the look and feel of your home. These ideas can also add purpose and convenience to your pallet bars. You don't have to put up with regular pallet bars anymore. Use the above ideas for style, comfort and convenience.
Last Updated on February 12, 2020 by