5 Best Grout Sealers of 2023 – Review & Buying Guide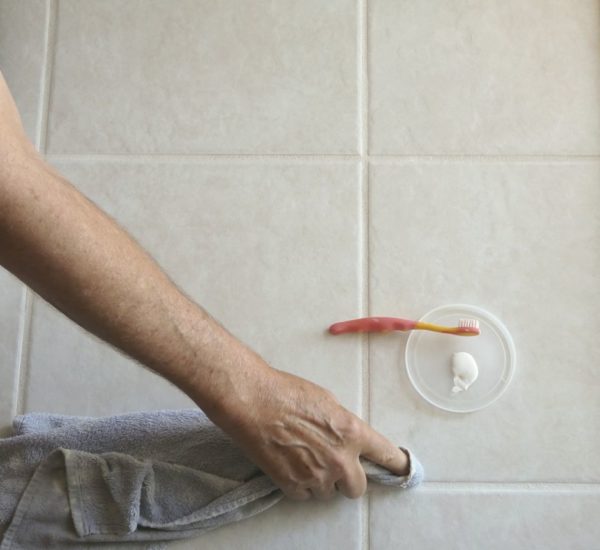 Your tile floors/walls need regular pampering to look fresh and brand new. Sealing grout can save you the costly expenses involved in tile floor maintenance. Without sealed grouts, your floors and walls could play host to homely guests such as mold, mildew, and nasty stains.
This review looks at the 5 best grout sealers that will give you the best value for the money.
Best Value
Best Overall
STONETECH Heavy Duty Grout Sealer, 1 Quart/32OZ (946ML) Bottle
Tuff Duck Granite, Grout and Marble Sealer 1 Quart Stone Tile
Aqua Mix Grout Sealer Dual Protection - Penetrates and Coats Pint 16oz
Miracle Sealants 511QT6 511 Impregnator Sealer, Quart, Clear, 32 Fl Oz
Black Diamond Stoneworks Granite Sealer: Seals and Protects, Granite,...
Best Value
STONETECH Heavy Duty Grout Sealer, 1 Quart/32OZ (946ML) Bottle
Tuff Duck Granite, Grout and Marble Sealer 1 Quart Stone Tile
Aqua Mix Grout Sealer Dual Protection - Penetrates and Coats Pint 16oz
Miracle Sealants 511QT6 511 Impregnator Sealer, Quart, Clear, 32 Fl Oz
Best Overall
Black Diamond Stoneworks Granite Sealer: Seals and Protects, Granite,...
Last update on 2023-06-01 / Affiliate links / Images from Amazon Product Advertising API
Why do we need to seal grouts?
Grout is the spaces between tiles and basically consists of sand and mortar. Sand is highly porous and can absorb anything foreign that you can think of. In the run of time, these foreign infiltrators will discolor your grouts and give them a gross yellow or brown tinge.
On wet tiles as in the bathroom or kitchen, you might get a revolting infestation of mold. Grout sealers do just that-they waterproof and seal off grouts, keeping your floors and walls in apple-pie order.
In a nutshell, here is why buying a grout sealer is a sound investment plan:
Keep your floors/walls looking new
Sealing grouts is about making them water-resistant and impermeable to mold and discoloration. In the long run, it will save your home from the ugliness of wine stains, pet poo stains, and whatnot. Buying bleach and other cleaners on the regular might drain your wallet to the last cent.
Reduces remodelling costs
Remodelling often helps to increase the resale value of a home. However, sometimes costs run too high and then it doesn't make economic sense anymore.
Sealing grouts will save you from having to replace them due to mold, mildew, and bad stains.
It can be a DIY project
You don't need to hire pros for grout sealing. You can purchase a spray-on grout sealer that is easy to install. You can spray the sealer a few weeks after installing the tiles.
Even for routine tile maintenance and light touch-ups, you can find grout sealers in economical sized bottles.
No more tedious grout cleaning
Stain removal and grout cleaning sometimes need the hand of a professional. Deep-seated stains and dirt on grouts are just too tough to clean. If not hiring professional cleaners, you might need to invest in a grout cleaning machine. Grout sealers are the cheapest option on the table.
How to buy the right grout cleaner
You can only reap all the benefits of grout sealing if you buy the best quality product. A low-quality sealer leaves your grouts vulnerable to the degrading agents exposed earlier. I have been there.
At one point, even after applying a grout sealer, my shower grouts still turned dark with mold and mildew. I had to buy strong chemical detergents to clean them regularly.
I directed my frustrations to Google. It paid off, for the grout sealer I bought next has kept my tiles sparkling clean for more than a year now. Here are critical things to look for when purchasing grout sealers:
Ease of application matters a great deal
You are probably taking the DIY path with this grout sealing project, right? For that reason, you'd better find a grout a sealer that gives no headaches during application. Some models come as spray-on formulas in squeeze bottles.
Others come in large gallon containers that will need you to use sponge during applications.
Spray on formulas might help you achieve consistency, but they might not be ideal for larger jobs. On the other hand, a gallon-sized container offers you value for money, but you will have to find creative ways to make application easier.
Solvent-based sealers are more durable
A water-based sealer is only suitable for surface level protection. After a short time, if you don't reapply, your grouts are left bare and vulnerable to the elements.
That's what happened to me. Consider acquiring a solvent-based sealer that can penetrate deeper into grouts to fill all spaces within.
A multi-purpose sealer will give you the best bang for your buck
Some grout sealers are designed for exclusive use on grouts. Conversely, some formulations allow use on granite, cement, and other natural stones. I recommend you go for the latter. Next time you need to repair your kitchen counter, you can make use of the leftover grout sealer.
On that note, check the label to ensure that your product is non-toxic and safe for food contact.
You don't want a grout sealer that changes the color of your grout
Some grout sealants interfere with the natural shade of grouts. If you are specifically looking to add fair and aesthetics to your rooms, then go for such. In any case, however, such sealants are high maintenance.
They don't last long because they don't penetrate deep. Failure to reapply would be aesthetically catastrophic.
The Best Grout Sealers in the Market
Last update on 2023-06-01 / Affiliate links / Images from Amazon Product Advertising API
This product might be dandyish for porcelain and ceramic tiles. The heavy-duty sealer penetrates fairly well on grout tiles and layers off with a rustic protective finish.
The high viscosity might be suitable for wet grout protection, but you might find its application to be tedious. It is also recommendable to lay down at least three coats of the sealant for an excellent performance.
The composition of the StoneTech sealer includes water-based fluorochemicals which might help to safeguard your tiles against tough stains. Like many other sealants, the StoneTech sealer could also be an effective defense against mold and mildew.
The sealant can supposedly last long, and keep your grouts looking clean for a long time. For bathroom floors and walls, the dense nature of the StoneTech sealer could be a boon.
After application, the full cure happens in 48 hours. You might, therefore, want to reduce foot traffic on the area so as not to mess up the tiles.
One of my favorite qualities about this tiles sealer is its odor-less nature. You can, therefore, work with it comfortably without worrying about respiratory health complications.
Pros
It's durable and tough
Can be used to seal grouts in all areas
It doesn't tarnish the tiles
Cons
Might not be valid on porous tiles
Takes longer to dry
Last update on 2023-06-01 / Affiliate links / Images from Amazon Product Advertising API
Unlike the StoneTech sealer, Tuff Duck can work on all tiles, including granite, marble, limestone, travertine, slate, and concrete.
The Tuff Duck grout sealer uses a non-acidic formula that penetrates fairly well on stone and grout. It could help shield your tiles against water and oil stains.
Because of its non-acidic nature, Tuff Duck grout sealer could be the right choice for your marble floors.
What's worrying about Tuff Duck, however, is its high maintenance needs. Because it's not as durable as StoneTech, you might be forced to reapply it after every few years, especially in high traffic areas.
Its high maintenance, notwithstanding Tuff Duck, might help you maintain the natural tone of your tiles. Also, its application process is a little more straightforward than the earlier reviewed grout sealer.
Remember though to carefully follow all the instructions stepwise to avoid leaving marks on your tiles.
It takes about 2 days for Tuff Duck to fully seal your grouts. In the process, you might have to put up with a strong chemical smell, so be sure to open all your doors and windows.
Tuff Duck Granite, Grout and Marble Sealer Pros & Cons
Pros
It can be applied to marble and other porous tiles
It resists water and oil stains, mold and mildew
Cons
Might not be durable enough
High maintenance
Last update on 2023-06-01 / Affiliate links / Images from Amazon Product Advertising API
Unlike the above two grout sealers, the Aqua Mix sealer is non-penetrative. It can offer surface-level protection against water and oil stains.
You can use Aqua Mix grout sealer on your indoor or outdoor tiles. It holds up reasonably well against the elements.
The Aqua Mix Grout sealer might not be the best choice for bathroom and kitchen tiles. Non-penetrating sealants chip quickly, and therefore you will have a higher risk of mildew.
Cleaning mold and mildew from bathroom tiles is no easy work, and you will likely spend a pretty penny on chemical cleaners.
Despite its worrisome performance on bathroom and kitchen tiles, Aqua Mix shows up on this top list for its ability to preserve the natural look of tiles.
You will likely find that the water-based sealer dries with no sheen, leaving the tinge of your tiles untouched.
Occasionally, many people use the Aqua Mix sealer as a pre-grout sealer. It works well in collaboration with a penetrating and extra-protective sealer.
Aqua Mix Grout Sealer Dual Protection Pros & Cons
Pros
It is odorless
It is easy to apply, less messy
It maintains grout color
Cons
Might not perform well on bathroom tiles
A non-penetrating grout sealer demands regular reapplication
Sale
For use inside or out on a variety of surfaces including sanded grout, ceramic tile, porcelain tile, glazed tile, stucco, travertine, marble, slate, granite, terrazzo and more to protect against...
Formula is oil and water resistant that creates an invisible barrier for protection
Covers up to 1,000 square feet per quart
Last update on 2023-06-01 / Affiliate links / Images from Amazon Product Advertising API
The Miracle Sealer 511 QT I SG 511 is supposedly the ultimate protection needed for your mold and mildew. It is marketed as the right choice for professionals and DIYers and promises faster drying without leaving marks behind.
In reality, you might find this grout sealer a little disappointing for it changes the texture and appearance of tile grouts.
Nonetheless, some people don't mind the blackening. It can be an indicator that the sealer is actually penetrating as it is supposed to.
The Miracle Sealer 511 QT SG 511 is a unique option over the earlier reviewed products for the fact that it is solvent-based. It sips deep into grouts, and might, therefore, do an excellent job of repelling water and oil. These are the two culprits that often cause costly damages to tiles.
This grout sealer is also reasonably easy to apply. You will, however, need mineral spirits to effectively rinse the unintentional places it's spilled on.
Its best leverage over buyers is its ability to seal bigger holes in grouts. Water-based sealers might not perform well in bigger grouts.
A solvent-based penetrator like Miracle Sealer 511 QT SG 511 could reach further and deeper and then solidify in a longer-lasting slip-resistant finish.
Miracle Sealer 511 QT SG 511 Pros & Cons
Pros
Reaches deeper and wider in grouts
Solidifies into a super protective layer
Repels moisture and oil
Possibly dries faster than the earlier reviewed items
Cons
It changes the color and texture of tiles
Last update on 2023-06-01 / Affiliate links / Images from Amazon Product Advertising API
This sealer's functionality is not limited to grouts. It could also be used to protect or repair other surfaces such as granite countertops in the kitchen.
The product comes as a small pack—a 16-ounce bottle that is specifically designed for light touch-ups. Because the Black Diamond Next Gen sealer has a neutral pH and a non-toxic composition, it works just fine on other stones apart from grout.
It comes in a spray bottle that takes the headache out of the application. You will only need to spray and wipe. The narrow nozzle enhances application accuracy, making things less messy
The Black Diamond, NextGen sealer, is a penetrative adhesive that could effectively reach to the bottom of the grouts. It seals all the natural pores, making your floors resistant to water and oil.
On account that it sips deeper into grouts, this sealer might reduce the amount of maintenance needed.
This sealant can be used both inside and outside. Its formulation will likely put up well to the high moisture content in outdoor environments.
Black Diamond Next Gen Sealer Pros & Cons
Pros
The spray bottle makes application easy
The sealer can be used on granite countertops as well
It sips deeper into grouts and could, therefore, last longer
Cons
It comes in a small bottle that limits its application to small areas
The Best Pick
StoneTech Heavy Duty Grout Sealer is the pick of the litter. This grout sealer might deliver top performance on porcelain and ceramic tiles. Its highly viscous nature makes for a durable sealant that puts up well in wet and oily conditions.
It could, therefore, be handiest in your bathroom and kitchen floors/walls.
Its ability to sip deep into grouts is also an advantage. Penetrative sealers are generally low maintenance, as seen earlier, even in high traffic areas.
The formulation of the StoneTech sealer includes fluoro-chemicals that could keep your grouts clean and protect against mold and mildew for long. The application process is also straightforward, and it dries off after 48 hours.
You might also appreciate its odor-less nature. These and other perks make the StoneTech grout sealer a special treat for your grouts.
Last Updated on February 5, 2020 by Tom Bradly