Tanaka Chainsaw Review TCS33EDTP: Best Top Handle Chain Saw?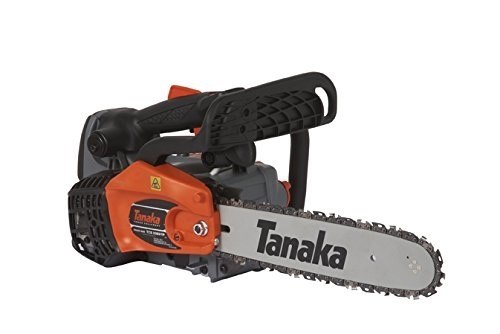 Success in woodworking demands reliable tools. If you have struggled with your power tools before, you would want to make sure that your next saw model performs better than the last.
This review provides an in-depth insight into what to look for when buying a chain saw, and whether the Tanaka Chainsaw TCS33EDTP lives up to a wood worker's expectations.
Tanaka TCS33EDTP/14 32.2cc 14-Inch Top Handle Chain Saw with Pure Fire...
14-Inch top handle chain saw with 32.2cc commercial grade pure fire engine to provide a clean, powerful performance with less fuel consumption
Half throttle choke with purge primer bulb for easy start and warm up
Automatic gear-driven oiler and a side access chain tensioning providing quick and convenient chain adjustment
Last update on 2023-09-29 / Affiliate links / Images from Amazon Product Advertising API
The buying guide for a chain saw
Buying a chainsaw can be a daunting task for a new professional woodworker. There are many variables to consider before you seal the deal on any chain saw in the market
https://www.youtube.com/watch?v=mucQVZZgyWY&feature=youtu.be
When I was first starting as a woodworker, it was hard to find a chain saw that delivers right for my level of experience. That was before the Tanaka TCS33EDTP Chain Saw hit the market. My accrued woodworking experience has now equipped me with a few buying skills when it comes to chain saws.
Here are factors to consider when buying a chain saw:
The intended use of the chainsaw
Electric saws are best suited for occasional light cutting. Gas saws, on the other hand, will deliver the power needed to fell big sized trees or shaping thick woods. A 45cc engine is big enough for larger projects.
Your woodworking experience
First timers can do well with small chainsaws in their beginner projects.  A 12″ guide bar would be sufficient. Expert and experienced woodworkers will need larger saws with 20″ plus guide bar.
Nature of the wood you will be cutting (Soft or hardwood)
A gas chain saw is ideal for cutting thicker trees. It packs the necessary power for that purpose.  With softwood, electric saws will grant you efficiency and cost-effectiveness.
Guide bar length
The guide bar is the distance between the tip of the chain to the point it gets into the saw housing.  This bar length is the cutting area of the saw, and it determines what wood sizes the saw can cut with a single pass. You can cut thick trunks with a small saw; you will only need more passes. The power of the engine also matters a great deal here.
For safety purposes, find a chain saw whose bar length is 2″ longer than the size of the wood. For instance, for a 14″ tree, you will need a 16″ saw to cut the tree in a single pass.  For general light cutting at home, a guide bar length of 14" is enough. Guide bar lengths of 16" and above fall in the professional category.  However, remember that extensive bar lengths can be challenging to handle, compromising portability, and ease of use.
The Kickback
Kickback in regards to chain saws is when the guide bar tip hits another obstacle during motion. This momentary contact often causes a reverse reaction that 'kicks back' the guide bar towards the operator. It is a major safety concern. When buying a chainsaw check if it has anti-kickback features.
Engine power
With gas chainsaws, the engine power is rated in cubic centimeters. A higher number means a more powerful engine. Often, that would also mean more weight.  The typical chain saws are between 24cc and 46cc.
In electric chainsaws, the Amperage is what represents the engine power. More amps mean more engine power. On the other hand, with battery-powered saws, the engine power is measured in volts. If you go for a battery powered saw chose one that uses a lithium-ion battery for extended battery life.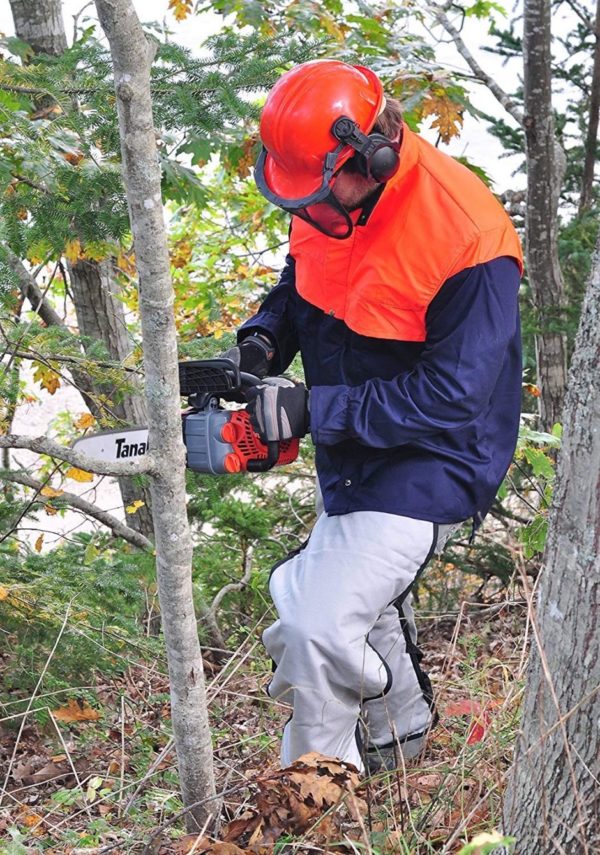 Chainsaw Safety
As mentioned earlier, find an anti-kickback chain saw, especially if you are just getting started in woodworking. Chainsaws can be dangerous- causing 100,000 cases of injuries yearly in the US alone. Safety features to look for in a chainsaw include a secure grip, chain guards, and brakes, among others.
Personal strength
Your ability to handle and manipulate a chainsaw is another factor that should determine what kind of chainsaw you acquire.  Heavy chainsaws can be powerful, but then they will need you to be physically fit to handle them for long. It is necessary to find a chainsaw that you can control with ease. Don't use a super heavy chainsaw; it is not safe for you. You will have difficulty balancing it. Your cuts might also come out inaccurate.
Anti-Vibration Features
If you work for long hours chopping, slicing and shaping wood and trees, you will need a chain saw with anti-vibration features. This feature will protect your hands from becoming numb from long hours of sawing.  That discomfort often leads to inaccurate cuts.
Chain brakes
Find a chain saw with a manual or inertial chain break. The brakes help to stop kickback in a fraction of a second. An inertial break is even faster
Muffler
A chainsaw with a muffler is less noisy. To take care of your hearing, look for this feature when buying chain saws.  The best saws also use spark arrestors to prevent forest fires from the sawing action.
Ergonomics
The chain saw should be easy and comfortable to handle. It needs to be balanced with minimized vibration. The design of the chainsaw you will determine your success in woodworking projects.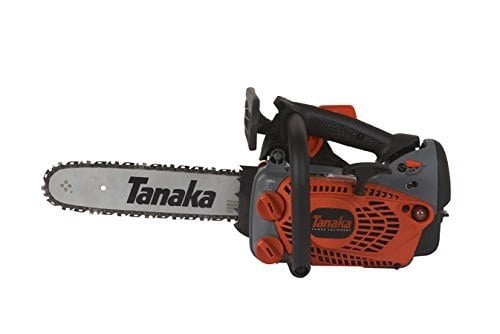 Tanaka Chainsaw Review: TCS33EDTP
Tanaka Chainsaw Pros & Cons
Pros
Pros
This power tool is compact and portable
It is cordless for increased versatility
The chain saw is lightweight and balanced
It starts quickly and maintains power all through
Its semi-transparent gas tank makes it easy to judge how much gas you still have
Cons
Cons
You might experience some over-oiling issues with this chain saw
Aligning the holes on the bar with the tension adjustment thingamajigger can be challenging
The bar oil cap is difficult to open
The chain comes off easily after a long time of use
What adds the thrill to my job is that I get to interact and experiment with many tools, and honestly, on day one, I didn't expect much from the Tanaka TCS33EDTP. I was proven wrong. I got this chain saw from Tanaka not so many months ago, and I have been able to cut through trunks of trees without so much trouble.
Weight
The Tanaka chainsaw is lightweight, weighing only 11.9 pounds. One of the most challenging aspects of woodworking, especially for those starting is the weight of our machines. Over time you develop some robust muscles on your hands and shoulders, but before that happens, you need a lightweight saw to ease your tasks. You could climb high up the tree with the Tanaka TCS33EDTP chain saw and prune for long hours without stress.
Engine power
The saw packs some considerable amount of power too. You will find that the 32cc, 1.6 horsepower engine delivers on any wood materials. The engine is low emission, which can be a determining factor if you care for the environment.
The Pure Fire Engine can effectively handle pruning, log cutting, shaping, and other DIY work around the home. The engine is a novel two-stroke, giving off only trace emissions. It doesn't require any additional unique internal moving parts. The TCS33EDTP chain saw is easy to operate thanks to the automatic gear-powered oiler and the half throttle choke with the purge primer bulb.
Control and performance
Another feature of the Tanaka chain saw is that it starts quickly on the first pull. That convenience is made possible by the throttle choke and the purge primer bulb. This reliability is maintained even after a long time of use. The sprocket nose bar also makes it easier to control the sawing action while the 32 .2 cc industrial grade fire engine delivers powerful cuts with less fuel use.
Even though the chain saw has the potential to power longer bars, it uses a 14-inch bar and chain. The advantage of the 14-inch bar with that kind of engine power is that you get efficient cutting with no kickback. The performance is also balanced and controlled.  The tension on the side chain will come in handy for quick adjustments.
The TCS33EDTP chain saw can deal with tasks of all difficulty levels. The in-built lanyard ring will enable you to work on trees and jobs on the ground as well. It has a balanced power-to-weight ratio for minimizing fatigue and improving productivity. The saw can cut through 14" thick logs with ease. For that reason, it can be a handy tool to take on your camping trips to help with firewood collection.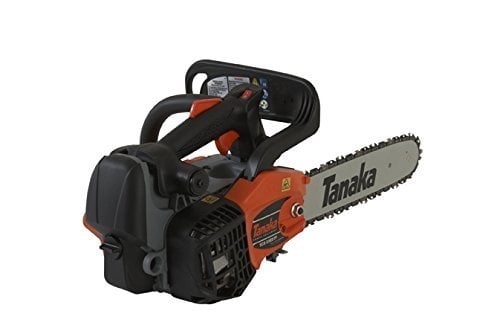 Design
The Tanaka saw features a hard plastic design with aluminum parts. It has a large top handle, with a throttle trigger.   There is also a half-wrap handle at the front with a hand guard that also functions as a chain brake.
The pump primer on the side of the saw helps to push extra fuel to the carburetor and facilitates easy starting. The fuel tank is easily accessible, making it easy to refuel. There are also metal bumper spikes on the power head unit to act as a lever when in contact with wood- it helps to improve stability. The motor features steel rods with a chrome brazed cylinder. This material make improves its durability.
On the right hand is a muffler that reduces engine exhaust noise while the locking nut keeps the clutch secured.  There is a chain catcher on the underside of the power head. When you first get the product, it will need some assembly. That involves fitting the bar and chain and the bumper spikes.
User friendliness is another aspect to consider when buying a chain saw. With the Tanaka TCS33EDTP chain saw, you will find the top handle very convenient for easy control. This handle is layered with cushioning material and vibration absorbing technology. That means that you can use the saw for longer without feeling fatigued. The vibration dampening capabilities of the saw can also help to improve the accuracy of your cuts.
Safety
The kickback is pretty low, making it one of the safest chain saws in the market. The grip is secure, surfaced with a rubber material and cushioning that absorbs vibrations. It is slip-resistant even when wet. Be that as it may, everyone is encouraged to read the accompanying user manual for a safe sawing experience with the saw.
The chain
The saw uses the proprietary Oregon 91PX Low Profile chain. It has a 3/8" pitch and a 0.05" gauge with 52 drive links. That makes it a powerful enough chain for professional woodworking. It packs strength, balance, and has excellent performance. The chain is made such that oil freely moves around the chain during cutting.
The chain moves at a speed of 22.9 m/sec, which is matching for any saw of its size. In my experience with this Tanaka saw, I found that you need to make regular checks on the chain when cutting. Proper tensioning is necessary for enhanced performance and safety.  There is a tension tool that comes with the saw for adjusting the screws on the side of the saw.
Engine and fuel consumption
Tanaka's 32.2cc 2-stroke engine produces 1.6 horsepower that can generate sufficient chain speed. The recommended fuel is 89 Octane unleaded gasoline mixed with two-cycle oil. A fuel that contains high ethanol can be harmful to the engines. The maximum engine speed is 12,000 rpm. The fuel tank has a capacity of 9.9 oz. The consumption rate is 534 g/kWh. It is, therefore, possible to get 20 minutes of cutting action per full tank.
Noise levels
Just like with many gases saw, the Tanaka chain saw is no quiet. You will have to put up with noise levels of about 100 dB (A). That means you will need ear protection to safeguard your hearing with this saw.
The bottom line
As per our buying guide, the Tanaka TCS33EDTP Chain Saw meets most of a woodworker's expectations. This saw is sturdy and big enough to handle professional projects. Its ergonomic design and cushioned handle with vibration dampeners make it incredibly user-friendly.
The chain delivers superb performance, running on a 1.6HP power motor. Be that as it may, regular maintenance is necessary to keep the saw working in optimal condition. That includes cleaning the air filters, the spark plugs, and the muffler. You will also need to regularly empty and clean the fuel tank.
Last Updated on February 5, 2020 by Tom Bradly