Rockwell Table Saw Bladerunner X2 – Best Portable Tabletop Saw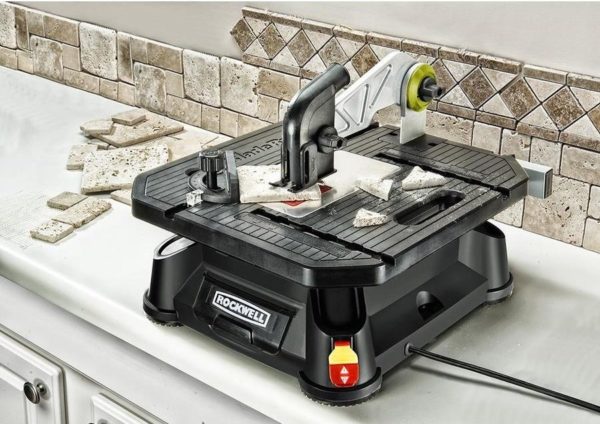 A table saw is one of the few woodworking equipments that both professionals and hobbyists need in their tool compartment if they want to get things done the right way. The Rockwell table saw is one such tool.
As a portable benchtop/tabletop saw, it is different from a contractor saw, which is packed with a lot more features and functions because it is predominantly a professional's tool. Cabinet saws are also different – they are much heavier more powerful and quite robust. There's also hybrid table saws and mini saws (these have blades that measure 4 inches or less) too.
Sale
Rockwell RK7323 BladeRunner X2 Portable Tabletop Saw with Steel Rip...
[SETS UP IN SECONDS] Take this table saw to the job site or move it around the workshop. There's even a built-in carry handle
[CUTS LIKE A FULL-SIZE] With the standard guard and riving knife system you can perform rip, cross, scroll, and miter cuts
[TOOL-LESS BLADE CHANGE] Uses any brand's standard 4" T-shank blade, but we threw 5 in the box to get you started cutting wood, ceramic tile, plastic, aluminum, and metal
Last update on 2023-09-29 / Affiliate links / Images from Amazon Product Advertising API
Table Saws vs. Handheld Saws
It is easy to think that handheld saws are more popular because they're more versatile tools to have in the workshop, but the opposite is the truth. Any experienced woodworker will tell you just how important it is to have a table saw in your workshop. Why is this, you ask?
Table saws make easier work of rips and crosscuts compared to circular saws, for instance. Using a table saw for these types of cuts takes less effort, is quicker, and yields more accurate results.
Table saws are generally more accurate cutters. Since the material being cut is first placed on a table, it is easier to keep the cut straight and accurate. Table saws can be used with a variety of blades, a rip fence, or even a miter to improve stability and cut accuracy.
Most table saws come with sawdust collectors, but even those that don't are not too messy to work with because all the dust goes in one direction.
Table saws are easy to maintain. Yes, they are large tools, but most of them simply need the occasional blade change to stay in good shape. Heck, some of them even come with easy blade replacement systems to make that job easier.
That being said, table saws are not without their shortcomings. They are stationary, for one, so moving them from place to place isn't always easy. Secondly, they are considerably more dangerous than other power tools because they always have an exposed blade. Thirdly, table saws are generally not cheap. There are some affordable selections here and there, but none of them are as cheap as the average handheld saw.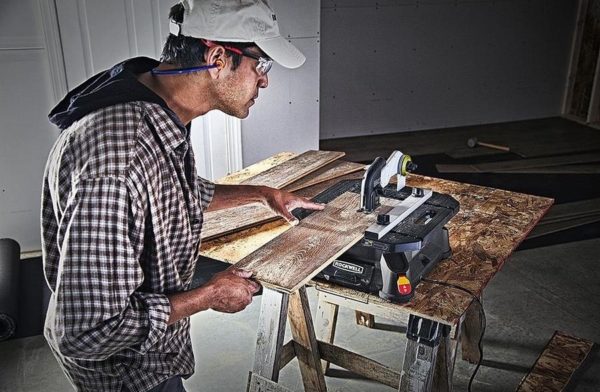 Mind Your Blades
Different types of saw blades produce different types of cuts. One way to know whether you're using the wrong blade for the job is to check the quality of your finished pieces. Are you constantly rubbing down rough edges? That's because you're probably not using the right blade.
There are four types of saw blades you can use with a tabletop saw. First, there's the alternate top bevel (ATB) blade, which has angled teeth across the top edge that are interrupted by the occasional tooth angled in the opposite direction. ATB blades are great at cleanly slicing wood fibers, but the steeper the angle of the teeth, the quicker they become dull.
The next is the flat top grind blade (FTG), which has square-edged teeth that work very much like a chisel. These cut fast and are quite durable, but only produce rough cuts. Nevertheless, FTG blades are great for ripping (cutting wood against/ perpendicular to the grain).
Combination blades are also known as ATBR blades, and that's because they're basically ATB blades with raker teeth at certain intervals. These excel at both crosscuts and ripping, which is why they're usually dubbed all-purpose blades.
Triple chip grind (TCG) blades feature alternating raker and chamfered teeth. This blade is designed this way to cut through denser materials like Corian, brass, aluminum, and plastic laminate. The chamfered teeth are designed to cut quickly but roughly, leaving the raker teeth to smooth out the cut and finish the job.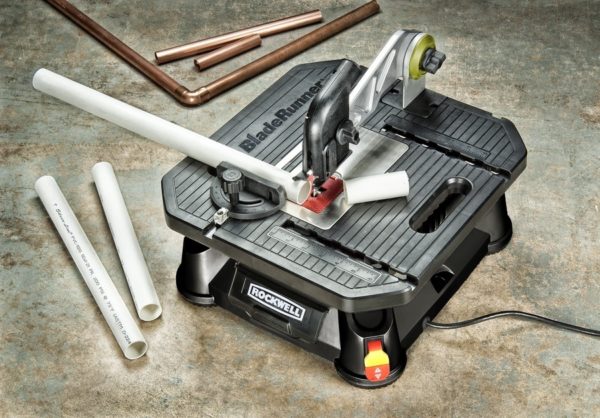 What Matters When Buying a Table Saw?
Saw Blades
While blades are usually classified based on the number and angle of their teeth, this is not the only criteria in use. Kerf size, diameter, arbor size, maximum speed in RPM, and blade material are also important considerations.
The majority of table saws have blades that are either 10 or 12 inches. Some can have blades as small as 5 inches, while others are compatible blades measuring up to a foot.
When it comes to blade teeth, the general rule is that the more teeth a blade has, the cleaner it can cut through materials. A blade can have between 24 and 80 teeth. Those on the lower end are great for fast, rough cuts, and those with more teeth are ideal for making clean cuts.
There's also the subject of blade tipping, which usually comes up when a saw is used to cut through materials other than wood. Today you'll find carbon-tipped, carbide-tipped, or diamond-tipped blades in saw blades designed to cut through plastic or non-ferrous metals. Your choice here will ultimately be influenced by the size of your budget.
Motor/Power Requirements
How much power do you need in the workshop? If you mostly cut through thin sheets, a 2hp motor is quite sufficient. Any thicker and you'll need a motor that's capable of producing at least 3hp, and at best 5hp.
Such high-power motors usually operate on 240V, while their low-power compatriots operate on 120V circuits. Take these factors into consideration before buying a table saw.
Miter Gauge and Fence
Cross cuts or any type of angled cuts are impossible without a miter gauge, which is why you'll need to ensure that your table saw has a decent one. A miter gauge is an essential table saw component, and so is the fence.
Some table saws are better than others simply because they have a better fence. T-square fences are common, but they're also robust and provide decent accuracy levels. It is the quality of the T-square fence that a saw comes with decides how well it can make rip cuts.
Safety Features
We mentioned earlier that one of the downsides of using a table saw is that it is quite dangerous because it has an exposed blade. You don't want your hand lingering mere inches away from a sharp blade that's spinning at thousands of rotations per minute without adequate safety measures, especially with the kind of kickback you'll be dealing with.
Look for a table saw with safety features like anti-kickback mechanisms, splitters, riving knives, and blade guards. Some saw tables can have even more advanced safety features. Pick the saw table with the safety features that you need the most.
Accessories
A table saw can be made more efficient with the right accessories. Dust collection systems, onboard blade storage, wheels with adjustable tilt and height settings, and other accessories can drastically improve the table saw's functionality.
If you're wondering which upgrades to make first, get better blades (a series of them to cater for all your cutting needs), a router table, molding heads and jigs, and maybe a crosscut sled. Some accessories are purpose-related. For instance, there are extensions you can get if you want a longer rip capacity. Dado blade sets also increase the functionality of a table saw.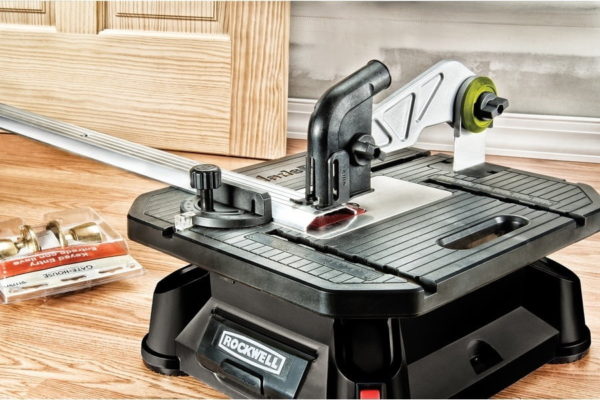 Rockwell Table Saw Bladerunner X2
The Rockwell table saw Bladerunner X2 is a portable tabletop saw that's affordably priced despite being full-featured. Perfect for both contractors and avid DIYers, the Bladerunner X2 is a powerful yet easy to use machine. Is it what your workshop needs? Read on to find out.
Rockwell Table Saw Pros & Cons
Pros
Pros
It is very affordable; it is priced just above the $100 mark;
It is small and very light; its construction features plastic and steel;
It is quite powerful; a 5.5amp motor powers the saw, producing 3,000 strokes per minute
It comes with a 5-piece blade set that comes with blades for all types of cuts
Cons
Cons
Though it is durably built, don't expect to get away without damage if you accidentally drop the unit.
Plastic doesn't handle a lot of blunt force
How durable is it?
The word that comes to mind when the durability of the Bladerunner X2 comes into question is "surprising." Why are its users surprised about how durable it is? Well for one, the table saw is made almost entirely out of plastic. Only the centerpiece is made from stainless steel.
Is it as rugged as, say, a contractor saw? Not necessarily. But will it handle jobs in rugged environments like the best of them? It most certainly will. This is not a saw that's designed to give up easily.
Motor/ Power Requirements
Under the hood, the Bladerunner X2 packs a 5.5amp motor capable of up to 3,000 strokes per minute (no-load rating). It operates on 120V circuits, so finding a place to plug it in shouldn't be too hard.
Is this enough amperage to handle your woodworking tasks? Like we said earlier, you need only about 3hp to power through most cutting tasks. A 3,000-stroke-per-minute engine packs more than enough power to see you through most of your projects.
Is it Easy to Use?
What will you love the most about the Bladerunner X2? It's a hard question no doubt, but it's hard to think of a better feature than its ¾-inch motion range jigsaw blade, which cuts through even two-by-fours with ease.
The table saw also has a ripping fence that can be adjusted within a 6-inch range, and a miter gauge that runs from 0 to 60 degrees. Miter cuts like trim work are decidedly easier on the X2 because of this. And because you're already getting a jigsaw blade, making scrolling cuts with this table saw is also a possibility.
It's also worth mentioning that switching blades is really easy with the Bladerunner X2. All you need to do is loosen the arm in the back then push a button on the side, and the blade pops out. Putting in a new blade is even easier – just slide it in and release the arm/lever.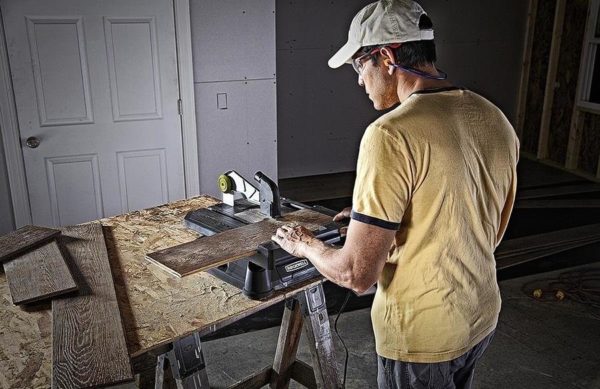 Key Features
1. Quick Blade Change Mechanism
The Bladerunner X2 comes with 5 blades. Switching these up must be a hassle, right? Wrong. It takes just 3 seconds to switch from one blade to another. You can go from cutting wood to cutting plastic or tile or aluminum in 3 seconds flat with the table saw's blade changing mechanism.
The blade change is facilitated by pulling a lever on the back of the saw (it's hard to miss really) and pushing the button on the side. No tools, no hassle. Just quick and easy blade replacement.
2. Vacuum Port
Let's face it, no one likes dealing with sawdust at the workshop. The Bladerunner X2 makes sure that you never have to because it comes with a vacuum port. All the dust goes in one direction, giving you a clear line of sight and keeping your workbench tidy (for the most part) so that you don't have to clean up after every single cut you make.
3. Cut Capacity
The Bladerunner X2 has a maximum cut capacity of 1 ½ inches for wood, 1 ¼ inches for plastic or PVC, 3/8 inches for aluminum and ceramic, and a 1/8 of an inch for steel. For most domestic applications and professional construction jobs, it is a formidable saw to have.
You're also able to make very difficult cuts with the Bladerunner X2 thanks to the motion range jigsaw blade, which outperforms circular saws in a lot of areas.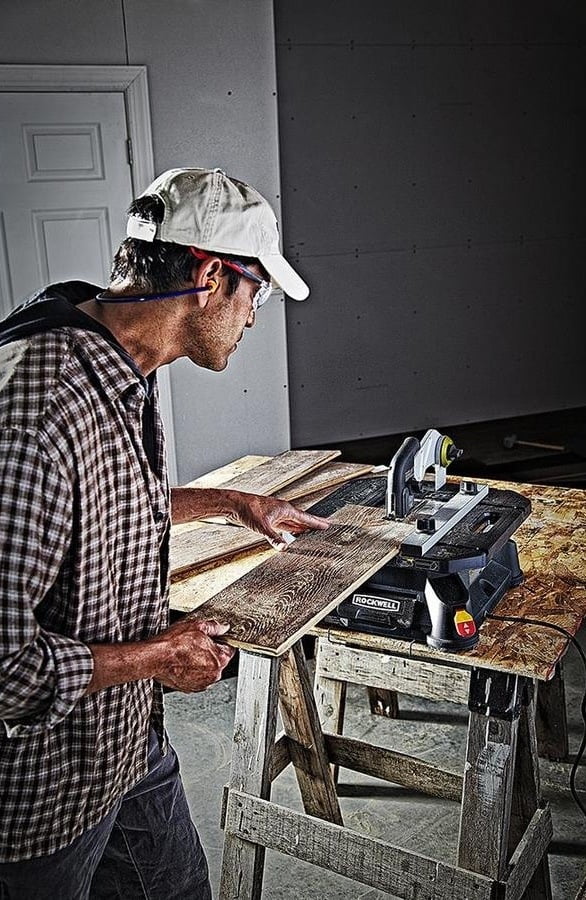 4. Lightweight Build, Improved Rip Fence
The Bladerunner X2 only needs 17 inches by 15 inches of space, so it's not a space hog by any stretch of the imagination. Its lightweight construction makes it a joy to travel with since it neither takes much space nor is it easy to lug around.
The rip fence has also been improved to facilitate wider cuts. That plus the enhanced hold-down guard and spitter greatly improve the saw's control when cutting through larger materials.
You'll have plenty of working space with its table, which measures 15 ¾ inches by 17 inches.
5. Blade Type
Every Bladerunner X2 table saw comes with four 4" T-Shank blades, each for different types of cuts. This gives it greater accuracy when making cross cuts, scroll cuts, miter cuts, and rip cuts.
At this price point, getting a saw that can do it all is a steal. If one of your blades needs replacement, any 4" T-Shank will do the trick.
The Bottom Line
Is the Bladerunner X2 a table saw you should consider?
Whichever way you look at it, the Bladerunner X2 is a decent table saw. Maybe it isn't everything a professional would want, but for the hobbyist and weekend warrior, it is not a disappointing piece of equipment whatsoever.
Last Updated on February 5, 2020 by Tom Bradly