Hitachi C12RSH2 Review: The Best Sliding Miter Saw in the Market?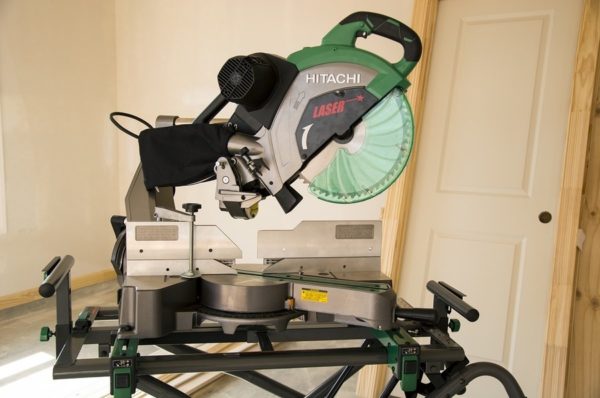 Sliding miter saws are an essential tool in a wood worker's shop and the Hitachi C12RSH2 is one of the best you can get. These saws enable wide crosscutting on boards (up to 12 inches) while offering all the conveniences of non-sliding saws. You can find sliding miter saws with a variety of blade sizes between 7-1/2 inches and 12 inches. Because of the endless list of options in the market, it can be a difficult task finding the right saw.
I am a veteran woodworker that can't put down his tools. I cherish nothing more than to escape to my workshop and set up some hardwood and start shaping it with a reliable miter saw. Through the years, I have seen saw models come and go. Finding a sliding miter saw with a higher cutting capacity, smooth sliding, and great bevel cut at a great price hasn't been easy.
I have always put myself out there, testing many new saw that hits the market so that I can provide the best Hitachi C12RSH2 review possible. I must be a perfectionist because my sliding miter saw track record is full of disappointments. Either one was too growly, another one had loose blade guards, or the bevel adjustment was too complicated in another, and the list goes on and on. To keep my budget from going through the roof I had to formulate a way of finding the best sliding miter saw that would solve my problems once and for all.
Hitachi C12RSH2 15-Amp 12-Inch Dual Bevel Sliding Compound Miter Saw...
Hitachi Power Tools has renamed to Metabo HPT; Same great tools, with only a new name
Compact slide system allows the saw head to slide along fixed rails, for zero clearance. Laser Marker System from Hitachi increases cutting accuracy
Max Cutting Capacities (HxW) 90 Degree Cross Cut 4 to 3/16x12 ,1/4 inch or 4 11/16x10 3/16 inch. 45 Degree Miter (L/R) 4 3/16x8 5/8 inch or 4 11/16x7 1/16 inch. 45 Degree Bevel (L) 2 3/4x12 1/4 inch...
Last update on 2020-03-28 / Affiliate links / Images from Amazon Product Advertising API
Factors to consider when buying a sliding miter saw
Larger cutting capacity, affordability, and low maintenance are some of the defining factors in the right sliding miter saw.
Blade size
Blade sizes are of critical consideration for all professional woodworkers.  There are varying sizes of blades in miter saws. Typically, blade sizes range between 8 and 12 inches.  A compound sliding miter saw with a larger blade size will allow you to make longer cuts. More teeth are good for accuracy.
Stops
Before you spend money on any miter saw, think about the positive stops. They are the defining actors when it comes to the accuracy of cuts at different angles. Stops aid to lock the saw in position. The best compound sliding miter saw should have stops at 0, 15, 30, and 45 degrees. It would serve you well if the stops go both left and right.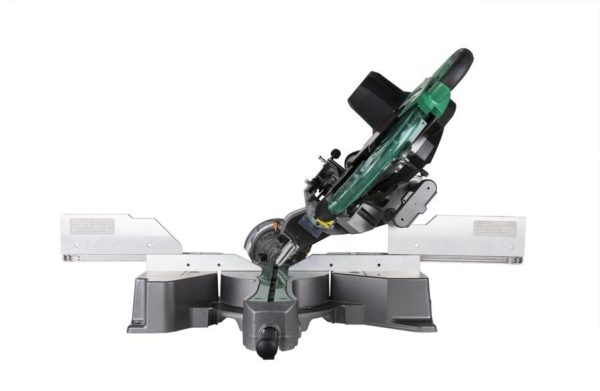 Bevel tilt
Different compound sliding miter saws have different abilities to tilt for bevel cuts.  Some models can only tilt in one direction while others can tilt both left and right. Find a saw that allows making bevel cuts in both directions by tilting at 45 degrees.
Brakes
For increased safety when working, find miter saws that feature electric breaks. These brakes help to cut the flow of power instantaneously when you power off the machine. Without this feature, the saw blade would continue running even after you stop cutting. It's a safety risk, and it can also result in accidental cuts that will destroy your designs.
Similarly, a compound miter saw that features a blade guard is also much preferable.   Find a miter saw whose blade guards can retract so you can see where the cutting line is. That would help to maintain the accuracy of the cut.
Dust collection
A clean working environment will improve your woodworking experience. The dust emanated from the sawing action can be a health risk. The best sliding miter saws come with a dust collection bag at the back of the blade.
Laser guiding
If you handle projects that require extremely accurate cuts then you will need a miter saw that comes with a laser guiding system. The system shines a light on the wood material where the blade would cut when lowered. That will help you to know where the cut is going to be made and how to adjust it in case of errors.  Nonetheless, it would be challenging to see laser beams in bright daylight, so such miter saws are suitable for indoor working.
Accessible bevel controls
Most sliding miter saws tilt in both directions and use a lever or knob at the back for controlling the tilt.  The best quality miter saws would have the bevel controls at the front of the slide handle for easy access when needed.
In-Depth Review of the Hitachi C12RSH2
I was elated when the Hitachi C12RSH2 hit the market. I had had a better experience with the classic C12RSH that was discontinued.  Overall it has high ratings but it comes with its flaws as well.
Hitachi C12RSH2 Pros & Cons
Pros
The Hitachi C12RSH2 miter saw features a compact slide system that removes the need for rear clearance.
The sliding fences are high at 5-1/8 inches so that you can cut materials up to 7-1/2″ vertically.
The added laser guiding system improves cutting accuracy.
It's a powerful compound sliding miter saw that runs on 15 Amp motor – this enables it to handle all tough jobs.
It has positive stops on both directions, between 0 and 57 degrees to the right and 0 and 45 degrees to the left as well.
You can cut 0-45 degree angles on both directions- you only have to flip the blade and not turn over the material.
The miter saw has positive stop indications for quick measurements.
The carbon brush is accessible and replaceable for the longevity of the miter saw.
Comfortable handle for working all day.
Cons
The Hitachi C12RSH2 Miter saw is bulky and not portable.
The slide system is not that smooth.
The blade tends to run the throat plate at full bevels.
The laser guide can disappear behind the guard when cutting.
The bevel stops can slip if you don't tighten it down.
The blade guard makes achieving full bevels in both directions problematic.
Ergonomic handle
When I first got the Hitachi C12RSH2, what stood out for me was the vertical handle. It turns out that like in this model's predecessor, the handle design is highly ergonomic. You will find the vertical handle to be incredibly comfortable even on prolonged hours of use. It also dampens the sawing vibrations to a greater extent. Its vertical design is an acquired taste, but it is more suitable for natural and effortless motion. It is an ambidextrous handle, meaning you can work with both arms for more flexibility.
Speed and cutting capacity
The 15-amp motor running on 120 volts will produce a speed of 3,800 RPM. This speed and the blade's cutting capacity makes this saw a multifunctional machine that can work on different materials including tile, masonry, and plumbing apart from wood.
The Hitachi-C12RSH2 saw has a 12″ blade that together with the sliding head, delivers superb crosscutting capabilities. The sturdy blade has 80 teeth and can cut through hardwood and softwood with ease. For denser material, you might need to get a more rugged blade. You can cut a 12-1/4 inch width board at 90-degrees and 8-5/8 inch at a 45-degree miter.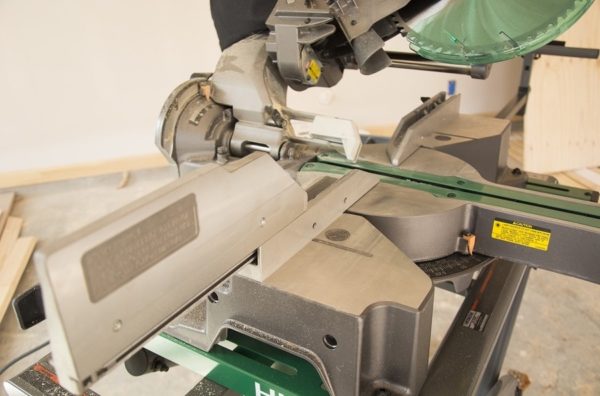 The fact that the dual bevel can shift 45 degrees in all directions simplifies operations with this saw. You will not have to flip the wood over on one side when cutting different ends of the material. However, the 45 degrees bevel cuts can be a little limiting because most wall corners are not always square.
The right positive stop can adjust to 57 while the left can move to 45 degrees. You can work from the right side of the blade to achieve deeper custom angled cuts. The adjustable positive stops and depth stops are inbuilt into the compound miter saw. These stops will make your job even much more uncomplicated.
These positive stops improve the accuracy of your cuts; you will be able to make adjustments without changing the settings. There are also clear indications on the bevel scale and the miter to keep you alerted at all times.
Space and stability
Another feature most woodworkers would find attractive on the Hitachi C12RSH2 Miter saw is the zero-clearance rail system.  The significant advantage here is that you can place the saw as close to the wall as possible.
The saw has a small radius of usage. It doesn't take up much space, enabling you to make long cuts without needing more space for the machine. You will find this feature most desirable, especially if you need more cutting power in your small workshop. The saw also features a stable stand that can manage to support 400 pounds, so you can expect a steady balance.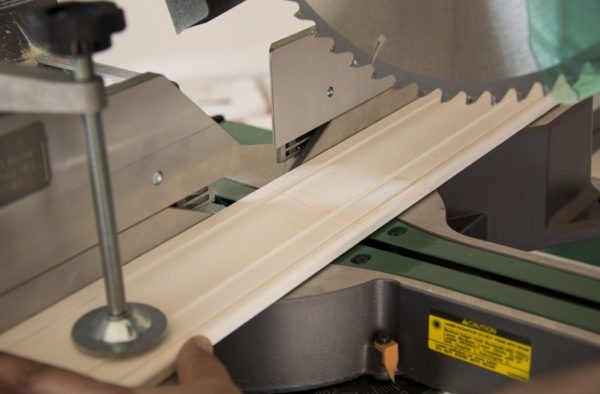 Bevel lock lever
The bevel-locking lever is at the back of the saw. That's a bummer, for you will need to place the saw a few feet from the wall.  It cancels the convenience of the compact sliding system which initially reduced the footprint of the saw enabling you to put it close to the wall.
Safety and accuracy
The Hitachi C12RSH2 miter saw is meant both for experts and those just starting out in their woodworking careers.  Features like blade guards and brakes improve safety. Hobbyists that are still honing their skills will mainly find the laser guiding system to be very convenient. This laser marker will enable you to make accurate cuts no matter the tilt angle or the density of the wood. This integrated feature is ready to use without initial calibration, a distinctive feature from other saws in the same class.
The powering motor
The Hitachi saw runs on a 15 Amp motor that delivers adequate power. This motor will enable you to handle all wood types with ease. I was able to cut through 8/4 crown molding like a breeze. Its performance is also superb on mid-range hardwood.
Nevertheless, the Hitachi C12RSH2 miter saw uses a brushed motor. The brushes are replaceable. For most woodworkers, this is a necessity, especially in projects involving thicker material.
Carbon brush
Another unique feature of the Hitachi C12RSH2   miter saw is that it allows users to access the carbon brush. In other miter saws in the market, this function may be nonexistent but the Hitachi saw does enable users to access the compartment and change brushes in the motor to extend is longevity.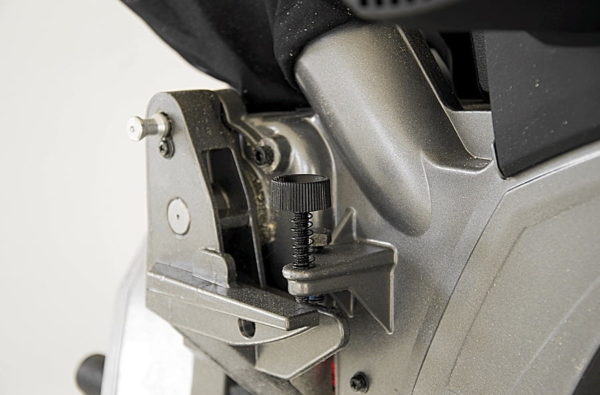 Dust collection
The Hitachi C12RSH2 miter saw has a dust collection bag and a port behind the blade. The dust extraction feature functions remarkably well. You will be able to keep your workplace clean and safe for longer before you have to empty the bag behind the blade. However, instead of relying on the dust bag alone, you can build a box around the dust bag to capture at least 70 % of the dust.
The sliding system
The Hitachi C12RSH2 features fixed rails that slide forward on the blade guard. The attached bearing assembly enables a smooth sliding of the head on the tracks. Unlike in other miter saws where the rails extend to the back of the saw, the Hitachi's railings are compact. You will find that very helpful in the situation where you are working small space. The saw's movement on the rails is smooth, helping to attain accurate cuts by minimizing head deflection.
Versatility and ease of use
The Hitachi C12RSH2 saw weighs 59 pounds.  It is not the kind of saw you can carry around from one project to another.  It is also most ideal for professionals who can put it to good use as opposed to DIYers that only store it for occasional use.
As an experienced woodworker, I was still looking for ease of use with my saws.  The Hitachi combines that ease of use with accuracy. You can make incredibly accurate cuts using the inbuilt micro-nob system. Setting angles and positive stops is easy.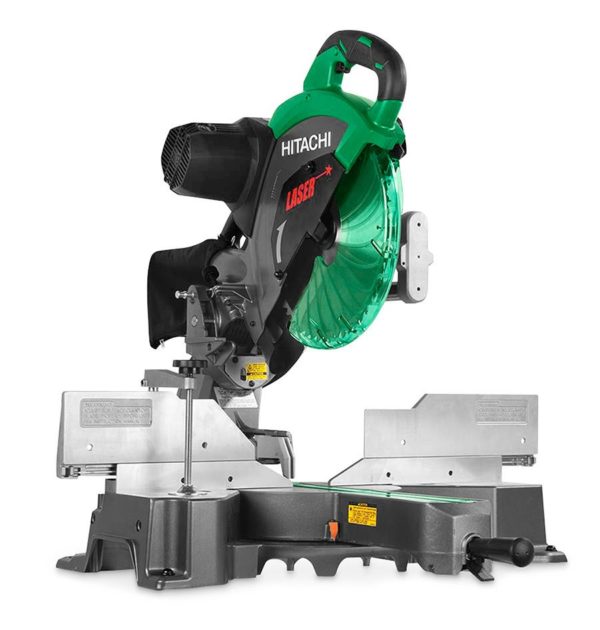 The bottom line
Making precise angled cuts requires woodworkers to get the right miter saw. Without the right saw, you will have to continually adjust the material during beveled cuts, which can be very frustrating.  Among the key factors to consider in the right compound sliding miter saw includes blade size and speed, bevel stops and positive stops and other features such as user-friendliness, dust collection and safety.
The Hitachi C12RSH2 is a highly functional miter saw for both beginners and professional woodworkers. The slide system works smoothly, and the adjustments are simple to execute. The design is user-friendly, from the bevel adjustment knobs to the laser marker and positive stops. This miter saw is designed for precision and durability; vocabularies that most woodworkers love to hear.
Last Updated on