Dewalt DW713 Portable Compound Miter Saw – Review & Buying Guide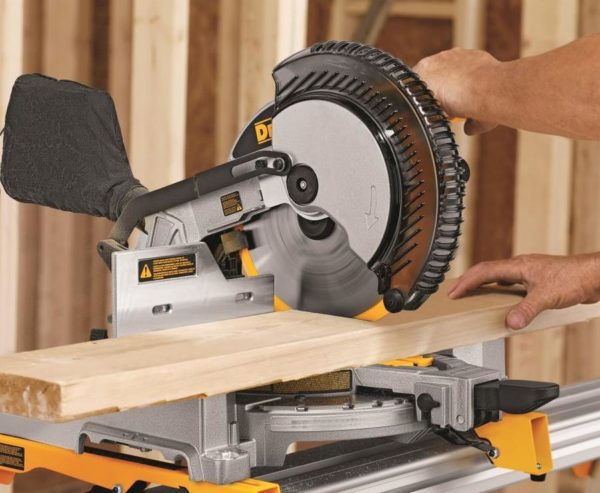 As useful as a miter saw can be in the workshop, it's good to remember that they don't come cheap. Miter saws let us do a lot more with wood by facilitating highly accurate angled cuts. If you're making anything that involves an angled cut, chances are that you need a miter saw to do the job right.
Saws like the Dewalt DW713 miter saw are commonly used in the creation of jointed objects like picture frames and furniture, so if your line of work involves cutting wood edges to make them fit together, this is exactly what you'll need.
Before we say any more about the DW713, let us first see what you need to do when buying your first miter saw.
DEWALT 10-Inch Compound Miter Saw (DW713)
15 amp, 5,000 rpm motor delivers extended power and durability for the 10-inch miter saw blade
Stainless steel detent plate with 11 positive stops of the mitre saw provides repeatable accuracy and jobsite duability
Tall sliding fences of DEWALT miter saw support crown molding vertically 4-1/2-inch and easily slides out of the way for bevel cuts
Last update on 2023-06-06 / Affiliate links / Images from Amazon Product Advertising API
What You Need in a Miter Saw
The Right Blade
Miter saws typically come with either 10 or 12-inch blades. Unless your job specifically demands the use of a 12-inch blade, you'll find that a 10-inch miter saw blade is usually enough.
10-inch blades cost less both to buy and maintain. Since they have fewer teeth, sharpening such blades is not a costly expense. Their smaller radius is also good for something — it makes them spin faster using fewer amps, therefore saving more energy.
The only reason you might need a 12-inch blade is to make longer cuts. When working with thicker materials or taking on huge jobs (like building decks), a 12-inch blade makes a lot of sense. However, using a larger blade means you need more power per spin since it has a larger radius.
Sliding Vs. Compound Miter Saws
What is the difference between sliding miter saws and the compound miter saws?
A compound miter saw like the DW713 can only pivot to the left and right to facilitate angled cuts. A sliding miter saw, on the other hand, is capable of moving forward and backward as well. Which one is better?
If your work doesn't go beyond cutting wood in angled planes, then a compound miter saw should be enough. Sliding miter saws come in handy when you need to make a cut longer, such as when cutting thick logs and lumber. In a sense, they're better equipped for heavier jobs.
Laser Guide
A laser guide can be more useful than you think. The laser simply marks the point where the blade will meet the wood, making it easier to adjust your settings before starting to make the cut.
If cut accuracy is of great importance in your line of work, a laser guide shouldn't be seen as a bonus accessory; it should be a must-have attachment for your miter saw.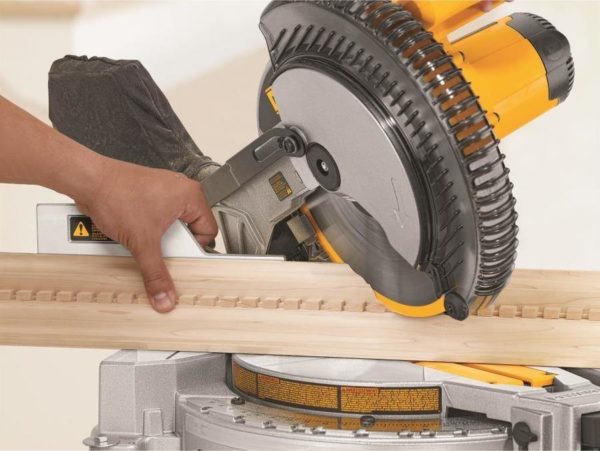 Why Picking the Right Circular Blade is Important
The only way to make the most of your miter saw is to use the right type of circular blade for every cut. The quality of your finished product is a testament to the quality of the equipment you've used, so don't expect excellent finishes if you only use one type of blade.
On the flip side, using the right circular blade has the following benefits.
Better Cuts
A quality blade not only delivers smoother, cleaner cuts, but it also cuts faster using less energy. A good blade can therefore greatly improve the efficiency of your equipment and the quality of your finishes.
Smooth Operation
If you care about your saw's motor, then it's best to use the right blade. This is because a quality blade runs more smoothly, demanding less from your miter saw's motor. If the motor is forced to expend too much energy just to spin the blade, then it is more likely to overheat. Anyone that's worked with power tools before knows that this is the quickest way to wear it down.
Safety
Working with any circular saw requires extra precautions because working with a sharp exposed blade spinning at thousands of rotations per minute is far from the safest way to spend an afternoon.
For that reason, always ensure that you use blades that are in good condition to ensure your safety and that of your equipment.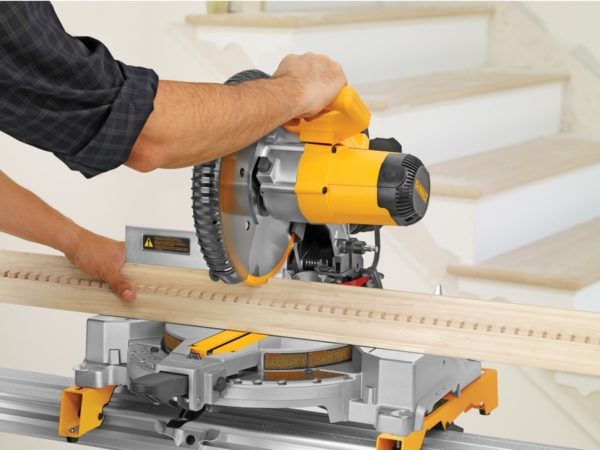 4 Things to Look for in a Good Miter Saw Blade
Your miter saw's blade plays the most important role in guaranteeing good quality finishes. Naturally, you should equip your saw with the best blade for the job if you want great results.
How can you spot a good miter saw blade?
 1. Manufacturing Style
The first thing you can do is check the manufacturing approach used in its creation. A blade can be made in one of two ways.
The first method is called stamping. This is where the metal is melted, poured into a round molding pan, cooled, then stamped out. Such blades are identifiable by the metallic ring and the vibration they give out when struck. What this means is that they're very resonant, and resonance is not a good attribute for a blade to have because it reduces cut accuracy and cleanness.
Apart from their tendency to ring when struck, stamped blades can also be identified by their expansion slot, which is a line with a small hole in the end.
Blades can also be laser cut from hard slabs of steel. These produce no ringing or vibration when struck. Their low resonance makes them very well suited to making fine, smooth cuts. A laser cut blade can be identified by its expansion slot, which looks like a very thin inverted question mark with no hole at the end.
 2. Tooth Count
Even though tooth count matters, it's not as crucial as some experts paint it to be. After all, every handyman already knows that fewer teeth make bigger, rougher cuts, and more teeth achieve the opposite. So what's ideal tooth count?
For ripping (cutting against the wood grain), a 24-toothed blade works best. The extra space between the teeth makes the blade capable of cutting out larger chunks at a time.
Cross cuts require blades with more teeth, and the recommended number is between 60 and 80 depending on the exact nature of the job.
Blades with more teeth are better for making fine cuts. The compromise is that they're not very well suited for making long cuts.
Combination blades address the areas where both ripping and cross-cutting blades fall slightly short by offering the best of both worlds. Any blade with around 40 to 50 teeth can be used for both crosscutting and ripping. However, even though it's more convenient to use when you're ripping and crosscutting wood in rapid succession, a combination blade does neither job perfectly. Its biggest advantage is its convenience.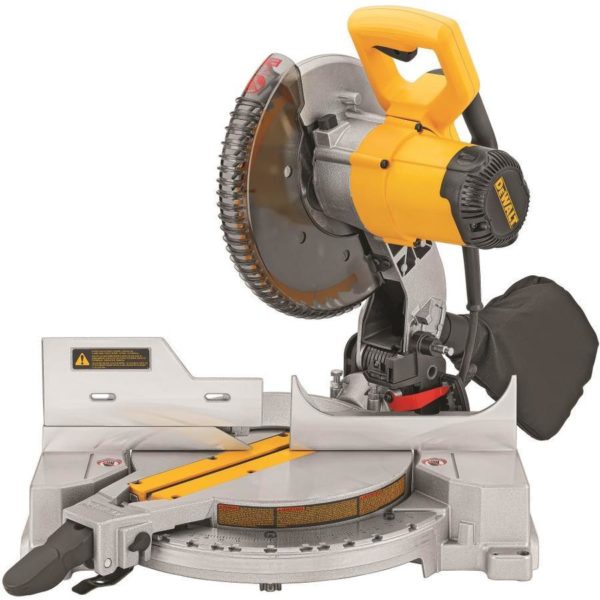 3. Hook Angle
The hook angle of a circular blade is the angle between its center and the edges of its teeth. Why is this important, you ask? Because positive hook angles give blades a tendency to bite into the wood more firmly, ripping out more material with every rotation.
 4. Tooth Geometry
The tooth geometry of a blade simply refers to the manner in which its teeth are cut. You'll find about five different types of tooth geometries in saw blades, the best of which is Triple Chip Grind (TCG).
The TCG tooth geometry is highly recommended because it provides the smoothest cutting flow whether it's used on wood, plastic, or ferrous metals.
The Dewalt DW713 10-inch Miter Saw Review
Dewalt has done a decent job with the DW713 miter saw, a power tool that's at home in both the professional's and the hobbyist's toolbox. Priced just above the entry-level circular saws, this 10-inch miter saw offers a mix of great features and functions, making it an absolute beast in the workshop.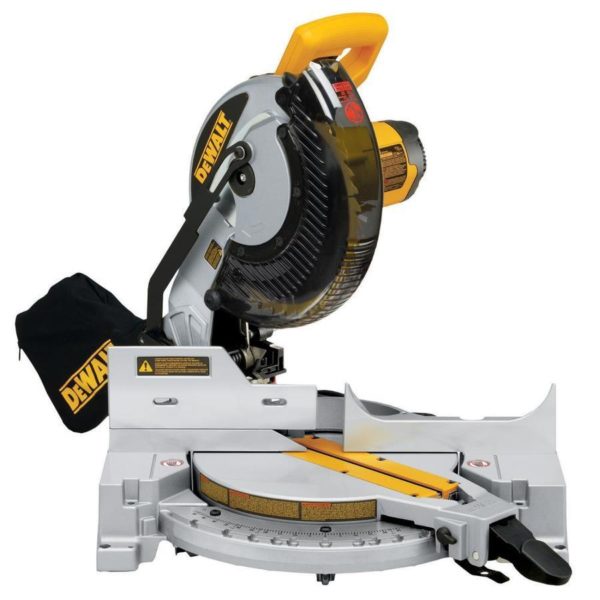 Why This Saw?
As a favorite table saw for thousands of handymen, what makes the DW713 so good at what it does?
Powerful Motor
Running on a 15amp motor, you can get up to 5,000 rotations per minute (no-load speed) with the DW713. Is this enough to power through any job? With the right blade, it can be. Framing, molding, professional quality miter jobs — you name it. The DW713 has enough power for it all.
Tall Sliding Fence
Crown and base moldings can only be cut properly if your miter saw has a good sliding fence. That's something to look forward to in the DW713, which features a decent sliding fence that can support vertical crown moldings of up to 4 1/2 inches and base moldings of up to 6 inches. Tall enough for larger cuts, very easy to adjust, and easy to slide out of the way when making bevel cuts.
Adjustable Detent Plate
The Dewalt DW713 features an adjustable stainless steel miter detent plate with the 11 positive stops. It is notably easier to set up as well, so that's good news for beginners. Dewalt were kind enough to add an adjustable cam-lock miter handle that lets you select miter angles quickly and accurately, and also perform a detent override without having the saw slip into the detents.
With a miter capacity that runs from 0 to 50, and positive bevel stops at 0 and 45 degrees, the DW713 is as versatile as they come.
Great Warranty
Perhaps the best value offered by the DW713 comes in the form of the warranty package. You get a 90-day full money-back guarantee, a 3 years limited warranty, and a year's worth of free service for every unit you buy.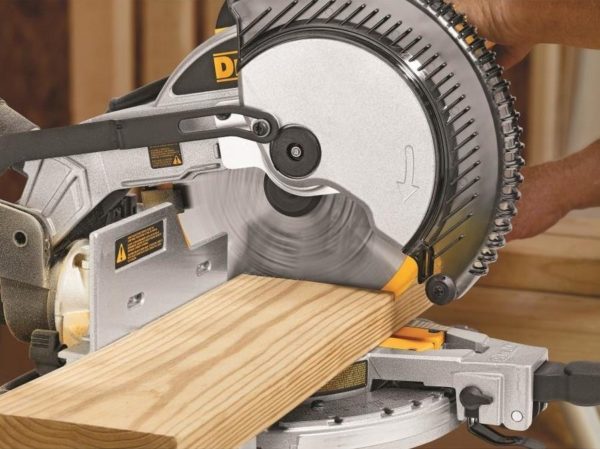 3 Things that make it a Must-Have
It is designed to be quick and accurate
If efficiency is your game, then the DW713 just might be the tool for you. We mentioned earlier that smaller blades are more efficient and less power-hungry, so you'll definitely see a difference in power consumption with this 10-inch miter saw.
The cam-lock miter handle also makes it easier to select miter angles quickly and accurately. A quick detent override feature is also a very welcome addition. It's good to be able to make quick adjustments on the miter gauge while the saw stays put (i.e., doesn't fall into the detents).
The 15amp motor makes quick work of most cutting jobs. 5,000 RPM isn't anything to scoff at, and whether you need power or speed, using the right blade can give you either in abundance.
Makes Great Bevel Cuts
In addition to positive bevel stops at two of the most common angles — 0 and 45 degrees — the DW713 is capable of facilitating bevel cuts between 0 and 48 degrees to the left, and 0 and 3 degrees to the right. The increased bevel capacity is great for big jobs. It's nice to see a miter saw that can make 45-degree bevel cuts cleanly through dimensional wood of up to 2 inches by 6 inches.
Compatible with Dewalt Guiding Laser
The icing on the cake is definitely the DW713's compatibility with Dewalt's DW7178 adjustable miter saw laser system, which you can buy separately.
A little extra accuracy never hurt anyone, and you'll certainly appreciate being able to make precise cuts every time.
Dewalt DCF885 Pros & Cons
Pros
Pros
Has a good, solid fence, which is great for molding cuts
Easy to adjust degrees
Has a very accessible vacuum port
Makes very smooth and accurate cuts
Easy to recalibrate
Comes with a dust bag
Cons
Cons
Out of the box, it needs a lot of calibration
Bottom Line
With a reliable build, a powerful motor, and great overall functionality, the Dewalt DW713 Miter Saw is a great tool and an even better investment to make in the long term. It has the right balance between usability and functionality, bringing to the table features that would make any first time user feel like an expert.
As powerful and handy as it is, the highlight of the DW713 is its ability to make very accurate cuts right out of the box. Granted that a bit of calibration is necessary before it is ready to work, it still has exceptional accuracy that can be further improved by adding a laser guide.
The DW713 might be a bit on the expensive side for weekend warriors, but don't let that stop you if you want a tool that you can rely on for years to come. For professionals, it is almost as good a miter saw as any handyman could wish for, and a wise investment that pays for itself in time.
Last Updated on February 5, 2020 by Tom Bradly