WEN 3962 10-Inch Review: A Buyer's Guide to the Best Bandsaw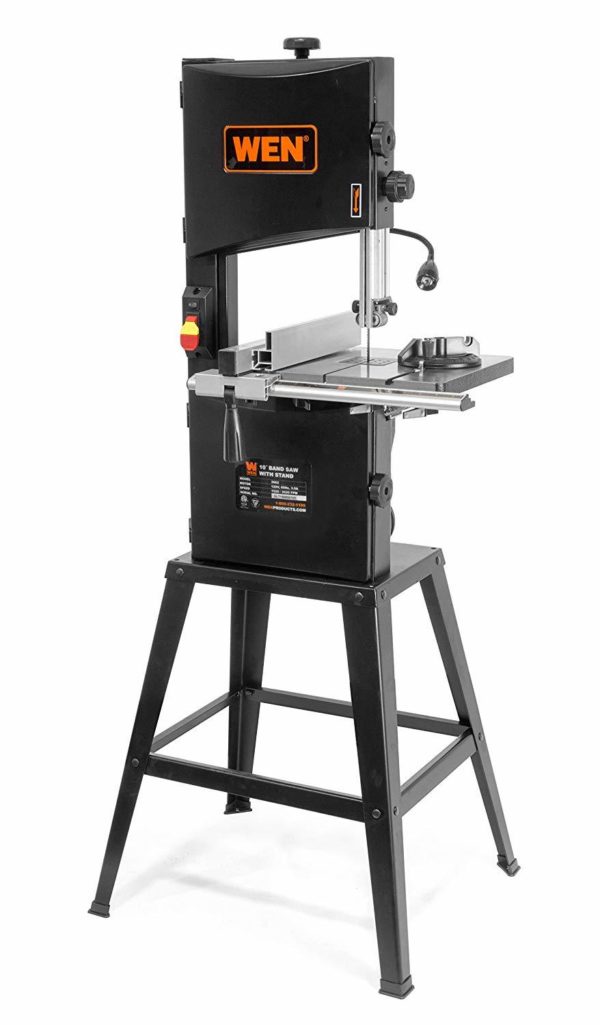 The market is flooded with many power tools, making it so difficult to find a saw that matches your exact requirements. It is even more complicated for new beginners, who always have to make compromises and hard choices when it comes to quality and price. There is the risk of investing in a tool that ultimately turns out to be the exact opposite of what you expected. We have all been there.
I am a hobbyist woodworker, and carving is a discipline that pumps fresh life into my veins after days of being a desk jockey. When I first started, the main challenge was finding the right saw for sculpting iPad docks, coffee holders, wall art and other household items. High cutting capacity and ability to make accurate bevel cuts were the main qualities lacking in bandsaws I tried back them. The Wen 3962 10-Inch was not in the market yet, but it would have made a big difference. I had to address the situation because the beauty and functionality of my pieces depended on it.
Last update on 2023-06-02 / Affiliate links / Images from Amazon Product Advertising API
Things to Consider When Buying a Bandsaw
Before spending your hard-earned cash on any bandsaw, there critical factors to consider, top among them include:
Your intention
How do you intend to use the saw you expect to buy? For light woodworking, moderate cutting power is ideal. It would also save you the costs of finding a large bandsaw whose cutting capacity you will not fully utilize. For bulky and industrial woodworking, you will need a saw with a powerful motor and sharper blades.
Blade sharpness
Blade sharpness in bandsaws is rated as teeth per inch (TPI) or points per inch (PPI). Blades with more sets of teeth will give you a more precise cut. That's especially a factor to consider when you want to avoid chipping on your workpieces.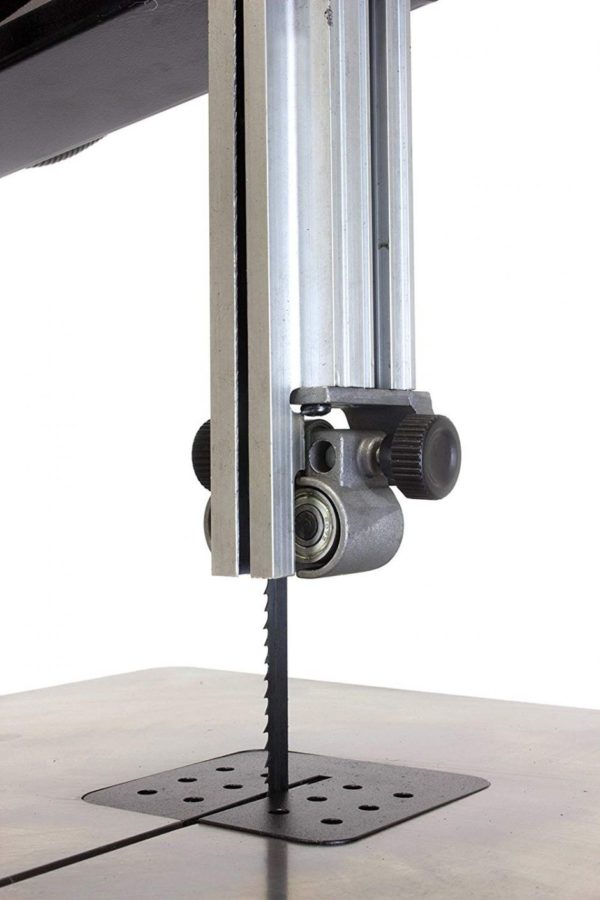 The type of motor
¾ HP is the minimum ideal in a bandsaw motor. You will, however, need a powerful engine to keep your unit working sufficiently in the face of hard materials. For thicker stock, you will need at least a 1 HP motor. If the motor power is less than expected for a given material, you will end up with inaccurate cuts that take frustratingly long to achieve.
Frame and base
You will find that your bandsaw has either a welded steel frame or a cast iron frame. A welded steel frame is preferable for it is studier and absorbs more vibration from the sawing action. Also, consider shopping for a saw that comes with a sturdy base to control the vibrations.
Riser blocks
If a bandsaw lacks in thickness, (the distance from the table to the upper guide assembly), manufacturers often include a riser block.  Riser blocks are added to the frame between the table and the upper guide assembly where it adds some extra inches of thickness capacity.
Table tilt
It is possible to make bevel cuts on a bandsaw. However, not all models come equipped with this functionality.  When shopping for bandsaws, find one that uses a table that tilts. That helps to achieve bevel cuts in one or both directions.  It is also worth noting that the depth of cut often lessens when a table tilts in one direction. You will have to flip over the workpiece to finish the angular the cut.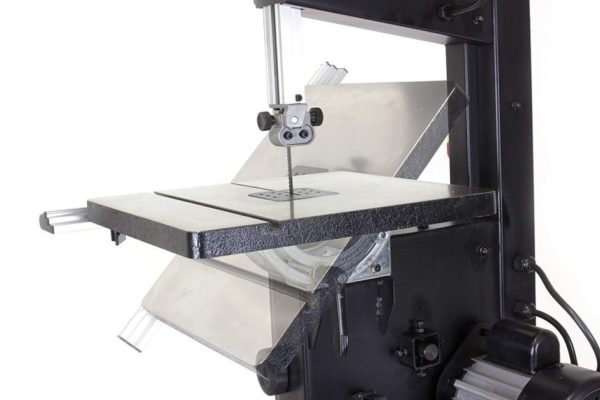 Switches and Tensioning Knobs
For an easy task when it comes to changing blades, find saws with column mounted switches. Also, the tensioning knobs will work well if they extend over the top wheel housing.
Dust collection
Dust collection bag and ports in a bandsaw are thoughtful features that not many models have. They can be an essential buying decision point too, mainly because dust coming in the way can make it impossible to maintain accurate cuts.  For projects, if medium intensity, a 2-1/4-inch dust port attached to a shop vacuum will be useful enough. For more significant projects, a bigger dust collection bag is preferable.
The Wen 3962 10 Inch Saw Review
The Wen 3962 10 Inch bandsaw is a standard table saw for DIY and light professional tasks. The saw is known to be highly maneuverable and more suitable for curved cuts. The WEN 3962 is a two-speed bandsaw coming with a stand and LED work light. The saw has a full table surface that is ideal for the weight of the whole sawing machine. Alongside that is a considerably high powered 120 volts motor.
WEN 3962 Pros & Cons
Pros
Pros
A powerful 3.5 amp motor that can manage to cut 6 inches deep and 9¾ inches wide
Versatility in speed- you can set it at 1,520 or 2,620 feet per minute (FPM)
It enables 45-degree bevel cuts
Spacious and sturdy table if dimensions 14⅛ by 12½ inches.
Cons
Cons
The 9-3/4 inch width and 6 inch deep cuts are not ideal for thicker workpieces
The tension knob breaks off readily (it is plastic-made)
The blade and tilt are difficult to adjust and set up

The Design
The Wen 3962 Saw has a neat design that a beginner would find to be user-friendly. Most of its components are made of steel, aluminum and other sturdy metals for extended durability. Stability is also assured, thanks to the sturdy design as the stand that comes with the saw. The table minimizes wobbling during cuts so that you can achieve a high level of accuracy.
One can easily shape, cut and trim large wood pieces on the Wen 3962 10 Inch Saw because of its big work table. Professionals that need to saw large boards will find this to be a big convenient, minimizing downtime.
Safety
One of the major causes of saw injuries is kickback. This is when the blade hits an obstacle and boomerangs towards you. The stand that comes with the WEN 3962 helps to minimize kickback. The stand weighs 73 pounds, providing a solid non-shaky base during your cutting.  This feature will help you to keep your cuts straight with minimal skewing and warping. It is also a safety feature that prevents the blade from slipping on to you.
Blade type
Depending on the nature of your wooden projects, you need to find a bandsaw that has the right blade for the job. Wen 3962 10 Inch Saw uses a 3/8-inch blade (6 TPI). For small projects, this blade sharpness will help you to achieve accurate cuts. The saw is also compatible with all 72-inch blades between 1/8 and 1/2 inches in size.
Cutting speed
The Wen 3962 bandsaw gives you the versatility of two speeds. The motor either runs at 1,520 or 2,620 FPM.  You can set the lower speed for soft workpieces and the high speed for hardwood.  The 3.5 amp motor delivers sufficient cutting power on sturdy materials and large wooden loads without much of a struggle.
Cutting capacity
The Wen aw has a 9- ¾ inch throat size which is larger than what you will find in most benchtop saw models. The extra space eliminates the need for a riser block. You will be able to cut woods up to 6 inches thick in just one pass.
The aluminum fence that comes with the Wen 3962 bandsaw is strong enough to guide thicker wood pieces through the blade with very minimal variance. The accuracy is sufficient to divide the plies in plywood while maintaining the blade in the glue line.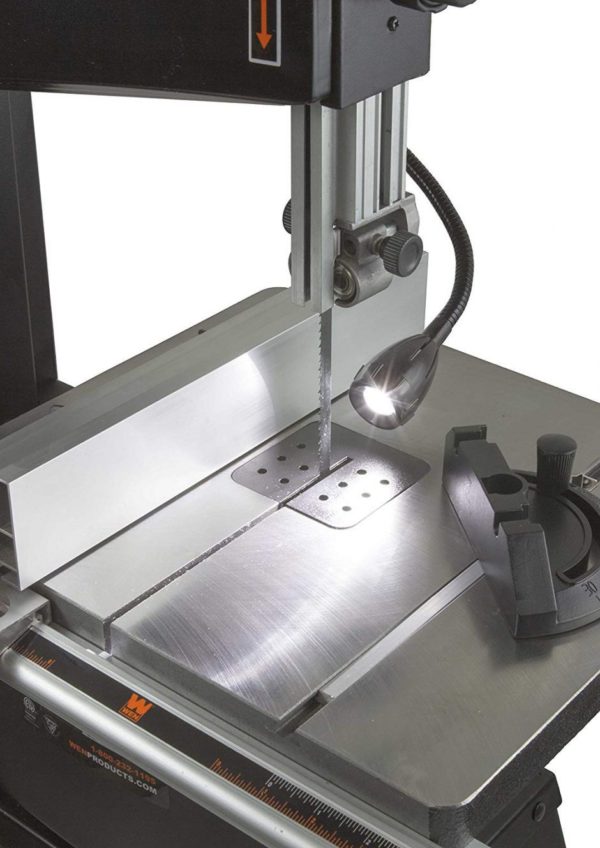 Bevel Cuts
The bandsaw enables bevel cuts from 0 to 44 degrees, 6 inches deep by tilting the 14-1/8 x 12-1/2-inch table 45° to the right. You will have to flip over the workpiece because the tilting is in one direction.
LED light
The LED light is another feature on the Wen 3962 that is not common on most bandsaws. It is a user-friendly addition that helps to light the workspace so you can cut accurately. You will be able to see everything on the worktable. That can be incredibly helpful in conditions of dim light. The one downside here is that the LED is attached on the back side such that it shines more in your face than on the worktable. However, the light extension is a little flexible, allowing room for adjustment.
Dust port
The Wen 3962 saw comes with an included dust port that offers 3-in-1 versatility for dust extractor hoses. You can use the 1-3/4 inch port, the 2-3/4 inches or the 4 inches opening to attach your shop vac.  This feature will enable you to keep dust under control with either a small or a large duct collector as your work demands.
Fence and miter gauge
Fence and gauge are standard pieces in all saws including bandsaws, but beware that there are models that come without them.  Even high-end table saws might come without cross-cutting abilities.  The Wen 3962, therefore, stands out among many models with a miter bar and adjustable head.  You can adjust this miter gauge when making angled cuts by aligning the head and the angel scale.
The fence and miter gauge on the Wen 3962 saw will enable you to achieve accurate crosscutting on a variety of workpiece sizes. 45-degree angle cuts will come out accurately. On the other hand, the fence will work to support the workpiece for straight cuts as you run it through the blade. It is often a desirable thing to keep the wooden piece in position as you work for accurate angle cuts.
Wen Reviews
From scouring through hundreds of user Wen reviews online, there is enough evidence of positive reception of the Wen 3962 saw in the market. Most users are tickled by the two-speed versatility and the work light, while for others, it is the powerful motor and cutting capacity of the saw that they appreciate. There flaws too, and users have pointed them out, but they weigh less than the pros of this power tool.
Last Updated on August 7, 2020 by Tom Bradly