7 Best Electric Staple Guns of 2020 – Reviews & Buying Guide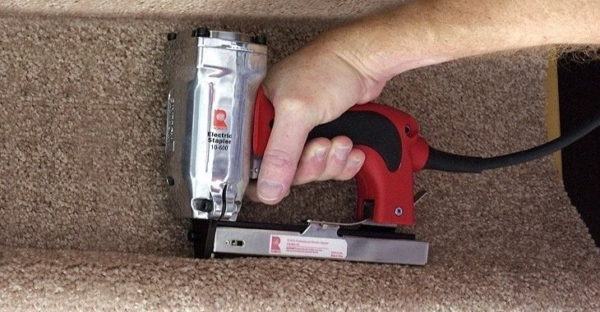 You can easily carry out a variety of chores around the house with a staple gun. Having one around is a good idea because staple guns are very versatile tools that you can use for fix-it chores and DIY projects.
When it comes to staple guns, though, most people prefer electric ones for doing their work around the house. There are good reasons for this choice of electric staple guns over the manual or pneumatic types.
For instance, electric staple guns don't need huge and costly air compressors, which pneumatic guns require. Pneumatic staple guns are frequently used by professionals for larger woodworking projects.
At the same time, electric staple guns are easier and faster to use than manual staplers. They have many more advantages as well.
Since you have an interest in an electric staple gun, this review will guide you through the necessary information you need to pay attention to so you can get the perfect tool with the right specs.
| Image | Product Name | Power Source | Staple Length | Weight | Rating | Current Price |
| --- | --- | --- | --- | --- | --- | --- |
| | 1. Stanley TRE550Z Heavy-Duty Electric Staple Gun | Corded | 1/4 – 9/16 in | 2.4 lbs | 4.0 | |
| | 2. Makita XTS01Z Cordless Electric Staple Gun | Battery | 1/4 – 7/8 in | 5.1 lbs | 4.1 | |
| | 3. Paslode 900078NT 16-Gauge Cordless Electric Staple Gun | Battery | 3/4 – 2 in | 6.3 lbs | 4.0 | |
| | 4. Arrow Fastener T50DCD Electric Staple Gun | Battery | 1/4 – 1/2 in | 2.6 lbs | 4.0 | |
| | 5. VonHaus 2-in-1 Electric Nailer & Stapler Set | Corded | 3/8 – 5/8 in | 3.2 lbs | 3.9 | |
| | 6. Roberts 10-600 Electric Staple Gun | Corded | 9/15 in | 7.3 lbs | 3.6 | |
| | 7. Air Locker U630E 2-in-1 Staple Gun | Corded | 1/4 – 5/8 in | 1.6 lbs | 3.6 | |
| | | | | | | |
Depending on your particular needs, you can also read other product reviews such as the best staple gun for upholstery, pneumatic staple gun, nail gun, and staple gun buying guide.
7 Best Electric Staple Guns – Reviews
1. Stanley TRE550Z Heavy-Duty Electric Staple Gun
Editor's Rating:

(4 / 5)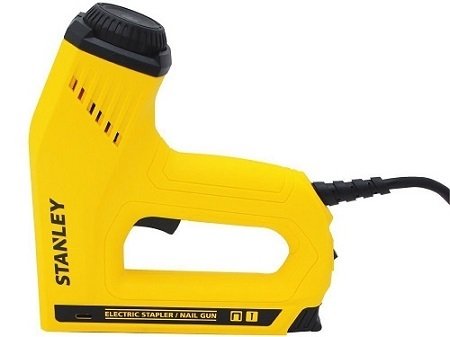 Power source: Corded
Staple length: 1/4 – 9/16 inch, narrow crown
Weight: 2.4 lbs
Stanley makes good staple guns, along with a number of other great tools and woodworking equipment. This product is yet another simple but efficient Stanley tool with outstanding driving power.
It is lightweight and compact and comes with sufficient power to work on most materials except the toughest hardwoods.
There is a Hi/Lo switch, which allows you to quickly select how much power you need for working with either hardwoods or softwoods. You also get a quick-jam-clear mechanism to save time and hassle. This feature will surely help you out when things get stuck.
You can use Stanley's Sharpshooter or Arrow T50 staples on it. It can nail brads as well, including 1/2, 9/16, and 5/8-inch lengths.
A contoured grip for comfort, a flush nose design for working in tight spots, and a lifetime warranty round off the features of this top-rated electric staple gun.
Pros:
The heavy-duty gun delivers impressive power
Offers a hi/lo setting for hard and soft materials
Comes with an eight-foot-long power cord
Fires both staples and brad nails
Cons:
It doesn't come with any accessories
Corded staple guns have their limitations
Some users have left reviews of the product dying without warning
2. Makita XTS01Z Cordless Electric Staple Gun
Editor's Rating:

(4.1 / 5)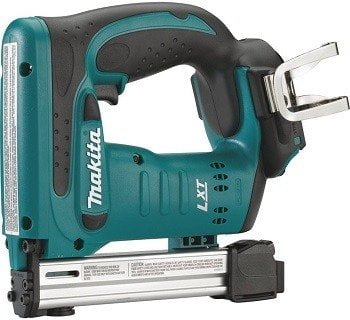 Power source: Battery power
Staple length: 1/4 to 7/8-inch, narrow crown
Weight: 5.1 lbs
This Makita cordless staple gun comes with all the technology you need to get your stapling work done in a quick and efficient way. It's fully cordless and powered by Makita's 18V LXT Lithium-Ion technology.
There is a rubberized grip to keep you comfortable as you work and cut down on hand fatigue. A simple knob adjusts the staple's depths as per your preference.
This staple gun is compatible with Arrow T50 staples, from 1/4 to 7/8-inch lengths. A convenient window on the side allows you to easily see how many staples you have left before you need to refill the tool.
Makita's batteries charge 3X faster than comparable brands. They also deliver up to 50% more runtime.
One disadvantage of this offer, though, is that it's for only the core tool at this price. You'll still need to buy a battery or two to enjoy this high-end electric staple gun.
Pros:
Compact and cordless; easy to use
Uses Arrow T50 or similar staples
High-quality and well-designed Japanese tool
Backed by a 3-year warranty on tool and 1 year on battery
Cons:
It's comparatively expensive
This offer is for the bare tool only
Some users have faced difficulty in finding the right staple size
3. Paslode 900078NT 16-Gauge Cordless Electric Staple Gun
Editor's Rating:

(4 / 5)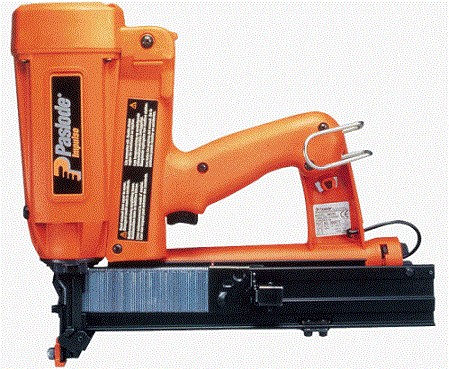 Power source: Battery
Staple length: 3/4 to 2 inches
Weight: 6.3 lbs
If you need a heavy-duty electric staple gun, this Paslode cordless stapler could offer the perfect solution for you. It's powerful and tough, with enough power to drive your staples into all kinds of wood without a problem.
Designed for staples ranging from 3/4 to 2 inches in length and with medium crowns, this gun is also comparatively lightweight at 6.3 lbs with the battery included.
You can set its penetration depth to get a more ideal outcome, with its small battery lasting up to 2,400 staples. The larger battery lasts even twice as long, so you have nothing to worry about.
The package includes two no-mar tips, a rugged carrying case to protect your investment, a charger, and a user manual. Yes, its price might be high, but it also offers you a lot for the price.
Pros:
Electric stapler for medium crown staples
Drives staples of 3/4 – 2 inches in length
Feature an adjustable drive depth setting
Long battery life: up to 4,000 staples per charge
Includes a bunch of accessories
Cons:
4. Arrow Fastener T50DCD Electric Staple Gun
Editor's Rating:

(4 / 5)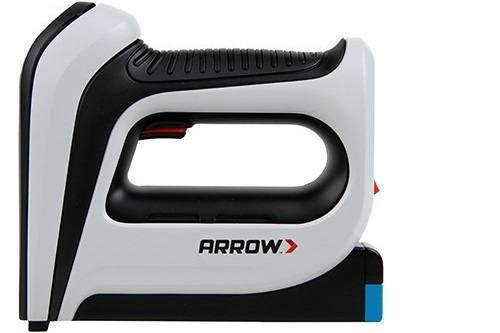 Power source: Battery
Staple length: 1/4-1/2 inch, narrow crown
Weight: 2.6 lbs
Delivering maximum power per shots and more shots per charge than competitors, the T50DCD comes in a compact and lightweight construction with an ergonomic design. I believe this makes it the #1 staple gun for doing little jobs around the house.
It has an internal battery and comes with a charger as well. A battery indicator light will show you when the battery is low and needs to be charged. Each full charge delivers up to 500 shots, which you'll find to be more than enough for most jobs.
You can use conventional T50 staples with narrow crown and lengths from 1/4 to 1/2 inch on this gun.
Rechargeable batteries do go bad with time, so it's always a good idea if you can change them. Although this is a good electric staple gun, it's not possible to change its battery if it goes wrong … that's one disadvantage.
Pros:
Cordless and lightweight design for total portability
Includes battery indicator and staple window
Will deliver up to 500 shots per full charge
The magazine is bottom loading for speed
Cons:
The battery is built-in and can't get replaced if damaged
No sequential fire feature
Some users found issues with the battery runtime
5. VonHaus 2-in-1 Electric Nailer & Stapler Set
Editor's Rating:

(3.9 / 5)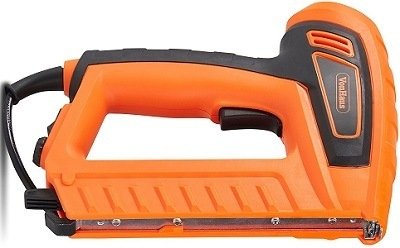 Power source: Corded
Staple length: 5/6 to 5/8 inch, narrow crown
Weight: 3.2 lbs
If you need an affordable electric gun that can fire both staples and brad nails, this VonHaus stapler and nailer might be just what you need.
In addition to its 2-in-1 feature, the package also includes 400 staples and 100 nails, so you can get started right away. The staples are 20 gauge and narrow crown, with lengths from 5/6 to 5/8 inch, while the brad nails are 18 gauge in 9/16 and 5/8-inch lengths.
VonHaus built this gun with a very simple but nice design. You get an On/Off switch, a tacking strength adjustment knob, and a soft-grip handle to keep you comfortable while working.
It also comes with a six-foot-long power cord. Its magazine will handle a 100-piece load of staples or an 80-piece full load of nails.
Pros:
2-in-1 staple and brad nail gun
Simple and lightweight design
Fires 20-gauge staples and 18-gauge brads
The package comes with 100 staples and 100 nails
Affordable price
Cons:
Corded guns are often not flexible
6. Roberts 10-600 Electric Staple Gun
Editor's Rating:

(3.6 / 5)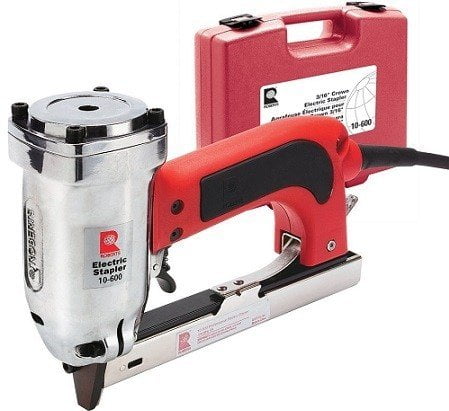 Power source: Corded
Staple length: 9/15 inch
Weight: 7.3 lbs, including case
Some products are often unique with one special feature or the other. Such is this staple gun from Roberts. It's designed to shoot 3/16-inch wide staples, which are narrower than standard narrow crown staples.
These Duo-Fast Gold Crown compatible staples are 20-gauge and 9/15-inch long. As you can see, it's left for you to determine if this is the exact staple size that you need.
Secondly, you will also need to decide if the price is right for a gun that shoots only one narrow size of staples.
Otherwise, this is a beautifully made and high-powered staple gun with a stylish design. It features an ergonomic and non-slip rubber grip and comes with a carrying case for your convenience.
Pros:
Features an ergonomic and non-slip handle
Quick-release bottom-loading magazine
Comes with a 12-foot power cord
Includes a convenient carrying case
Backed by a 1-year warranty
Cons:
Only shoots one size of staples
7. Air Locker U630E 2-in-1 Staple Gun
Editor's Rating:

(3.6 / 5)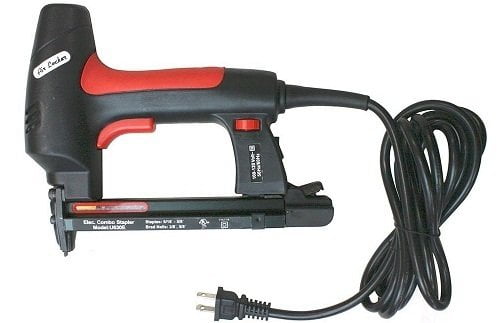 Power source: Corded
Staple length: 1/4 to 5/8 inch, narrow crown
Weight: 1.6 lbs
The Air Locker U630E is for 22-gauge staples and 18-gauge brad nails. It will shoot up to 20 staples or nails per minute and it comes with plenty of other features.
Its magazine will hold up to 165 staples at a go or up to 100 nails, allowing you to do more work before you reload it. The staples are also varied between 1/4 and 5/8-inch sizes.
Air Locker adds firing mechanisms to make it safer. You can either fire freely or sequentially or in a bump/contact mode, allowing you to select exactly what you need.
The Air Locker U630E is a professional tool that's made to last while taking on heavy-duty jobs. It comes with an 8-foot long cable and is also stylish.
Pros:
Features a comfort grip from rubber
Heavy-duty staple gun for tough jobs and woods
Offers different firing modes with safety
Fires up to 20 staples/nails per minute
Cons:
It's corded, so there are still some limitations
From the makers of the famous T50 stapler comes this electric version. It shoots the same T50 staples with a narrow crown and lengths ranging from 1/4 to 9/16 inch.
You can also use two brad nail sizes on it. The 9100K has a simple but trendy design. It's lightweight and comes with a carrying case, plus it features a bottom loading magazine.
An anti-slip and comfortable grip helps to make working with this gun a pleasure. Arrow Fastener guarantees it for 90 days, which is a little short, but it's still something.
It would also have been better if it came with a few T50 staples.
Electric vs. Pneumatic Staple Guns
When it comes to staple guns, there are three major types: manual or hand-driven, electric driven, and pneumatic or pressurized gas-driven guns.
For more serious jobs, though, only the electric and the pneumatic types are often considered, so following is a side-by-side look at these two types of powered staple guns.
#1. Electric Staple Guns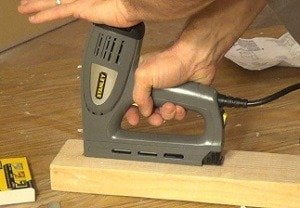 As their name suggests, electric staple guns use electric power to drive the staples into whatever material you are working with. Although their driving mechanisms can differ slightly, electric guns are generally less powerful than pneumatic ones.
On the other hand, they are cheaper and easier to maintain. They are also smaller, more lightweight, and more portable than pneumatic staplers.
You'll find two types of electric staple guns in the market: corded and cordless. The cordless ones use batteries and are more expensive, while the corded ones are cheaper but need to be used with a cable just like their air-powered gun counterparts.
With electric staplers, you can easily carry out small repair and home décor jobs like drapery, upholstery, and fixing windows and door screens.
#2. Pneumatic Staple Guns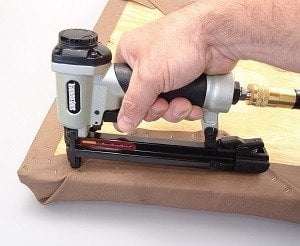 Pneumatic staple guns get powered by compressed air, which generally ranges in pressure between 60 and 100 PSI. Given their raw power, pneumatic staple guns are well suited for demanding jobs such as those performed on construction sites and similar jobs.
Unlike electric staple guns, the pneumatic variety depends on an air compressor that you have to buy separately. This makes it expensive for many people, but not as much for professionals who use many air-powered tools for work.
Buying advice: Compared to electric guns, though, pneumatic staple guns are more maintenance-free and long-lasting; this makes them the first choice for contractors and other professionals.
On the other hand, the compressors they get attached to are always bulky and noisy, making the pneumatic system less ideal for those who shy away from noise or from dragging bulky compressors around.
How to Buy the Best Electric Staple Guns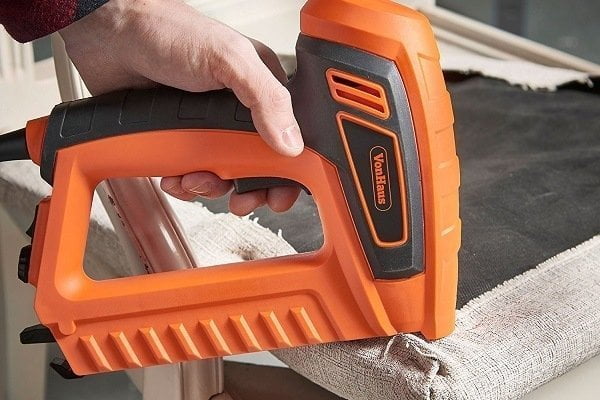 When deciding on the perfect electric staple gun for your needs, there are several factors you'll need to understand and consider. They are as follows.
#1. Purpose
Your purpose for buying the gun is very important. Naturally, it is the first issue you should consider. This purpose will help you decide, to a great extent, the features and specifications of the staple gun you need.
In fact, your intended purpose for the staple gun will even help you decide whether you'll need an electric or a manual one, or whether a pneumatic gun might best serve your needs.
#2. Staple size
Staples come in various sizes, so your intended job will decide the best staple size that you'll need. Most multi-purpose staple guns should fire 3/8-inch (narrow-crown) staples.
The crown is the length of the visible part of a staple after it's been fired into the wood. You can go for more heavy-duty staple guns if that's what your job demands.
A good electric staple gun will also offer you the ability to fire brad nails with it. So, you can decide if you need a gun with a very specific feature or if you want a multi-purpose tool.
#3. Corded vs Cordless
Electric staple guns are available with either battery or with a power cord. The standard electric staple gun has a cord and runs on AC power. This guarantees constant power supply but makes it less portable and ideal for work in areas without a ready AC power socket.
The cordless types are more portable and can be used anywhere without requiring a mains socket. They are also more costly because of the rechargeable batteries they include.
#4. Safety Features
There are different safety features that an electric staple gun might come with. These include a safety latch on the trigger and a contact or bump trigger.
If you plan to use it frequently, then investing in a bump or contact trigger gun is always a good thing to do. Not only is it safer but it also provides a more efficient method of work.
#5. Accessories
If you're the type to place a high value on accessories, then you might want to watch out for included carrying cases, free staples, or extra batteries for cordless guns.
#6. Cost & Warranty
It's obvious that the higher a tool's quality, the more it also costs. This means you should prepare to pay a premium if you're after specific features or a certain quality of workmanship.
Warranty is also important, and the rule here is simple: The tool with a longer warranty gets more points.
Conclusion
We have reached the end of our best electric staple gun review. You have seen the different offers available, from cordless staple guns to electric guns for upholstery. You will find most of the above products useful for a variety of DIY and woodworking projects.
Now the task at hand for you is to make a choice based on your specific needs and purpose for buying a staple gun. For example, if you need a tool that you can carry with you to work in places that might not have a main current of electricity, you'll probably want to go for one with a battery. (Just make sure you charge it ahead of time and have a backup.)
Any of the best staple guns selected above will do, but the final choice is still yours to make. Finally, ensure that you always follow safety guidelines as you work to protect yourself and anyone near you.
Stay safe and happy woodworking!
Last Updated on September 25, 2020 by Tom Bradly