5 Best Deck Sanders of 2023 – Review & Buying Guide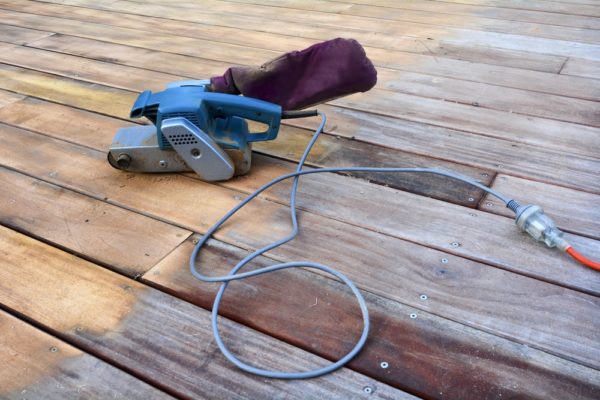 Your wooden decks can keep looking great for a long time, provided you use the best maintenance practices. One of them includes sanding. Your recoating task should prove easy after sanding, without the need for applying harsh chemicals.
The sanding process not only helps your deck look great; it also helps you remove splinters that could cause injuries. To successfully sand your deck, you may need one of the 5 best deck sanders currently on the market.
DEWALT Random Orbit Sander, 5-Inch (DWE6423K)
Makita 9403 4" x 24" Belt Sander, Teal
BOSCH ROS20VSC Palm Sander 2.5 Amp 5 In. Corded Variable Speed Random...
Skil 7510-01 120 Volt 3-InchX 18-InchBelt Sander
DEWALT Random Orbit Sander, 5-Inch (DWE6423K)
Makita 9403 4" x 24" Belt Sander, Teal
BOSCH ROS20VSC Palm Sander 2.5 Amp 5 In. Corded Variable Speed Random...
Skil 7510-01 120 Volt 3-InchX 18-InchBelt Sander
Last update on 2023-11-30 / Affiliate links / Images from Amazon Product Advertising API
Deck Sanding Buying Guide
I am a home builder and have used several deck sander devices in my career. Over the years, I have learned just how the right power tool can make your job painless and enjoyable, and how a lousy purchase can decrease the quality of your output.
My greatest recommendation is that you buy features as opposed to buying brands. You might be surprised at just how mediocre some of the popular sander brands perform. On the other hand, some lesser-known power tools deliver both power and comfort. When buying a deck sander, here are a few things what to consider:
Go for belt sanders
There are both orbital and belt sanders. Belt sanders deliver more power in your job and are more suitable for sanding large and aggressively textured surfaces. Orbital sanders are mostly DIY devices designed for precision smoothing; they may not be ideal for the big task of deck sanding.
Price
There is no linear correlation between price and performance. What you really need is to do your research and understand the A to Z of your task so you can get a tool with all the right features. You can find a variety of affordable deck sander models on the market that will offer you a good payoff.
Sanding space
It takes an understanding of your sanding area to shop for the tool with the right features. For instance, a versatile sander that can work on cornered surfaces may be needed if your deck has many variable surfaces. The type of wood on your floor similarly dictates the degree of power you need with the sander.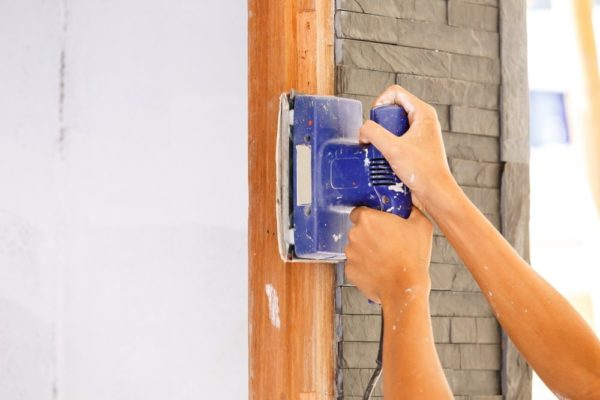 Power source
You will either find a corded or battery-powered deck sander on the market. Corded deck sanders often have a bigger and more powerful engine and can work longer for a long time. On the other hand, battery-powered sanders may be convenient if you have to work on a home without a power source.
Dust extraction
You want to keep your deck spotless as you work. Just as importantly, you want to take care of your own respiratory health in the process. The best deck sander needs to, therefore, have a dust collection feature that can trap and contain even the smallest particles of wood dust.
Efficiency
The motor power and belt speed determine how fast and efficiently you can work with the tool. Go for sanders with high-powered engines if you desire fast operations. Variable speed controls, on the other hand, can help you attain precision finishing.
Durability
There are deck sanders with plastic parts while others have a metallic frame construction. Metallic deck sanders are studier and can last longer.
The Best Deck Sanders in the Market
Sale

DEWALT Random Orbit Sander, 5-Inch (DWE6423K)

3.0-amp motor of the orbital sander spins the pad at 8,000 - 12,000 OPM
Shorter height of the hand sander allows the user to get closer to work piece
Separate counterweight design reduces vibration for improved comfort of the electric sander

Last update on 2023-11-30 / Affiliate links / Images from Amazon Product Advertising API

Editor's Comments
The DEWALT DWE6423K is an orbital sander that runs on a 3.0-amp motor spinning at 8,000 to 12,000 OPM. This sander could be ideal for those looking for speed and versatility.
Design
The design features a separate counterweight that the manufacturer says helps to reduce vibration. That, plus the included rubber grip, could make this item relatively comfortable for long periods of use.
The design is also shorter than what you would find in similar sanders on the market. Users, therefore, should be able to get closer to the work surface to attain a high level of precision.
Dust collection
This sander includes a dust collection feature. The manufacturer describes it as a "one-handed dust bag locking feature," meaning that it could work efficiently with regular dust collectors.
Size
The power tool has dimensions of 10.4 x 7.2 x 6.2 inches and weighs four pounds. You could say that it scores averagely on compactness and weight, as well as the resultant performance.
Versatility
Apart from deck sanding, you may be able to use the DEWALT DWE6423K power tool on concrete and other surfaces. Its power and precision would likely perform consistently on all surfaces.
Value proposition
The biggest highlights of the DEWALT DWE6423K are its ergonomics and versatility.
Pros
Powerful motor
Can work on non-wood projects as well
Designed for precision sanding
Ergonomically designed
Easy to set up
Cons
The dust collection function is average at best
Durability concerns

---
Makita 9403 4" x 24" Belt Sander, Teal

Low noise (84dB) for operator comfort
4" wide belt with a speed of 1,640 ft./min. for fast material removal
Labyrinth construction seals and protects motor and bearings from dust and debris for longer tool life

Last update on 2023-11-30 / Affiliate links / Images from Amazon Product Advertising API

Editor's Comments
Here you have a belt sander that uses a 4-inch-wide belt and has a speed of 1,640 feet per minute. This deck sander could be the choicest for refinishing tasks. The power tool runs on an 11-amp motor and features variable speed control configurations.
Design
An extended base on this sander facilitates flush sanding. With its belt speed and size, you will likely get a faster stock removal.
The designers thought of ergonomics with this tool; the front grip is large for achieving comfort and easy control. The included lever control could also help in effortless belt changing.
Size
Please note that the Makita 9403 is not a one-handed tool like the first entrant in our review. The deck sander weighs 13 pounds, which is heavy. It's a good thing, though, that the grip handle is large enough to accommodate two hands, otherwise using it could be difficult using this relatively heavy tool with one hand.
Dust collection
There is a dust collection feature included on the Makita 9403. As you work, the dust bag moves at a 360-degree angle, an aspect that may help to minimize obstruction.
Efficiency
On this deck sander model, you have an 11-amp motor turning a 4-inch wide belt at 1,640 feet per minute. This implies that you may be able to finish your sanding job much faster.
The biggest highlight
Apart from its power and speed, the machine works at 84 decibels, which is on the low side of the work safety sound spectrum. Hopefully, you would not need earmuffs with this deck sander.
Beware
Even with its many positives, this device tends to burn through belts. Belts aren't cheap.
Pros
Works quietly
Powerful for faster sanding
User-friendly handle
Cons
Weighty
Burns through belts

---
Sale

BOSCH ROS20VSC Palm Sander 2.5 Amp 5 In. Corded Variable Speed Random...

SMOOTH FINISH: pad dampening system designed to eliminate swirl marks on both flat and contoured surfaces
EASY DISC ATTACHMENT: through Bosch's signature Hook and Loop disc attachment system, sanding pads stick to the hand sander, acting like a Velcro-adhesion material
VARIABLE SPEED CONTROL: powerful 2.5 AMP motor allows speed to work-piece and task matching with ease; no-load OPM: 7,500-12,000

Last update on 2023-11-30 / Affiliate links / Images from Amazon Product Advertising API

Editor's Comments
From price to design, you may like the compactness of this power-deck sander. The item could be most appealing to DIY experts who want to polish a few wooden structures at home on the weekend.
Design
The Bosch ROS20VSC is a corded power tool that's been kept light and compact. It weighs 3.5 pounds and has dimensions of 9 x 5 x 6 inches. Its size and weight could make it ideal for one-handed sanding, reaching into smaller spaces, and ease of storage and portability.
Efficiency
This deck sander runs on a 2.5-amp motor and features variable speed control between 7000 and 1200 OPM. This motor power is a big sacrifice considering what you get with the earlier reviewed power tools, but consider that this a small task sander.
The included speed control feature should help to tune the sanding action and intensity to the nature of your surface. There is also a pad dampening feature included that could help to achieve smooth finishes with no swirl marks.
Dust collection
The Bosch ROS20VSC deck sander uses a micro-filter system that the manufacturer claims may help to ensure that even the smallest and finest particles are trapped. You can also track the dust level on the canister to know when to empty it.
Accessories
The deck sander comes with a dust canister, a vacuum adapter, sanding pad and carrying case; these inclusions, in my opinion, have a significant cost-saving potential.
What's inspiring?
The pad dampening system leads to a smoother finish. The extensive accessories that come with this deck sander are a good deal.
Beware
The Bosch ROS20VSC is small, which means that, at its power and speed, you may be working for weeks on end to finish sanding an enormous deck.
Pros
Designed for comfortable handling
Features for achieving a smooth finish
Variable speed control
Cons
Not ideal for a sizeable sanding job
Dust canister fills up too fast

---
Sale

Last update on 2023-11-30 / Affiliate links / Images from Amazon Product Advertising API

Editor's Comments
In brief, what you get with the SKIL 7510-01 include a pressure control technology that could help you attain the desired finish, and 6.0 A of sanding power. This is a small machine that could be suitable for a small shop owner; it probably wouldn't work well for commercial-scale projects.
Design
The SKIL 7510-01 deck sander has an avant-garde design that you may not have seen on any other tool in the market. It might take you a little while to learn how to handle it and where the controls and features are located.
It's a little heavy, weighing 6.7 pounds. The deck sander has dimensions of 6.6 x 13.8 x 6.5 inches, and the design requires both hands.
An auto-track belt alignment is one of the strongest selling points for the SKIL 7510-01. It helps to keep the belt centered and could, therefore, lead to a better sanding experience.
Additionally, a pressure control indicator lets you know the amount of exertion you're putting on your surface. You would be able to adjust the pressure to attain the finishing texture you desire.
Efficiency
Its 6-amp motor is a big leap from what you get with the Bosch ROS20VSC, but still, it may fall far from a professional sander's expectations.
Dust control
A microfiltration feature helps capture and contain even smaller dust particles, just like in the previously reviewed sander, which helps to keep your work site free from debris.
Why it's on our review
It's hard to find this level of precise pressure control and belt alignment at such a low price; these are the main selling points of this tool.
Beware
The SKIL 7510-01 is not built for faster performance, and the dust collection feature isn't the best I've seen.
Pros
Precision sanding
Belt stays in place for efficiency and durability
Cons
Dust collector feature yields average performance
Performance limitations

---
No products found.

Editor's Comments
The PC 352VS Variable-Speed Belt Sander comes across as a sturdily built (metallic frame) deck sander. It runs on an 8-amp motor with belt speeds of up to 1,300 SFPM. It could thus be ideal for large, intimidating jobs.
Design
Here you have a full metal frame, making this sander one of the sturdiest in the review. Apart from sturdiness and durability, the metal casing could also help with heat dissipation. The sander weighs 10 pounds.
The PC 352VS deck sander features a long handle that could make it easier to work on a larger surface while the base is designed for heavy stock removal.
The belt gets to stay in place, given the sturdy and rigid design of the sander. That may help with efficiency because you won't have to keep refocusing it.
A quick-release belt change lever aids in easy belt change.
Power
An 8-amp motor and a variable speed of between 850-1,300 SFPM may generate A-OK sanding force for your larger decks. The open-wheel side makes it possible to sand even the vertical edges of your deck and floor surfaces.
Dust collection
The dust nozzle included on the PC 352VS is adjustable all around, according to the manufacturer. If it works as expected, you will be able to pivot your dust bag in any way you want for convenience.
Value proposition
The PC sander runs on a powerful motor, is sturdily built, and just like the Makita 9403, it works noiselessly, thanks to a serpentine belt drive.
Beware
The dust bag doesn't fit well around the opening, so watch out for that occasional flying puff of sawdust.
Pros
Sturdy metal casing
Easy speed controls
Quick-release for easy belt change
Powerful motor
Cons
Dust collection is a little pesky
Belt adjustment may not work as expected

---
The Best Pick
The PC 352VS Variable-Speed Belt Sander is the most recommended deck sander of the year. It outperforms all the other choices in the review.
The PC sander gets high scores in stability and durability, given its metal casing. Power is also assured by an 8-amp motor that delivers speeds of up to 1,300 SFPM. These are exclusive features that you might not get from any other deck sander on the market.
The long handle on this product helps with ergonomics, while the large belt and base should enable you to finish your work much faster. Other remarkable features here include a dust collection port and a noiseless belt.
Last Updated on August 7, 2020 by Tom Bradly