5 Top Husqvarna Chainsaws of 2023 – Reviews & Buying Guide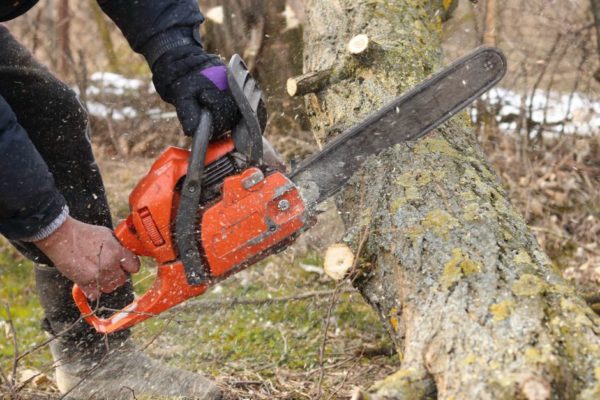 Chain saws are versatile and efficient woodworking tools. They come in handy for professional logging or operations such as pruning or storm clearing. In any event, these tools are dangerous and are responsible for over 28,000 injuries annually in the US.
The best chain saw should, therefore, should not only grant you efficiency but also be safe and comfortable to use. This review looks at the best Husqvarna chain saws, a brand that has earned a higher reputation in the parameters mentioned above.
Husqvarna 20 Inch 455 Rancher Gas Chainsaw
Husqvarna 460 Rancher Gas Chainsaw
Husqvarna 20 Inch 455 Rancher Gas Chainsaw
Husqvarna 460 Rancher Gas Chainsaw
Last update on 2023-12-01 / Affiliate links / Images from Amazon Product Advertising API
Chain Saw Buying Guide
There are many features to consider any given saw in the market. In my experience as a tree surgeon, I have used several chain saws, and I have both bad and good memories. Cutting power and safety are of the highest priority to me when I am up against thick trunks of trees.
There are several times that I wanted to down my tools and quit this family line profession for good. Faulty chains saws were the reason to blame. At one point, the pull cord came out straight when trying to start a chain saw.
While I got that fixed, I also went on to deal with oil leaks, a chain that comes off frequently and a nasty kickback.
I knew I had to find a reliable chain saw for the future of my job depended. The bottom line is that research is an integral part of the buying process. User reviews are a great place to start.
New beginners need small chainsaws
First, before spending your hard-earned cash on a saw model you are unsure of, try to assess your level of experience and needs. If you are just starting, a chain saw with a shorter guide bar will be the easiest to manage.
Such a chain saw might also be ideal for general land clearing jobs. On the other hand, professionals would need a guide bar that's over 20 inches.
You will need more cutting power for hardwoods
Before buying a gas-powered chainsaw, first, think about the types of wood you will be using it on. You will need more horsepower for hardwood types such as oak and hard maple.
The chain saw speed also comes into play here — the faster the speed the higher the cutting capacity of the saw.
A shorter guide bar length is much safer
Homeowners don't need to find chain saws with an extended bar. The bar length, in this case, is the measurement from the tip of the chain to the housing of the saw; it is the active cutting area of the chain saw.
Chain saws with a shorter guide bar length are the safest. Such saws are more comfortable to control, and the resultant kickback will likely not throw you off balance.
On the other hand, chain saws with a more extended bar can cut thicker logs, but that also depends on the chain speed and the engine torque.
Your safety should always come first
Now that we have seen that chain saws with sorter guide bars are much safer, there are also other safety features to look for in a saw. The most important one is the chain brake.
It helps to immediately stop the chain from rotating after you turn your saw off, and therefore reduces the risk of injuries.
In the Husqvarna chain saws, chain brakes are inertia driven. The chainsaw automatically detects when the chain is moving too fast and brings it to stop.
Other features of important consideration include:
Anti-vibration features: They reduce vibrations and make the saw comfortable to use.
Quick start features: The spring-assist mechanism reduces the effort needed to start the gas engine.
Air cleaning feature: It keeps the air filter clean and by extension prolongs engine life.
Best Husqvarna Saws
No products found.
No products found.
What you have here is an 18-inch chainsaw for occasional use. It weighs 11 pounds and so it might be easy to carry on days that you have to trek further into the woods.
The Husqvarna 450 Chainsaw saw packs a punch, owing to its 3.2 HP X-Torq engine. The manufacturers assert that the gas-powered saw is fuel-efficient and produces fewer exhaust fumes.
Another quality that you might find convenient in this saw is the vibration dampeners. The Husqvarna 450 uses the proprietary LowVib vibration dampening technique. You might, therefore, be able to get clean and accurate cuts with this saw.
Safety is always a concern for saws that take longer to brake after powering off. With the Husqvarna 450, there is an included chain brake feature to help with that. It could significantly reduce the risk of injury due to kickbacks.
Another exciting feature of the Husqvarna 450 saw is the snap-lock cylinder cover. It makes things easier when it is time to change the spark plugs or clean the unit.
On the other hand, there is a Smart Start feature that will potentially help you start the saw quickly and with minimal effort.
There are also some impressive aspects of this saw's engine. For starters, it has what the manufacturers call a centrifugal cleaning system. This feature prevents debris from reaching the filter.
The saw speed here is 9600 RPM. This speed might be fast enough to achieve cleaner cuts on softwood types. The primary drawback is that this saw doesn't cut straight. That is because the bar easily bends in the process.
Best Husqvarna Chainsaws Pros & Cons
Pros
Pros
It is lightweight and highly portable
The engine is fuel-efficient
It has quick start features
Comes with a safety braking feature
The 9600 RPM chain speed can help you achieve accurate cuts
Cons
Cons
It doesn't cut straight
It might start to leak oil after a short time of use
No products found.
No products found.
Husqvarna chainsaw 440 e-series Toronto, Ontario
This chain saw with a 16-inch bar has plenty in common with the Husqvarna 450 saw. These include a forged 3-piece crankshaft engine that has the likelihood of withstanding tough use for long.
The saw weighs only 9.8 pounds, and thus you might find it easily portable than others in this review.
Another feature of the Husqvarna 440e is the quick release air filter that enables easy cleaning and replacement of the air filter. It works the same way as the snap-lock cylinder in the Husqvarna 450 saw.
Like the other Husqvarna saws in the 440 series, this model also runs on the X-Torq engine. As we saw earlier, this engine type is fuel-efficient and has low emission levels. That's good news for your wallet and the environment, you must admit.
There is a Smart Start feature here just like in the Husqvarna 450 saw. Beware though that even with this feature cold starting is not on the cards here; you will have to let it warm up first.
For keeping the engine in a pristine condition, they have included a centrifugal air cleaning system on this model. It makes a decent effort of keeping dust and debris from reaching the filter.
This gas-powered saw has a speed of 9000 RPM, which makes it fall in the category of prosumer saws (for both professional and ordinary consumer use).
This speed combined with a 2.4hp engine gives the 450e saw the potential to rip through an 18-inch diameter oak tree in one pass.
What I like most about this chain saw is that it is lightweight. I usually have no problem toting it around all day when it is time to prune. Moreover, due to its narrow kerf-bar and chain, you could expect its performance to be higher than standard chain saws.
Also, as is the case with the Husqvarna 450 model, the Husqvarna 440e chain saw has a safety braking mechanism. This kill switch could help reduce the risk of accidents.
A LowVib feature is also included in this model to keep the noise levels and enhance your comfort when wielding the saw.
Husqvarna 440E Pros & Cons
Pros
Pros
Once it warms up, starting is easy
It uses a fuel-efficient engine
Low vibrations
It has a decent speed of 9000 RPM
A narrow kerf bar enhances its cutting capacity
It has an instant braking mechanism
It comes at a lower price point than all the other saws in this review
Cons
Cons
The design of the mounting plate imbibes the free operation of the brake
Last update on 2023-12-01 / Affiliate links / Images from Amazon Product Advertising API
This saw weighs about 12.8 pounds and has a 20-inch bar. This weight is a little heavier than what you get with the Husqvarna 450 and 440e models.
What I find unique about this model is its high powered engine. 3.5 HP is plenty of power, and together with its long bar length (20 inches), this saw can cut thicker woods than the previous models in this review.
However, its chain saw speed is (9000RPM) the same as what you get with the Husqvarna 440e.
Just like all the other Husqvarna saws, the 455 Rancher has an X-Torq engine that helps in fuel efficiency as well. A centrifugal air cleaning system helps to keep the engine in excellent condition.
Husqvarna 455 Pros & Cons
Pros
Pros
It is fuel-efficient
It has a vibration dampening mechanism
Its handle is ergonomically designed
Its long bar and considerable engine power enhances its cutting capacity
Cons
Cons
It is heavier than the Husqvarna 440e
Quality control issues—it might come with defective parts
Its durability is questionable
Last update on 2023-12-01 / Affiliate links / Images from Amazon Product Advertising API
Compared to the previous models in this review, the Husqvarna 460 saw packs more power. This, you might say, is from the 3.62 HP engine and the long guide bar of 24 inches.
However, this chain saw weighs around 13 pounds, which significantly impedes its maneuverability and comfort during use.
Be that as it may, this chain saw could give you both professional and consumer level efficiency just as the case with the Husqvarna 440e.
There is an included LowVib technology which might prove beneficial to minimize vibrations to make them more comfortable to wield.
An included centrifugal cleaning system is useful to keep the engine working in clean conditions.
A Smart Start feature, on the other hand, could enable a smooth and effortless starting of the saw.
Husqvarna 460 Pros & Cons
Pros
Pros
Efficient fuel consumption
Fast and easy starting
Cons
Cons
Oil leak problems
In spite of the LowVib feature, you might find this saw to be loud
No products found.
No products found.
This saw weighs 10 pounds and can therefore be more cumbersome than the Husqvarna 440e. I find it easily maneuverable nonetheless. The bar is 16 inches which might deliver a decent cutting capacity on average projects.
Starting does require several pulls—there is no start mechanism included. That can be a drawback compared to the high ranked saws in this review.
In any case, though, you get a centrifugal cleaning system that might keep your engine working optimally.
There is also a LowVib system that reduces cases of unbearable vibration when sawing.
Just like all the other Husqvarna chainsaw models, the 240 chain saw also runs on an X-Torq engine that might give you high fuel efficiency while minimizing exhaust fumes.
Husqvarna 240 Pros & Cons
Pros
Pros
It is lightweight
A medium bar for everyday home use
It is a low vibration saw
It runs on a fuel-efficient engine
Cons
Cons
It takes longer to start
It occasionally stops during use
The Best Pick
The Husqvarna 440E Chain Saw emerges as the unrivaled saw in this review. It has a high chain speed of 9000 RPM and a long bar of 16 inches. Its motor power is 2.4 HP.
Even though these features are slightly lower than what you get with the Husqvarna 450 and 455, the 440e is the best bet for the money.
It has the lowest price point in this review while giving you the same or better efficiency than the rest of the Husqvarna saws. It is a low vibration saw, easy to start, and has a narrow kerf bar that gives it a higher cutting power.
This saw weighs less than 9.8 pounds and is, therefore, the lightest in this review. You will likely be able to work with it for long hours without breaking your back.
The Husqvarna 440e saw also runs on a powerful X-Torq engine that is fuel-efficient and does a decent job of minimizing exhaust fumes.
Last Updated on February 13, 2020 by