Best Chainsaw Carving Tools of 2023 – Review & Buying Guide
There is undeniable magic in being able to make elegant and functional masterpieces out of logs of wood. The best carving chainsaw makes the pursuit of such an endeavor not only effortless but also enjoyable and satisfactory.
Read on as we uncover some of the best chainsaw carving tools of the year 2020.
Chainsaw Carving Tools of the Year Buying Guide
I am an adventurous type of person. I have countless hobbies, and one of them includes carving. I have used several chainsaws for this task, but still, I wouldn't call myself an expert on saws.
What I can tell you, though, is that wood carving can be a highly rewarding side hustle. And if it's your main gig, you need some pro tools to up your game and earn more money.
Here are some of the criteria I use when buying chainsaw carving tools:
A slim pointed bar
What sets the best chain saw carving tools apart from regular chainsaws is the difference at the tip of the bar. Chain saws meant for carving have a narrower bar at the tip. This design makes it possible to make small cuts when detailing a workpiece.
You can work at angles, cut at corners, and create shapes with ease using such a saw. On the same note, you also have to check the pitch and gauge. They have to be low profile.
Power and efficiency
Well, wood carving comes after you have already felled trees and chopped logs. It is safe to say, therefore, that you don't need that much power to create your art pieces, except maybe when dealing with hardwood types.
I would recommend gas-powered or corded electric saws when working on larger projects and cordless models when working on softwood and non-commercial jobs.
Ease of use and maintenance
You might find electric power tools easier to maintain than gas and fuel-powered tools. With an electric chain saw carving tool, you are guaranteed easier starts. Additionally, you do not have to change filters, fix spark plugs, or mix oil.
Electric chainsaws are portable and work more noiselessly. Electric tools make your life easier as a woodworker.
Even so, if power is what you seek, then you might have to sacrifice these conveniences for efficiency.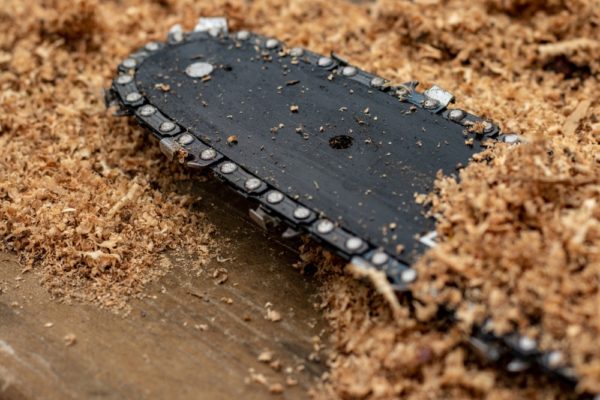 Ergonomics
I have found through the years that the best carving chainsaws are the lightest models. It makes them easier to work with for long hours when precision and meticulous details are needed. Other things to consider for ergonomics include a rubberized handle and tool-less chain adjustment.
Safety
Safety should probably be your first consideration when buying any power tool. It is estimated that more than 28,000 chainsaw injuries happen in the U.S. every year. Don't be another statistic.
Please buy a carving saw that has some kickback cancellation feature. In most designs, this is an inertia activated brake located close to the handle.
Another feature to look for is an automatic oiling system, which minimizes the risk of jams and accidents.
The Best Chainsaw Carving Tools of the Year
Last update on 2023-09-29 / Affiliate links / Images from Amazon Product Advertising API

Editor's Comments
This cordless carving chainsaw could be ideal for your small artistry jobs where precision is of critical importance. The BD chainsaw runs on 20V lithium-ion batteries that should provide the powerful and long-lasting performance you need as a carver.
If you ask me, I would say that this machine qualifies as a legitimate wood carving chainsaw by the fact that it is cordless. Now, given that it can hold power for long periods of time, you will have fewer issues with downtime when working far from home.
One other quality to appreciate about the BLACK+DECKER 20V MAX Cordless Chainsaw is its lightweight nature. Creating wooden sculptures and other artistically aesthetic pieces requires a tool with easy maneuverability. This machine weighs a mere 7.2 lbs which I can say feels "just manageable."
The BD chainsaw comes with a wrap-around handle to deliver ideal control in the artist's hand, providing for better quality outputs. What is more, the use of this carving machine may not be limited to wood carving. The manufacturers promise that you can effectively use it in gardening and lawn cleaning as well.
Its bar and chain combo is said to have a low kickback, which can be a guarantee of user safety. A self-oiling system keeps the bar and chain lubricated for smoother operations. The tool-less chain adjustment also makes for an easier-to-use tool and faster operations.
Pros
Compact and lightweight for ease of use and portability
Low kickback for user safety
Tool-less adjustment
Cons
Battery life not as good as advertised
Meant for light jobs

---
No products found.

Editor's Comments
The Husqvarna 18 Inch Gas Chainsaw is another carving chain saw that should prove useful for fine and sophisticated wood carving jobs. It's gas-powered, and that means more power. Whereas the BLACK+DECKER 20V MAX Cordless Chainsaw is ideal for light jobs, you can use the Husqvarna 18 Inch 455 chainsaw for your commercial-scale projects.
What you might find impressive here is the small bar nose that makes it possible to attain those delicate and intricate contours on your figurines. It's a heavy-duty saw, and that should equal faster performance, even when dealing with hardwood.
Beware, though, that unlike the BD chainsaw earlier reviewed, gas-powered saws like this Husqvarna model may be harder to maintain. These devices have a reputation for taking their sweet time to fire up. And as you keep using them, you might realize that mixing oil and fuel to keep the engine running is a lot of work.
Now that we have gotten the bad stuff out of the way, let's give credit where it is due. The first one is the 55cc and 3.49HP engine, which translates to reliable power. There is also a chain brake feature that can help with safety; it is inertia-activated.
Like the Black & Decker carving chainsaw seen earlier, this model has a similar self-oiling system. The automatic lubrication helps to keep the chain running efficiently.
Other notable features here include a side-mounted tensioning system for simple chain adjustment. A quick-release air filter design makes cleaning it a lightweight task.
Pros
Powerful engine; ideal for bigger jobs
Sturdy build
Self-lubrication functionality
A feature for quicker chain adjustment
Cons
It feels bulkier than other similar tools
Maintaining gas-powered devices can be a lot of work

---
Sale

DEWALT 20V MAX* XR Chainsaw, 12-Inch, Tool Only (DCCS620B)

Cordless chainsaw comes with low kick back 12-inch bar and chain for construction and outdoor cutting applications
Compact, lightweight design (just 9 lbs. with battery) of the battery chainsaw for maximum user control
High-efficiency brushless motor of the battery powered chainsaw maximizes runtime and motor life

Last update on 2023-09-29 / Affiliate links / Images from Amazon Product Advertising API

Editor's Comments
A modern carver needs a versatile tool for whatever type of projects they have to handle. I find the design of the DEWALT DCCS620B chainsaw to be more appropriate for carving as compared to the earlier reviewed machines.
It is compact, considerably lightweight, and has a smaller bar nose that can help you attain fine details on your workpiece.
The DEWALT DCCS620B 20V Cordless Chainsaw is a cordless model that could be ideal if you are looking for extra freedom and maneuverability. It boasts a brushless motor, which experts say is a class of motors that last longer and perform better than standard motors.
You might also appreciate that its 12-inch bar and chain is made with a low kickback design. That means that, even for beginners, this could be one of the safest saws to use in carving or gardening.
This machine weighs no more than 8.8 pounds. A tad heavier than the BLACK+DECKER 20V MAX Cordless Chainsaw reviewed earlier, it is still lightweight. You should be able to use it for several hours with minimal issues of fatigue. You also have a tool-less chain adjustment system here that should make your carving jobs a cinch.
Pros
The DEWALT chainsaw is compact with a narrow kerf, ideal for carving
It uses a brushless motor for power, durability, and noiseless operations
Low kickback design guarantees safety
Tool-less chain tensioning
Cons
The chain doesn't stay in place
The oil filler cap feels flimsy

---
Last update on 2023-09-29 / Affiliate links / Images from Amazon Product Advertising API

Editor's Comments
Many wood carving experts recognize Makita for its impressively designed chainsaws. But will this model work well for you? Probably the first thing you will notice here is the long, wrap-around, rubberized handle. It makes for great ergonomics.
For most power tools, once you get user-friendliness right, everything else fits in place like a jigsaw puzzle.
The Makita saw has a tool-less adjustment chain design that could help you unleash your artistic genius without much of a struggle. This tool similarly comes with a bigger trigger switch to help with smooth start-ups, according to the manufacturers.
This is a corded saw, just to be clear, so you may not get to freely move around when working with it. Even so, the fact that it uses an AC supply could mean that you get more power for tougher jobs.
The makers have also included a current limiter in this machine. The latter is a system that reduces the risk of power oversupply to the motor; it helps to achieve a longer engine life.
The Makita UC4051A electric chainsaw is a considerably lightweight machine. Please note, however, that it weighs 14 pounds, making it twice as heavy as the BLACK+DECKER 20V MAX Cordless Chainsaw.
Other features that could make this chainsaw carving tool a worthwhile acquisition include its tool-less chain adjustment and automatic oiler. They help with hands-free operations.
Pros
Runs on a powerful motor that could be handy for tough jobs
Current limiter for longer engine life
Tool-less chain adjustment saves time
Scores well on ergonomics
Cons
The oiler leaks occasionally
The chain can't seem to stay in place

---
Last update on 2023-09-29 / Affiliate links / Images from Amazon Product Advertising API

Editor's Comments
What you have here is a smaller gas-powered chain saw that might be helpful for woodcarvers, arborists, and orchardists. Being a gas-powered tool, you can get more efficiency from it than the other electrical saws reviewed. Also, this machine weighs only 10 lbs, allowing for easier maneuverability.
The Echo CS-400 chainsaw runs on a 40.22-cc motor that should deliver the right torque needed for your sculpturing jobs. This saw has an 18-inch bar length with a slightly thin nose, a handy feature for when you have to make sharp contours on your workpieces.
One other thing that you might find impressive on this model is its automatic oiler system. This feature could help you work at full speed without having to stop to manually lubricate the chain and bar.
The included inertia brake also significantly reduces the risk of kickbacks. This brake can supposedly stop the motor immediately during a kickback. Your machine will automatically stop when you hit an object.
It can similarly help to reduce cuts when you need to saw while walking around your workpiece.
Pros
It's a low vibration model that could save your hands from injuries
Fairly lightweight and easy to control
Packs more power for heavier jobs
Its kickback prevention mechanism is an assurance for user safety
Cons
The chain jumps off too frequently
It is difficult to start

---
The Best Pick
These are all great tools with unique advantages and a few sticky wickets. Even so, we must say that the DEWALT DCCS620B 20V Cordless Chainsaw outperforms many of its contenders in different ways.
Its small nose design makes it a versatile tool for carving and working on intricate details. This machine is similarly lightweight for easier control in the hands of a carver.
Perhaps what's more impressive here, in comparison to the other reviewed items, is that the DEWALT saw is a cordless model that uses a brushless motor. Its cordless nature assists with mobility and flexibility, while the brushless motor helps it to deliver more power, work relatively silently, and serve you reliably for a long time.
The low kickback chain bar design assures safety, as is the case with the inertia activated brake. Ease of use is guaranteed by the rubberized handle, tool-less chain adjustment, and automatic oiler. These are the reasons why the DEWALT DCCS620B 20V Cordless Chainsaw is our top choice.
Last Updated on June 6, 2020 by Tom Bradly