Makita Electric Chainsaw UC4051A – In-Depth Review & Buyer's Guide
Even though it is the predecessor of the discontinued best-in-class chainsaw, the UC4030A, the Makita UC4051A is destined to leave a legacy of its own. Supremely built in the thorough fashion that we've come to expect from Makita, the UC4051A electric chainsaw is frankly one of the best at this price point, delivering astounding value in a simple, and very straightforward package.
Is this electric chainsaw worthy of being compared to gas-powered chainsaws, which traditionally outperform their electric counterparts when it comes to raw power? Read on to find out.
Last update on 2023-09-29 / Affiliate links / Images from Amazon Product Advertising API
Electric vs. Gasoline Chainsaws
Pitted against each other, gas-powered chainsaws emerge ahead of electric chainsaws in terms of raw power and sheer performance. That isn't much of a surprise though, seeing that they tend to be bulkier, and built more durable.
An electric chainsaw might not be the right tool to bring to a logging site, but when it comes to smaller domestic tasks like chopping fallen tree branches or making firewood, you're far better off with one.
Weighing not more than 10 lbs. on average, electric chainsaws are generally lighter and more compact than gas-powered chainsaws. You can wield one over your head without straining every single upper body muscle you have.
Electric chainsaws are also easier to start. There's no pull-cord involved, and we suspect that that has a lot to do with it. Easy push-start ignitions make them a joy to operate in all weather, and their lack of a fuel system makes them easier to maintain.
That being said, they do have their limitations. Because of their size, you'll be hard-pressed to find one with a motor that exceeds 15 amps (which is quite heavy-duty).
And while there's nothing wrong with a 9 amp motor, which can cut material as thick as 6 inches with ease, you can't just compare it with a 15 amp machine capable of chewing through materials thicker than 20 inches like butter.
Should You Really Go Cordless?
Part of the reason why some people prefer gasoline chainsaws is that they don't need to be tethered to a power source. Luckily, there are cordless, battery-powered chainsaws out there as well, so you're not really short of options.
The burning question, no doubt, is whether you should go for a corded or cordless electric chainsaw. Let's look at the facts.
A cordless chainsaw is very maneuverable. Moving it around the workplace is easy, and so is making difficult cuts since they can pretty much twist it and turn it however you want.
On the downside, these chainsaws need to recharge — constantly. You can get a maximum of thirty minutes or so of constant work before the battery dies out. This isn't what you want when cutting down a tree.
Corded chainsaws are much better performers, not because they pack more power than their cordless iterations, but because they can work uninterrupted for longer. Connecting to a power source might limit your ability to move around freely, but it also gives you a continuous supply of power. You can work without breaks for as long as the machine can handle it.
Choosing the Right Cord
Should you decide that a corded chainsaw will serve you best, remember to pay special attention to the cord itself.
The Makita UC4051A uses a 12 gauge power cord. That means using cables under 12 gauge (10 gauge cords to be specific) is still all right. However, don't be too eager to step it up to 14 or even 16 gauge cables as some people are wont to do (lower number indicates higher gauge).
Even with a current limiter to prevent excessive current from damaging the motor, it isn't recommended to use a higher gauge cable than necessary. You won't get a lot more in terms of power and performance, you'll just wear out the chainsaw quicker.
Everything That Matters When Buying an Electric Chainsaw
Power Output
The power output is one of two things that the performance of an electric chainsaw is hinged on. The power output determines the chain speed, and faster chains have less difficulty handling tougher cutting jobs. These days, it's not uncommon to find electric chainsaws that can go toe-to-toe with bigger and louder gasoline chainsaws. The motor's amperage is a good place to start checking for its performance in terms of maximum power output.
Extension Cord
Apart from the length of the cord, its gauge is the other thing you need to consider beforehand. While a short cable will limit mobility as well as the tool's ability to work in remote areas, using the wrong gauge can either overpower or underpower a chainsaw. None of those are good for productivity.
Check the chainsaw's gauge keenly to know what cords would best serve it. A lower number indicates a higher gauge, so if your chainsaw uses 12 gauge cables, switching to 10 gauge will increase power input (which is bad because it causes the motor to overheat), while switching to 14 gauge will throttle it.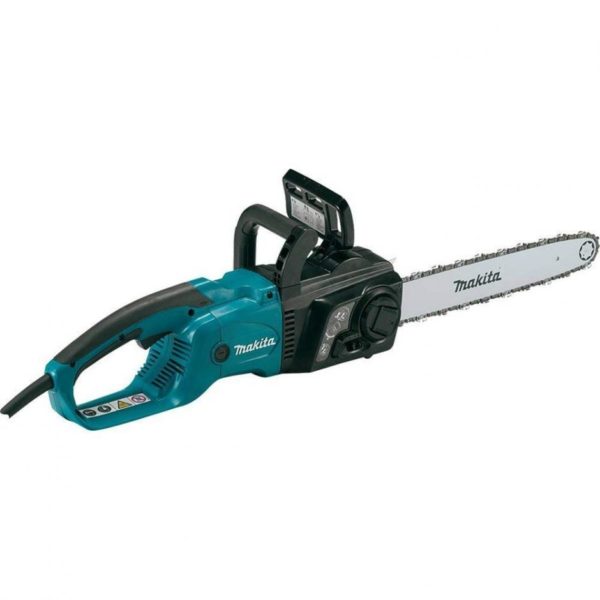 Oil Level Viewer
One of the perks of having an electric chainsaw is that you won't need to crack it open too often for service and maintenance. This is why you need a window from where you'll be able to see the oil level without having to peek under the hood.
3 Special Features to Look Out For
Auto-Oiler
Auto-oiling features are pretty common in electric chainsaws today. An auto-oiler keeps the chain lubricated as it cuts, eliminating the need to take periodic breaks just to grease it up. Some auto-oilers allow you to adjust the amount of lubricant released, others don't. Either way, having one is much better than not having one.
Self-Sharpening Chain
A lot of chainsaws up the higher end of the price chart come with special self-sharpening capabilities. Such chainsaws have sharpening mechanisms that keep the blade sharp as it works. If you want a low-maintenance chainsaw, your best bet is to find one like this. Not only won't you have to sharpen it, but you'll also have a razor-sharp blade to work with at all times.
Current Limiter
One of the most crucial features a chainsaw motor can have is a current limiter. Why would you need a current limiter? A current limiter kills excess current before it has a chance to damage the motor. The motor is one of the most expensive components in the chainsaw, so why shouldn't it have adequate protective measures? A current limiter is especially important if you plan to use higher gauge cords than the manufacturer recommends.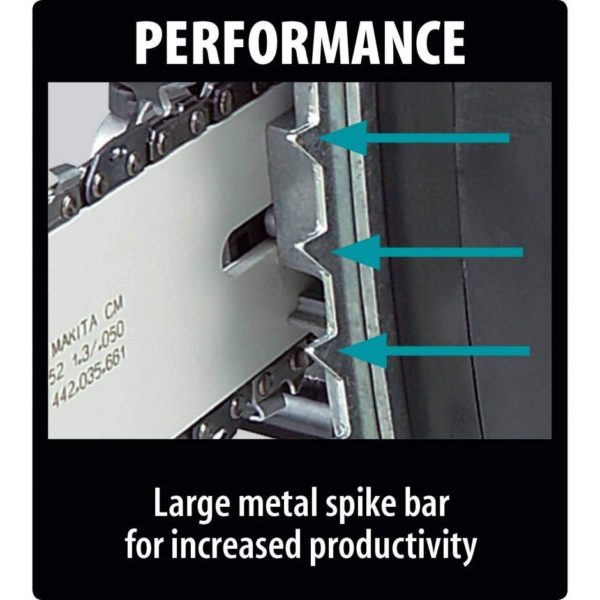 Makita UC4051A 16" Electric Chainsaw
A Worthy Chainsaw
It's easier to list the things that the Makita UC4051A 16-inch chainsaw doesn't have than it is to talk about what it has. That's how much you can expect from it. A powerful motor that can reach chain speeds of up to 2,900 FPM? Check. Ample oil capacity? Check. A current limiter? A tool-less chain tensioning system? Auto-oiling functionality? Check, check, and check again.
Makita has poured everything they've got into this electric chainsaw, which features a very impressive build quality and all the features you'd want from a modern power tool of this nature. The UC4051A is built for professionals, no doubt, but its ease of use belies just how well the chainsaw can perform. Here are 5 reasons why this is one of the high performers in the chainsaw department this year.
5 Things to Love about the UC4051A Electric Chainsaw
Build Quality
Makita continues to impart their exceptional standards to the build quality of their tools, a fact that's quite evident in the construction of the UC4051A electric chainsaw. It is this excellent build quality and advanced motoring that gives these chainsaws an edge over the competition, and most importantly, makes them capable of performing better and lasting much longer than most of their competitors.
Everything from the rubberized grip to the lightweight main body to the cross-cutting chain it comes with is quality and designed to last longer.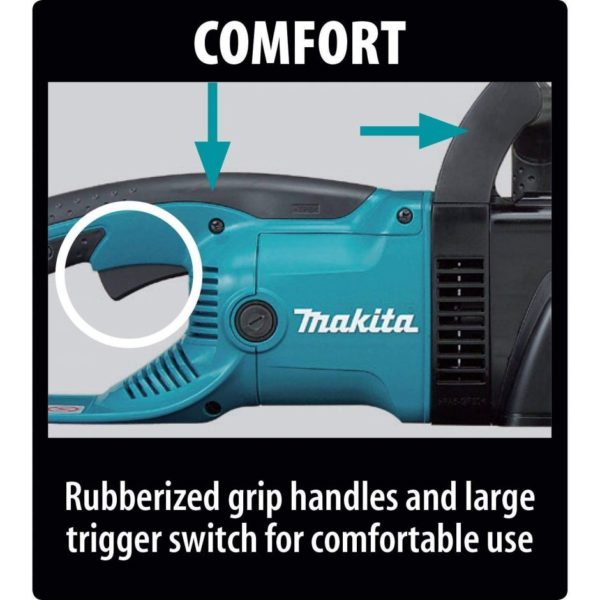 Amperage
The 14.5amp motor of the UC4051A is more industrious than you'd expect from a tool of this caliber. It delivers a maximum no-load chain speed of 2,900 FPM, which, with the right chain, is enough to chew through a 2 by 6 in seconds.
For optimum performance, the Makita UC4051A can be paired with one of two types of cables — one, a 100-foot 12-gauge cord, or a 50-foot 10-gauge cable.
Makita has also taken enough measures to prevent debris buildup in the chainsaw's intake vent. By positioning it at the back of the handle, the manufacturers allowed the chainsaw to get a clean supply of air without the risk of sucking in wood particles.
Cutting Capacity
A large 16-inch metal spiked bar and the 14.5amp motor are a formidable pairing that's capable of cutting through limbs as thick as 14 or even 16 inches without as much as a stutter.
The cutting capacity of the UC4051A isn't stellar by any proportions. It gets the job done, however, and for those who take on the occasional lumber and renovation jobs, this should be more than enough.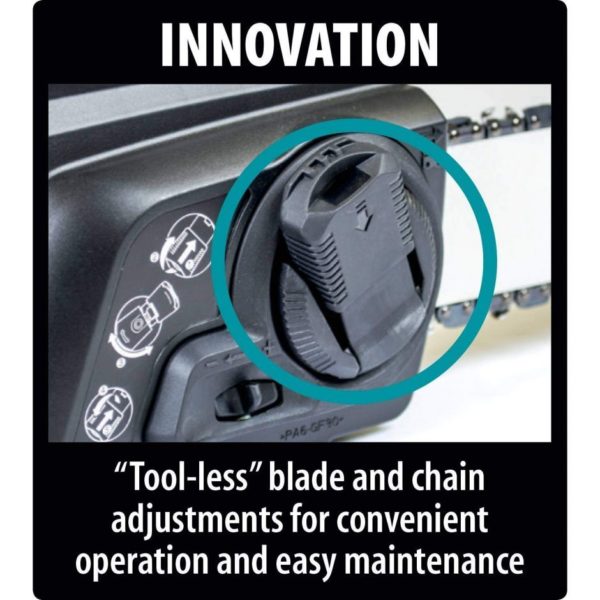 Current Limiter
The risk of burning out the motor is significantly reduced with Makita's overload system in place. This is for those rare instances you try to start the chainsaw when it's still in the wood, even though this is not a safe way to operate it.
The current limiter plays its part in stopping the chainsaw from overheating, but it doesn't work alone. A cooling system keeps the motor's temperatures decent through tough or long tasks. Even though it's not advisable to push your chainsaw to the limit, it's good to know that you'll be totally covered if you do.
Auto Oiling
The UC4051A comes with a very decent auto-oiling system, one that comes complete with interchangeable brushes. You can easily customize how you want the chain to be lubricated while you work thanks to this.
Chain Tensioning System
Using and maintaining the UC4051A is a lot easier thanks to the tool-less chain tensioning system it comes with. You can easily adjust the chain when the need arises. Replacing it with another one is also no issue and can be done swiftly without too much downtime.
Chain Brake
It's hard not to hit maximum productivity with the UC4051A. Heavy continuous cutting is not only possible but very easily achieved thanks to its auto-oiling feature and its power-regulating overload system. Little time goes to waste on this chainsaw. Even starting it up takes a matter of seconds thanks to its large-button, soft-start ignition.
As if that's not enough, you also get a powerful electric chain brake that gives you better control over the chainsaw, enabling you to be more productive.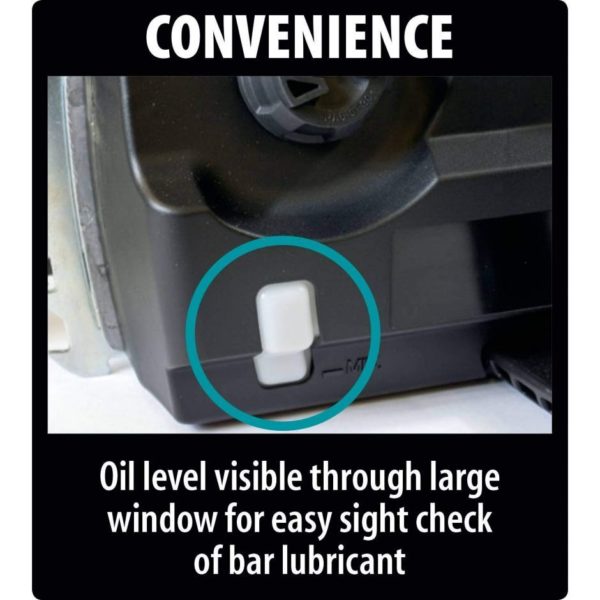 One Reason NOT to Get the Makita UC4051A Electric Chainsaw
It's hard to find fault with the Makita UC4051A itself, being the well-made tool that it is. Powerful as it is, however, it is still a corded power tool, and the last thing you want while cutting your way down a nest of tree limbs is to have the wire snag on something. Yikes.
The cord isn't such a limiting factor, however, especially today when you can get cords of 100 feet or longer. You can still get a lot of mobility if you find a longer cord. Unfortunately, nothing will compare to working with a cordless power tool.
Makita UC4051A Pros & Cons
Pros
Pros
Excellent build quality
Has good safety systems in place
Lightweight and easy to use
Smooth start
Chain stays lubricated automatically
Cons
Cons
Corded chainsaw so it can't function without a power supply nearby
Bottom Line Makita Review
There are too many reasons why the Makita UC4051A is as good as it gets at this price point. Excellent functionality, a smattering of crucial features, and an infallible build quality all contribute to a powerful, well-rounded electric chainsaw with a friendly price tag and incredible value for money.
Makita has struck a balance between usability and performance, creating a professional's tool that is just at home in the hands of an amateur — that's exactly how good the UC4051A is. Whether it's power, versatility, or convenience you're after, you'll get it in spades if you settle for this wonderful piece of equipment.
Last Updated on February 13, 2020 by Tom Bradly