Understanding the L Square Ruler
Even if you're just a home DIYer, L squares could turn out to be one of your most-used tools. These rulers are an essential tool for any carpenter or woodworker. They have a wide range of features and qualities, despite how they look.
The word "L-square" refers to all L-shaped squares, such as frame squares, engineer's squares, and triangle squares. The stock is normally on the shorter edge, while the blade is on the longer edge.
It is a specialized tool that squares patterns and leather when cutting. The lines on the ruler are carved into the steel and are simple to read. They are not printed and will not fade over time.
In a hurry, here are our Top Picks.
Product Name
Johnson Level & Tool CS10 Read Steel Carpenter Square
VINCA SCLS-1208 Carpenter L Framing Steel
Mr. Pen Carpenter Square, Framing Square
Stanley 45-912 Steel Carpenter's Square
Product Name
Johnson Level & Tool CS10 Read Steel Carpenter Square
Product Name
VINCA SCLS-1208 Carpenter L Framing Steel
Product Name
Mr. Pen Carpenter Square, Framing Square
Product Name
Stanley 45-912 Steel Carpenter's Square
Last update on 2022-10-04 / Affiliate links / Images from Amazon Product Advertising API
What Is a Square Ruler?
A square ruler is a tool used to mark and reference a 90-degree angle. In woodworking, metalworking, building, and technical drawing, squares are frequently used. Some squares include a ruler or a scale for measuring distances or calculating angles. A stock with a straight blade makes up several squares.
The blade is normally secured into or onto the stock, which is usually thicker than the blade. The edges of the blade are generally parallel. The stock tongue is frequently held against the edge of a workpiece or drafting board. It is often used as a straightedge for producing a mark or a reference to check the precision of an angle.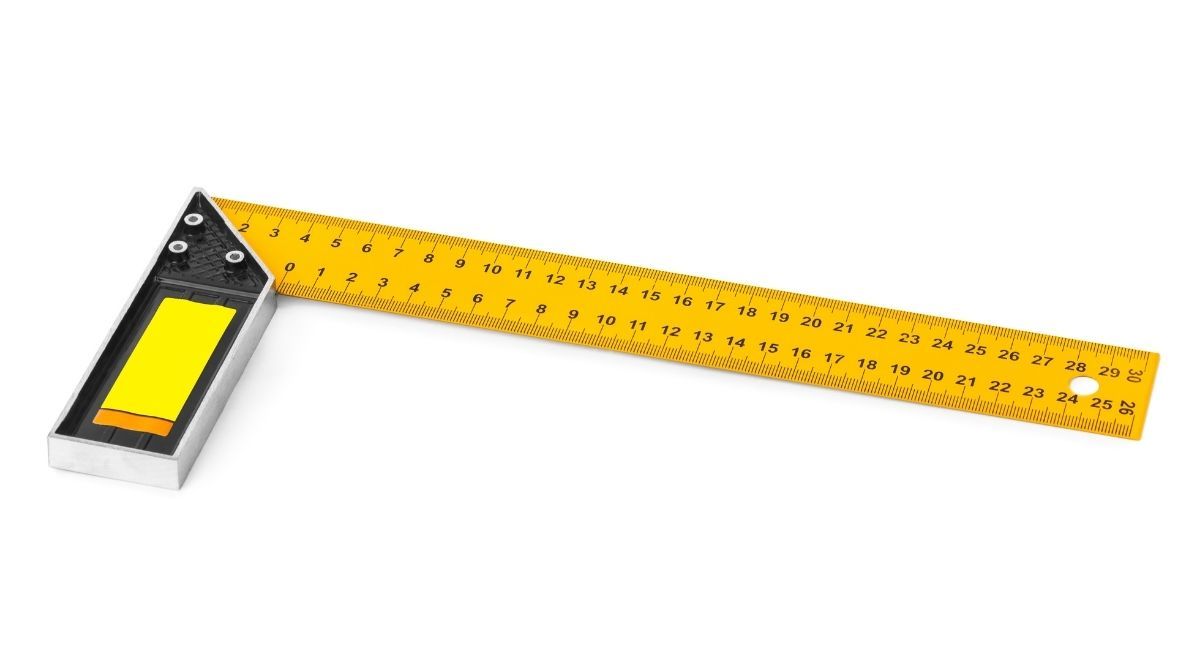 Types of Square Rulers
Many types of square rulers are utilized in a variety of industries and applications:
Radial Square
The center of round items, such as carpentry dowels, is marked using this tool. The most popular design has an L-shaped stock with a blade attached on top that cuts the stock in half.
Another form uses a single piece of metal with two perpendicular pins positioned against the workpiece's edge. Center squares can also serve as the head of a combination square.
Combination Square
A combination square features a ruler that can be moved and altered. One face of the head is normally 90 degrees to the ruler, while the other is 45 degrees. A combination square is a multi-purpose measuring and marking tool for metalworking, woodworking, and stonemasonry.
It was created for machinists, and is now widely used in woodworking. They're also available with a center finder, protractor heads, and spirit levels.
Cylinder Square
A cylindrical square is a high-precision object that is mostly used for testing machined workpieces and measurement equipment. It is a massive solid steel cylinder used in metalworking that is machined to a high degree of precision.
The ends are perpendicular to the cylinder's axis. It may be used to assess the accuracy of other items by standing it upright on a level surface, such as a surface plate.
Engineer's Square
Engineer's square is the metalworker's version of a try square. It includes a steel blade that is inserted and welded or pinned at a 90-degree angle into a heavier body. At the inside corner of the square, a little notch is usually present. This keeps tiny particles from gathering at the intersection and influencing the reading of the square.
The blade is attached to the end or body of the item, while the body is aligned against one edge. A powerful light source behind the square will reveal any discrepancy between the square's blade and the object's end. This procedure is used to ensure that the body is square or to mark it out.
Framing Square
The framing square is a carpenter's tool. Carpenters utilize a variety of tools to layout square constructions, many of which are made of steel. The term "steel square" refers to a specialized long-armed square with extra measuring capabilities, particularly for angles.
Today, the steel square is also known as a framing square or a carpenter's square. It comprises a longer, broader arm and a shorter, narrower arm that meet at a 90-degree angle. It can also use lightweight metal or rust-resistant plastics.
Mitre Square
In woodworking, a mitre square is used to mark and measure 45- and 135-degree angles. A tongue positioned at 45 degrees to the stock is the most frequent form. Traditionally, woodworkers would create their mitre squares out of wood.
Factory-made mitre squares often include a metal tongue and a hardwood stock. Most mitre squares are not used for marking or inspecting a 90-degree edge.
Set Square
In technical drawing, a set square provides a straightedge at a right angle or another specific planar angle to a baseline. They're usually constructed out of transparent plastic.
45-degree squares and 60/30 triangles are the most popular set squares. An adjustable square is another set square, with an edge that can be modified to any angle between 0 and 90 degrees.
Try Square
An engineer's square is similar to a try square in carpentry. A thin steel blade is fastened at a 90-degree angle into a thicker stock, usually made of wood. Brass is occasionally applied to decrease wear on the inside face of the stock.
Woodworkers constantly built their test squares out of wood. The square can also be used as a mitre square because the stock's top is occasionally at a 45-degree angle.
T-Square
A T-square is a square in which the blade is attached to the stock in the middle. T-squares are most commonly used as a guide for drawing horizontal lines on a drawing board.
They can also be used to guide a set square in creating vertical or diagonal lines. Woodworkers and glaziers utilize other T-squares to mark up sheet materials, including plywood, glass, and plasterboard.
Best Square Rulers
People who work with wood or metal go to considerable lengths to create both appealing and functional projects. They sometimes purchase high-priced equipment to assist their efforts. But when shopping for measurement gadgets, they usually purchase whatever is on sale at the local hardware store.
It's understandable to want the most bang for your buck when buying tools, but purchasing on price alone guarantees frustration. We've reviewed a few products that prove we can get the accuracy we need at affordable prices.
Johnson Level & Tool CS10 Read Steel Carpenter Square has carpentry tool characteristics, including thermal bonded numerals that are easy-to-read and a 1/8″ graduation. It includes a lightweight frame square that is built to last.
This useful carpentry tool is used for framing, roofing, and stair building. This tool can also create layouts and patterns.
The straightedge of a carpentry tool can determine the flatness of a surface. It is constructed of high-quality steel, 8″ x 12″ in size, and weighs 10.2 ounces. Establishing perfect angles and marking cutoff work on broad material may all be accomplished with easy-to-carry, travel-friendly carpentry equipment.
The body measures at 12″ x 1-1/2″, the tongue measures 8″ x 1″, and it is 1/8″ thick. This carpentry tool has a forged tip that enables maximum contact and a solid grip, eliminating stripping. It is also ergonomically built. It is simple for the user to measure from the inside or outside of the square while also checking table saw modifications.
Pros
Ergonomically built

Quality without overstressing the budget

Comes with a lightweight frame square
Cons
Every architect and civil engineer needs a solid framing square to collect precise dimensions for projects. This VINCA SCLS tool is composed of strong steel with an additional rust-resistant coating and is ideal for all sorts of design tasks. Furthermore, this square is accurate within 0.0573 degrees and features inch measurements on both sides.
The outside graduation on the smaller scale extends up to 8 inches, while the interior graduation is 6 inches. The outside measurement on the larger scale can reach 12 inches, while the inner measurement is roughly 11 inches. This item is well-known for its precise measurements and long-lasting sturdiness. Although the tool is a little heavy, it provides precise results.
Pros
Accuracy of up to 0.0573 degrees

Heavy steel is durable

Extra rust-resistant coating

Accurate measurements
Cons
This 12-inch combination square may be used as a metal square, combination square, framing square metal ruler, and carpenter square. The Mr. Pen Carpenter Square has a stainless steel and alloy base. When you need to make 45- and 90-degree marks, this is an excellent tool to use.
This rust-proof and long-lasting square has a stainless-steel blade marked with inches and centimeters. The Mr. Pen Carpenter Square comes with a brass scriber and level, as well as a spring-loaded brass bolt for precision. The Mr. Pen Carpenter Square is capable of measuring angles and determining flatness.
Pros
Can be used for angles and length

Accurate and durable

Wear-resistant to ensure accuracy
Cons
Writing is small and hard to read
A handy small arm on the Stanley 45-912 steel square can help you locate angles. This is a one-of-a-kind trait that is not often found in any other squares. This square would have ranked high on our list had it been well-made. It is, however, not a high-quality square and is unlikely to be the ideal option for most individuals.
It's constructed of metal, which is a wonderful touch. This material is preferred over steel because it does not rust and is considerably more weather resistant. Even in poor light, the yellow measures are easy to see thanks to the black body. It has all of the dimensions you'll need and the scales you'd expect to see on a speed square.
Pros
Aluminum construction that won't rust

Very readable measurements
Cons
What Factors Should You Look for in a Square Ruler?
As these tools hold an important role in any design project, proper research is required before buying. If you buy the wrong tool, it can delay or hurt your project.
Build Material
The square's durability and accuracy are largely determined by the construction material. Most manufacturers use stainless steel, carbon steel, or aluminum to create high-quality squares. However, if you choose a stainless steel tool, you must ensure that it does not rust or oxidize.
Accuracy
The most crucial factor to consider when choosing a square is accuracy. If the tool is not exact, it might result in incorrect measurements and impede your work. Place the square beside a ruler and examine the marks to determine its correctness. If they match, draw a line with the square to see if it is straight.
Measurement System
Different squares have different measuring methods, so you should examine them before purchasing. A square's measurement method is based on inch divisions and conversion tables. Inch divisions indicate the sort of graduation marks the tool will have, while conversion tables inform you of the measuring system.
Durability
A square should be extremely durable. Othewise, it will be useless. The durability of these instruments is determined by the manufacturing material and the graduation markings. If the material is not strong enough, it might shatter or deform under tremendous pressure, resulting in incorrect readings. Furthermore, if the graduation marks fade after a few months, the scale will be useless.
Conclusion
We understand the importance of precise measurements in any design or construction project. Any mistake might cause you to reconstruct the entire project, which will cost you both time and money. Architects, carpenters, and civil engineers like to use a square ruler to avoid such errors.
An L square ruler must have flawless graduations, as it is used for obtaining exact measurements in numerous applications. These hand tools may appear to be tough to use, but they are quite simple and incredibly useful in any design job.
Purchasing a perfect square can be tough, as there are many products available on the market. To help you make the right choice, we have reviewed the best squares so you can make an informed decision.
Last Updated on November 10, 2021 by Tom Bradly