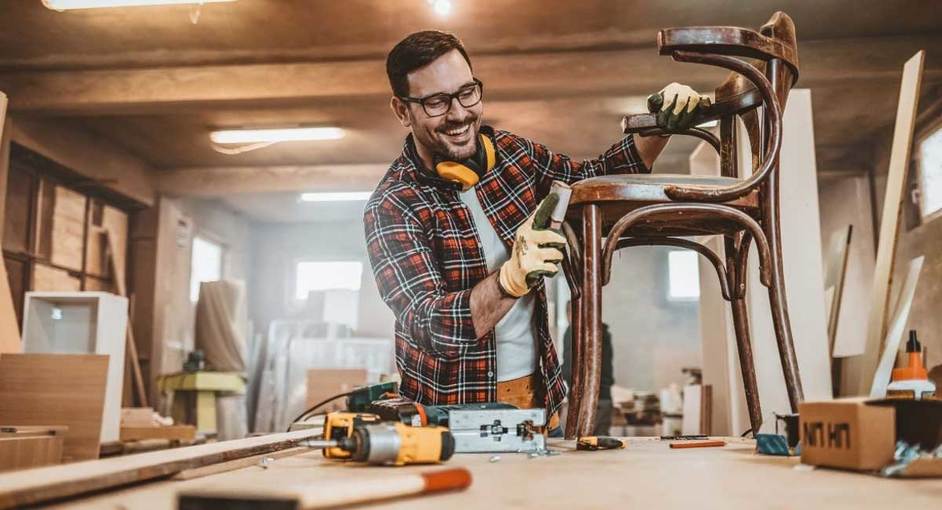 How to Make Money Woodworking
With a little help and determination, you can turn this past-time hobby into something lucrative and profitable. In this article, we will discuss in full how you can make money from woodworking.
Over the years, there has been a significant increase in the cost of owning wooden furniture because of the beautiful designs, intricate detail, and expensive materials. This is proof that you can make enough money from this hobby for a little extra funds, or even as a full-time gig!
Starting Your Woodwork Business
Before you start selling off your wooden projects, there are a few things you should know. Like every business, woodwork can be truly rewarding if done right. To kick start your new woodworking business, you would do well to have everything you need first before venturing into it.
Are you someone who loves working with their hands, and transforming wood into beautiful works of art? Perhaps you've helped your neighbors and loved ones with staining their wooden pieces of furniture. If so, then there's a way you can make money off woodworking.
This section will discuss exhaustively all that you would need to start this business. Albeit basic, some of these things are key to the success of your business and it would be a great step forward to have them in place before starting.
Legal Framework
Regardless of the business you have in mind, starting up a company from scratch goes beyond simply hanging the "open" sign on the door of your building. There are certain aspects that you need to attend to first, and making it legal is one of them. Arguably, it is the most important step to take.
Making your business legal means that you have all the necessary documents, licenses, and permits that comply with local, state, and federal government regulations.
The best way to go about this is to speak to an attorney or a CPA. If you can, it is advisable to speak to both to have a broader view of all that's needed to kick start your woodworking business. First things first, you will have to register your business with the relevant authority to obtain the right license.
Besides that, there may be other permits you will be needing for this business. Talking to a professional is your best option.
Additionally, you also have to consider if you can run this business from your garage. Some states may prevent homeowners from running businesses from their homes. If your state of residence is one of those, you will likely have to look for a workspace.
Financial Reserve
Another important thing you will be needing to start a woodwork business is a financial reserve. In simple terms, this means that you have enough money in your bank account to cater to all of the expenses you may incur before you sell off your first wooden project. This is called a financial reserve because it is expected to cover your expenses for a long period, depending on when you sell off your first project.
Even if you're not starting any business, having a financial reserve is a smart move. Most people refer to it as "emergency funds".
Bear in mind that business is finicky, and profits can go up or down. The only thing that can save you when it does is a financial reserve. You may consider getting a loan if your credit score qualifies you for one, and if not, saving up until you can raise enough money will be your best option.
Business Plan
Assuming you have a financial reserve, the next thing to do is to have a business plan. Since you're not planning to just wing it and hope for the best, you need a business plan for your woodwork business.
A business plan is simply a written description of the future of your business. In other words, it could mean a written plan that tells you what your business will do in the years or months to come. Contrary to what you may have heard about business plans, they are not complicated, and surprisingly, it's something you can do yourself.
The business plan would do well to document these:
Depending on what you want out of the business, your business plan may also document your plans for the business; do you want to remain a one-man business? Can you expand to other states? When can an expansion be possible?
Also, this plan should document how you plan to advertise your products, and where and who you want to sell to. To get a hang of this, you need to conduct market research to get valuable information that will help you sell off your wooden projects once you start.
Get the Right Tools
Before kick starting this business, you'll of course want to get the right tools. Bear in mind that acquiring these tools may take time, especially if you do not own them beforehand.
Since most of these tools are expensive, you would need to have a budget for them. A part of your financial reserve can be to fund the purchase of these tools. Ensure that you have a budget so that you don't buy more than is feasible.
While this is not an exhaustive list of the tools you would be needing, these are a few you should get your hands on:
How to Make Money Woodworking
Now that we have discussed all that you would need to kick start this business, it is time to discuss how you can make money from it.
As mentioned earlier, the cost of owning well-designed and finished wooden projects has skyrocketed over the years. This has made it a lucrative business for a skilled woodworker. If you are, then you are bound to make money from this business.
The thing to take into consideration as a woodworker is the type of product you want to make. Some projects are more expensive and in higher demand than others. If you're keen on making money, these are the best projects to carry out.
Wooden Pieces of Furniture
This is arguably the most important thing you can make and sell at the moment. According to Global Insights Market, the market demand for wooden furniture is expected to cross the $500 billion mark before the end of 2025.
This is substantial proof that wooden furniture is the most lucrative product you can make right now, and in the years to come. The most interesting part of this is that you do not have to convince people to buy - there's a market for it already. All you would need to do is ensure that your projects stand out from what you see every day.
If you're still skeptical of the type of wooden furniture to make, you can choose from these:
If you're not well experienced, you may have to consider making rustic furniture. Many people are turning to this because they look great in rustic-themed homes.
One of the most fascinating parts of making rustic furniture is that they are expected to be a little rough on the edges. Depending on the type of wood you're using, you are likely to get away with little imperfections here and there.
Besides that, rustic furniture is quite easy to make. With any wood, you can conveniently make something that looks good and sells. You would find it interesting to know that most woodworkers make rustic furniture out of pellets. The interesting part is that there are tons of businesses that are willing to give you these pellets for free.
Small Wooden Projects
Another profitable option to take into consideration is the making of small wooden projects that you can sell-off. While you would probably make more money from selling larger pieces of furniture, you are bound to make money from these small projects, as well. Also, these smaller projects, unlike others, are easy to make.
Besides being easy to make, these smaller projects are easy to carry around. While you would require a large truck to move a large piece of furniture from your workspace to your client's home, you can simply take these smaller wooden projects to their home easily.
Additionally, the market for small wooden projects is booming and you're bound to make good money. Some of the wooden projects you can make and sell include:
Albeit profitable, one of the things to remember if you ever decide to specialize in making small wooden projects is that you would need to sell several of those projects to make as much money as you would from a larger piece of furniture.
Repair and Flip Furniture
Another fine option to take into consideration when deciding on what type of projects to make is to delve into repairing and flipping pieces of furniture.
Currently, there are tons of people that sell pieces of furniture just because there's a hole or crack on it. You can get these pieces at a cheaper price, fix them, and sell them off at a higher price. Additionally, some people give out cracked or old pieces of furniture, as well. You can get them, fix them up like new and sell them off at a higher price.
Besides fixing damaged pieces of furniture, you can also transform some of the old ones to modern pieces for your clients for a fee. If you're keen on learning how to flip, there are a ton of articles that will help you out.
Start a YouTube Channel
This is arguably one of the most overlooked ideas. This is pretty simple and earns you enough money than you may have envisioned.
Currently, there are dozens of YouTube channel owners that make thousands of dollars annually just by uploading their content on the platform. You can take advantage of this platform, too.
Here's how you can go about it.
First, you need to create a YouTube channel. Since you're into woodworking, your name should reflect it. Viewers should get an idea of what you do by simply taking a look at your name.
Secondly, you need to create content. Creating content here may be the hardest part of the job and that's because it brings the money. To get started, you need to record and properly edit some of your woodworking projects. For example, if you're fixing a cracked piece of furniture, you may decide to record yourself doing so, edit it and post it on YouTube.
To keep your viewers glued, your videos should be short and easy to understand. You may decide to have subtitles showing in those videos to help your viewers know what you're doing and how they also can do theirs.
The key to making it big is creating real content. You need to share real videos of you doing the work. Add subtitles to your videos in a step-by-step manner to enable your viewers to follow along.
Once you're able to create real and valuable content, the next thing to do is share it to your various social media accounts. If you can, you may decide to pay others to help promote your videos on their pages.
Regardless of the option you go for, endeavor to put in your best. Also, you may decide to go for all of the options or stick to one. In the end, it's up to your needs and preferences.
Conclusion
Making money from woodworking can be truly rewarding, especially if you're looking to transform your side hobby into a full-fledged business. This article has discussed in full how you can make money from woodworking.
Also, we have shared several steps that should be taken first before you decide to kickstart a woodwork business. These steps should be taken seriously.
Finally, you can only make money from woodworking if you are determined to do so. Keep in mind that a successful business won't happen overnight; but as long as you keep pursuing your passion, you'll achieve a profitable endeavor!
Last Updated on January 7, 2021 by Tom Bradly