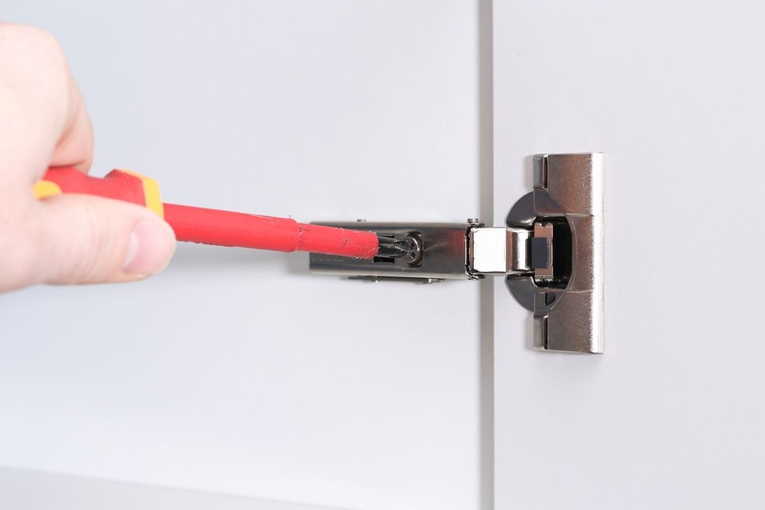 How to Adjust Soft Close Kitchen Cabinet Doors to Shut Quietly
Soft close hinges allow you to shut your cabinet doors quietly. This should not be mixed up with self close hinges, which almost do the same job, except they don't ensure that the door closes gently.
This soft closing function is performed through built-in hydraulics. These hydraulics do the job of closing the door easily and silently. Soft close hinges prevent the unpleasant sound a cabinet door makes when it's being slammed shut. Even if you try to bang the door shut, it will automatically close silently and smoothly.
If you don't already have soft close cabinets and you're thinking of remodeling your kitchen, it wouldn't be a terrible idea to change your hinges because of the many benefits.
Even though these hinges are long-lasting, they still require some care and attention. When they start getting loose, it is important to adjust them so they function properly. In this article, we'll explore how to adjust soft close kitchen cabinet doors so they're sturdier and quieter.
Benefits of Using Soft Close Hinges for Your Cabinet Doors
You may be wondering why it's necessary to have soft close hinges for your cabinets when they do the same job as normal hinges. These benefits will help convince you to stick with soft close hinges.
1. Peace and quiet
When working in the kitchen, you won't have to bear the loud noise of cabinet doors slamming anymore. These loud sounds can be a headache, especially when the cabinet handle slips from your grasp and shuts with the loudest bang ever.
With soft close hinges, even if you try to bang a cabinet door, it will still close smoothly.
2. Protects the quality of the cabinet
We put a lot of strain on our kitchen cabinets, which can easily lead to cracks and dents. The life of the cabinet is prolonged so you don't have to spend every dime repairing kitchen cabinets.
3. It has great aesthetics
These door hinges are not always dull, one-size-fits-all. You can have different designs and sizes to make your cabinets look aesthetically pleasing.
4. Reduces the chances of an accident
This is important for safety reasons, especially if you have kids around. There can be situations where your hands get caught and the doors shut right against them. This can be very painful. With soft close hinges, your kids' safety is assured, especially when curiosity takes over them and they start trying to open and close every cabinet they come across.
5. Protects the contents of the cabinet
There are lots of instances where a slamming door can send the contents of a cabinet falling down. This can lead to much worse damage if the contents are delicate, like wine glasses, china plates, etc.
6. Adds value to your house
Soft close hinges on cabinets, drawers, etc., give them a luxurious look. If you're trying to sell your house, soft close hinges definitely add some value. This is a feature that a lot of people desire in their future home.
How to Adjust Soft Close Kitchen Cabinet Doors
Adjusting the soft close hinges on your kitchen cabinet isn't complex. It only takes a little bit of time, and it doesn't require a lot of tools and materials. This can be a little DIY project that you can finish on a Saturday morning.
All you will need for this simple task is a screwdriver. You may also need some screws depending on what you're trying to fix, but this is highly unlikely.
1. Examine the cabinet door
When trying to fix a door, different types of cabinets require different approaches. Smaller cabinet doors will need a little hinge setting while larger ones will require something bigger.
Also, you need to determine the style of your cabinet. Do this by checking if your door fits into the space marked out for it. This makes it inset. But if your cabinet doors don't fit, they go beyond the cabinet space, and they are overlaid.
The way your cabinet hinges are fixed may be affected by this.
2. Make sure the doors are not crooked.
The doors should be straight, and the hinge should be aligned properly to ensure that the doors will close correctly.
Make sure you use the correct screwdriver to keep the doors straight and in place or you may have to reinstall them.
3. Close the cabinet door
Shut the cabinet door to check if it's aligned properly. If it isn't, you'll need to reinstall the door with a screw.
After you've done this, you should look for a plunger (silver or gray) at the center of the hinge. You can pull it with the tip of your finger to be sure it's the adjustment tab.
Some hinge models may not come like this. Instead, they may have an adjustment lever that can be moved.
4. Adjust the hinges
If your cabinet doors are small, you should do a light setting. The setting of your cabinet door hinges depends on how big your door is. There are different types of hinges, so adjust them according to their sizes. After that, push your lever in so it stays concealed.
5. Pay attention to the door
If you're adjusting a normal-sized cabinet, turn the adjustment lever in a clockwise direction. If it's an adjustment lever, pull the tab out a little bit. There should be about 10mm of space between the tab and hinge. This setting is a common adjustment form for medium-sized doors.
For strong hinge settings for larger doors, move the adjustment lever clockwise toward the direction of the inside of the cabinet. This will be around 90 degrees. For the adjustment tab, pull it at about 5mm.
6. Test the doors
Open and close the doors to check them. If the door closes too quickly, tighten the adjustment mechanism so there's more weight until it closes more slowly. At the end of the day, this depends on your preferences. Keep adjusting until you're satisfied with the result.
Other Issues You May Encounter and How to Fix Them
This may be your first time trying to adjust the soft close hinges on your cabinet, so it's likely you will come across difficulties or have to do some trial and error to figure out what suits you best.
Our aim is to cover every area that might cause some issues so when that happens, you'll know how to move forward like a pro.
1. The door won't close
This could be the result of setting the hinge too high, which causes it to remain open. We've mentioned earlier that the setting of your adjustment lever should be according to the size of the cabinet door.
The most effective solution to this is to use a screwdriver on the small screw that has the minus or plus sign above it. Lessen the resistance to fix this.
2. The door is slamming shut
This goes against the purpose of a soft close hinge. This can come up when your doors are not properly aligned or if there are loose screws that need to be tightened.
We've talked about how to align your doors above.
3. Squeaking or slow closing doors
This happens as a result of rust or poor lubrication of the hinges. The door can get very stiff when closing and make a loud whining sound that is unpleasant and annoying. This is the opposite of the luxurious and clean look you want your kitchen to have.
To fix this, you need to apply a lubricating spray or grease to the hinge. Add a sufficient amount and then leave it. After a few minutes, open and close the door to see if there's any difference. If you're not satisfied with the results, do this step again.
How to Get Rid of Dirt on Your Hinges
Dirt can build up in your hinges from grease and debris if you've had your cabinets for a long time. This can cause them to squeak, close slowly, and not perform their overall function. It can even stop your door from closing completely, so it is crucial to get rid of any dirt.
One way you can do this is by placing the hinge in hot water for a few minutes. You'll be able to see all the dirt come off slowly that was sticking to the hinge. When it looks clean enough, place it in cold water, then grease the hinge to avoid rust.
Conclusion
It is essential to take proper care of the cabinet hinges in your kitchen to ensure that they are able to perform their function efficiently.
Learning how to adjust soft close kitchen cabinet doors is not rocket science. In fact, cabinet maintenance is an easy task to do and can be completed in less than fifteen minutes, so you have no excuse to not want to. With these steps highlighted, you should be able to complete the task without a hitch.
Last Updated on April 30, 2022 by Tom Bradly