5 Best Hard Hats of 2023 – Reviews & Buying Guide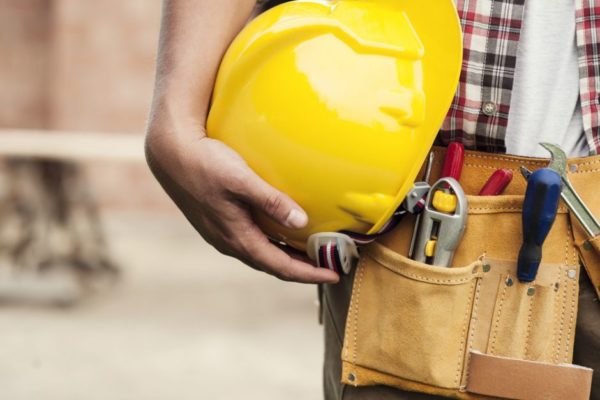 You get to work more confidently and productively when you feel safe. Hard hats are one of the most critical personal protective equipment (PPE). They are your last line of defence against head injuries when working in hazardous environments.
The best hard hats are sturdy, and they fit well and feel light and cozy. This review looks at the 5 best hard hats to channel safety and enthusiasm into your hard labor.
Best Value
MSA 475395 Skullgard Protective Hard Hat Front Brim, Fas-Trac III...
Pyramex Safety HP44118 Ridgeline Cap Style Hard Hat, One Size, Grey...
Texas America Safety Company Sticker Bomb Full Brim Style Hydro Dipped...
Fibre-Metal by Honeywell P2A Hard Hat with 8-Point Ratchet Suspension,...
Best Value
MSA 475395 Skullgard Protective Hard Hat Front Brim, Fas-Trac III...
Pyramex Safety HP44118 Ridgeline Cap Style Hard Hat, One Size, Grey...
Texas America Safety Company Sticker Bomb Full Brim Style Hydro Dipped...
Fibre-Metal by Honeywell P2A Hard Hat with 8-Point Ratchet Suspension,...
Last update on 2023-06-07 / Affiliate links / Images from Amazon Product Advertising API
Why buy a hard hat?
Hard hats are a requirement in many construction projects and other dangerous works. Hard hats serve many roles, including:
Impact protection
When debris falls down on you, or when you fall hard from a ladder, you will appreciate the importance of a hard protective hat. These occurrences and more are the nature of many construction and electrical jobs.
Even search and rescue missions depend on the safety of the rescuers, so hard hats are a must-have.
Traumatic brain injuries make for at least 2.2 million emergency room visits annually. Construction workers are at a higher risk of these spine chilling accidents. A protective hard hat could save you the pain, the money and the possible incapacitation.
High visibility
Most head hats come in bright colors that enable foremen to see where their colleagues are with ease. In the event of an accident, high visibility means that someone will see you and come to your aid fast. Accidents are also minimized as situational awareness increases.
Safeguarding against electric shock
Most hard hats, especially those in class G and E, can keep you safe against electrical shocks. These hats are made of non-conductive materials that withstand thousands of volts of electric current.
For that reason, hard aluminium hats are no longer acceptable as a PPE in construction sites.
How to Buy the Best Hard Hat
I was one of the hard-headed individuals that dismissed everyone that advised me to wear a helmet as alarmists. Then it happened. Debris came falling hard on me one day, and except for my agility, I would have been another statistic. I decided to invest in a hard hat there and then.
Unless it's well-constructed, a hard hat doesn't feel comfy at all, that's for sure. Then again, some keep falling off your head because they come with a clumsy suspension system. I have tested many, liked some, been disappointed severally, and learnt critical lessons
Here is how to find your best hat without much of hassle
Check to ensure you are not being short-changed on design
The hard hat should generally have a hard outer shell if it's to successfully serve its protective role. The harder the shell, the more protection you will have against massive impacts. On the other hand, a suspension system is necessary for shock absorption.
When shopping for hard hats, check the label to ensure that the helmet can put up well under extreme temperatures, electric shock and corrosive substances. The best design will also include slots for goggles, earmuffs and other PPE.
A larger brim will save you from the glare of the sun
If your work is mostly in the outdoors, you might want to get a hard hat with a larger brim. Some models come with an all-round rim that might help to protect your face and neck from many elements.
Inspect the materials used
Had hats are mostly made of high-density polyethylene (HDPE) or polycarbonate plastic. We would love to have hard hats for the sake of durability and strength, but their conductive property makes them hazardous.
If not HDPE or polycarbonate plastic, ensure that your head hat material is a poor conductor. It should be lightweight and have reliable thermal resistant properties.
Check the quality of the suspension system
The suspension system is basically the harness that keeps your head safely and comfortably prepped inside the hat. The right suspension system is easy to adjust. It should leave some space between the shell of the helmet and your head for adequate impact protection.
Ensure that you buy a hard hat whose suspension system is made of durable materials such as polyester or nylon
Best Hard Hats in the Market
Last update on 2023-06-07 / Affiliate links / Images from Amazon Product Advertising API
The hat's unique design features a front brim, fas-track 3 suspension and a rustic tan. Functionally, the manufacturer states that the MSA 47539U5 hat is heat resistant and could, therefore, be used in high-temperature engagements.
It can supposedly protect you under temperature as hot as 350 °F.
The enhanced suspension system, as described earlier, makes it easy to adjust the hat with zero headaches while at. For workers that toil all day, easy adjustment hats are a promise of comfort.
The suspension system entails flushing rear attachments that by a large extent could relieve pressure on your head. The nape strap can be adjusted to three levels as you like. Its design, as the manufacturers say, allows for free air circulation.
One pesky concern for construction workers and fire-fighters is hats that fly off the head in the heat of action. The MSA 475395 promises a secure hold.
Another impressive feature with this MSA hat is the swing ratchet that might allow you to wear the hat in any orientation you find most comfortable.
Typically helmets need to be worn with the brim facing forward but this swing ratchet suspension could help you safely turn the hat around.
Last update on 2023-06-07 / Affiliate links / Images from Amazon Product Advertising API
The Pyramex hard hat is made of ABS material that generally puts up well under hot temperatures and other adverse conditions. For a budget-conscious buyer, getting this hat might not be a regrettable decision, after all.
Its design is low profile, and that potentially works well for its balance. The lower profile design might be what keeps this protective hat from flying off your head when you move. How so? It works by lowering the hat's centre of gravity so the helmet can balance better on your head.
The MSA hat used a patented fas-trac-3 suspension system. Well, the Pyramex Safety HP44118 Ridgeline uses a suspension system too. It's a padded rear design that supposedly enhances how to comfort the hat feels on your neck.
You will likely find the Pyramex safety hat to be lightweight on account of the ABS material. Lightweight hard hats are a little comfier, you must admit.
The manufacturers also assure us of 4 position harness points that could enable free movement for more comfort. The cherry on top is a vented pressure pad that could take the stress off your head.
All seems well with this hat, except for the fact that its construction might not be durable. Its use might thus be limited to light-duty tasks.
Last update on 2023-06-07 / Affiliate links / Images from Amazon Product Advertising API
If you need a little bit of color and flair with your hard hat, this might do. The Texas America safety company hard hat is hydro dipped to strengthen the graphics.
The design could, therefore, be super resistant to scratches and fading.
This funky hard hat might be a breath of fresh air from the plain hats that make your workday drag on drearily.
The hard helmet is made of carbon fibre. This material generally has high heat tolerance levels. It could also be durable and puts up well under exposure to corrosives.
The hat's full brim technology is Pyramex's baby concept we touched earlier. You could wear this hat in any orientation even as the brim keeps your face safe from many elements.
One feature that's critical for me when buying a hard hat is the quality of its suspension system. The Texas America Safety Company sticker bomb hard hat uses an adjustable ratchet suspension.
By the turn of a knob at the back, one might be able to adjust how the hat fits.
Last update on 2023-06-07 / Affiliate links / Images from Amazon Product Advertising API
This Fibre-Metal hard hat comes across as a durable and construction-friendly. Its build entails a fibreglass compound that could be hard enough to resist scorching temperatures of up to 370°F.
Fiberglas is generally insulating, incombustible and packs a tougher-than-steel kind of tensile strength. I'd say that these features make for a safe hat for all types of engagements.
The other alluring quality with the Fibre-Metal hat is its lightweight nature. When getting paid more isn't going to happen, you will want a lighter hat to make your workday go much faster.
Its Fiberglass-plastic material notwithstanding, the hat feels practically hard. It might, therefore, be handy dandy for contractors that need to put their minds at ease during heavy-duty projects.
Another endearing quality is that it accommodates big heads. It sits lower on the head than the earlier reviewed hats, and that's a possible sign of reliable balance.
The Fibre-Metal hard hat features a suspension system that helps to comfortably and safely secure the hat around the head. On the other hand, the Terry-fabric sweatband can help to wick away moisture for a comfortable experience.
No products found.
No products found.
The highlight of the AMSTON safety hard hat is the cooling vent and the low adjustable profile. AMSTON assures us of a hat that could be comfy to wear all day. We might just take their word for it.
One attractive feature of this hat is its design. The plain blue design looks professionally appealing. The material of make here is high-density polyethylene.
Function-wise, the hat comes with multipoint adjustments that will potentially help you customize the most comfortable fit. There is even a detachable chin strap that you could put into play if you feel a little jittery under falling debris.
The AMSTON safety hat boasts smart engineering, one might say, that entails slots for attaching dust masks and eyewear. These slots are found on either side of the hard hat and might be the magnum opus of the entire helmet.
Its soft cloth suspension straps will likely help to achieve a comfy grip around the head. You might also like its breathable top that could prevent your head from getting baked on a hot summer day.
The AMSTON hard hat is also lightweight, and could, therefore, be ideal for those long days at work. You might be able to wear it all day with no pains.
The Best Pick
The No products found. is the top choice in this review. It might not be as tough as the MSA 475395 Skullgard, but its thoughtful design blows the competition out of the water.
Its leverage over buyers includes a cooling vent that keeps the head aerated in hot conditions. It also has a low profile design that is structurally beneficial for balance.
More still, the AMSTON hard hat features multipoint adjustments that you can take advantage of to find a comfortable fit.
Its biggest highlight, however, is the slots around the hat that are designed for attaching dust masks, ear muffs and goggles for comprehensive protection during risky engagements.
On the other hand, the soft cloth six suspension systems might help to prep your head cozily and safely.
Together with its lightweight nature, these features make for a hat that could be the most reliable work buddy for contractors.
Last Updated on February 5, 2020 by Tom Bradly