5 Best Deck Paints of 2023 – Wood Deck Paint Reviews & Buyer's Guide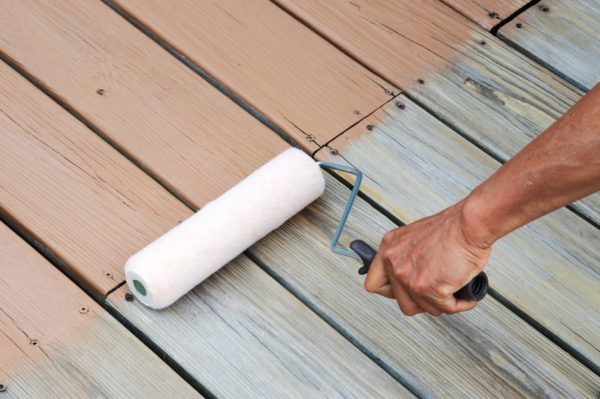 Deck building can be one of the most rewarding wood projects to build. Wood decks are a place to host or pile groceries, and to pause and watch life swing by.  Months of struggling with geometry, hammers, and cans of paint will birth extra value for a home. After hammering the final nail on the deck, the search for the best 5 Deck paints automatically begins. It is the familiar conclusion to all home improvement expeditions.
When I started building my deck, the very first one in my life, my eyes suddenly opened to the beauty of these installations. I began to notice decks and porches wherever I went. I started to appreciate their significance. Christmas lights hang delicately from railings, kids' bikes nested restfully while cushioned seats beckoned for an afternoon siesta. Decks were everywhere, each lovely and magnificent. I didn't know that a little more 'finishing power' was all it took to achieve such functional beauty.
I knew I had to see my project to completion. Let's just say it was not easy; I faced many dilemmas when it came choosing the best finish.  Right now, I have got experience on my side, and I am lucky to have been on the receivership end of many nuggets of wisdom when it comes to deck building. Top among them is how to choose deck paint.
Best Overall
Best Value
KiwiGrip Non-Skid Deck System, White, 4 Liter, KG10114R
TotalBoat-409322 TotalTread Non-Skid Deck Paint, Marine-Grade...
Ready Seal 512 5-Gallon Pail Natural Cedar Exterior Stain and Sealer...
KILZ Low-Lustre Enamel Porch & Patio Latex Floor Paint,...
Best Overall
KiwiGrip Non-Skid Deck System, White, 4 Liter, KG10114R
TotalBoat-409322 TotalTread Non-Skid Deck Paint, Marine-Grade...
Ready Seal 512 5-Gallon Pail Natural Cedar Exterior Stain and Sealer...
Best Value
KILZ Low-Lustre Enamel Porch & Patio Latex Floor Paint,...
Last update on 2023-12-01 / Affiliate links / Images from Amazon Product Advertising API
Factors to Consider when Buying Deck Paint
Oil-based paint works fine but with some caveats
To protect and enhance the beauty of the deck, choose a paint that gives it a natural finish.  A generous coating of oil-based paints will help to seal the cracks in the deck surface. The later will improve beauty but with one caveat- you will need to reapply coat at least every year because oil-based paint is not UV resistant.
Water-based paint is preferable
Pros favor water based paint over oil based paints. Water based paint can withstand rain and sunshine. Water-based paints known to deliver the best results include latex and acrylic paints. These paints don't hold moisture underneath, making them resistant to cracks and peels. Your deck will also be able to retain its shine over the years without the threat of discoloration.
Acrylic paints have a superb performance
Acrylic paint is the expert recommended for deck painting, as well as for all outdoor finishes. This type of paint does not falter in the face of harsh UV rays; your decks will look new many years to come. The beauty of it is that it can work well on all types of wood be it cedar, pressure treated wood or redwood. You will also find that cleanup is easy after a long day of painting; you will only need water and soap.
Choose a paint that has high resin content
The amount of foot traffic the deck receives is comparatively higher than other parts of the home. This foot traffic always wears out the finish, leaving the wood to be exposed to the elements. In the face of rain and sunshine, the quality of your wooden deck will take a downturn.
To prevent this problem, find a deck paint that contains a high amount of resin adhesives. These paints will withstand abrasion for a long time. The paint will adhere even in the instances of rough cleaning. You will get better results if you prime the deck first before applying the specially formulated paints.
Textured paints are preferable
Most oil paints are slippery when still wet. That can be dangerous for everyone around the home. Find a nonskid surface paint infused with grit.
Maintain your deck's natural look
In case you want to preserve the natural look, water-resistant preservatives and stains are recommended.  These products will protect the wood from rot while maintaining its natural appearance for a long time
A transparent oil stain can even make your deck more attractive. Lighter stains perform much better because heavy pigmented stains often wear faster. Then also, renewing them is not easy; you will have to peel off the old paint to apply a new coat.
Be that as it may, stains that are near opaque also work well. They create a protective layer on your deck's surface just like paint. The only difference is that they are thinner to accentuate the wood's texture.
Review Round-Up: The 5 Best Deck Paints
PORCH & PATIO PAINT: KILZ Porch and Patio Floor Paint is a 100% acrylic latex product providing a durable, long-lasting finish that is ideal for both interior and exterior applications.
ADVANCED FORMULA: This Acrylic paint offers a low-lustre enamel surface that is formulated to endure on deck, porch, and patio siding and floors through variable weather conditions. This product will...
MULTIPLE USES: Ideal for porches, floors, decks, basements, patios, siding, trim, furniture and trellises. May be applied over properly prepared, previously-painted or primed surfaces. Not for use on...
Last update on 2023-12-01 / Affiliate links / Images from Amazon Product Advertising API
As with all enamel paints, KILZ L573611 shows strong features against the elements; the enamel additive makes surfaces less porous. This paint is acrylic and is used by those who prefer a glossy finish.  The downside is that the freshly painted surface remains slippery for long.
From the deck paint buying guide, you will find that KILZL573611 scores points for the fact that it is acrylic paint. The water-based paint is compatible with all types of wood.  It is naturally resistant to UV rays and minimizes peeling because it doesn't trap moisture underneath it.
The biggest highlight of KilzL573611 is its fast drying time. It dries the fastest in the review.  As I came to learn later, fast-drying paint is a much-needed convenience in outdoor painting. With the wind blowing dirt and debris around, these unruly items might get stack and dry on your deck surface until the next remodeling job. Fast drying paint will save you from this menace.
KILZ L573611 Enamel Paint comes in two shades- silver grey and slate grey. You can apply this paint on primed or painted surfaces.  KILZ is a reputable paint manufacturer and has a long history and a list of accolades in the paint industry.
KILZ Pros & Cons
Pros
Pros
The paint is water based and thus resistant to cracks and peels
It is mildew resistant
Cleaning is a breeze
Dries fast
Can also be applied on primed or painted surfaces
Cons
Cons
Not waterproof
You will need several coats for an excellent finish
Can have an unpleasant odor
2. TotalThread Non-skid Paint
NON-SKID DECK PAINT: Durable, textured, low-glare high-traction surface for secure footing, with a comfortable rubberized texture that's less abrasive than traditional silica additives
LONG-LASTING POLYURETHANE FINISH: Durable coating won't fade or peel; easy to clean - scrubbing won't wear away the finish; affordable way to bring your old boat flooring back to life
NON-SLIP PAINT WITH MANY APPLICATIONS: Boat decks, docks, cabin soles, hatches, stairs, steps, gunwales, swim platforms, concrete, patios, floors, and anywhere else you need sure footing
Last update on 2023-12-01 / Affiliate links / Images from Amazon Product Advertising API
This is a textured paint that will add traction to your deck surfaces, which is an added advantage as per our buying guide above.  Spilt coffee and wine are a common occurrence on decks. Non-slip paint makes them safer. The other major highlight is the fact that TotalThread is affordable than most paints in this review.
I was completely satisfied with its UV resistant capabilities- my decks remained peel-free for long. The other reason why the TotalThread Non Slip deck paint is in this top five list is its high resin content. This feature improves its adhesiveness.
If you regularly clean your decks with a hard bristled brush, you will find that this paint remains intact. TotalThread Nonskid Paint doesn't crack or peel even in the face if high foot traffic. The manufacturer declares that applying several coating improves grip. What improves its adhesiveness is the polyurethane formula mixed with Propyltex wax.
TotalThread Pros & Cons
Pros
Pros
It less abrasive yet it has high traction with a rubbery texture
It uses an ant-UV formula to prevent cracks and fade.
Highly adhesive to the deck surface
Easy cleaning
Cons
Cons
It traps water underneath it
Slippery when wet – it uses plastic beads instead of grit
The micro beads in it are not consistent
Last update on 2023-12-01 / Affiliate links / Images from Amazon Product Advertising API
If you are looking for an acrylic paint that gives you several color options for your deck, then consider the KiwiGrip non-slip paint. Unlike KILZ L573611 Enamel Paint the Kiwi paint comes in 5 color sets which include White, Blue, Cream, Gray and Black. Users can create their custom tint from the list of colors.
On top of that, you get all the benefits of acrylic paint, as mentioned before. These include fast drying time and resistance to peels and cracks in the face of all weather conditions. With a proper application technique, you can achieve high traction with this one too, but certainly not to the level of textured paints like TotalThread non-skid Paint.
Kiwi Company promises a durable paint that doesn't wear down fast. Supposedly, maintenance is easy because it doesn't contain fillers like sand or plastic.  That is unverifiable. What is true, however, is that you get a smooth texture with this paint. Surfaces that were previously painted with an oil-based paint will have to be sanded first before applying KiwiGrip Non-Skid Coating
KiwiGrip Pros & Cons
Pros
Pros
Consistent even texture
Some non-slip properties- Comes with a roller that creates texture
Add texture by using the included roller
Five different color options
All the advantages of a water-based paint
Cons
Cons
Too thin for outdoor paint
Average durability and toughness
The roller clogs easily
Difficult to clean
The grey is more white than grey
4. Ready Seal Stain
Sale
Requires no primer. Ready Seal is darkest when first applied. It reaches its true color in approximately 14 days. Do not apply Ready Seal over painted or newly stained surfaces. Sealed surfaces...
May be applied using sprayer, roller or brush onto the woods surface.
Requires no back brushing and will nerver leave runs, laps, or streaks.
Last update on 2023-12-01 / Affiliate links / Images from Amazon Product Advertising API
My first-time deck finishing I went with a stain instead of paint to show off the staggeringly beautiful cider.  Ready seal tan could be of help if you choose stain over paint. As you get to preserve the texture and appearance of your wood you will have another advantage; the stain's anti-UV properties will keep your deck safe from fading, cracks, and peels.
The oil-based sealant is also impervious to water mildew and molds so you can catch your afternoon nap without worrying of rot creeping from underneath the wood.  
You will notice that that cedar takes towards a darker shade after applying Ready Seal Stain. It's an enhanced appearance that many wood woodworkers approve.  Then again, as you probably know, sealants and stains last longer than paints. As opposed to repainting after every few months, the stain can be reapplied after three years. That's a wallet-friendly convenience.
Unlike with the paints in this review, you can achieve excellent results without a primer using Ready Seal Stain. It is the nature of all stains, though. You can apply it by spraying, rolling or brushing into the wooden surface.   Ready Seal Stain leaves a smooth finish with no streaks and laps.
Ready Seal Pros & Cons
Pros
Pros
It needs no special temperature for application
It is resistant to moisture, mold and mildew
It offers UV resistance
Enhances the wood's natural appearance
Cons
Cons
Color is off; light oak is unexpectedly darker
Takes several coasts to achieve excellent results
Doesn't penetrate faster
No products found.
No products found.
As seen from our buying guide, oil-based paints and stains have their pros and cons. If you are looking for something different – a water-based stain for your deck to be exact– Defy Extreme seems an excellent place to start.
Defy Extreme is an anti-UV stain that uses tiny zinc oxide particles to prevent UV-initiated fading and mold growth. Compared to Ready Seal Stain, Defy Extreme absorbs into the wood much faster, and so it is efficient in small amounts.
As with all water based paints, Defy Extreme does not leave filming in the coat; that is to say it doesn't trap moisture underneath the coat. So, you can expect maximum protection for your deck from rain.  Compared to other water-based paints, I found Defy Extreme to have a higher degree of resistance to wear. Peeling is minimal.
Defy Extreme deck stain has a high level of adhesiveness aided by epoxy resins. You can, therefore, expect an abrasive-resistant surface after applying the stain.  I also liked the fact that it accentuates the color and texture of wood. Another thing I noticed during the application is that it could dry quickly under direct sunlight so better work fast!
Defy Extreme Pros & Cons
Pros
Pros
It offers protection against UV rays
Resistant to mold and mildew
Easy to apply
Efficient in small amounts
Deep penetration
Semitransparent and highly adhesive
Cons
Cons
The Best Wood Deck Paint
KiwiGrip Non-Skid Coating
outperforms other paints on this list and in the market. It is a promising water-based paint that checks most boxes right on our deck paint buying guide. Of all paints and stains, KiwiGrip Non-Skid Coating Enamel Paint offers protection against UV rays and prevents cracking and peeling. It is highly adhesive and comes in 5 different color options. The included roller for applying can help you create texture for traction and skid resistance.
Defy Extreme comes a close second if you prefer to stain your decks. The later offers all the moisture and UV resistance, mildew resistance, and high adhesiveness while preserving the natural look and texture of wood.
Last Updated on August 7, 2020 by Tom Bradly