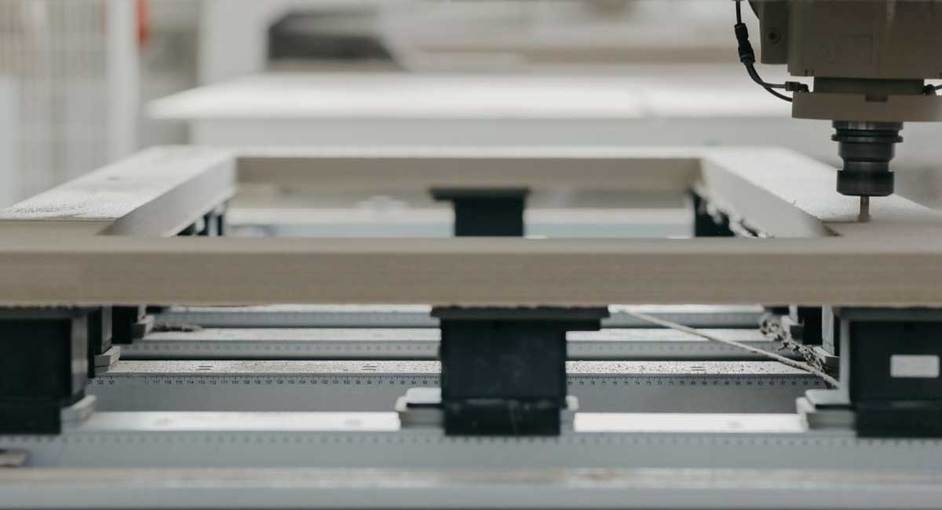 Best CNC Machines of 2022 – Review & Buying Guide
The right woodworking equipment can make a huge difference in your workshop efficiency and in the number of products you are able to produce.
Modern technology is astonishing! Today, you can get a machine for almost any function, and these advanced woodworking tools are instrumental for reducing your workload and helping you produce fine-quality wooden furniture or décor pieces in no time at all.
One machine that carpenters frequently gawk at is CNC machines. These woodworking machines are extremely handy for creating all sorts of finishes in wood, including fine art carvings. Yes, we are talking about those delicate artworks you used to see in vintage wooden furniture pieces that used to be carved out by hand using small pallet knives.
In A Hurry? Here Are Our Top Picks...
Last update on 2022-06-24 / Affiliate links / Images from Amazon Product Advertising API
With the best CNC machines, you can create a huge variety of finely detailed artworks in just about any type of wood. These machines are ideal for creating fine finishes in small to large pieces so you can craft an abundance of décor items or furniture pieces.
The 5 Best CNC Machines to Buy Now
In this guide, we are going to have a quick look at 5 good quality CNC machines that are practical for use in your home workshop. With one of these machines, you can take your furniture crafting to the next level and produce fine pieces in less time.
Here is a quick look at our top picks.
SainSmart Genmitsu 3018-PROVer Desktop CNC Router Machine with GRBL...
Class leading values got even easier to use. Pre-assembled and no fuss with assembly taking less than 30 minutes out of the box. An entry-level CNC for anyone who wants to learn a new skill, work on...
Still based on open-source Grbl v1.1 the PROVer has stepped up to more powerful but silent Toshiba TB6S109 drivers with added life and performance along with added Optocouplers to protect your...
Make more with the all-aluminum body and take advantage of the added stability for milling a wider range of materials while also making clean up even easier with acrylic safety baffles to help contain...
Last update on 2022-06-24 / Affiliate links / Images from Amazon Product Advertising API
The SainSmart Genmitsu is an ideal CNC machine if you want to create wood carvings or if you want to make engravings in wood or soft metals.
This CNC machine has an engraving area of 260 x 155 x 35 mm and a fast 10,000 RPM drill speed so you can get your projects done in no time at all.
It is also compatible with various operating systems and has common software that most woodworkers can easily master.
MYSWEETY 2 in 1 5500mW CNC 3018 Pro Engraver Machine, GRBL Control 3...
🛠️【2-IN-1 CNC 3018 Pro】 - Designed for the absolute beginner, this machine is a great tool for starting CNC learning. It come with the spindle motor and 5.5W module on Z axis. If you use the...
🛠️【Offline Controller】- The offline controller is 1G Capacity. You can control the CNC router without connecting to the computer. The CNC router can be placed wherever you want, such as...
🛠️【New Control Board】- Integrated driver chip + fixed heat sink + external fan + sturdy casing to extend the life of the control board, Self-contained short circuit protection, Not easy to...
Last update on 2022-06-24 / Affiliate links / Images from Amazon Product Advertising API
The MySweety is an ideal engraver for beginners. This one can only engrave wood, plastic and other soft materials and isn't really suitable for carving.
It does have a surprisingly large engraving area of 30 x 18 x 45 cm which is surprising for such a small machine and the machine is also very fast at 10,000 RPM.
This little engraver is also compatible with various operating systems and it is ideal for learning the Grbl software.
Specifications
Last update on 2022-06-24 / Affiliate links / Images from Amazon Product Advertising API
The BobsCNC is quite advanced and a bit pricey. It is an ideal investment for serious carpenters who want to make a lot of engravings or carvings.This machine has a large engrave area of 24 x 24 inches and it delivers up to 600 Watts of power.
The machine is also compatible with various operating systems but it works with Java based universal code sender platform and not the more common Grbl software.
Specifications
DIY Mini 1610 PRO Milling Machine 3 Axis GRBL Control CNC Router Kit...
【Upgrade Version 1610 Pro with Offline controller】Mini CNC machine small size, light weight, USB interface, GRBL control systems, great cnc router machine for beginers;The CNC1610 PRO machine is...
【Working area】18x10x4.5cm;Frame size: 30x26x25cm;Type:USB port Desktop cnc router【System requirements】 Windows XP, win7,win8,win10; Supporting files:G-code (.nc/.txt/.tape/.gcode)
【Spindle&Stepper Motor】Diameter 45mm 10000 rpm maximum power 120W; ER11-3.175mm ( can be replaced 0-7mm ); Nema17 42 stepper motor 1.3A/0.3N.m
Last update on 2022-06-24 / Affiliate links / Images from Amazon Product Advertising API
If you are limited on space and don't do too many large engravings then the DIY Mini is an ideal solution. This CNC machine can engrave or carve various materials including soft metals.
The machine has an 18 x 10 x 4.5cm engraving area which is quite small but not too small to work with. It also has a surprisingly powerful motor that delivers up to 10,000 RPM so you can get those projects completed in no time at all.
This little machine is also compatible with most modern operating systems and it has the common Grbl software.
Specifications
RATTMMOTOR CNC Router Machine Kit GRBL 3 Aixs DIY Mini 1310 CNC Metal...
【Technic Parameters】Working Area: 126mm×88mm×38mm. Frame Size: 281mm×281mm×287.5mm. Control Software: Grblcontrol / Lite.fire. Power Supply: 5A, 24V(110V-240V). Spindle Motor: 775 spindle...
【Simple Assembly/Use】This mini cnc router machine kit is mainly designed for DIY carving enthusiasts/beginners, easily assembled and opertated, coming with a paper manual and USB flash drive/CD...
【Applicable Engraving Material/Shape】CNC 1310 nachine can engrave plastic, wood, acrylic, pvc, pcb and silimar materials , as well as copper, aluminum, and other kinds of soft metal materials....
Last update on 2022-06-24 / Affiliate links / Images from Amazon Product Advertising API
Those who prefer to engrave harder metals and want to carve and engrave other materials like wood and PVC should consider the Rattmotor.
This compact machine can engrave items up to 281 x 281 x 287mm in size. At 8,000 RPM, it doesn't have the fastest motor, but it will still get the job done relatively fast.
The machine is compatible with quite a few operating systems and, unlike most machines, it has two software applications that you can use to get your projects designed.
Specifications
Buying Guide
As you can see, there are quite a few great CNC machines to choose from! If you are not sure which one to buy, then perhaps this quick guide can help you decide on one that is best suited for your needs.
For Tiny Workshops
Most of these CNC machines are quite small and should fit comfortably in a small workshop. The SainSmart Genmitsu CNC, MySweety DIY, and Rattmmotor are all desk-sized.
But if you are extremely limited on space, then you should consider the DIY Mini. This one is very small and surprisingly flexible, since it can even engrave soft metals like copper.
For Larger Workshops
For larger workshops or for making larger wood pieces, you should consider the BobsCNC Evolution 4. This machine has a large cutting area of up to 24 x 24 inches, which makes it ideal for larger carvings or engravings.
For Engraving Hard Metals and Wood
If you are someone who loves to incorporate different materials in your furniture designs, then you should consider a CNC machine that can engrave hard metals as well as wood.
The Rattmmotor is our top pick for carving harder metals. This one can be used to carve copper, aluminum and other soft metals. The SainSmart is also a good alternative for engraving soft metals.
For Carving and Engraving Wood and Plastics
Not all CNC machines can carve metal, but if you are only working with wood anyway, then you should consider the BobsCNC for delicate carvings or the MySweety for simpler engravings.
Final Thoughts
We do hope that our guide has helped you find a fantastic CNC machine so you can make your woodworking business an even greater success.
If you are looking for other woodworking items such as the best woodworking books, the best spar varnishes, the best marine varnishes, or even the best beginner table saw then we welcome you to have a look at some of our other guides where we discuss more terrific equipment and products!
Last Updated on January 30, 2021 by Tom Bradly