Top 5 Most Important Carpenter Tools of 2023
Carpentry is a big trade in the construction industry. Whether you are a beginner or a highly skilled woodworker, the success of your projects depends on the tools you have. Let's find out what it takes to achieve excellence in this field.
Carpenter Tools Buyer's Guide
There are machines, and there are handheld tools. You have to be comfortable with both; that's what I have learned through the years. As an old-timer skilled at making masterpieces with simple machines, it was a steep learning curve for me when it came to automatic gear.
I got there eventually, and here are a few words of wisdom I have for you when buying all sorts of carpentry tools.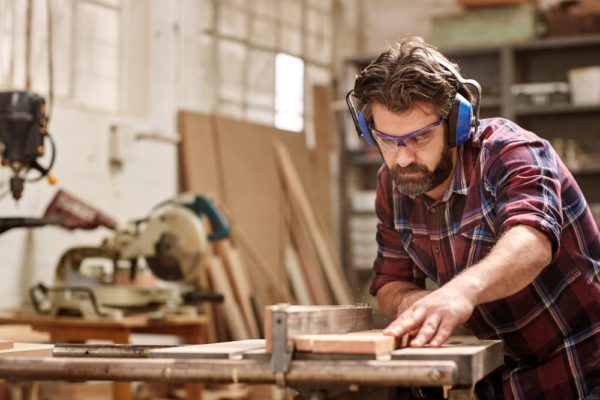 Buy a few tools at a time
Start with a few simple tools and build your inventory as your skills grow. Carpentry has thousands of devices associated with it, but the average carpenter only needs a few tools to fulfill specific functions. As you gain more experience, you will learn that a single simple device can do more than you initially thought.
If you are starting with an empty toolbox, you want to put your focus on cutting, fitting, and constructing tools. Devices for finishing should come last in your buying list.
Power
When working with modern woodworking machines such as saws and drills, motor power dictates the efficiency of your machine. The more motor power a device has, the faster will be its performance.
Electric devices cost more than their corresponding manual counterparts. This means you will want to use them when a higher return on investment is guaranteed.
Safety
Safety concerns with carpentry gear include poor ergonomics that lead to motion injuries, kickbacks that lead to severe injuries, and exposed blades — which are a danger whether the machine is in use or at rest.
You want to choose tools with the right handle design, kickback canceling features, vibration control, and blade guards.
Think about the volume of your work
Hand saws, sandpapers, and hammers are all essential carpentry tools. If you are a DIY enthusiast who likes to get busy with a few projects on the weekend, these devices might be sufficiently reliable.
But if woodworking is your bread and butter, you should put your money into an electric saw, a sander, and a compressor-nail-gun combo.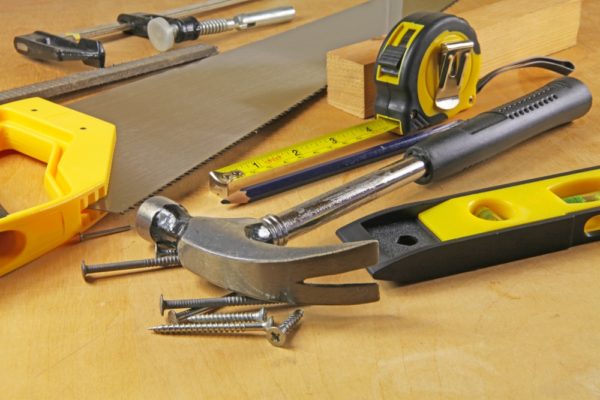 Versatility
Most carpentry tools can also find use in tasks such as repairing a car or building a home. Go for a machine with limitless functionalities on all surfaces and materials. Such devices will give you the most value for your money.
For instance, most electric saws can be used on a diverse range of materials, making them a cost-effective and space-efficient acquisition.
Dust removal
Sanding, sawing, and drilling are all operations that involve large volumes of dust emission. Without a dust-removal mechanism on your machine, it can be impossible to see where you are working and whether you are doing it accurately.
Inhaling the dust can also be a health hazard. So, consider carpentry power machines that feature a well-functioning dust port.
Ease of use
It saves time when your saws allow for a tool-less blade change, and when you can comfortably work around the edges with your sander. Similarly, cordless power drills are more flexible, giving you the freedom to work at all angles.
Portable woodworking tools make it easier to accomplish your goals, no matter how far you are from your job site. Other factors to consider include ergonomics and easy access to controls and switches.
What materials are you working with?
Hardwood and softwood materials have different requirements for speed and power when it comes to carpentry tools. The amount of power you need depends on how tough your workpiece is. Speed plays a role in precision. For instance, high-powered blades in table saws reduce tear-outs in the workpieces.
Top 5 Most Important Carpenter Tools
Makita 5007Mg Magnesium 7-1/4-Inch Circular Saw

Magnesium components create a lightweight saw (10.6 pounds) that is well balanced and jobsite tough
Powerful 15.0 AMP motor delivers 5,800 RPM for proven performance and jobsite durability
Two built in L.E.D lights illuminate the line of cut for increased accuracy

Last update on 2023-09-28 / Affiliate links / Images from Amazon Product Advertising API

Editor's Comments
Circular saws are efficient and straightforward. The cutting action is constant, unlike with reciprocating saws that have a cutting stroke and a return stroke.
Like with many other woodworking tools, Makita is a household name in circular saws. Makita 5007MGA runs on a 120-volt motor that can generate speeds of up to 5800 RPM. That potentially translates to increased productivity and can be ideal when dealing with a massive project.
The magnesium components in this saw deliver considerably well in terms of durability. Its qualities include high-impact resistance and lightweight design. This product assures a circular saw that balances its weight well and provides durability.
Other notable features here include a dust blower that can help to keep your worksite clean. That should help you achieve accurate cuts. This saw uses an electric brake, which helps to prevent kickback and minimize the risk of injuries.
When you release the trigger, an electric brake reverses current in the motor, stopping the blade in less than two seconds. That's why saws with electric brakes are deemed to be safer.
The blade capacity is 7 1/4″. You should be able to cut through wood pieces thicker than two inches at 45 degrees in a single pass. What that means for you is extra efficiency. You won't have to flip your workpiece over to complete the cutting.
Pros
Lightweight (10 pounds) from magnesium construction
Larger blade capacity delivers single-pass cutting
Electric brake kills kickback in an instant
Cons
Guard binds up to the blade too frequently
Its depth slide is not that smooth

---
DEWALT 10-Inch Table Saw, 16-Inch Rip Capacity (DW745)

22 kilograms unit weight and optimized footprint make this the most portable saw in its class. Shoe bevels 0 to 45 for beveled cuts
Steel roll cage protects saw against jobsite drops and impacts, rack and pinion fence system, front and rear fence lock and large, clear scales combine to give an extremely accurate and easy to use...
Powerful 1850 Watt motor for high performance in all applications. Max Rip To Left Of Blade 12 inch. Max Rip To Right Of Blade 20 inch

Last update on 2023-09-28 / Affiliate links / Images from Amazon Product Advertising API

Editor's Comments
Table saws are a little bulkier than circular saws, but for a woodworker that needs double the speed and accuracy, these machines are a must-have. The DEWALT DW745, 10-inch Table Saw could be a worthwhile addition to your carpentry tools this year.
The DEWALT DW745 10-Inch Table Saw is a 22-kg machine with a smaller footprint. Its design makes it one of the most portable saws in this category.
One impressive feature here, in my opinion, is the steel roll cage that protects the saw from drops and impact damage. The contraption similarly features a fence system with racks and fence locks for attaining precise cuts with ease.
The fence design facilitates a sizeable 20-inch rip capacity. The pinion fence rails and racks enable quicker and smoother adjustments. With the fence's telescoping design, the rails can move out 20 inches to rip full plywood sheets.
The machine runs on an 1850-Watt motor that is capable of no-load speeds of up to 3850 RPM at rest. This engine could deliver reliable power, which is ideal when working on hardwood pieces. I also find that the speed is high enough for faster and cleaner cuts.
Pros
Portable weight and design
Tool-less adjustment of the guarding components
It features a dust collection port
The rubber base provides a sturdy slip-free operation
Cons
The dust extraction feature does not work as expected
The blade starts to grind and bind after a short time of use

---
Sale

Last update on 2023-09-28 / Affiliate links / Images from Amazon Product Advertising API

Editor's Comments
Rafter squares are used in framing jobs. They are also known as speed squares and can be incredibly convenient when marking, framing angles, and performing square cuts. The DEWALT version is calibrated in sharply contrasting colors for easier readability.
The speed square is forged out of robust aluminum material and should, therefore, hold up well to extensive use at your worksite.
The large base is one of the most important features of this device. It helps to hold the square tight in place on the material for accurate marking.
The item weighs 1.2 pounds and features scribe line notches that can be handy when making rip cuts. Its single-piece triangular design delivers better reliability that the L-shaped square.
Even though this square can be an excellent guide for a circular saw when cutting 2×6's or 2×4's, it does have a few limitations. It cannot be placed on the face of a plank to check the square of an edge, for starters.
The convenience of this device is limited to general-purpose framing. However, you might appreciate how cheap such devices can be and the fact that they are easy to use and save time.
Pros
Features bright calibration for easier readability
Heavy-duty and built to last
Suitable for large dimensional wood pieces
Cons
Quality control issues; the item might arrive with damaged parts
Usage limited to rough framing

---
WEN 4208T 2.3-Amp 8-Inch 5-Speed Benchtop Drill Press

Includes a 1/2-inch keyed chuck and onboard key storage
Operates at 5 different speeds: 740, 1100, 1530, 2100, 3140 RPM
Spindle travels up to 2 inches with easy to read, locking linear depth stops for accurate and repeatable drilling operations.Cord Length (ft.):6

Last update on 2023-09-28 / Affiliate links / Images from Amazon Product Advertising API

Editor's Comments
A drill press is a stationary machine used to bore holes in workpieces. Drill presses deliver better efficiency and accuracy compared to handheld drills. With the 1/3 HP induction motor on the WEN 4208 5-Speed Drill Press, you might be able to finish your work faster and with better accuracy.
The biggest highlight of this machine is its 5-speed control. You can switch to a slower speed when working with tougher wood pieces, and use a faster speed on softwood. The speed adjustment feature helps you to set the motor at speeds of 740, 1100, 1530, 2100, and 3140 RPM.
This benchtop drill press has a spindle travel depth of two inches. That depth is a limitation if you are looking for a machine that drills five or six inches vertically. Even so, the included locking adjustment should help you to achieve accurate and identical drilling operations.
There is a beveling worktable attached that tilts 45 degrees for precise angled drilling. You get the ability to adjust the angle and depth of drilling to achieve the precision you want. I would choose this model over a handheld drill anytime.
Pros
Five-speed settings
Beveling workbench included
The key chuck accepts bits of up to ½ inch in size
Lockable depth adjustment knob helps with precision
Cons
The chuck piece can't seem to stay in place
The raising springs are weak and prone to breakage

---
Sale

BOSTITCH Air Compressor Combo Kit, 3-Tool (BTFP3KIT)

SB-1850BN 18 GA brad nailer in the air compressor combo kit drives 18GA brad nails from 5/8-inch to 2-inch
SB-1664FN 16 GA straight finish nailer drives 16 GA straight finish nails from 1-1/4-inch to 2-1/2-inch
BTFP71875 heavy-duty 3/8-inch crown stapler drives 3/8-inch crown staples from 1/4-inch to 9/16-inch and 18GA brad nails from 1/2-inch to 5/8-inch

Last update on 2023-09-28 / Affiliate links / Images from Amazon Product Advertising API

Editor's Comments
Carpentry needs a nailer; that's something every woodworker learns early on in their woodworking career. These machines are faster and can help you work more accurately as opposed to using a harmer to drive in nails.
There different nailer types in the market, including electric and pressure compressor models. BOSTITCH BTFP3KIT is an air compressor nailer kit that comes with a stapler, air compressor, and air hose; these features deliver diverse functions.
This pressure powered nailer kit boasts a powerful motor that can reportedly compress six gallons of air in one go, resulting in 150 PSI of pressure for driving nails in all kinds of surfaces.
The Brad nailer bit drives 18 gauge nails of sizes between 5/8″ and 2″. Therefore, you will likely find this machine helpful in a variety of woodworking scenarios where stronger connections are needed. This tool eliminates the repetitive hammer blows that often create looser joints from the continuous striking.
One remarkable quality here is that the compressor can be used with any finishing or framing nailer. I have run a Hitachi framing nailer off it. It delivers considerable power, but you might want to consider other powerful compressors for framing jobs.
Pros
Operates at low noise levels
Has a high flow regulator to maximize performance
An oil-free working experience
Cons
The nailer jams too frequently
The compressor can't seem to build enough pressure

---
The best pick
Even though the woodworking tools reviewed above are apples and oranges, one device that stands out (and that I wouldn't go without in my operations) is the Makita 5007MGA 7 1/4″ Circular Saw.
The larger cutting depth means that you can cut your materials in a single pass. The Makita circular saw is also lightweight and highly maneuverable, making all sawing tasks effortless and quick. The machine runs on a 120-volt motor that can deliver blade speeds of up to 5800 for cleaner and highly precise cuts.
A dust blower included helps continuously keep your worksite clean so you can see how the workpiece is coming along. Finally, the electric brake feature reduces kickback for safer woodworking.
Last Updated on August 15, 2020 by Tom Bradly