Makita XPH102 Hammer Driver-Drill Kit Review & Buyer's Guide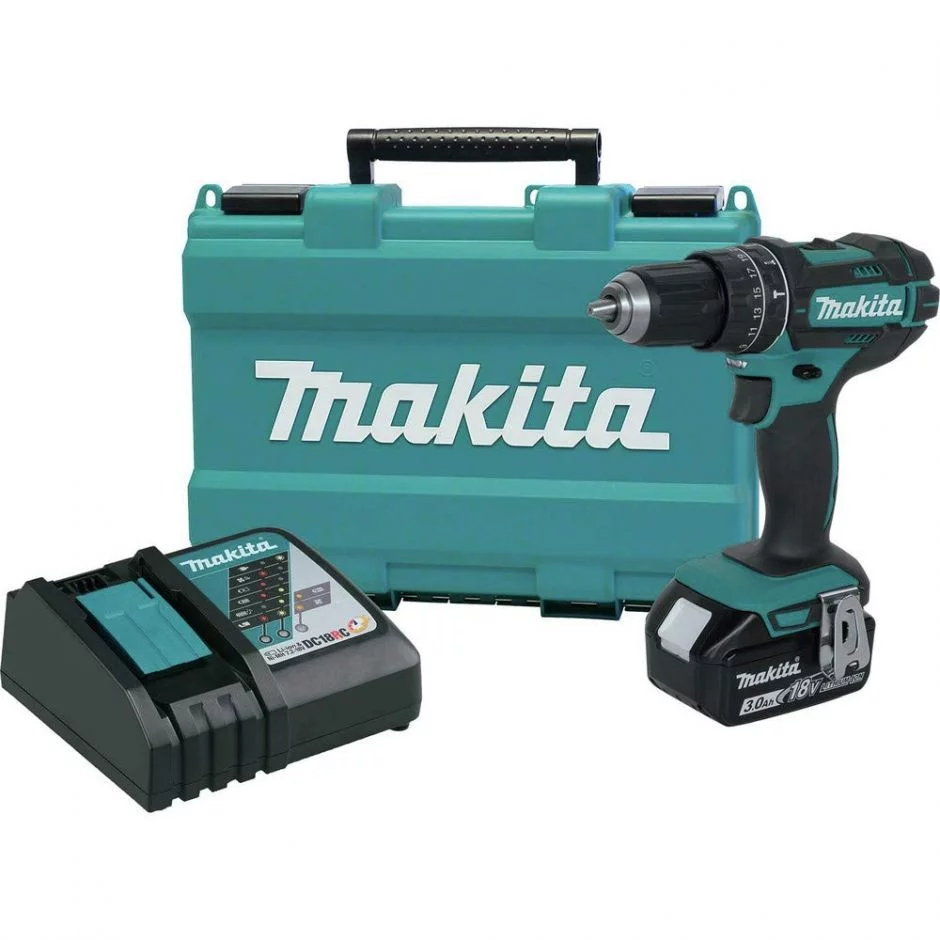 In the hierarchy of power tools for drilling, hammer drills are at the very apex. They're considerably more powerful and more durable than normal drill drivers and impact drivers, and thanks to models like the No products found., hammer drills are quite affordable too.
Despite being mostly affordable, hammer drills are more of a professional's tool than a hobbyist's. The reason for this is because they're better equipped for heavy duty jobs, so the weekend warrior may find one of these a bit too overpowered for their needs.
Last update on 2023-09-29 / Affiliate links / Images from Amazon Product Advertising API
Types of Hammer Drills
Multifunctional Hammer Drills
Multifunctional hammer drills like the Makita XPH102 can be used as a hammer drill or a driver drill, making them infinitely more versatile than the rest. However, in exchange for the ability to drill wood, metal, and concrete using one tool, you have to sacrifice power and performance.
Dedicated Hammer Drills
You're better off renting one of these than buying one for your DIY project. That's because dedicated hammer drills are quite expensive, but also very powerful. They are mostly preferred by professionals in the masonry and contracting industry because they are better suited for heavy tasks.
Corded Hammer Drills
If you have a reliable power source close to the job site, a corded hammer drill would be the best fit. With a steady supply of power, a corded hammer drill neither runs out of charge nor sits idle since it doesn't have to recharge. You can get a lot more done with a corded drill even if it is at the expense of mobility.
Cordless Hammer Drills
Cordless hammer drills are still quite powerful even though they need to be put down every so often to recharge. That isn't usually much of an issue especially since it takes just 30 minutes to charge up a drill like the XPH102. Plus, manufacturers these days offer extra batteries to minimize down times, so cordless hammer drills can work as hard as their corded counterparts.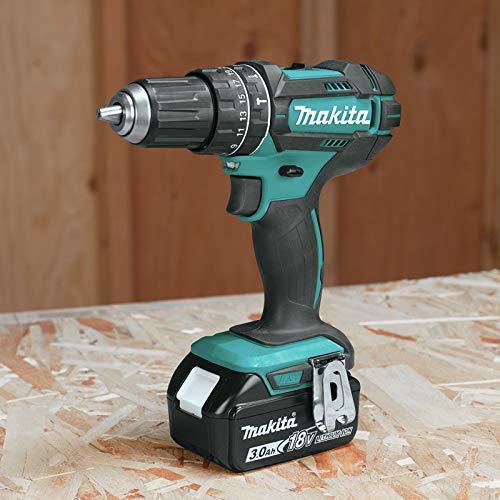 Hammer Drill vs. Traditional Drill/Driver vs. Impact Driver
A hammer drill should not be confused with a traditional drill, and neither should it be considered an impact driver. In a way, it is a mix of the two since it uses both spinning (rotation) technology and impact to drive nails and screws into wood, metal, and concrete.
Traditional drill drivers feature a rotating component that bores holes through the wood by spinning very fast.
Impact drivers work by producing a strong sudden downward force that can be used either to drive nails in or to force them out. Their downward motion has to be reversed for them to achieve the latter.
Hammer drills operate on slightly different principles than the two other drills. They combine the spinning motion of traditional drill drivers with hammering movements at quick intervals. This explains why when it comes to hammer drills, performance is measured in both rotations per minute (RPM) and beats per minute (BPM).
When Would You Need a Hammer Drill?
When Dealing with Tough Materials
Hammer drills come with a mode selection switch that allows you to switch from the customary spinning mode to a spinning plus hammering mode. This is a more effective way to drill through concrete and other tough materials cleanly because the drill bit rotates and pushes into the material simultaneously.
In Large Scale Construction Operations
Professionals that routinely have to drill through walls of brick, concrete, or mortar to install electric boxes or pipes, for instance, often prefer to use a hammer drill for the job. You can still use it for DIY projects such as installing shelves on the wall, for example, but for occasional jobs like these, renting one will be cheaper than buying.
In Speed-Intensive Jobs
A hammer drill is quite fast when put in rotary mode. This makes it ideal for a few unorthodox applications. Used with wire brushes, polishing pads, or sanding drums, a hammer drill can help smooth out or polish surfaces as well. Another thing you can use it for is making large holes using a hole saw. This is only possible because the hammer drill is versatile and easy to control even with different attachments.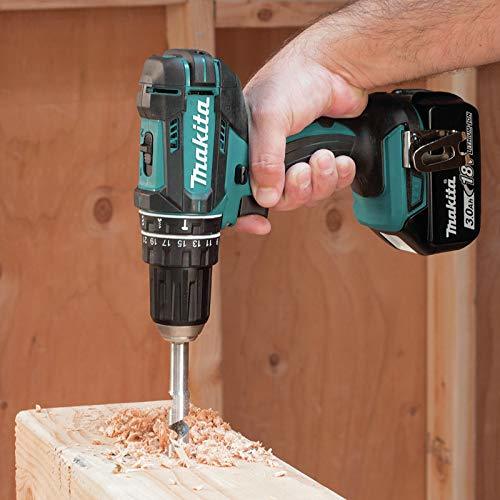 Hammer Drill Buying Guide
What counts when it comes to buying the right hammer drill? The nature of your job will dictate the kind of power you need, so the motor is one of the most important considerations. Corded and cordless hammer drills aren't that different, but they each come with different sets of advantages and disadvantages. Special features can improve the drill's performance in some ways, so paying attention to them (if any) is also crucial. Ultimately though, it is your budget that will be the decider.
Motor
Most hammering drills have motors rated between 9 and 20 volts, with 20V motors and higher being the reserve of high-performance, dedicated professionals' tools. What type of motor is right for you? That depends on the type of work you do. Obviously, the tougher the job is, the bigger the motor you'll need, and vice versa.
Cord vs. No Cord
We've briefly touched on the benefits and detriments of both corded and cordless hammer drills. If you have a reliable power source nearby, there's no reason not to get a corded model. However, if you're constantly on the move or work in areas with no power connections, then you'll find that a cordless hammer drill can serve you better.
Special Features
Special features like ergonomic grips and LED lights make work easier for the most part. Even though a drill can still function without these features, they certainly play a part in making your work less difficult.
Budget
Hammer drills don't come cheap, so it is important to budget appropriately in order to get the most value for money. Remember, cheap is not always the answer especially if you want quality. Due diligence is necessary to identify the right hammer drill at each price point.
Makita XPH102 Hammer Driver-Drill Kit
The Makita XPH102 Hammer Driver-Drill Kit is a cordless, multifunctional hammering drill for both professional and domestic use. One thing that can be said about it is that it is powerful and works exactly as advertised (with a few exceptions, of course).
Weighing in at just under 3.9 lbs, the drill is capable of producing more than a thousand times its weight per inch of torque and surviving extreme conditions (including dust and water).
Is it the tool for you? Let's explore what the XPH102 has to offer.
Where it excels
Torque
Powered by a Makita-built 4-pole motor, the XPH102 delivers up to 480 lbs per inch of torque, 28,500 BPM, and 1,900 RPM in its highest speed settings.
It is certainly not a pushover as far as speed and torque are concerned, and with the added bonus of having the choice of two-speed settings (one for BPM, and one for RPM), the XPH102 is better equipped than most to perform driving, drilling, and hammering functions.
Durability
As admirable as the XPH102's performance is, it is its resilience and ability to survive harsh conditions that really takes the cake.
It features metallic gears for added durability as well as extreme protection technology (XPT) that improves its overall resilience. The XPH102 is also dust and water resistant, making it perfect for the harsh conditions of a job site.
Though it's not the toughest nut to crack, it is a tool that's worth its weight in gold — at least as far as durability is concerned.
Versatility
As a multipurpose hammer drill, the XPH102 is the perfect all-in-one tool for drilling, driving, and hammering jobs. It comes with two speed settings of 0-600 RPM and 0-9,000 BPM, and 0-1,900 RPM and 0-28,500 BPM. Varied speeds give you the chance to slow things down or speed them up depending on the size of the task or the nature of the material.
Thanks to its ability to cater to a diverse range of applications, the XPH102 is as versatile a hammer drill as it gets.
Performance
One thing you'll notice about the XPH102 is that it is super light despite the power it packs. 480 lbs per inch of torque are more than enough to handle difficult hammering, and driving tasks, and there's certainly nothing to complain about when it comes to the 1,900 RPM and the 28,500 BPM.
The 18V Lithium-Ion Series battery it uses is lighter than usual, but that doesn't mean that it can't hold a charge for long enough. Even more interesting is the fact that it takes just 30 minutes to charge fully, so if you get an extra battery, you'll experience virtually no downtime when recharging.
The 4-pole motor is designed for jobs in masonry, wood, concrete, and metal, and with a body that's built to survive dust as well as water, the XPH102 doesn't need to be coddled to survive the harsh conditions of an active job site.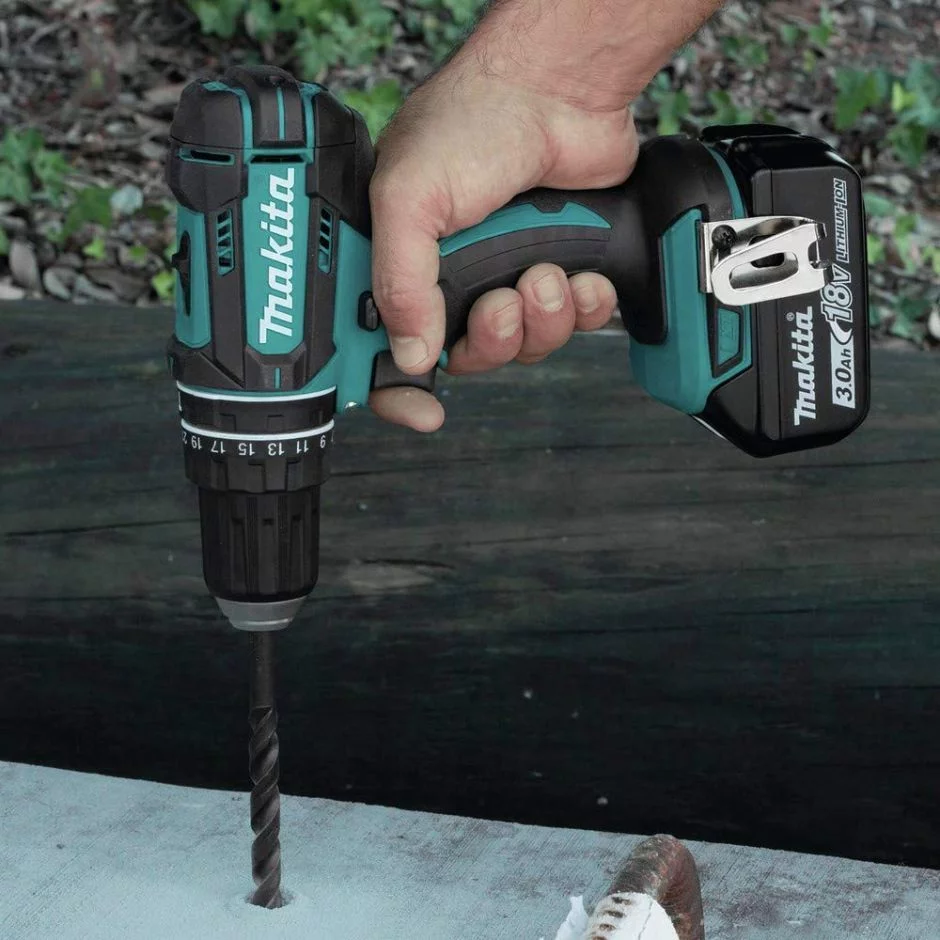 Other Features You'll Like
Ergonomics
In addition to weighing just under 4 pounds, the XPH102 is only 7 3/4 inches long. As a result, it has a wonderful balance that is further emphasized by its rubberized, soft and very ergonomic grip.
Expect to get tired less often with this hammer drill thanks to Makita's thoughtful decision to spring for the lighter yet still powerful 18V Li-ion battery, which contributes a great deal to the tool's perfect ergonomics.
LED Lights
The XPH102 comes with a set of built-in LED's for working in low-light environments. A little extra convenience never hurt anyone, and if you want more accuracy and productivity, then Makita's thoughtful design has you covered.
Dual LED lights provide better illumination to prevent mistakes and work through the night (if you have to) without being impeded by low visibility.
What could be better?
Quality Control
A lot of customers received the XPH102 with defective parts or units that were dead on arrival, spurring concerns over Makita's quality control as well as the tools' build quality.
It is hard to fault the manufacturer, however, as the units that arrive in working order are built properly and last quite a while with good maintenance. However, there have been too many cases of defective hammer drills being shipped out, and in such cases, it is the quality control team that should be under the spotlight for not flagging these damaged tools before they leave the factory.
Shipping
Shipping is quite likely the reason why so many XPH102 hammer drills arrived broken or defective. Even though the kit arrives in its own carry case, poor packaging and handling can easily lead to damaged goods during transit, so the shipping process can definitely be made better.
Luckily, Makita's customer feedback service is very helpful and have managed to replace a lot of the damaged units for free, so if you do find yourself in such a predicament, you won't be all alone. This doesn't take away from the fact that the shipping process of this power tool might be the most frustrating thing about it yet.
Makita XPH102-R Pros & Cons
Pros
Pros
Powerful 4-pole motor capable of 480 lbs.in, 1,900 RPM, and 28,500 BPM
Lightweight, compact, and ergonomically designed
30-minute battery recharge time
Versatile functionality makes it ideal for hammering, driving, and drilling
2-speed settings for added flexibility
Cons
Cons
Ends to arrive with broken or defective components
Final Thoughts
The Makita XPH102 Hammer Driver-Drill Kit is for you if you fit in one of the following categories:
A handyman in need of a powerful and reliable hammer drill to be used on a regular basis.
A professional working on a large scale project that involves a lot of drilling, hammering, and driving.
A passionate weekend warrior that routinely takes on large tasks which require the sort of torque offered by high performance tools.
At its current price point, the XPH102 is one of the best hammer drills you can get, and not just that; you get a hammer, a rotary drill, and a screwdriver all in one tool. Is it versatile? Yes. Is it powerful? Without a doubt. Is it affordable? As affordable as you'd expect anything with such an excellent performance rating and build quality to have. Most importantly, is it the tool for you? If quality and value for money are important to you, then look no further.
Last Updated on August 7, 2020 by Tom Bradly