12 Best Brush Clearing Tools of 2023 – Review and Buying Guide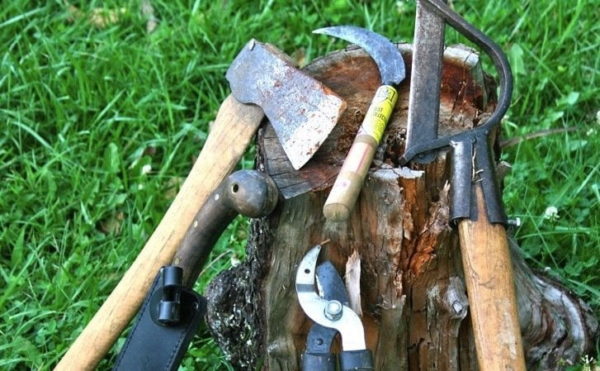 Clearing brush is no easy task. Whether you plan to blaze new trails through thick woodlands, expand your lawn, care for your overgrown fields, or just clear brush away from some overgrown land around your property, you will have a daunting task to accomplish.
>> Click Here to Skip the Review and See Our Favorite Brush Clearing Tool
What makes everything harder for you is that even after spending many hours and days clearing the brush, it will still grow back eventually … and sometimes with what seems like a vengeance.
But with the right tools, clearing away the overgrowth of a yard or field does not always have to be such a challenging task. Luckily, there are many brush clearing tools available that you can use to tackle a variety of situations.
Brush cutting tools come in various designs, sizes, and styles, and each is suitable for a different task. Whether you plan to cut some thick and tough brush around the yard or just care for the lawn, there is the right tool for the job.
In this piece, we look at 10 brush clearing tools and how you can use them.
12 Best Brush Clearing Tools – Reviews
1. Weed Whip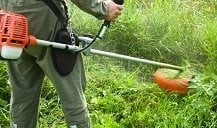 A weed whip is a handy tool for clearing brush. It features a double-edged blade that attaches perpendicularly to a handle. This brush cutting tool is about 30 inches long, but you can get some that are longer or shorter than this. You'll want to choose a handle length that feels comfortable in your hand as you operate it, especially if you have large amounts of brush to clear in one go.
This brush-clearing tool is easy to use. It is also relatively lightweight, and you only need a solid swing motion to cut the brush. A weed whip is ideal when you need to cut brush that is close to the ground, and it also works well for grass that is super long.
Read More: 15 Best Weeding Tools
2. Pruning Shears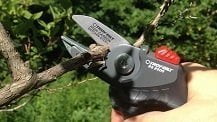 Pruning shears usually consist of a wooden handle that is between 20 and 24 inches long and a beak-like cutting end. You use this tool pretty much like you would use scissors. The beak-like end is what you use when cutting the branches.
When using this tool, you simply squeeze the handle to cut the branch. The pruning shears can cut branches that are up to one inch in diameter, so they are a good choice when dealing with thick weeds and saplings.
3. Hatchet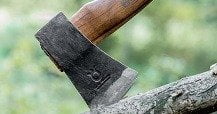 The hatchet looks like a small axe, but it features a shorter blade and handle than the latter. Hatchets are an excellent tool for clearing brush in places where you would not find an axe or chainsaw convenient to use.
If you keep your hatchet sharp, it is very handy when cutting small trees that are up to two inches in diameter. The best thing about hatchets is that they are easy to handle and they are also lightweight.
However, using one to cut down large trees is not advisable. Because you will end up using a lot of energy with a hatchet, you would do better to use a larger tool for tree removal.
4. Axe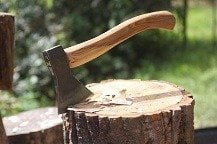 An axe offers one of the best ways to clear brush, and this is more so when dealing with large bushes and trees. A good old axe consists of a sharp blade on a wooden or metal handle, and it is very handy when chopping small trees that have gotten entangled within other types of brush.
With an axe, you can choose from different styles, but you should always make sure that whatever you buy has a securely attached head to prevent it from flying off when cutting.
5. Machetes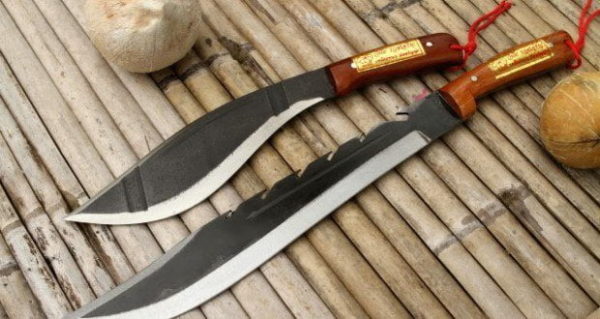 A machete looks like a long knife with a small handle. The handle can be made of wood or high-density plastic. Machetes are one of the oldest brush clearing tools, and it is a multipurpose tool that will come in handy for different situations. (Also, you can sport quite the impressive look when tackling brush with a machete; definitely one for Instagram.)
Depending on the size of the machete and its design, you can use it to cut anything from small saplings to thick brush. Also, going for one with a sharp blade on one side and a saw-like design on the other makes it more useful when clearing brush.
6. Brush Axe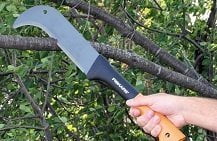 The brush axe features a thick blade that is sharp on both sides. Most come in at about 40 inches (handle plus blade). This tool for clearing brush comes with a handle of sturdy hickory or a molded handle, both of which keep you away from the vegetation when cutting.
Brush axes are ideal for clearing brush, stripping logs, and cutting trails. They can also be useful for cutting some small trees.
7. Chainsaw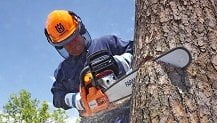 Chainsaws are by far the best tools for clearing brush because they can handle almost anything. Whether it is a massive overgrowth or large tree, this tool is always up to the task. Additionally, it will make the cut fast and with minimal effort.
Chainsaws are mechanically driven tools that use either gas or electricity. They have serrated teeth in a chain that runs around the edge of a blade or guide bar. Modern chainsaws are lightweight and easy to handle, but they still offer the same efficiency as the larger (and louder) traditional style chainsaws.
8. Pole Saw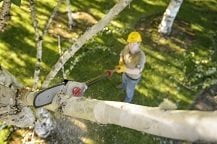 Pole saws feature an extra-long handle and a curved saw-like blade at the end. The section of the tool that moves the cutting end is near the area where you hold the saw.
These tools are ideal for clearing brush that is overhead, such as branches of taller trees. They make the clearing of hanging foliage an effortless task since they have a telescopic handle/pole that makes it easy to reach the vegetation.
Pole saws will take some time to master since the cutting section and your hands are far apart. But, once you understand how to handle pole saws, they have the potential to become your favorite brush clearing tools. Pole saws are ideal for clearing away or shaping tall bushes and removing tree limbs.
9. Brush Mower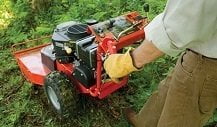 Nothing beats the brush mower when it comes to clearing brush from larger areas. With these heavy-duty machines, you can cut through trees and brush that is up to three inches thick. The brush mower almost looks like a regular lawnmower, but it is larger and also more powerful.
These brush cutting tools come in two styles: there is the self-propelled mower that you walk behind, and the other version is the kind that you can tow behind a tractor. The tow-behind brush mowers are ideal for vast meadows and fields while the other kind is sufficient for smaller areas, and ideal if you do not happen to have a tractor.
10. Brush Grubber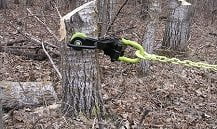 When you need to take care of a couple of saplings around the yard or just clear brush in a small section, you do not need to use a brush mower. For this, a brush grubber is your best brush clearing tool option.
Brush grubbers consist of metal jaws and spikes that can dig into small stumps and trees. A chain then attaches to the other end of the brush grubber, and this is what you will use to pull out the unwanted brush using your ATV, tractor, or truck.
Brush grubbers are available in different sizes. The way they work is that, basically, the harder you pull, the harder the jaws and spikes will grip the tree.
This tool is ideal when you want to get rid of saplings one by one and do it permanently since it does not leave behind a vast network of roots that can regrow the following spring.
11. String Trimmer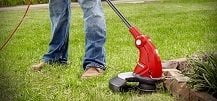 String trimmers are the brush clearing tools that you need to turn to when dealing with smaller weeds and brush. They come in walk-behind and hand-held styles, but both are ideal for clearing thin grasses and weeds.
Also, you can add a blade instead of using the replaceable line if you plan to always use your trimmer model for this purpose. Using a blade makes it possible to turn the string trimmer into a brush cutter that you can use to cut through thick, woody brush.
12. Stump Grinder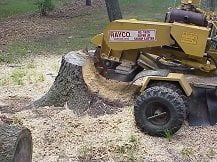 After clearing the brush in your yard or fields, you might end up with stumps. Whether you have a lot of experience in clearing brush or not, stumps are almost unavoidable. However, this does not have to stress you out since there is a tool that you can use to eliminate them.
This tool is the stump grinder, and it provides an easier and more efficient way than using shovels or chemical solutions. A stump grinder is a power tool (but can also be an attachment) that chips away at the wood/stump using a rotating cutting disk.
A stump grinder will get rid of the stump by using the high-speed disc to grind it into small chips, which you can then easily clear away or use as ground cover after you finish your brush clearing task.
Conclusion
Clearing brush is a tedious task, and without the right tools, the whole thing can even be harder for you. With the array of tools above, clearing brush should no longer be a problem for you regardless of the size of the overgrowth, field, or lawn that you have to deal with.
If you are not certain what brush cutting tool to use, go over the descriptions above. They should be helpful for you in deciding the best tool for the task at hand.
Lastly, always remember to wear gloves, ear protection, and goggles for safety when using these tools. Safety is an important aspect of any job, and all the more when you are working with tools such as the ones reviewed above.
Last Updated on December 11, 2020 by Tom Bradly