5 Best Power Washers of 2023 – Review & Buying Guide
Power washing can be a satisfying experience. Whether it is the deck, the driveway, or your siding, power washers – also known as pressure washers – can help you power through the job without breaking a sweat.
Power washers help to improve hygiene and maximize the comfort in your home or place of work. They also help to increase revenue for professional cleaners. Let's jump straight into the five best pressure washers of the year and buying guide.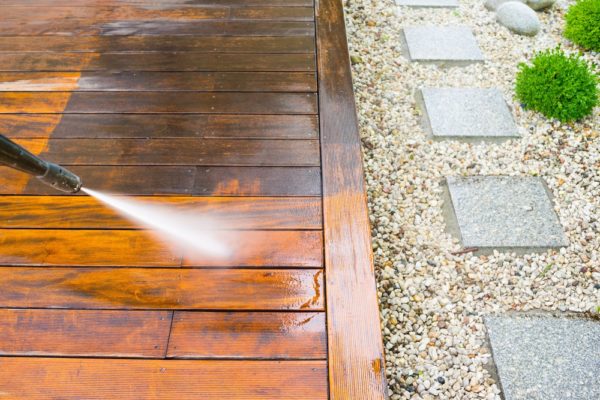 Power Washer Buying Guide
I run a drive-in café in Illinois. Grease stains, mildew, and bird droppings are the typical culprits I have to deal with almost daily. I didn't know how easy it could be to keep my business clean until I came across a power washer. Now I can do the job myself mornings and evenings without outsourcing.
Pressure washer buying guide
As I went from a rental to my own pressure washer, I had to learn all I could about these devices. It turns out there are both gas and electric powered devices. For ease of use and maintenance, I went for an electric-powered model. Here are the other buying criteria I considered.
High water pressure (PSI)
I found that electric models range from 1300 PSI to 3000 PSI. Gas-powered models have much more power for heavy-duty cleaning jobs. Machines with a cleaning force of 1300 to 1900 PSI are more highly recommended for home use such as car washing, cleaning furniture, and the like.
I went for a model between 2000 and 3000 PSI to blast my grills clean and remove mold and dirt from the outdoor furniture.
A powerful motor/ engine
If you are considering an electric power washer, experts advise that you find a machine with a motor of 13 or 15 amps. The 15-amp version is the most powerful one. For gas engines, a four-stroke engine delivers the right performance.
Adjustable pressure
A few models on the market make it possible to switch from high- to low-pressure settings on the same device. These are the most recommendable power washers. They let you remove dirt and stains from both delicate and hard surfaces without damaging textures.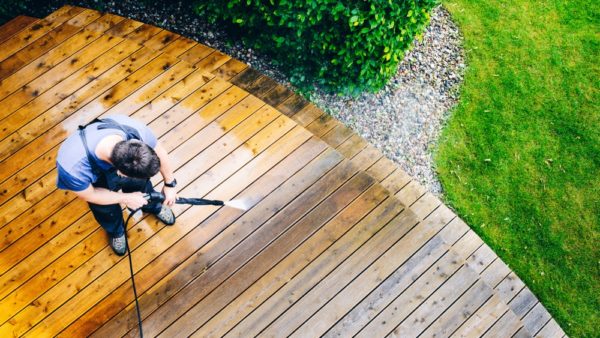 Power-saving features
On an electric power washer, an auto-shutdown feature helps you save power and prevents damage to the internal components of the machine. The machine automatically powers down after a few minutes of running idle.
With gas-powered pressure washers, on the other hand, you will have to switch off the device manually to prevent damage to pistons.
Hose storage
Kinked hoses are a nightmare to work with. Consider, therefore, a machine that comes with a hose storage Velcro strap or compartment.
The same applies to power cords.
Soap tank
My current pressure washer has a soap tank that also serves as a foam cannon. It makes disinfecting surfaces an effortless task. I can simultaneously spray soap and water for a thorough cleaning job.
Weight and portability
For home use or light-duty commercial applications, a power washer weighing below 35 pounds is ideal. Light-duty power washers are easier to move around. They also require less storage space, which is a huge benefit in my book.
Consider big wheels for heavier versions
Gas power washers are particularly heavy. If you have to buy these machines for their power and cleaning efficiency, consider models that feature big wheels. The right wheels make it easier to move the pressure washer on all surfaces, including pavement and stairways.
The Best Power Washers of the Year
Kärcher - K5 Premium - 2000 PSI Electric Power Induction Pressure...

Powerful Performance: The K 5 last longer than universal motors and delivers exceptional cleaning results! Water-Cooled induction-motor and non-corrosive N-COR pump.
PRESSURE REGULATING: Use the Vario Power spray wand for light-duty jobs, and a patented Dirt Blaster spray wand for superior cleaning performance on tough-to-clean surfaces.
HIGH-PRESSURE HOSE: Comes equipped with a generous 25' kink-resistant high-pressure hose that offers plenty of reach, as well as an onboard pressurized hose reel for simple storage

Last update on 2023-09-29 / Affiliate links / Images from Amazon Product Advertising API

Editor's Comments
The Karcher K5 is an electric pressure washer that delivers pressures of up to 2000 PSI, according to the product specs. That should be enough power to reach your sidings with ease. Ideally, you will be able to do a deep spring cleaning without having to call in the experts.
I have seen my brother clean his deck thoroughly with this device. He got into staining straight away after the job. The pressure was high enough to spruce up a deck that had been turned black by dirt and grime. I got interested and looked into it. It turns out the power in this thing is easily 40 times what you get with an ordinary garden hose.
Anyway, back to the features, the Karcher K5 Premium Pressure Washer has a water-cooled induction motor. This engineering keeps it from overheating and helps to promote motor life. You might also appreciate that the engine on the electric power washer works noiselessly, unlike its gas counterparts.
There is an onboard soap tank that can significantly make your work easier in the cleaning process. An adjustable dial on it makes it easier to control detergent flow when dealing with stains that need soaping.
The Karcher pressure washer uses two spray wands of different sizes. One produces extra pressure for the intensive cleaning of stubborn stains. The other one is adjusted for less intense cleaning.
Pros
Lower operating temperature
Inbuilt detergent tank
Adjustable spray wands
Durable design and engine
Cons
Uses hard-to-replace parts

---
No products found.

Editor's Comments
With the 2030 PSI pressure on the Sun Joe SPX4000, you could easily reach the second floor of a building. Like the Karcher K5, this is an electric power washer that could save you from the hard maintenance requirements of the gas models.
The high pressure in this power washer should also help you remove all stains from your deck and floors. Be sure, though, to use the right pressure settings. Too much pressure can be damaging to deck boards.
I like the way the maneuverability is assured by a pair of big wheels on this model. These work along with the stand for stability while washing and easier portability on all surfaces when it's time to move.
The pressure settings are adjustable. You can choose the maximum 2030 PSI for your intimidating cleaning tasks and a lower one, 1450 PSI, for everyday cleaning. This flexibility should help you attain the right degree of cleaning that is gentle on your surfaces while tough on stains.
There is a detergent tank included. That should help deal with all the mega-stains you are worried about. Additionally, you can play around with the five spray tips it comes with to find one that works perfectly for your particular cleaning task.
I also like that they have included an energy-saving function. A safety lock switch automatically shuts down the machine when the trigger is not engaged. This helps to save power.
Pros
Adjustable pressure settings
Big wheels for mobility
Long hose and diverse spray tips
Cons
The pressure hose kinks badly
Leaky connections

---
Stanley SHP2150 Portable Electric Pressure Washer, 2150 PSI, 1.4 GPM,...

HIGH PRESSURE FOAMER INCLUDED: The specially designed detergent bottle doubles as a high pressure foamer to get tough stuff loose or remove deep-down stains.
POWERFUL CLEANING FORCE: Perfect for siding, decks, cement, pavement, pools, outdoor furniture, cars, trucks, RVs, ATVs, garbage cans, animal cages and more.
LEAKPROOF CONNECTIONS: Professional grade brass garden hose connector and 22mm connections. The connection of choice for professional level accessories.

Last update on 2023-09-29 / Affiliate links / Images from Amazon Product Advertising API

Editor's Comments
The maximum hosing pressure on this pressure washer is 2150 PSI. That makes it a more powerful pressure washer than the others reviewed earlier. You may be able to successfully leverage this force for cleaning your pavements, decks and sidings, cars, trucks, and many other things.
The design incorporates a foam cannon that makes it possible to apply soap as you hose down your surfaces. The soap tank should prove highly effective for stains that cannot be stripped off with water alone.
Unlike the Sun Joe SPX4000, the designers have attempted to address the risk of leaky connections here. The product specs talk of a brass hose connector that should provide a leak-proof, professional-grade experience.
The machine has four attachments that you will likely find helpful in your cleaning activities. These include a power washer gun, a spray wand, four connect nozzles, a 25-foot hose, and a detergent tank. These can accelerate your cleaning in various ways.
The 25-foot pressure hose will let you reach hard-to-get places of your home with powerful cleaning jets. On top of that, you can take advantage of the four different nozzle sizes to tune the water pressure to the surface you have to clean. That is as far as pressure adjustment goes on this device.
You can expect some level of compatibility with your garden hose. The design features a 22-mm connector that can easily take standard hoses. This should save you from having to chase after the hard-to-find propriety parts and accessories.
Pros
High-pressure hose
Different sizes of nozzles
Soap tank doubling up as foam cannon
Compatible with garden hoses
Cons
The engine may break down after a short time of use
GFI plug prone to breakage

---
Yard Force YF1600A1 1600 Psi Compact Electric Pressure Washer, 1.2...

COMPACT DESIGN with BUILT-IN STORAGE: Built-in storage compartments for nozzles, hose, power cord and spray gun keep everything organized and ready to use. The compact design and folding handle make...
ROLL-ALONG WHEELS KEEP YOU MOVING: The unique design with rear wheels allows the YF1600A1 to roll along with you as you clean with a gentle pull on the hose.
32 OUNCE BUILT-IN SOAP TANK: On board tank capacity to make applying soap and detergent easy and assure the best results for all your cleaning projects. The drain plug at the bottom of the tank allows...

Last update on 2023-09-29 / Affiliate links / Images from Amazon Product Advertising API

Editor's Comments
This unit provides 1600 PSI of cleaning force. Although that falls below what the earlier reviewed models deliver, I believe no driveway stains can withstand that pressure.
You might also appreciate its lightweight and highly maneuverable design. That's seemingly the reward for sacrificing a few hundred PSIs of cleaning pressure—you get something light and highly versatile for home use.
The YardForce is an electric power washer that runs on a 13-amp motor. I have found that this engine packs just the right oomph, and it runs noiselessly. You should get excellent performance with this machine when cleaning your cars, ATV, lawn furniture, and more.
I like the way they have designed it with roll-away wheels. Although the YardForce weighs a manageable 17 pounds, these wheels take portability to a new level.
Additionally, its anatomical architecture features compartments and pockets that you can use to pack soap, nozzles, and everything else you need when you head out to work. That can keep you organized and ensure that you have everything when you need it.
Other noteworthy features here include a 32-ounce soap tank that can speed up your cleaning. The soap tank has a drain nozzle at the bottom so you can remove the soap with ease and rinse the tank before filling it with a different detergent.
Pros
Powerful and designed for yard work
Compact and highly portable
Two quick-connect nozzles for different pressure outputs
Cons
The power cord does not easily fit in the storage compartment
Overheating issues

---
SIMPSON Cleaning PS4240 PowerShot 4200 PSI Gas Pressure Washer, 4.0...

Professional Performance: Easy-to-assemble and easy-to-start with its Honda GX390 premium engine, the PowerShot power washer is great for contractors who specialize in deck cleaning, wood restoration,...
Power and Durability: A powerful, reliable, maintenance-free AAA industrial triplex plunger pump delivers 4200 PSI at 4.0 GPM and includes thermal relief to prevent overheating
Sturdy and Portable: The welded steel frame construction with powder coated finish offers durability and corrosion resistance; 13-inch premium pneumatic tires deliver ease of maneuverability across...

Last update on 2023-09-29 / Affiliate links / Images from Amazon Product Advertising API

Editor's Comments
If you are out for a gas pressure washer, you might have noticed their increasing unavailability on the market. Could it be that people prefer the easy maintenance electric power washers?
The SIMPSON Cleaning PS4240 delivers 4200 PSI of cleaning power. And yes, this can be overkill for general yard cleaning. It is more recommended for professionals in commercial and industrial settings.
This beast of a power washer runs on Honda engine GX 390, said to be the most reliable and high performing four-stroke engine model.
You might also like that this device comes with a longer hose that can extend more than 50 feet. This hose is supposed to be kink-free and connects easily to the machine.
The machine comes with five quick-connect nozzles of different angle sizes. You can play around these to find the ideal pressure for your surfaces and applications.
There is also a soap tank included for easier disinfection of the surfaces during cleaning.
Pros
Powerful pressure for commercial cleaning
Soap tank included
Five quick-connect nozzles help with versatility
Cons
Need to change and pump oil regularly
A few minutes of running idle can destroy the pistons

---
The Best Pick
Each of the above models has unique functional features despite a few flaws here and there. We have a quandary on our hands when trying to choose the best power washer.
If you were looking for something that will deliver the goods in both home use and commercial applications, our best pick would be the Stanley SHP2150 Electric Pressure Washer.
It strikes a balance between high pressure (2150 PSI) and user-friendliness.
As an electric power washer, unlike the SIMPSON Cleaning PS4240, it's easy to use and is less demanding of maintenance. Its electric counterparts do not match its cleaning force.
Other exclusive features here include a detergent tank that doubles up as a foam cannon and a standard 25-foot hose that could help you work marginal distances.
For these reasons, the Stanley SHP2150 Electric Pressure Washer is our most recommendable power washer of the year.
Last Updated on September 6, 2020 by Tom Bradly