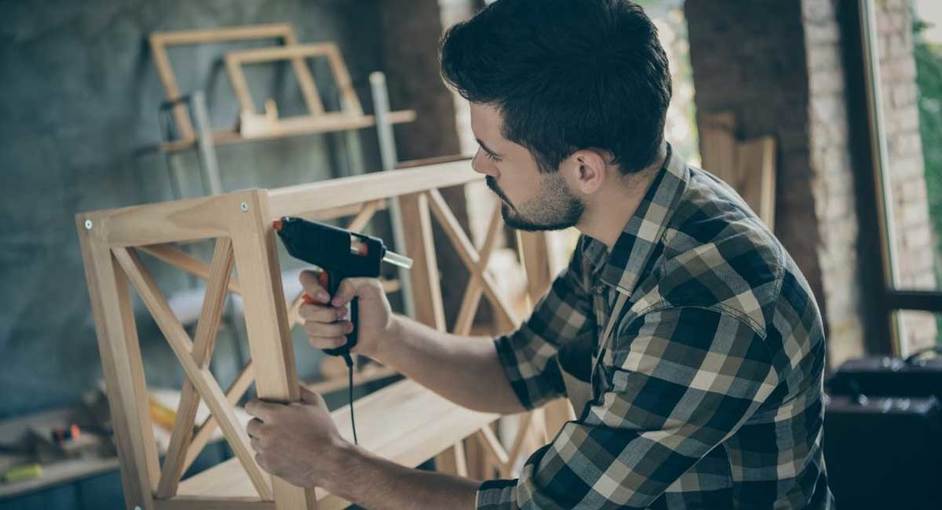 The Best Woodworking Books of 2022 – Review & Buying Guide
For some, woodworking is just a fun hobby to pass the time. For others, woodworking is a career that helps put food on the table – and still others use these projects to express themselves by creating unique works of art.
Woodworking is one of the oldest trades in history. Despite technological advances, this trade is still as important and needed as always.
Last update on 2022-12-04 / Affiliate links / Images from Amazon Product Advertising API
If you want to learn to do woodworking, then you should start by investing in the best woodworking books. With a good quality woodworking book, you will learn all the finer details about different types of wood, woodworking tools, and techniques needed to make furniture items, decorations, and much more.
The 5 Best Woodworking Books to Buy Now
There are quite a lot of woodworking books on the market. Here is a quick look at some of the best books for beginners or for those who are looking to improve their woodworking skills by going back to the basics.
This is a great duo-woodworking book set for complete beginners who cannot wait to start their first projects. The set includes a beginner's guide that teaches you all there is to know about different wood types, the best woodworking tools, and various woodworking strategies.
A second book includes lots of plans and projects you can try. These easy projects are ideal for beginners and there is much to choose from, including some more challenging projects.
The book is composed by Miles Adkins, who has been working as a carpenter since a tender age. He now has a company that produces quality wood furniture and ornaments and takes great delight in teaching others his crafts.
Specifications
Sale
Last update on 2022-12-04 / Affiliate links / Images from Amazon Product Advertising API
If you are not quite sure whether you want to start in carpentry just yet, then this is an excellent book to consider. This beginner's guide explains exactly why woodworking is such a fun and meaningful hobby to try.
The book is packed with all sorts of beginner hints and tips, as well as various projects and techniques that you can try yourself. This is an ideal book for carpenters who want to make simple, yet functional furniture pieces that they will end up using.
Specifications
Last update on 2022-12-04 / Affiliate links / Images from Amazon Product Advertising API
If you already know the basics of woodworking and are looking for lots of practical projects that you can try and build yourself, then this book by Tom Carpenter is a must. The book includes 41 woodworking projects that you can build yourself by following the step-by-step instructions. These instructions are very easy to follow thanks to 1,200 photos and illustrations that guide the way.
With projects like chess boards, benches, bedside tables, clocks, and bird houses, you will always have something fun to do at home.
The book is highly raved about, and just about everyone who ever bought this book fell in love with the projects the moment they opened it.
The only downside to the book is that you might have to buy an additional book that explains more about different wood types and different woodworking finishing, especially if you are a beginner that has little to no experience in the field. Those who already understand the basics and have the right tools will benefit the most from this book.
Specifications
Sale
Last update on 2022-12-04 / Affiliate links / Images from Amazon Product Advertising API
This book by Randy Johnson is a good investment for those who already have woodworking tools but want to improve their woodworking techniques.
The book includes over 650 woodworking techniques and secrets to help you build better quality furniture with nicer and more appealing finishes. You will learn how to make all sorts of wooden items, work with different tools, and complete different finishes using the tools you have at home.
The book has been a very popular buy since 2012 and is an ideal investment for those who are serious about making a career for themselves in carpentry. You will have access to lots of professional tips to help you make perfect-fitting edge joints, saw sheets, make drawers that glide perfectly, use clamps and glue to make awkward joints and parts, and flatten warped wood.
You will also learn to use all sorts of woodworking tools correctly so you can get the maximum functionality from your expensive equipment.
Specifications
Sale
Last update on 2022-12-04 / Affiliate links / Images from Amazon Product Advertising API
This book by Peter Korn is designed for complete beginners, but even advanced woodworkers will benefit from the basic woodworking instructions included in the book.
The book includes a lot of information on various woodworking tools, wood types, and woodworking techniques. You will learn the correct way to fuse different wood pieces, finish wooden items, cut your wood, and so much more! With the tips you pick up from this book, you will be able to build stronger furniture pieces that last much longer and you will reduce mistakes on costly wood products.
When you do buy this book you should, however, be aware that the beginner guide is designed for hobbyists who have access to a woodworking workshop. Expensive machinery is often used in the book to make all sorts of projects.
If you are planning on equipping your workshop, then this can still be a good buy, but those who only have basic woodworking tools can find the book hard to work with!
Specifications
Buying Guide
With so many good books to choose from, it can be tough to decide on the best option for you. All of these books are great for learning various woodworking techniques and crafts, and will be handy editions to add to your collection.
But if you cannot buy all of these at the same time, then you should consider the following guide to help you decide on the best book to start with.
The Best Book for Complete Beginners
Complete beginners should find something that includes information on different wood types, different tools, and woodworking techniques, as well as some projects they can try.
Woodworking 2020 2-in-1 book by Miles Adkins is our top pick if you are just starting out with woodworking, because it includes two books. The first book is a beginner guide and the other book includes plans and projects you can make yourself.
The Why & How of Woodworking by Michael Pekovich is another good pick if you want to learn more about the basics of woodworking and need a book that also offers a few DIY projects that you can try yourself.
The Book That Includes Full Projects
If you are a woodworker looking for some new ideas and projects to try, then you should consider Woodworking: The complete Step-by-Step Guide to Skills, Techniques and Projects by Tom Carpenter.
This book includes 41 projects that you can build yourself. Projects such as benches, chess boards, clocks, and others are explained in detail so beginners can build them with ease.
The Best Book for Enhancing Your Skills
Woodworkers who already have a lot of tools, but want to perfect their skills can consider the Great Book of Woodworking Tips. This book includes over 650 tips to help you master various woodworking skills and make all sorts of finishes.
Woodworking Basics by Peter Korn is another good book to consider if you want to learn more about the correct way to perform specific woodworking techniques. The book doesn't include too many complete projects, but offers an abundance of tips and concepts.
Final Thoughts
Any of these woodworking books will help you improve your skills or teach you about the best woodworking tools to buy for your specific projects. No matter which book best fits your needs, we hope our guide was helpful in the decision-making process!
Last Updated on January 30, 2021 by Tom Bradly