5 Best Pipe Clamps of 2023 – Review & Buying Guide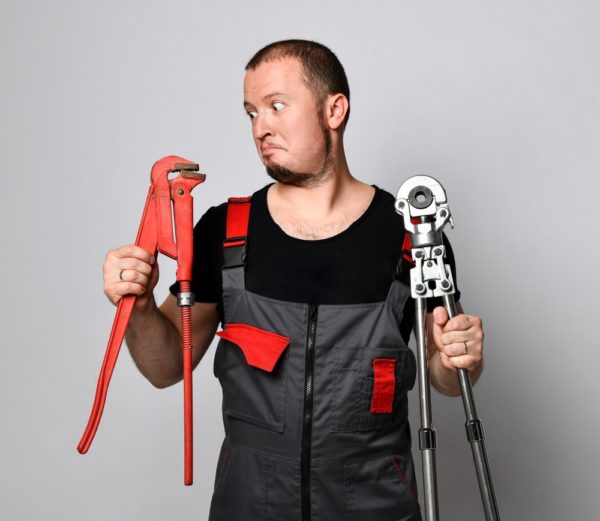 Pipe clamps are pivotal in any work station where you need to hold workpieces during your operations. These tools typically have two plates fixed on a pipe and provide a range in which items can be clasped by closing the "jaws," or plates.
Whether for assembling, woodworking, or metalworking, you need a well-designed pipe clamp to help you work faster and safer. This review looks at the five best pipe clamp models in the market to improve your craft.
Bessey BPC-H34 3/4-Inch H Style Pipe Clamp, red/black, Pack of 1
Yaetek (4 Pack) 3/4" Wood Gluing Pipe Clamp Set Heavy Duty Woodworking...
PONY 55 Pro Pipe Clamp, Fixture for 3/4-Inch Black Pipe
IRWIN QUICK-GRIP 3/4" Pipe Clamp, 224134
Bessey BPC-H34 3/4-Inch H Style Pipe Clamp, red/black, Pack of 1
Yaetek (4 Pack) 3/4" Wood Gluing Pipe Clamp Set Heavy Duty Woodworking...
PONY 55 Pro Pipe Clamp, Fixture for 3/4-Inch Black Pipe
IRWIN QUICK-GRIP 3/4" Pipe Clamp, 224134
Last update on 2023-06-05 / Affiliate links / Images from Amazon Product Advertising API
Pipe clamp buying guide
Pipe clamps are simple devices as far as how they function. But their design and other structural details impact their performance. I have worked with several disastrously designed pipe clamps; it's not pretty.
If the threading is crude, engaging the braces is a painful process. If the turn screws are roughly machined and the connecting pins are crappy, the whole unit becomes useless junk.
Like with every other purchase decision, you have to weigh the cost against the benefits. Will your clamp have the capacity to withstand long years of use? Is it stable and comfortable to work with all day, every day, if it comes to it? These are some of the questions to keep in mind.
Consider the use
You want to buy a tool with features that facilitate an effortless and faster accomplishment of your task. This requires that you map out the nature of your work and its future scope before you show up at the hardware store or start scrolling through Amazon for the best pipe clamp.
What are the dimensions and mass of your workpieces? Is versatility a necessity in your line of work? After you answer these and many similar questions, you have a beginning point in the search. The rest of the quest should be straightforward; simply weigh the features of the pipe clamp against your various job demands.
Ergonomics
For blue-collar laborers, sometimes comfort is often thrown out of the window. This shouldn't be the case. If my years in woodworking have taught me anything, having the right tools to work with – the ones that are easy and painless to handle all day long – often lead to better output. So, when browsing about for the best pipe clamp, consider its design and whether the manufacturer takes user-friendliness seriously.
Features such as quick release, perfect threading, and an easy-to-slide lock are must-haves. Also, you should have enough clearance with the crank handle for stress-free clamping and edge gluing. If possible, put it to the test before you part with your money.
Stability and strength
Why are we even talking about pipe clamps in the first place? It is all to do with their higher clamping pressure compared to bar clamps. Whereas a typical pipe clamp can reach more than 1050 pounds of clamping force, the bar clamp may get cranky by the time it clocks 370 pounds.
Remember, though, the structural and material design of your pipe will largely determine whether you get that initially stated force. As is the case with every tool of trade, you may never need some features (such as ridiculous amounts of clamping strength).
In short, strength shouldn't come at the expense of ergonomics and the accuracy of alignment. So, go back to your use versus features list and find out where to strike a balance.
It boils down to this: a prodigious pipe clamp model will give you the massive power demand. The bigger, the better; you also get extra working flexibility and workpiece adjustability. With a substantially sized foothold and jaws, you may be able to work with even bigger workpieces. But do you need lots of pressure when working with softwood or smaller workpieces?
Clamping Size
As hinted earlier, the clamping size you decide on should be governed by the nature of your projects. Small pipe clamps are ideal for small workpieces and household or DIY plumbing. On the other hand, large braces are suitable for larger workpieces – from plumbing to woodworking.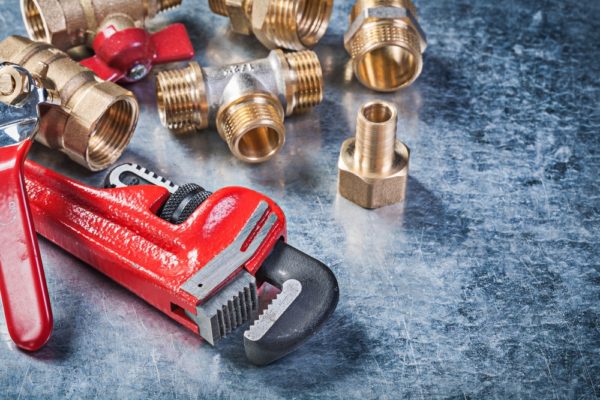 Material make
The structural material of your pipe clamp, as stated earlier, will determine the threshold force it yields without snapping. The material construction of these devices also affects durability.
So, whether you are working with plastic or wood or metallic workpieces, and whether you have long-term or short-term needs, you will have to choose among the various pipe clamp materials. Most pipe clamps feature stainless steel, cast iron, or plastic construction.
Stainless steel is the right choice if you need the structural strength of metal without the risk of oxidizing. Stainless steel is impervious to rust, which means the pipe clamp will serve you for longer. Additionally, when you have to work on finished pieces, stainless steel clamps have the least risk of discoloration.
Cast iron gives you strength equal to that of stainless steel. The major pitfall, in this case, is rusting. Cast iron is often easier on the budget, but it's usually a sacrifice of quality in forfeiture of stainless steel.
When it comes to plastic pipe clamps, they score highly on flexibility but poorly on structural strength. If you push them too hard in your operation, they could snap, and you would be back to reading guides like this (this time not skimming). I have been there too.
The 5 Best Pipe Clamps Worth Considering
Sale

Last update on 2023-06-05 / Affiliate links / Images from Amazon Product Advertising API

Editor's Comments
This popular model takes on an H-shaped foot-assembly design that the manufacturer claims will help bolster stability. With the two-dimensional footing, you may be able to strengthen the grip of your workpiece.
The base layout for this unit is high, which is good for clearance and adjustable working angles. The crank is positioned higher than in many similar gizmos; the risk of it scraping against your table is minimized. The opening makes easy the task of opening and closing the jaws during clamping operations.
The rest of the design features cast jaws and clutch components. The cast jaws might possess strength, but watch out for oxidation when the paint peels off.
One desirable quality in this pipe clamp, I found, are the two soft jaw caps included. When working with softer materials, these caps shield your workpiece from getting damaged by the clamping force.
One awful flaw in this model is that the fragile pipe threading is susceptible to wear. If you need a pipe clamp for frequent use, this threading might not be able to withstand the daily abuse. There is an option to replace this, but that would mean a higher cost for you.
Pros
Stability assured from the H-shaped foot design
Ample clearance for clamping
Cons
Weak threading
Cast iron clamps

---
Last update on 2023-06-05 / Affiliate links / Images from Amazon Product Advertising API

Editor's Comments
On the affordability scorecard, the Yost model ranks higher than the above Bessey device. The clamp is designed to fit 1/2 inch, so it is likely the most ideal option for small projects that don't need lots of gripping force.
Similar to the Bessey pipe clamp, this gizmo has a generous jaw height of 1.5 inches. In that regard, you can expect a desirable clearance when tightening or loosening the jaws.
There is no pipe here. "Pipe not furnished" is what the product's specs state. So, despite the lower acquisition cost of the clamps, you will have to spend extra for the contraption to be complete.
Also, because you will need to buy the pipe separately, there are bound to be problems with threading compatibility. Not every pipe will readily work with the Yost clamp's screw winding.
The Yost Tools YPC-Y12 1/2″ Pipe Clamp, similar to the previous entry in this review, features a cast-iron construction. Stability and strength may be on the cards, but there is the risk of rust when the paint wears off. Rusting heralds wear and tear and other structural vulnerabilities.
The threat of rust notwithstanding, Yost Tools have done well with powder coating on these clamps. On the other hand, the clutches are electroplated. With these features, this unit could serve you longer than you might expect.
Pros
Durable metallic construction
Powder coating for extra strength
A generous clamping clearance
Cons
No piping included
The screws might fall off due to incompatible threading

---
Last update on 2023-06-05 / Affiliate links / Images from Amazon Product Advertising API

Editor's Comments
Like the earlier reviewed models, the YaeTek pipe clamps feature a cast-iron construction. The manufacturer promises strength and stability with this product's design. True enough, cast-iron clamps are less susceptible to bending and breaking, but there is one pariah to worry about – rust
The design features a plate clutch for increased gripping strength. There is also a lever control system that could be handy dandy in pressure adjustment without causing dents in your wood.
Despite its decent design, there is no pipe supplied. Money matters; the YaeTek is thus far the most expensive model in this review. The extra costs of the pipe might hurt your budget even more.
Remember, however, that the clamps come as a four-pack, so it's no wonder you'll need to pay a higher price. It makes financial sense when it comes down to the numbers. You really might not be losing anything if you choose to go for YaeTek.
There is one other thing you need to consider, though. Whenever there is mention of cast iron, know that paint follows next. However, with this pipe clamp model, the paint job has spilled over to the threading. That'll throw a monkey wrench in your clamping process. It could get exasperatingly hard to secure or loosen the pipe.
Pros
Four-pack packaging for bulk purchasers
Robust and sturdy cast-iron construction
Cons
Four-pack packaging only ideal for bulk purchasers
Threading affected by paint

---
Last update on 2023-06-05 / Affiliate links / Images from Amazon Product Advertising API
Editor's Comments
The Pony Pro 55 is a widely familiar model with an equal amount of love and hate flowing in its direction. It is a little pricier than the Bessey and the Yost models covered earlier. In my opinion, it's a bummer that this product doesn't come with a pipe.
So, add some extra numbers on your budget.
The clearance is higher in the Pony Pro model, compared to the previous entries in this review. What that means is that you will be able to tighten or loosen your workpiece with minimal interference. The clamp sits 2.5 inches above the work surface.
Bassey's H-shaped base design makes a comeback in this model. The tall and spread out clamp feet, if anything, are a sign of stability beyond average.
Other notable design features include a built-in clamp stand, which assures stability. The jaws are also wider for the same reason.
Pros
A sturdy cast-iron construction
More clearance from the workpiece
Holds tight, no slipping
Cons
No pipe supplied
Feet susceptible to fracture under pressure

---
Sale

IRWIN QUICK-GRIP 3/4" Pipe Clamp, 224134

Innovative clutch system eliminates the need for threaded pipe
Large feet offer more stability and clearance between handle and worktop
Ergonomic handle offers easier clamping and reduced hand fatigue

Last update on 2023-06-05 / Affiliate links / Images from Amazon Product Advertising API

Editor's Comments
The clutching system with this Irwin model veers of the common path of a threading-and-screwing system. You might not necessarily need a threaded pipe to work with this model, which eliminates compatibility concerns.
The handle in this unit is oversized, giving users an ergonomic grip and extra clearance from the work surface. The feet are large, but their nonconformist design could impact stability. There is some clearance, nonetheless, for a seamless clamping and unclamping experience.
Additionally, you have large clutch plates that may be vital for an effortless release and improved lifespan. Despite these excellent features, this is a substantially costly unit compared to many of the above reviewed.
The new clutching system, innovative as it is, comes with some drawbacks. The crank tends to fall off the pipe sometimes, which can impede your work progress. You may have to work very carefully to minimize these issues.
Pros
No need for threaded pipe
Generous clearance from work surface
Ergonomic
Cons
Pricier than most models in the review
The crank side falls from the pipe

---
The Best Pick
The Bessey 3/4-Inch H-Style Pipe Clamp stands out as the top choice in this review. Its design comprises an H-shaped foot assembly that is vital for achieving more balance and stability.
With its high clearance from the work surface, your edge gluing tasks might proceed faster and more effortlessly.
Among its unique features include the two soft jaws on the crank. They help to protect damage such as denting on your workpiece when you tighten the grip.
Although the Bessey pipe clamps come with a few flaws, including fragile threadings, its strength, stability, and ergonomics make it a satisfying choice.
Last Updated on February 12, 2020 by Tom Bradly