5 Best Paint Sprayers of 2023 – Reviews & Buying Guide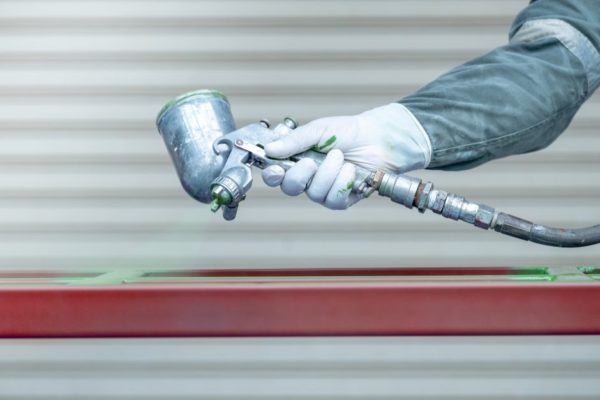 Painting can be a tedious process. But you might be hesitant to hire someone to do the job when you're perfectly capable. A paint sprayer is a happy medium.
You can get the job done four times as fast as you would with a roller and paintbrush. Plus, the finish will be almost as smooth as glass. The wide price range may leave you confused about which one to purchase, though. Find out the best paint sprayer options so that you can get your money's worth and have hassle-free painting experience.
Best Overall
Best Value
Graco Magnum 262800 X5 Stand Airless Paint Sprayer, Blue
HomeRight Power Flo Pro 2800 C800879 Airless Paint Sprayer Spray Gun,...
Graco 16N673 TrueCoat Pro II Electric Paint Sprayer
Fuji Spray 2202 Semi-PRO 2 - HVLP Spray System
Wagner Spraytech 0518080 Control Spray Max HVLP Paint or Stain...
Best Overall
Graco Magnum 262800 X5 Stand Airless Paint Sprayer, Blue
HomeRight Power Flo Pro 2800 C800879 Airless Paint Sprayer Spray Gun,...
Graco 16N673 TrueCoat Pro II Electric Paint Sprayer
Fuji Spray 2202 Semi-PRO 2 - HVLP Spray System
Best Value
Wagner Spraytech 0518080 Control Spray Max HVLP Paint or Stain...
Last update on 2023-02-08 / Affiliate links / Images from Amazon Product Advertising API
When Should You Use a Paint Sprayer?
Paint sprayers work by forcing paint through a hole in the spray gun tip, expelling it in tiny droplets. Some come with different tips and can be used to apply stains, lacquers, and varnish.
You can use paint sprayers on large jobs, such as:
Priming drywall in a home
Painting a fence
Finishing cabinets
Painting doors
Painting woodwork and trim
Covering rough surfaces
Paint sprayers are suitable for covering large areas, such as your home's siding or all of the interior walls and ceilings. They're great for accessing hard-to-reach spots on furniture and cabinetry.
You might not need a paint sprayer for a small job. You have to do a lot of prep work before you pull out the paint sprayer. You might be better off slapping some paint on with a brush if it's not a huge project. Cleaning a paint sprayer is also more time-consuming than washing paintbrushes and rollers.
Advantages and Disadvantages of Paint Sprayers
Spray painting has several benefits. A large paint job can be finished in at least half the time as traditional painting.
One of the biggest benefits is that spray paint delivers a smooth, even finish. You can paint doors, cabinetry, and woodwork without worrying about leaving brush marks. You can also get into tight corners and paint intricate details without leaving a gloppy mess on the surface.
Before you decide that this is the way to go, you should know that there are drawbacks to using paint sprayers. Because the mist that they produce is so fine, it doesn't always stick to the surface. Don't get me wrong—you'll put plenty of paint where you want it to go, and it will adhere just fine.
However, up to 40 percent of your paint will end up somewhere else. It lingers in the air and drifts with the breeze. If you're painting indoors, you have to remove or cover all of your furnishings and flooring. When painting outside, you might worry that the paint will end up on your neighbor's house.
Do You Need an Air Compressor to Use a Paint Sprayer?
Most professional paint sprayers require an air compressor to deliver the pressure that's necessary to expel the paint from the tip. These are usually referred to as pneumatic paint sprayers. They're ideal for painting cabinets and furniture.
These can get the job done quickly, but they can be messy. They give off more overspray than some of the other options. They also use more paint. However, they might be an affordable option if you have an air compressor.
Airless paint sprayers are marketed to consumers. They're great for painting outdoor surfaces, like decks, shutters, and fences. They're also commonly used to paint walls and ceilings indoors.
They are powered by gas or electricity and mechanically pump the liquid paint or stain through a sprayer nozzle. The pressure that results when the fluid is forced through the nozzle atomizes it.
The nozzles must match the type of paint that's used. Airless paint sprayers can handle thicker fluids than other types of sprayers.
Not all airless paint sprayers are created equal, though. Some have a unit that sits on the floor. That unit sits on the floor and connects to the sprayer nozzle with a tube. The unit has another tube that sucks the paint up from a container.
Smaller, more portable airless paint sprayers are handheld and plug into the wall with a cord. They look more like a large power drill with a reservoir for the paint. If you have the patience to refill the reservoir or only need to complete small projects, this may be the type for you.
High volume low pressure, or HVLP, sprayers use a lot of air. They are good for interior projects, such as painting doors and moldings.
Because the paint is scattered more slowly, more ends up where you want it. Less gets sprayed into the atmosphere. Although these types of equipment use less paint, they're more expensive than some of the other options. They also can't handle thick paint or finishes.
What to Look for in a Paint Sprayer
Many paint sprayers offer similar features. Some of the ones that come in handy include the following.
Adjustable Spray
Being able to dispense the paint at various thicknesses allows you to customize your work. Adjustability can help you when you're using different paint products and painting a variety of surfaces.
Portability
If you'll be heading outside or painting clients' homes, you need to be able to drag your paint sprayer around with you. Large, outdoor products also require some mobility. Wheeled or backpack-style paint sprayers allow you to move around easily while you're painting.
Quick Cleanup
Getting the job done quickly isn't worth it if you spend more time cleaning up than anything. The best paint sprayers are easy to clean. Some attach to your garden hose for a quick wash. They may come apart so that you can access the interior better. Using a conditioner or protectant will increase the life of your equipment.
Paint Containers
Some sprayers have a hopper, to which you add paint before spraying. Others work straight from the can. Those are usually easier to clean
Our Favorite Paint Sprayers
The best paint sprayer for you depends on your project. We review our favorites below so that you can make the best selection for your needs.
This may be the best product available for amateur use. It works like professional equipment but has a price tag that reflects consumer purchasing trends.
The high-pressure sprayer uses 3,000 psi. It can paint large areas quickly and might be best suited for outdoor projects, such as sheds, fences, garages and exterior walls.
The sprayer includes a gun, which has a durable full trigger. It accommodates tips up to 0.015 inches. It comes with a 515 tip that has a 10 to 12-inch spray pattern. You can also adjust the pressure to control paint flow.
The manufacturer claims that the stainless steel piston pump lets you spray paint at high pressure without thinning it. However, thick paints and those with texture might clog the sprayer quickly.
You can use a flexible tube with different paint sizes. Many DIY painters buy 1-gallon paint cans, which work well with this equipment. You can save time by using 5-gallon buckets so that you don't have to refill as frequently.
The sprayer comes with a 25-foot hose. If you're covering large exterior areas, you can use a hose up to 75 feet without impairing the quality of your finish or taxing the motor.
It can handle about 125 gallons of paint per year. If you're planning on doing some contracting work, you might be able to use this. However, you could be better off with a professional model, which gives you more workhorse capability.
Cleanup is easy with the Graco Magnum X5. It comes with a Power Flush adapter, which connects to your garden hose.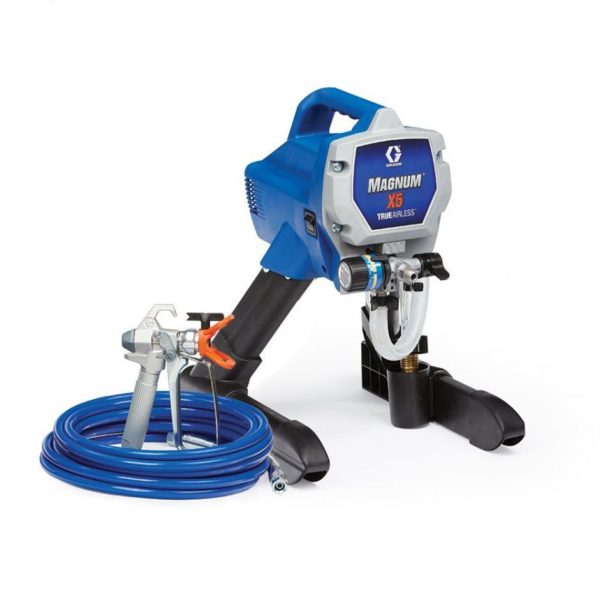 Graco Pros & Cons
Pros
Pros
Made of durable materials, including a stainless steel pump
Spray directly from the paint container
Fast and easy cleanup
Lightweight
Cons
Cons
High pressure causes lots of oversprays
Not well-suited for small areas
Thicker materials can clog the equipment
This 2,800-psi sprayer is ideal for large projects. The manufacturer has been in business for at least 25 years and is a reliable company. They're known for delivering quality products that reflect current trends in innovation. This sprayer is straightforward and user-friendly.
This sprayer can deliver up to 0.24 gallons per minute and uses a maximum tip size of 0.015 inches (a 515 spray tip). Therefore, you can cover 2,000 feet of surface area or use up a 5-gallon bucket of paint in about 25 minutes.
One of the standout features of this product is the pressure control knob. You can finely adjust the pressure anywhere between low and high; you're not limited to pre-set options.
It supports a variety of stains and paints for indoor and outdoor use. The drip cup fits the return and intake tube so that you don't make messes when you're transporting the sprayer. Although this product is one of the heavier models, it has a convenient carrying handle.
You may have an issue with clogging if you use thick paint. However, you can get around this by using a different filter.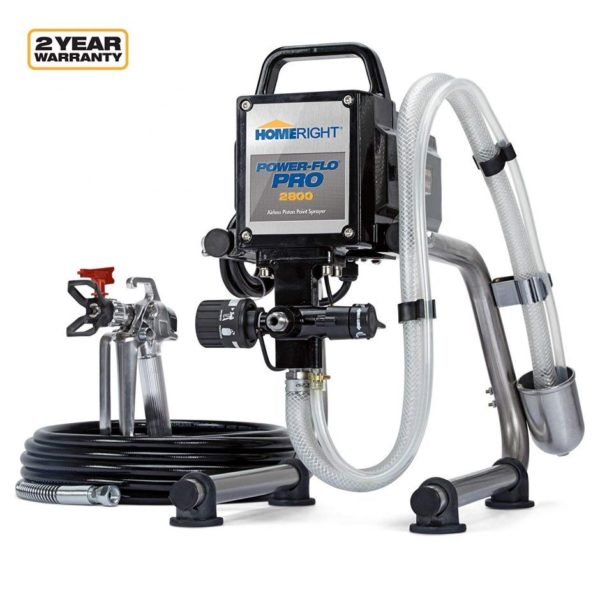 HomeRight Pros & Cons
Pros
Pros
Fine-tune the pressure using a control knob
Covers large areas
Fast coverage
Cons
Cons
Not recommended for use with hoses longer than 25 feet
Heavy
Thicker latex paints can clog the sprayer
If you're into DIY projects that don't entail painting walls or houses, you might prefer a small, easy-to-handle paint sprayer. You don't have to do much to operate it other than filling it with paint, plug it in and spray.
The tip is similar to the one that comes with the previous products that we reviewed. It's a 515 size, and it is reversible. You can purchase other tip sizes.
However, this sprayer only takes tips that are exclusive to this product. It won't accommodate standard Graco tips. The Reverse-A-Clean tips that work with this sprayer shut the fluid off to reduce the risk of spitting, which can mar the finish.
Although you can't use a flammable product in this sprayer, you can use any latex or acrylic paint. You can also use stain.
The Tilt-N-Spray pendulum suction tube allows you to move freely as you paint. The coverage will be uniform whether you're holding the product upright, sideways or upside down. You can use it to prime a wall, paint a ceiling or get into corners on furniture.
Even though this doesn't accommodate a lot of paint, it can deliver a wide spray. In fact, this sprayer can overspray. If you choose to use it, you should protect the surfaces surrounding your target with the newspaper.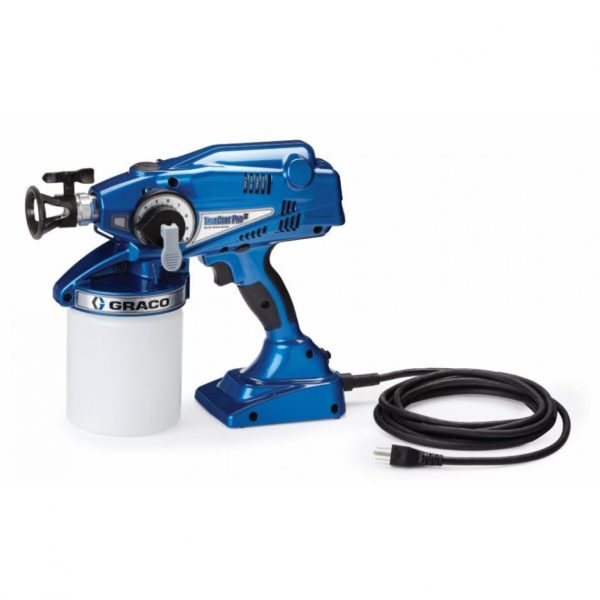 Graco Pros & Cons
Pros
Pros
Easy to use
Repairable
Compatible with many paints and stains
Great range of motion
Best for small projects
Cons
Cons
Only accommodates up to 32 ounces of paint at once
Loud
Oversprays
Can't be used with some oil-based materials
If you're looking for something to paint your woodworking projects, you might want to try this HVLP pint sprayer. It delivers similar results as some of the more expensive products but on a smaller scale. Because it has a two-stage turbine, it works well with different types of paint and stain.
This sprayer is especially versatile because the nozzle can be rotated to achieve different spray patterns. It can deliver a round, flat vertical or flat horizontal spray.
The base of this sprayer stays put while you hold onto the gun. Both are extremely lightweight, reducing fatigue when you're using it for a long time.
It's extremely portable. The 20-foot air hose is long enough to give you plenty of mobility. However, you might find it too short if you're working outdoors. The short power cord requires you to work near an outlet.
With this prayer, the air is delivered constantly. When you press the trigger, you release the paint. Because its airflow is continuous, this product can be noisy.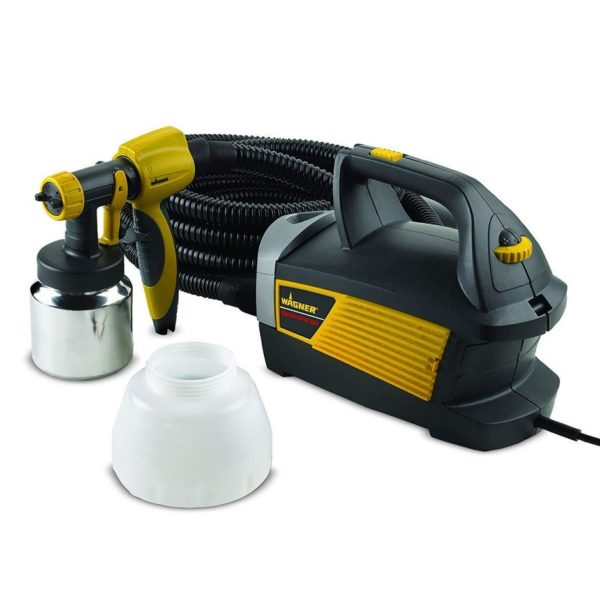 Wagner Pros & Cons
Pros
Pros
Pressure control dial gives you control
Material flow adjuster allows for a perfect finish
Different spray patterns
Two air filters produce even results
Can be used with oil-based materials
Cons
Cons
Short air hose
Short power cord
Noisy
Only accommodates about 1 quart of paint at once
Whether you're a professional or simply looking for something that can handle many woodworking jobs with a consistent finish, you might want to splurge on the Fuji 2202. Most of it is made of metal, which is durable and easy to clean. The powerful motor can tackle just about any job, including walls, cabinets, and ceilings.
It comes with a 1.3 mm air cap but can accommodate different sizes. What makes the spray gun so impressive is that it can be converted from a bottom-feed style to gravity-feed cup. The various cup styles allow you to change your technique and position without affecting the flow or coverage.
You can also adjust the shape of the spray. It can cover an area as small as one inch or up to 12 inches. Because it uses a non-bleed system, no air gets trapped once you release the trigger. This prevents bubbles and other imperfections from developing.
The air hose is 25 feet long, which is fairly standard for HVLP paint sprayers. The unit weighs approximately 26 pounds.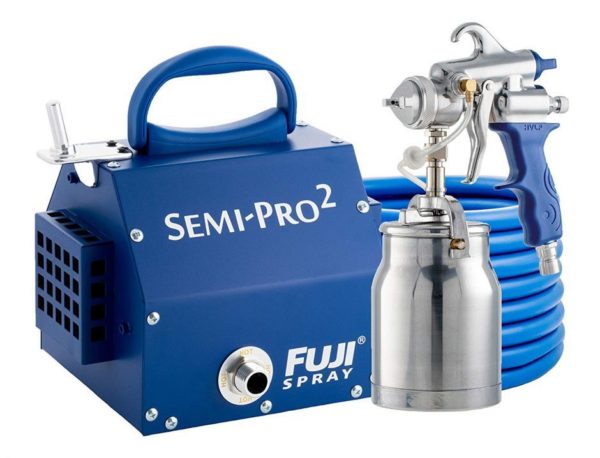 Fuji Pros & Cons
Pros
Pros
The wide range of spray patterns
Works with water and solvent-based finishes
Convertible spray gun with the bottom or gravity-feed cup
Works well in tight spaces with little overspray
Non-bleed function decreases the risk of imperfections
Control knob makes gradual adjustments
Cons
Cons
Bottom cup only accommodates 1 quart
Heavy
Some paints require thinning
In Conclusion
Our favorite paint sprayer for large projects is the Graco Magnum 262800 X5 Stand Airless Paint Sprayer. It works quickly and can cover a lot of area at once. We also like that it can pull paint from a variety of container sizes.
If you work with details frequently, you might want to Use the Fuji 2202 Semi-Pro. Although it's expensive, it's virtually flawless. You won't have to worry about sanding and re-finishing your project because you're not likely to make mistakes.
Ultimately, the product that you choose should be versatile enough to fit your needs. If you switch from large to small projects, you might consider purchasing two of the less expensive options to keep on hand.
Last Updated on September 6, 2020 by Tom Bradly