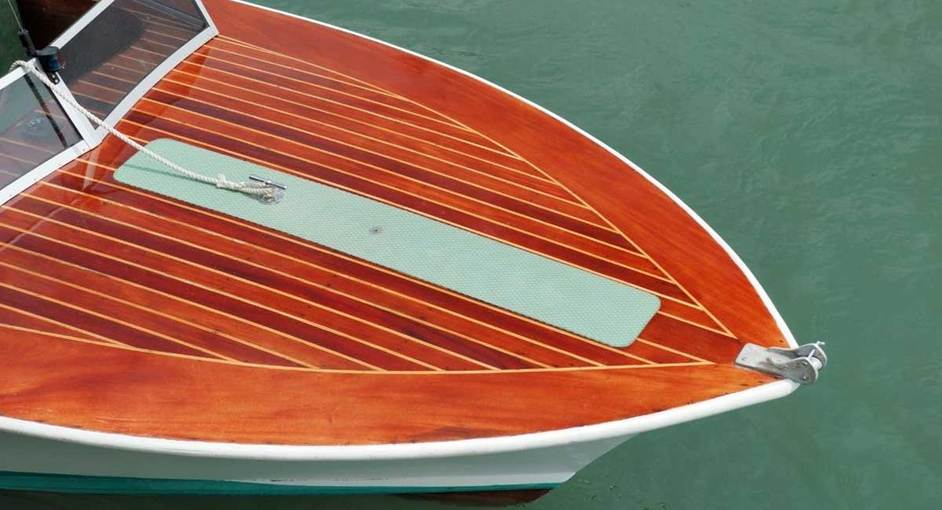 Best Marine Varnish of 2022 – Review & Buying Guide
Varnish is one of the best products ever created. This unique sealant is ideal for preserving the natural beauty of wood throughout the years. Different types of varnish are designed to keep the natural moisture and oils of wood trapped inside so your furniture pieces won't dry out.
At the same time, this protective coating shields your wooden items from harsh elements such as UV sun rays, sea salt, minerals, wind, and impact.
Some varnishes are even designed to offer a certain amount of water protection, so your wooden furniture items won't swell up or decay after contact with water.
In A Hurry? Here Are Our Top Picks...
Last update on 2022-06-29 / Affiliate links / Images from Amazon Product Advertising API
There are quite a few different types of varnishes available on the market, but in this buying guide, we are going to have a quick look at the best marine varnish to help you protect wooden items near the coastline.
The 5 Best Marine Varnishes to Buy Now
A quality marine varnish will offer the needed protection from harsh UV rays, salts, and minerals – and these special coatings are even water-resistant. But before you dive in, you should know that varnish can only protect your wooden surfaces from water to a certain degree.
If wooden items are exposed to or submerged in water for too long, then you can still experience damage. This is because even the toughest of varnishes will eventually become soft.
A good water-resistant varnish, however, can keep your wooden items from becoming damaged in high humidity conditions or splashes. Here is a quick look at some of the best marine varnishes to buy right now.
TotalBoat-496608 Lust Marine Varnish, High Gloss and Matte Finish for...
MARINE GRADE VARNISH imparts a rich, clear amber tone that enhances wood grain; creates a durable, waterproof finish that won't fade; ideal for interior and exterior wood, brightwork on boats &...
CLASSIC SPAR VARNISH WITH A MODERN FORMULA: High-build, fast-drying formula allows rapid recoating, multiple coats per day and no sanding between coats. Sand lightly before the final coat - be done in...
DURABLE FLEXIBLE COATING: Premium, oil-based formula won't crack or peel when wood expands and contracts with changes in temperature; perfect for all types of marine and household woods
Last update on 2022-06-29 / Affiliate links / Images from Amazon Product Advertising API
The TotalBoat Lust Marine Varnish is loved by boat owners who want to protect natural wooden elements and even fiberglass from the harsh elements of the sea and sun.
This varnish is clear, and you can get it in matte or high gloss. It can be used on all exterior wooden items and it will offer good UV and waterproof protection.
The varnish is an oil-based product, but it does dry off surprisingly fast. You can apply a fresh coat every hour and there is no need for you to sand between coats.
Specifications
TotalBoat-497712 Halcyon Marine Varnish (Gloss, Quart) | Water-Based...
DURABLE MARINE-GRADE VARNISH cures to a hard gloss or satin finish for beautiful brightwork; for interior and exterior use on wood trim, toerails, cockpits, doors, cabinets, chairs, outdoor furniture...
PROTECTS AGAINST DAMAGE FROM SUN AND WEATHER: Provides superior sun-blocking protection and maximum resistance to salt, abrasion and scratches; excellent adhesion and flexibility let wood expand &...
EASY TO APPLY, EASY TO CLEAN UP: Spar urethane is easy to apply by brushing, rolling or spraying; looks milky-white at first, but cures to a clear or clear amber color, depending on formula; for a...
Last update on 2022-06-29 / Affiliate links / Images from Amazon Product Advertising API
If you hate the strong smell of paint and varnishes, then you should consider this water-based varnish by TotalBoat. Unlike the other varnishes, this one can be thinned and cleaned off with water. It doesn't have the same toxic fumes or smells, but it still offers adequate protection once fully dried.
The varnish is available in amber or clear color and you can also get it in gloss or matte. With about 5 coats of this varnish, your wooden items should be protected against damaging UV rays and moisture and your furniture will even be scratch-resistant.
The product is also very easy to apply since drying time is less than an hour and the cleanup is easy since you can wash your brushes in soapy water.
Specifications
Last update on 2022-06-29 / Affiliate links / Images from Amazon Product Advertising API
This varnish by Old Masters is a great one to consider if you need something clear and high gloss. The varnish offers good protection from UV rays and it is even water or weather-resistant.
You can apply this varnish to any wooden or fiberglass surface and it should protect the piece for many years to come. The dry time of this varnish is a little bit longer but you also require fewer coats since 3 coats usually are sufficient.
The only downside is that you might need to sand your furniture pieces between layers of varnish to ensure that no dust particles settled while you were waiting for it to dry off properly.
The varnish is oil-based and can be diluted with thinners if you want to apply more thin coats without the risk of bubbles forming in your surface.
Specifications
Last update on 2022-06-29 / Affiliate links / Images from Amazon Product Advertising API
Lots of people love the Pettit varnish brand because of its rich amber hue. This varnish is ideal for bringing back some life to furniture pieces that have lost their shine and color because the colored varnish will recreate that reddish-brown color for you.
The varnish is good for outdoor furniture pieces since it offers good UV protection. It isn't quite as waterproof but should also protect against humidity quieted well.
This varnish is also oil-based which means it can be diluted with thinners. You should also use this varnish in a well-ventilated area since the fumes can be quite overwhelming.
Specifications
Rust-Oleum 207008 Marine Spar Varnish, Quart
Ideal for use on exterior wood surfaces above the water line, including trim, railings and wood furniture
Oil-based formula expands and contracts with changing weather conditions
Dries to the touch in 2 hours and covers up to 150 sq. ft.
Last update on 2022-06-29 / Affiliate links / Images from Amazon Product Advertising API
If you are looking for a clear, high gloss varnish, you can also consider this varnish by Rust-Oleum. The varnish offers good protection from harsh UV rays, salt deposits and will even protect your furniture from mold and growths.
The oil-based varnish can be diluted with thinners if you prefer a thinner coat or if you want to reduce your drying time between coatings. At 2 hours, the drying time is a bit longer compared to other varnishes.
For efficient coverage, you will need to apply a minimum of 3 coats of varnish, and sanding your wooden surfaces between applications is recommended due to the longer dry time of this varnish.
Specifications
Buying Guide
All of these varnishes are bound to give your furniture pieces a lot of protection from natural elements and humidity. If you have a tough time deciding on the very best one for your needs, this quick guide can help you decide:
The Best Water-Resistant Varnish
If your furniture pieces stand in the rain a lot or if you are varnishing the deck of a boat, then it is best to invest in a marine varnish that offers good water resistance. All of these varnishes do offer some degree of protection against moisture.
We do, however, feel that the varnish by Rust-Oleum is a top pick when it comes to water resistance with the varnish by Old Masters at a close second-best option to consider.
The Best Mildew-Resistant Varnish
If you want to protect your wooden items from icky mildew and mold growth, you should consider the Rust-Oleum marine varnish. But all of the varnishes reviewed above should offer a decent amount of mildew protection since all of these varnishes protect against water absorption.
The Best Water-Based Varnish
If you cannot stand the smell of thinners or strong varnishes, look into the varnish by TotalBoat Halcyon Clear.
This varnish is water-based and can be thinned with water. You can also clean up messes and spills with water or you can wash brushes in soap and water to get them clean. Water-based varnishes don't have that same toxic smell either.
The Best Clear Varnish
To preserve the natural colors of wooden furniture, you should invest in a clear varnish. We recommend the TotalBoat varnishes, Rust-Oleum varnish, or the varnish by Old Masters since these are all clear.
The Best Colored Varnish
If your wooden items seem a bit dull and faded, consider the Pettit varnish with its rich amber color. This varnish is ideal for brightening up your wood a little bit with its amber hue.
Final Thoughts
We hope this guide has helped you find a good-quality marine varnish that will keep wooden items such as furniture, boats, and patio structures in great condition for many years to come.
And if you are on the market for other woodworking equipment and tools, such as the best woodworking books, the best beginner table saw, or the best CNC machines, then you should hop over to some of our other guides. We cover all of the superior quality woodworking equipment and products that you need!
Last Updated on January 30, 2021 by Tom Bradly