5 Best Drawknives of 2023 – Review & Buying Guide
If you have picked up woodworking as a passion or profession, then you know just how critical drawknives are in the trade. You need these knives for debarking, carving, and giving your wood pieces a clean finish.
These tools play a significant role when making furniture or decorative artistry with intricate designs. Let's find out which are the five best drawknives of the year.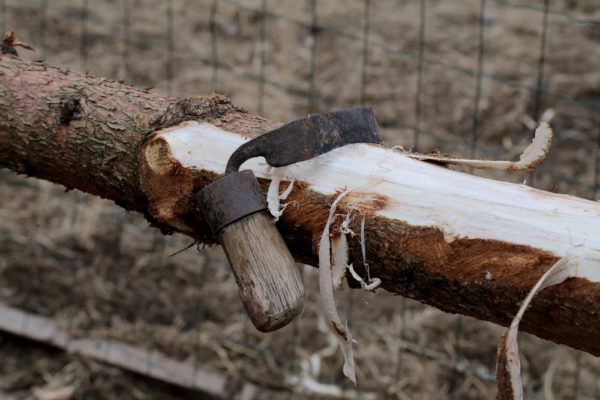 Drawknives Buying Guide
As a professional woodworker, I have used several drawknives in my line of duty. I have encountered both impressive and disappointing models.
One critical aspect to consider in your tool is the quality and material of construction. Some brands make their models out of flimsy and fragile materials. These knives give up the ghost before you can redeem value from your investment.
Stainless steel is the best material to have for your drawknife. It offers both strength and durability. Beware, though, that these knives lose their edge faster than their carbon steel counterparts.
Other considerations when buying a drawknife include:
A sharp edge
The best drawknives retain sharpness for a long time, which helps to reduce downtime and the hassle of carrying a file with you when you head out to work.
Also, consider blades with a thinner edge. These tend to stay sharper for longer.
Finally, the best drawknives come pre-sharpened and ready to use straight out of the box.
Ergonomic handles
The best handles for a drawknife have a non-slip grip surface. The handle could be made of treated wood or rubberized plastic. These handles are OSHA-compliant and give you a sturdier grip that provides a comfortable and injury-free working experience.
Sturdily designed handles
The handle construction is another critical factor for consideration when choosing a drawknife for wood processing. I have encountered drawknives with glued-in handles. Steer away from these, as the handles often fall off after a short time of working on hardwood pieces.
The best handle design is the bolted-on handle. Such drawknives feel sturdier, and the design allows for easy replacement when the handles start to wear out.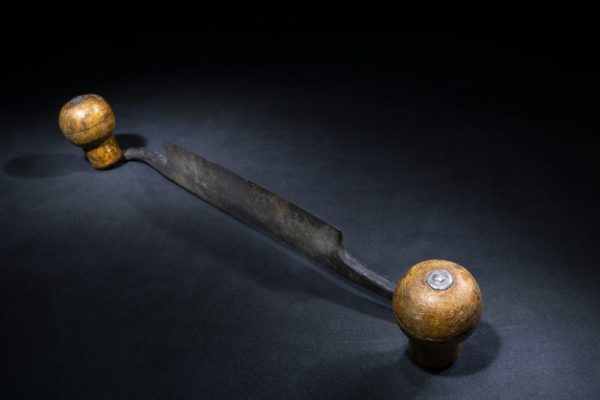 Blade length
You could choose a longer blade if you want a drawknife that allows you to work on bigger workpieces. Drawknives with longer blades draw larger shavings, helping you to finish your project in less time.
Remember, though, that drawknives with shorter blade lengths deliver superior maneuverability compared to the large ones. They are suitable for delicate finishing and detailing of your wooden creations.
Blade thickness
We have talked earlier about blade strength. Thinner blades are more fragile, but blades that are too thick cause material wastage and can turn the shaving process into a back-breaking task.
Find a drawknife that strikes the best balance between blade size and strength.
Knife design
There are both curved and straight drawknife designs on the market. If there is any difference in the workings of these two designs, it's largely insignificant.
Those who choose curved knives favor their tool's ability to make deeper cuts. Straight blades, on the other hand, minimize material wastage and, to some extent, lead to faster performance.
Consider the nature of the workpiece
When using a drawknife, you should know that softwood and hardwood have different requirements. Softwood pieces are easier to work with, and you may finish the job effortlessly with a small carbon steel blade.
On the other hand, hardwoods like oak require more robust blade types, and you will probably need to acquire a reliable sharpening accessory as well.
Safety and balance
The best drawknives just feel "right" as you use them. The handles have a convex or outward-facing design that allows you to debark or detail your workpieces without injuries. These are the most comfortable drawknives to work with.
They also come with a blade sheath that helps to protect the device during storage and keep the edge sharper for longer.
Weight and size
The best drawknife models weigh less than two pounds. Some contraptions only weigh a few ounces. This lightweight design makes your work manageable all day long.
Find a drawknife weight and size that you can handle with ease on days when you will need to debark wood for an extended period.
The Best Drawknives Reviews 2020
Sale

Timber Tuff TMB-08DS Straight Draw Shave Tool, 8"

Sharp 8" straight blade, 5 mm thick with a 30° angle for fast and accurate work
Designed with a long-lasting and durable steel blade with a hardness of HRC 30 for a reliable product
Wood grip handles are comfortable and provide you with a secure hold; the included blade protector keeps the blade sharp and protects the user

Last update on 2023-06-02 / Affiliate links / Images from Amazon Product Advertising API

Editor's Comments
The Timber Tuff TMB-08DS boasts a stainless steel design with a hardness of HRC 30. This should be a sign of durability and a knife that you can use on all types of wooden material. The blade is five mm thick, and the edge is placed at a slant of 30 degrees – a design that could significantly ease and speed up the process of wood shaving.
The drawknife has wooden handles designed for user comfort. The manufacturer promises a secure grip that could double your efficiency at work. Also, the item weighs a mere 1.5 pounds, which means you have the potential to use it for longer periods with minimal chances of fatigue.
The Timber Tuff drawknife also features blade protectors. This is a safety feature, but it also ensures that the blade stays sharp for longer. Beware, though, that the blade eventually loses sharpness the longer you work with it. You might need to have a sharpener handy every time you head out to work with this device.
Perhaps one of the most attractive features of this knife is the price point. This is a pocket-friendly drawknife with features that match the price, in my opinion.
Pros
Sturdy stainless steel blade
Comes with a blade protector

---
Stubai 9-1/2' Drawknife

Made in Tyrol Austria
9-1/2" Blade length, 1" Blade width and 17" Overall length
The blade has a verry small curve that gives you better control and more accuracy

Last update on 2023-06-02 / Affiliate links / Images from Amazon Product Advertising API

Editor's Comments
The Stubai drawknife appears to be a generic drawknife version without any special brand features. Nonetheless, it is a steel knife with a sharp edge that delivers on functionality, just like the Timber Tuff TMB-08DS Straight Drawknife.
As opposed to wooden handles, this model uses rubberized plastic handle material, which should prove sufficient to deliver reliable grip and ergonomics. These are big offset handles with a design that fits in the user's palm for comfort and ease of use.
The manufacturer also assures that the product has a sharp and durable steel edge. The blade is 9 ¼ inches long, which is a tad longer than what you get with the Timber Tuff TMB-08DS Straight Drawknife. This might translate to more efficiency and the ability to power through your jobs with ease and speed.
The whole contraption weighs 13.6 ounces. That makes it lighter than the Timber Tuff TMB-08DS. It translates to easy usability for those who need to shave wood for an extended period.
The Stubai Drawknife comes with a plastic blade protector. I consider this a critical feature for user safety when the knife is not in use. Similarly, it helps the blade retain its edge by shielding it from the elements.
Pros
The blade stays sharper for longer
Long blade; ideal for stripping large workpieces
The blade has a slight curve for lifting the shaving of the wood with ease
Cons
The large blade might not be ideal for detailing
Quality control issues

---
Felled Draw Shave Knife – 10in Straight Draw Knife Straight Draw...

WOOD WORKING TOOLS FOR BUILDING FURNITURE: Rapidly remove wood and bark from logs, fence posts, and firewood with the Felled | 10 Inch Straight Wood Shaving Knife Draw Shave Wood Debarking Tool; Often...
KEEN BEVELED BLADE: Constructed of hardened steel provides this straight edge tree bark scraper tool with durability and longevity; Finely polished beveled edges can easily be honed to keep your bark...
WOOD HANDLES FOR COMFORT AND CONTROL: This draw knife woodworking tool is built for strength, comfort, and longevity; Dual wooden handles provide a secure hold on these draw knife debarking tools to...

Last update on 2023-06-02 / Affiliate links / Images from Amazon Product Advertising API

Editor's Comments
The ten-inch blade on this model could deliver superior efficiency compared to the other two models reviewed earlier. The blade has a thickness of 0.8 cm. These dimensions make for a sturdily forged blade that should serve you reliably for longe periods of time.
The Felled Draw Shave Knife features two large wooden handles designed for grip and user comfort. Beware, though, that the blade size and its handles make this contraption heavier than the other drawknives reviewed earlier. It weighs 1.9 pounds, which could potentially slow you down if you have to work with it all day long.
One remarkable thing though is the "outward" design of the handle, which helps you keep your hands out of the way, especially when shaving larger workpieces. It reduces the chances of the handles making dents on your wood.
The blade is only slightly angled, almost straight. That could be an advantage or a disadvantage depending on how much you need to dig into the material. For removing bark, I find that this conceptual blade structure delivers the goods.
The device comes with a blade protector, enabling you to safely store this knife after use and keep it sharper for longer.
Pros
Stainless steel blade for strength and durability
A longer blade makes it possible to work with large workpieces
Handles are designed for ergonomics
Durable blade
Cons
The blade is too thick for detailing
It's flat and straight-edged, making it hard to dig into materials

---
Last update on 2023-06-02 / Affiliate links / Images from Amazon Product Advertising API

Editor's Comments
Here you have a five-inch blade that should potentially deliver success in detailing jobs. The small design doubles its maneuverability, in my opinion. When working with smaller workpieces, I would choose this option over the larger models reviewed earlier.
Like the Felled Draw Shave Knife 10-Inch Straight, the handles are curved outwards on this model, giving you ample space for hand movements. The knife uses wooden handles designed for a non-slip grip. That could make wood shaving a painless task.
One drawback is that the handles are glued in and not screwed in. They can fall off after just a short time of rigorous wood shaving activity.
There is a blade sheath included, for user safety and the protection of the blade surface in storage. Hopefully, this will mean that the blade retains sharpness for long seasons of use.
The small blade makes it easy to dig the knife into the bark and reach challenging places. You can effortlessly follow the tight contours of small branches to achieve more detailed work. The knife weighs 4.3 ounces, which means that you could comfortably work all day with it without getting dead tired.
Pros
Blade retains edge
User-friendly handle design
Small design that increases maneuverability
Cons
The handles fall off after a short time of use
The blade feels fragile

---
BeaverCraft DK2s Draw Knife with Leather Sheath Woodworking Tool 4.3"...

Draw Knife Functions: the splitting knife is a wood carving tool that simplifies the drawing and shaping of wood by removing shavings or larger chunks of excessive wood.
Wood Splitter Razor Sharp: the blade of the roughing knife is made of high-carbon steel and is hardened to proper firmness, sharpened and pol
Draw Knife Cutting Edge: very sharp, allows you to cut softwood & hardwood, durable enough to cut hard and soft woods. NOTE! The draw knife is designed to work with wood without bark or knots!

Last update on 2023-06-02 / Affiliate links / Images from Amazon Product Advertising API

Editor's Comments
This BeaverCraft Draw Knife stands out with a simple straight design. Its shape and structure could double your efficiency in drawing and carving wood. You might be able to achieve all manners of curves and shapes with the lightweight and highly steerable nature of this knife.
The manufacturers say that this knife comes sharp straight out of the box, so you can put it to work as soon as it arrives. Not having to sharpen it before use saves you precious time.
The BeaverCraft Draw Knife uses a stainless steel blade. You may, therefore, expect strength and a lengthy period of time using this model. The small size of the blade makes it effortless to use it at all angles and achieve precise cuts.
The drawknife has fixed wooden handles on its straight design. These handles are forged from a hardwood oak. They deliver a non-slip grip and a level of comfort that should minimize the risk of hand injuries.
This is a small, low-priced, and lightweight model as far as drawknives go. It weighs 2.6 ounces.
Its small design, unfortunately, restricts its use to small workpieces. If you ask me, this knife is more suitable for beginners than it is for professional woodcarvers.
Pros
The blade comes sharp and ready to use
Handles designed for comfort and user safety
Lightweight and compact design promotes ease of use
Cons
Not suitable for large projects
Restricted use in complex carving jobs

---
The Best Pick
The Felled 10-Inch-Straight Draw Shave Knife stands out as the best drawknife of the year. It features a ten-inch blade ideal for larger jobs. This is a stainless steel blade with a thickness of 0.8 cm. The design results in more strength and durability compared to the thin blade versions of its peers.
This drawknife uses wooden handles with a curved design. The handles are curved outwards, reducing the risk of hand injuries when working with larger workpieces. This design similarly keeps the knife from making dents in your workpiece during the process of debarking or carving.
The blade retains sharpness for a good amount of time and it comes with a sheath for user safety. These are just some of the features that make the Felled Draw Shave Knife 10 Inch Straight our top recommendation for both professionals and beginners on the woodworking scene.
Last Updated on August 7, 2020 by Tom Bradly