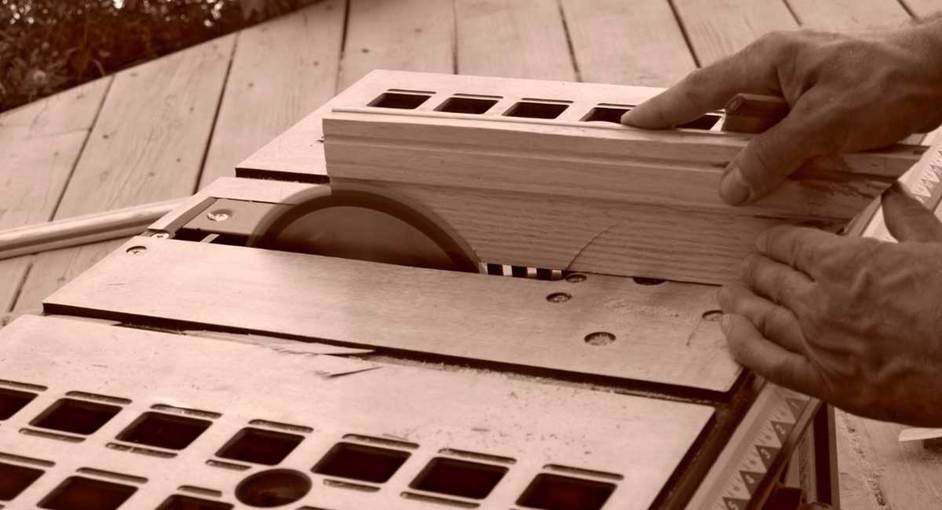 Best Beginner Table Saws of 2023 – Review & Buying Guide
As a carpenter, you probably know how important it is to stock up on the right woodworking tools for your workshop.
The right tools can make so many tasks a lot easier and can boost your turnover rate dramatically. There are lots of different woodworking tools out there but the best beginner table saw is one ultimate must-have in any workshop.
In A Hurry? Here Are Our Top Picks...
Last update on 2023-09-29 / Affiliate links / Images from Amazon Product Advertising API
The 5 Best Beginner Table Saws
Table saws are ideal for making straight cuts in long wood panels or large wood sheets. There are lots of different types of table saws available on the market. Some are more portable than others.
In this guide, we are going to take a quick look at the best table saws that beginner woodworkers should consider buying.
This mini table saw is ideal for those with small workshops or for complete beginners. The table saw is affordable, yet surprisingly functional for its price and size.
This little saw has an impressive speed of 7200 RPMs that ensures quick cuts for your wood sheets. You can cut materials that are up to 40mm thick, and the saw allows you to alter the direction so you can cut at up to 90-degree angles.
The saw is nice and light so you can easily carry it around. It fits comfortably on the tabletop and its rubber pads ensure that it will stay in place while you work.
This saw is a perfect investment for those who need to make quick woodcuts now and then.
Specifications
Evolution - RAGE5-S Power Tools RAGE5S 10" TCT Multi-Material Table...
The 15A optimised gearbox and blade system increases motor and blade life to cut through a variety of materials including steel, aluminium, wood, even wood with embedded nails and plastic, all with...
Rip cutting, assisted by an adjustable, full-length, parallel fence with measuring rail guide ensures reliable smooth square cutting every time. Set the blade to the desired angle up to 45 degrees...
Raise and lower the blade height for trench cuts with this folding table saw. Achieve 3-1/4 in. depth of cut at 90° and 2-1/4 in. depth of cut at 45° bevel.
Last update on 2023-09-29 / Affiliate links / Images from Amazon Product Advertising API
This saw is an ideal investment for beginner woodworkers that are serious about making a career in carpentry. The saw is quite large but has a foldable frame and wheels so you can move it with ease.
It is tremendously flexible since its large 10-inch blade allows you to cut items up to 25.4mm thick. You can also adjust the blade bevel up to 45 degrees so you can make those finishing corners or you can cut wood at up to 60-degree angles. The saw can also be used to cut mild steel, wood with nails, aluminum, and plastic.
This saw might be a bit pricey but it is worth the extra money considering just how flexible the saw is or when you consider the work comfort of using a saw that has its stand.
Specifications
Sale
Rockwell RK7323 BladeRunner X2 Portable Tabletop Saw with Steel Rip...
[SETS UP IN SECONDS] Take this table saw to the job site or move it around the workshop. There's even a built-in carry handle
[CUTS LIKE A FULL-SIZE] With the standard guard and riving knife system you can perform rip, cross, scroll, and miter cuts
[TOOL-LESS BLADE CHANGE] Uses any brand's standard 4" T-shank blade, but we threw 5 in the box to get you started cutting wood, ceramic tile, plastic, aluminum, and metal
Last update on 2023-09-29 / Affiliate links / Images from Amazon Product Advertising API
This rip saw is a good investment if you need something affordable and practical for cutting sheet metal.
The saw blade moves quite fast so you can make quick cuts and you can adjust the angle up to 60 degrees for those angled cuts. The cutting depth isn't extreme at just 1 ½ inch but it is still suitable for most wood sheets. You can use this saw to cut wood, ceramic, PVC, aluminum, and other thin or soft metals.
The saw is also very light at just 17 pounds and it has a convenient carry handle so you can grab it and take it with you when you work in different locations. It is our top pick if you need something portable!
Specifications
Last update on 2023-09-29 / Affiliate links / Images from Amazon Product Advertising API
If you are looking for a mini saw that you can easily put away then this is a good one to consider. This tiny saw offers impressive features considering its size.
The saw blade rotates at up to 10000 rotations per minute thanks to the 1200 Watt motor. You can use the saw to cut wood sheets up to 1.57 inches thick and you can set the cutting angle at up to 90 degrees.
The saw is ideal for cutting wood, plastic, PVC, acrylic, and even other soft metals. It is also very light and fits conveniently on just about any tabletop. The circular saw blade is also ideal for cutting plywood without creating any rigid edges that might look unappealing.
Specifications
Sale
DEWALT Table Saw for Josites, 8-1/4 Inch, 15 Amp (DWE7485)
COMPACT BUILD - Conserve storage space and simplify transporting this tool with a compact design
ACCURATE ADJUSTMENTS - Make fast, smooth fence adjustments with rack and pinion telescoping rails
PROFESSIONAL RIP CAPACITY - Take on large jobs with 24.5 in. of rip capacity for ripping 4X8 plywood or OSB sheets
Last update on 2023-09-29 / Affiliate links / Images from Amazon Product Advertising API
This saw is our top pick if you need a rip saw that can cut lots of wood without burning out. The Dewalt has a strong construction and it can be used on a table top or you can get the stand and use it as a freestanding unit.
The saw offers a blade speed of 5800 RPM so you can quickly slice through lots of wood sheets in no time at all. You can also use this saw for cutting thick wood slices up to 24.5 inches wide.
This saw is not ideal for cutting soft metals or sheet metals. It is mostly used for plywood or OSB sheets but it does give you the power and efficiency of industrial wood cutting tools at the comfort of your home.
It is an ideal saw for cutting lots and lots of wood in a single day.
Specifications
Buying Guide
With so many great table saws to choose from, you may have a tough time choosing one that will suit your needs to perfection. Sadly, you cannot buy them all, since more than one table saw in a workshop is usually a waste of space.
So, here is a quick guide to help you choose the table saw that will offer you the most benefits.
The Best Circular Saw
The Evolution Power Tools Ragess is the top circular saw on this list because it is so comfortable to work with when you are taking on larger projects. This saw is foldable and has wheels so you can store it with ease.
The Best Rip Saw
There are two rip saws on our list, but the Dewalt table saw excels in terms of cutting depth and quality built. If you need something flexible that can be used for cutting all sorts of wood, then this should be your top choice.
The Bet for Metal Cutting
If you are cutting softer metal sheets like aluminum, as well as wooden sheets, then consider the Evolution Power Tools Ragess or the Rockwell Bladerunner. Both of these saws can be used to cut soft or thin sheet metals, while the others are only suitable for wood cutting.
The Best for Thick Wood Cutting
The Evolution Power Tools Ragess has an impressive cutting depth of up to 25mm which makes it an ideal pick for thicker woodcuts. But you can also consider the Dewalt saw, since this one can also cut up to 25mm deep cuts.
Final Thoughts
We hope this guide has helped you find a good quality table saw so you can make those straight cuts with ease and reduce the amount of time that is required for building beautiful wooden furniture.
If you are in the market for other great woodworking tools and accessories – from the best woodworking books to the best spar varnishes – then feel free to take a look at some of our other buying guides.
With our in-depth guides, you can easily find the best quality woodworking products to help you succeed as a carpenter.
Last Updated on January 30, 2021 by Tom Bradly