5 Best Air Compressor Fittings of 2023 – Reviews and Buying Guide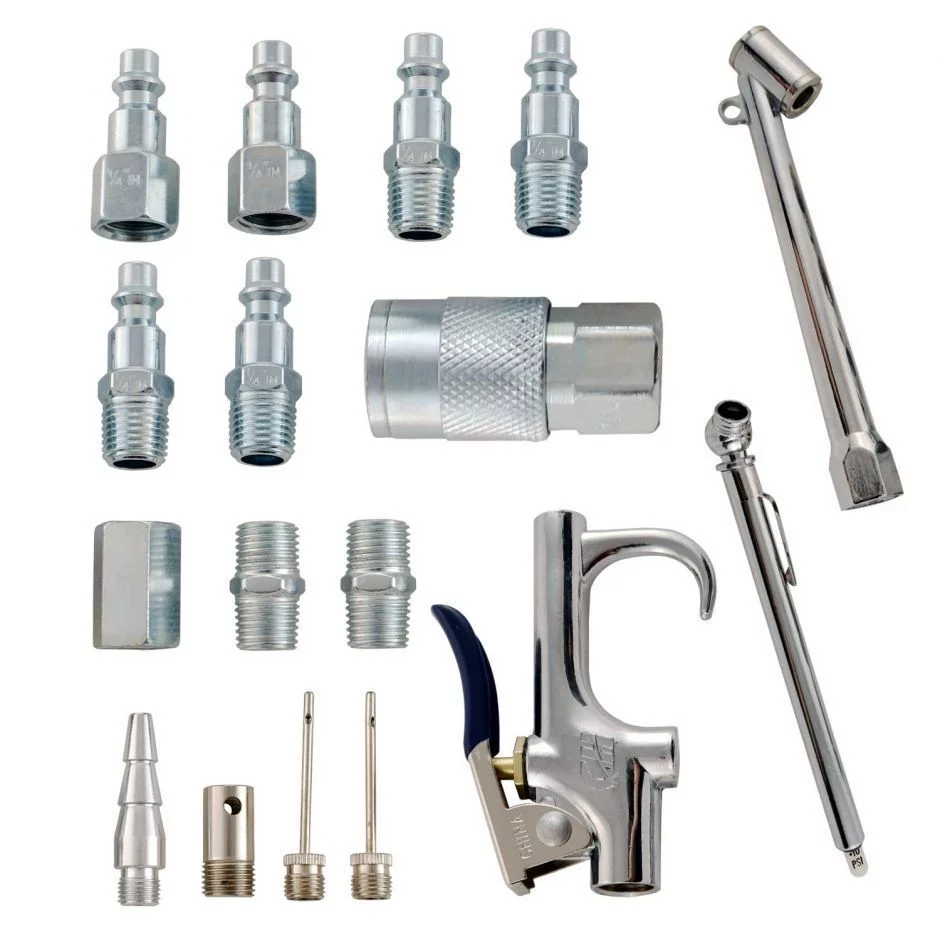 If you own an air compressor, you have probably thought about replacing its air fittings or installing a permanent system for the shop. However, one of the greatest concerns is determining the types and sizes of air compressor fittings before buying.
Best Value
Accessory Kit, 17 Piece Compressor Inflation Kit, with Blow Gun, Air...
ColorFit by Milton Coupler & Plug Kit - (M-Style, Red) - 1/4" NPT,...
WYNNsky Air Coupler and Plug Kit, Quick Connect Air Fittings, 12 Piece...
Accessory Kit, 17 Piece Compressor Inflation Kit, with Blow Gun, Air...
ColorFit by Milton Coupler & Plug Kit - (M-Style, Red) - 1/4" NPT,...
Best Value
WYNNsky Air Coupler and Plug Kit, Quick Connect Air Fittings, 12 Piece...
Last update on 2023-06-06 / Affiliate links / Images from Amazon Product Advertising API
Determining the Size of an Air Fitting Port
You might already have connectors and tools with working ports but might not have the original packaging or documentation that outlines the exact fitting sizes. This could be problematic when you need to replace a connector or fit a new hose.
A majority of tools, including woodworking appliances use a ¼ or 1/8-inch connector, especially when it comes to consumer or contractor gear. But, based on the age of the tool or its place of manufacture, the size might not match the standards. The easiest way to determine the size of a fitting port is measuring the diameter of the port in inches, right across its center. With the right measurement, you'll know the pipe size and be in a position to get the right replacement part or connector.
Ensure You Have a Strong Seal When Connecting New Fittings
Whether you're replacing a fitting on a tool handle or one between a compressor and air tank, you need to make sure that you're not only using the right thread size but also creating a robust seal when attaching your hardware. The easiest way to get an airtight seal is introducing Teflon tape into your thread.
Even when the accessories are manufactured to exacting standards which adhere to the current NPT chart, there is still a chance that air will escape from the fitting. Teflon tape aids in creating a tighter seal which should retain its integrity throughout the fitting's lifetime. And although Teflon tape does its job effectively, it is crucial to be careful when wrapping your connectors.
The tape should be wrapped such that it is enough to cover the male thread on the connector and it shouldn't overlap the connector's end. You should also try to avoid any excess tape which extends past the end of the thread. This is because high air pressure can cause the excess tape to get dislodged, and this could result in blockages further along the hose, inside the air tool or within other connectors.
Even when it is not dislodged, the excess tape could result in partial or total blockage which reduces the total airflow and efficiency of your compressor. By carefully wrapping the male thread, and making sure there isn't overlap or excess, you will ensure the tape is well compressed when it is connected to its female coupling, and there won't be a chance of blockages.
Are Couplings Packaged With Teflon Tape?
While you could easily come across air compressor fittings that are packaged with Teflon, it is also being more popular for ready-made accessories to come with a sealant within the connected pieces. Rather than Teflon tape, manufacturers are now using a type of putty or paste which creates the perfect seal between the connectors.
While you might not find this when you're looking for those loose fitting types, you might find the sealing paste to be in the fittings of most portable air compressors from the leading brands. If you're replacing any equipment and encounter a sealant paste, be sure to clean off the excess before you can wrap a new Teflon tape.
Top 5 Air Compressor Fitting Reviews
No products found.
When it comes to air compressor fittings, Milton is a force to reckon with and their coupler and plug kit isn't an exception. This pneumatic 12 piece accessory kit contains various plugs, couplers, and air fittings with a ¼ basic flow size or air handling capacity. The kit's change couplers are made of brass while the change plugs are made of hardened steel. Better yet, all accessories are well-plated to resist rust.
This collection of fittings offers a maximum of 300 pounds for every square inch, a maximum airflow of 40 cubic feet per minute, and can withstand a maximum temperature of about 250 degrees Fahrenheit. Better yet, you never have to worry about matching with other fittings because all the accessories will interchange seamlessly with all manufacturers who conform with all the dimensional requirements of military specification MIL-C-4109.
Milton Pros & Cons
Pros
Pros
Great fit and design tolerance
No air leakage
Inexpensive
Durable
Couplers lock up nice
Cons
Cons
Little leakage when the hose is moved around
Have to use Teflon for a perfect seal
Comes with only 2 female connectors
Last update on 2023-06-06 / Affiliate links / Images from Amazon Product Advertising API
This 17-piece industrial-grade accessory kit from Campbell Hausfeld is the best addition to your air tool or air compressor. Featuring a gauge, dual-foot chuck, and blow gun, this kit is an ideal starter and helps tackle a myriad of applications. With a dual head chuck for seamless inflation as well as a blow gun, these fittings are ideal for cleaning and inflation projects.
The fittings boast an industrial design that aids in preventing corrosion. Moreover, the plugs are cold forged for durability and superior strength. If you want a kit that will help you tackle all projects involving your air compressor, then this kit is what you should buy. This air power expert helps you finish projects easier and faster.
Campbell Pros & Cons
Pros
Pros
Useful when you're setting up your new compressor
Good for heavy duty work
Decent quality
Threaded parts fit well
Cons
Cons
Seals on hose attachment easily come loose
Some parts aren't labeled properly
Doesn't offer a tight fit
There were complains of defective accessories on arrival
Compatibility: ColorFit M-Style couplers and plugs are compatible with traditional Milton M-Style couplers and plugs, competitor M-Style couplers and plugs, and competitor red couplers and plugs. All...
Superior Durability: Durable patent-pending steel sleeve design outlasts the competition by putting steel where you need it most. Milton uses an advanced, proprietary anodizing process
Put Color to Use in your Shop: Easily match couplers to the right plugs using color, (red to red)- no more guessing. Use color to distinguish between air lines, such as lubricated vs. non-lubricated,...
Last update on 2023-06-06 / Affiliate links / Images from Amazon Product Advertising API
If you're looking for a customized color-coded system which permits for easy matching of plugs and couplers, then the ColorFit Milton Plug Kit is what you should buy. This set of air compressor fittings helps solve the annoying problem of potential cross-contamination that could occur between different air lines. By dedicating specific colors to various air lines, this eliminates the risk of mixing up a lubricated line with a dry line hence prolonging your applications.
These fittings from ColorFit allow you to easily match couplers to their right plugs with the aid of color. These air compressor fittings also boast superior product design all thanks to a durable, patent-pending steel sleeve that ensures the steel is placed where it is needed the most.
ColorFit Pros & Cons
Pros
Pros
Scratch resistant
You will love the colors
Good quality for the price
Seals well when the hose is removed from the fitting
Easy to install and use
Cons
Cons
Female couplings do not last long
Lightweight aluminum
Female couplings leak
Last update on 2023-06-06 / Affiliate links / Images from Amazon Product Advertising API
This kit comes with several plugs, couplers, and fittings, most of which have a ¼-inch basic flow size. In all air compressor fittings, Teflon tape should be used to achieve optimal performance. These fittings boast a robust brass construction that's resistant to corrosion and long-lasting. They also come with a sleeve guard that aids in minimizing the risk of accidental disconnects as well as protecting the coupler sleeve.
These fittings are industrial grade and recommended for heavy users who are after top quality. Using these fittings is pretty much straightforward since they use a push-connect system that's completely hassle-free. Better yet, these accessories are interchangeable with what most manufacturers have to offer.
Quick Connect Pros & Cons
Pros
Pros
Great value set
Pre-treated threads
Nice assortment of accessories needed for a compressor
Couplers seal up good and tight
Changing attachments is fast and easy
Cons
Cons
Sealant on the thread prevents proper fitting
A bit difficult to connect
Last update on 2023-06-06 / Affiliate links / Images from Amazon Product Advertising API
This industrial kit from PowRyte helps you switch quickly between different accessories and air tools. It is best suited for any garage or shop to instantly and safely disconnect your air hoses. And besides use in air compressors, the air fittings could also be used in aircraft controls, manufacturing operations, and tire installation. The coupler in the kit is designed to easily rotate so that it prevents hoses from twisting.
The air compressor fittings in this set are durable and boast a solid brass construction that offers long-lasting resistance to any type of corrosion. The sleeve guard also reduces the chances of an accidental disconnect in addition to protecting your coupler sleeve.
PowRyte Brass Pros & Cons
Pros
Pros
Doesn't corrode
Smooth to connect
Fittings seal properly without the need of an added sealant
Very sturdy
Fast shipping
Cons
Cons
Male ends are unnecessarily many than female ends
Winner of the Roundup
Right from the beginning, the Milton Coupler and Plug Kit stood out as the clear winner. This air accessory kit contains several plugs, couplers, and fittings all which have a basic flow size of ¼ inches. The quality of these fittings is also unmatched al thanks to the hardened steel and rust-resistant plate. Besides, the ability of these fittings to give a maximum airflow of 40 cubic feet per minute, 300 pounds per square inch, and withstand up to 250 degrees Fahrenheit – qualities we did not see in other fittings – makes these air fittings a superior option.
Last Updated on May 14, 2019 by Tom Bradly